20+ Shiplap Wall Ideas (and More!)
Is shiplap still trendy? Oh yes. With the multitude of ways you can add a "planked wall" look to your home (vertical, horizontal, painted, wall, ceiling!) there's certainly room for this trend to continue. Here's over 20 creative shiplap wall ideas for how to feature shiplap in your home.
Please note that this post contains affiliate links which allow me to earn a small commission when a purchase is made at no additional cost to you. Read more here.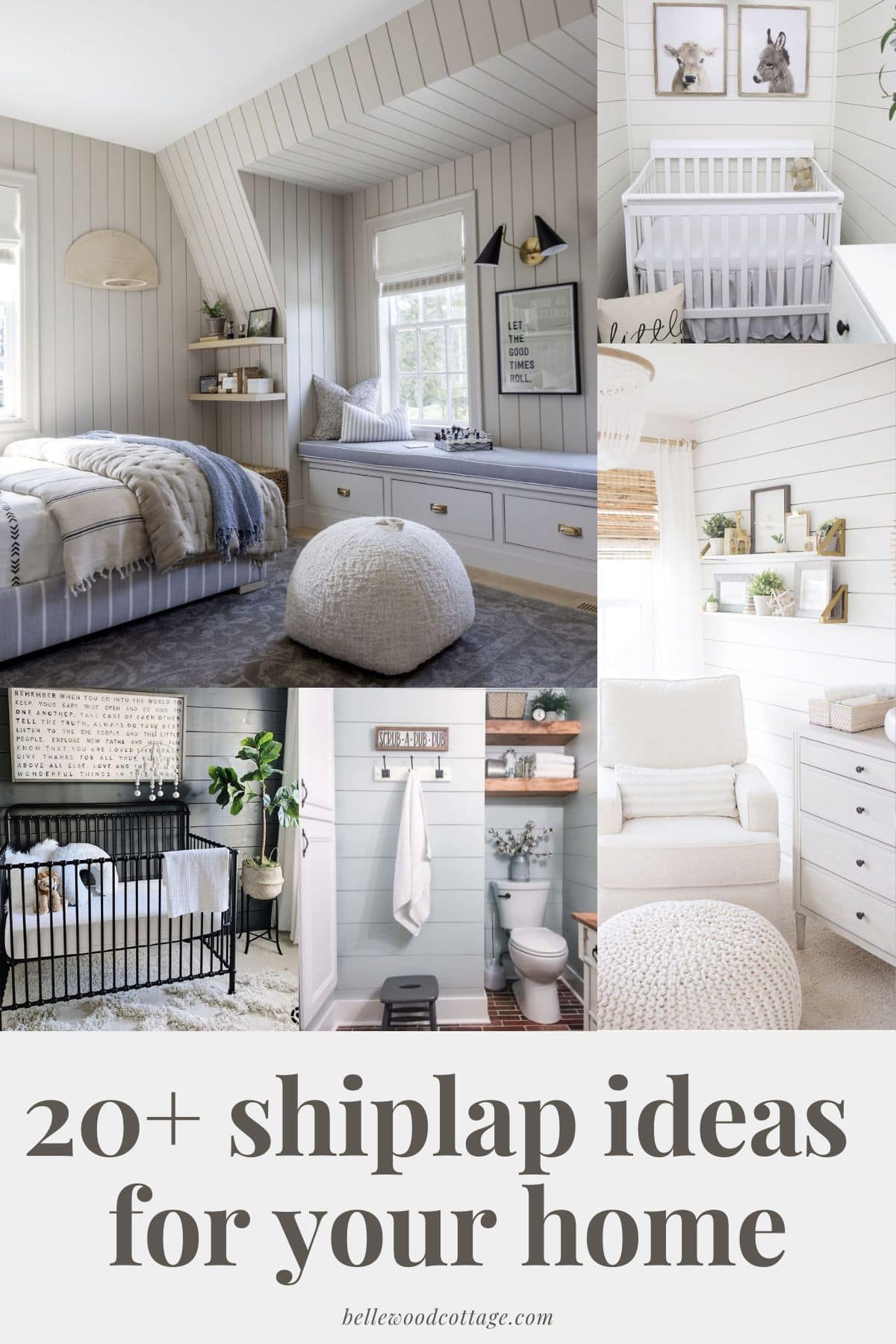 There's plenty of opinions on if shiplap is still a trend. Or, perhaps the popular wall treatment is starting to look dated? Personally, while I think the peak popularity has passed, I believe the style will stand the test of time.
After all, shiplap walls (or shiplap ceilings!) are not limited to a classic white horizontal planked look (accented with farmhouse décor of course). The look has expanded to include painted shiplap, vertical shiplap, ceiling shiplap, and more fresh riffs.
I think the "shiplap farmhouse" vibe is less popular now, but that look can still be incredibly compelling in the right home. Especially homes where shiplap was an original part of the construction. I am a big believer in making your home a place that YOU love, not a place that perfectly captures the trends of the moment.
What Is Shiplap?
What is shiplap? While shiplap originally was a technique of sheathing wide horizontal boards together to protect older homes from the elements, the style of "planking" walls has grown in popularity as a choice selected for style, not function.
Now, shiplap or planked walls are usually added on top of modern drywall. They serve as a design choice, not a practical way sealing off a home from exterior elements.
I talked more at length about what shiplap is in my roundup of shiplap ceilings, but I couldn't leave this brief overview without noting how the "shiplap trend" has sprung forth from the immense popularity of Joanna Gaines' designs. She really got the trend started with how she utilized original shiplap in old homes as a fresh design feature.
Should I Still Use Shiplap?
If you are concerned that the shiplap look is a dying trend, know that the most important thing is that YOU love your home. If you love shiplap, add it! With that said, you may want to keep things current by opting to paint the shiplap a trending color or trying vertical shiplap instead of horizontal.
The other design choices you make in the room with shiplap will also impact the final look. Whether you love the "shiplap farmhouse" look or are looking for a fresh take, the following inspiration photos will provide lots of ideas for how to use shiplap in your home!
Vertical Shiplap
If you are looking for shiplap with a more modern vibe "vertical shiplap" is where you want to be. Funnily enough, this "modern take" actually looks an awful lot like the wood paneling of the 70s-80s. Luckily, the overall look is far more appealing! Vertical shiplap will also translate into various design aesthetics easily.
Painted Shiplap
Of course, when we think "shiplap" we probably think of a horizontally planked wall, painted white. Striking out from the classic horizontal boards is also a great way to modernize the shiplap trend. Paint the boards an accent color like black, green, or even a deep raspberry instead of white. So eye-catching!
20+ Shiplap Wall Ideas and More
If you are looking for shiplap wall ideas, you'll love this list filled with creative ways to incorporate the look into your spaces. From shiplap accent walls in bedrooms and baby nurseries to kitchens and backsplashes, this is one trend that is full of possibilities.
I've also included some beautiful shiplap headboards–I thought this idea was ingenious for "getting the look" without nailing dozens of boards into drywall.
Photos used with permission.
Vertical Shiplap In a Boy's Bedroom
This might be my very favorite design of the entire post. Here, designer Monika Hibbs applied Vertical Shiplap in a boy's bedroom over nearly every inch of wall possible. This is a great example of taking the shiplap trend and freshening it up. The look is sleek and modern and creates a room that any age would love.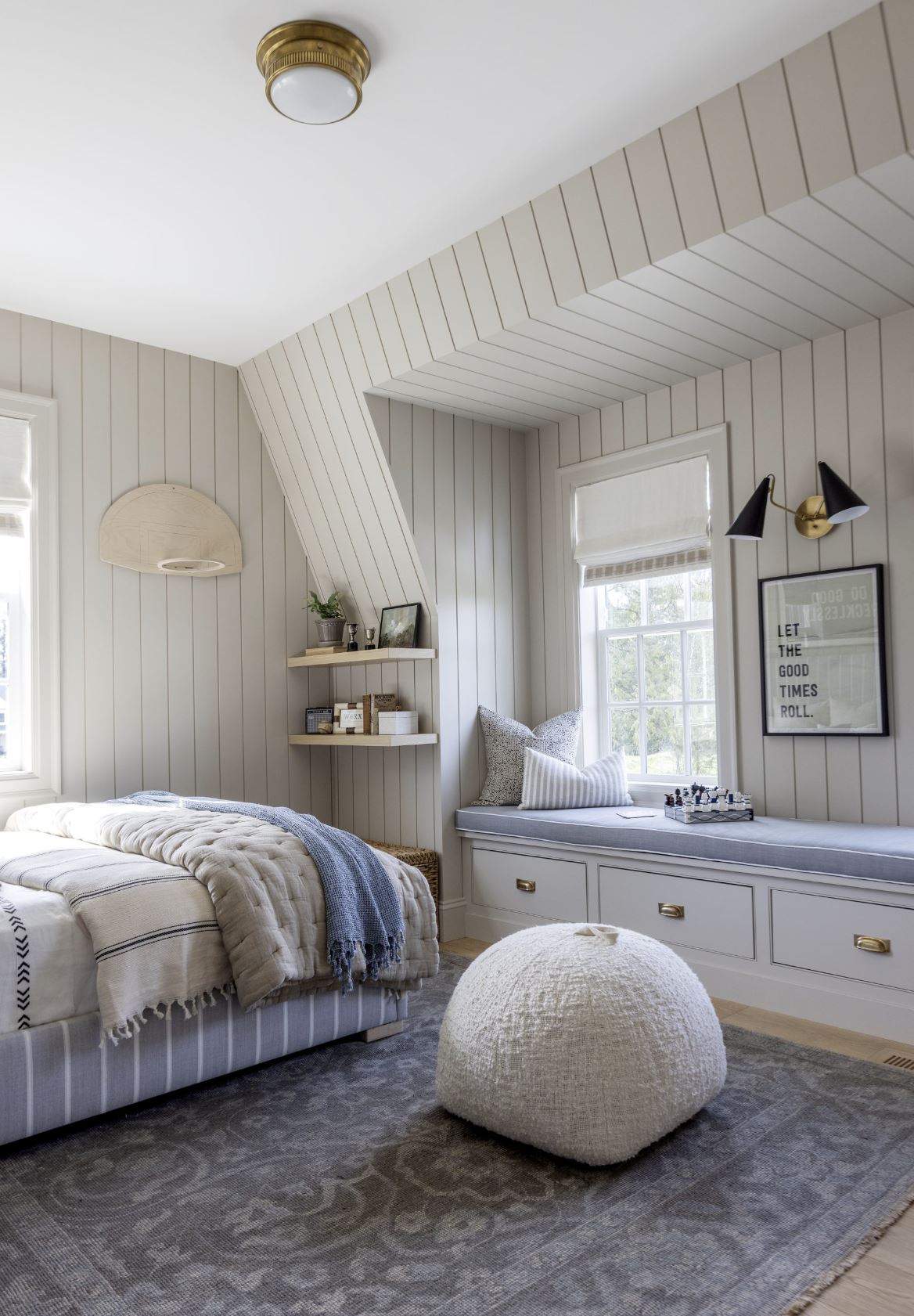 Shiplap Accent Wall With Bookshelves
This beautiful Gender Neutral Twin Nursery with a shiplap accent wall from Emily Gerald Photography is a spot I think any new mom or dad would be thrilled to relax with their little one. The shiplap accent wall features open shelving with relaxing green faux plants and neutral art. Shiplap is a great choice to add some interest to a gender neutral nursery where you might not be sure how to add character while keeping the color scheme neutral.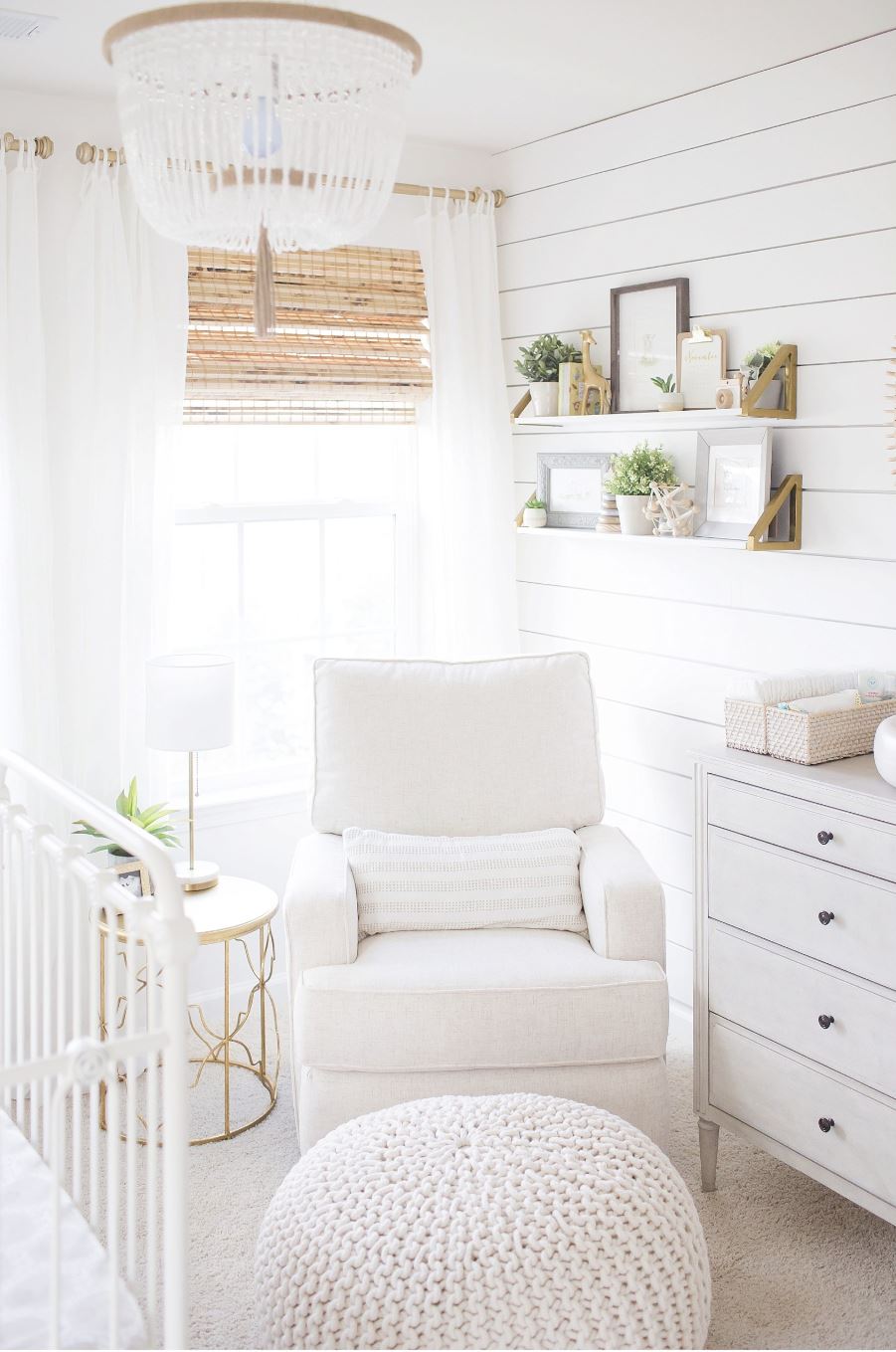 Floor to Ceiling Shiplap
Can't stop, won't stop! If you are obsessed with the planked look, you don't have to stop with an accent wall. Add it to the ceiling, the walls, the cupboards, and maybe even go with a wide-plank floor to continue the look. Here, Danielle Lea @candlewoodcottage on Instagram has shiplap featured throughout her home. It really is a show stopper and this look would be especially wonderful featured in a home with original shiplap.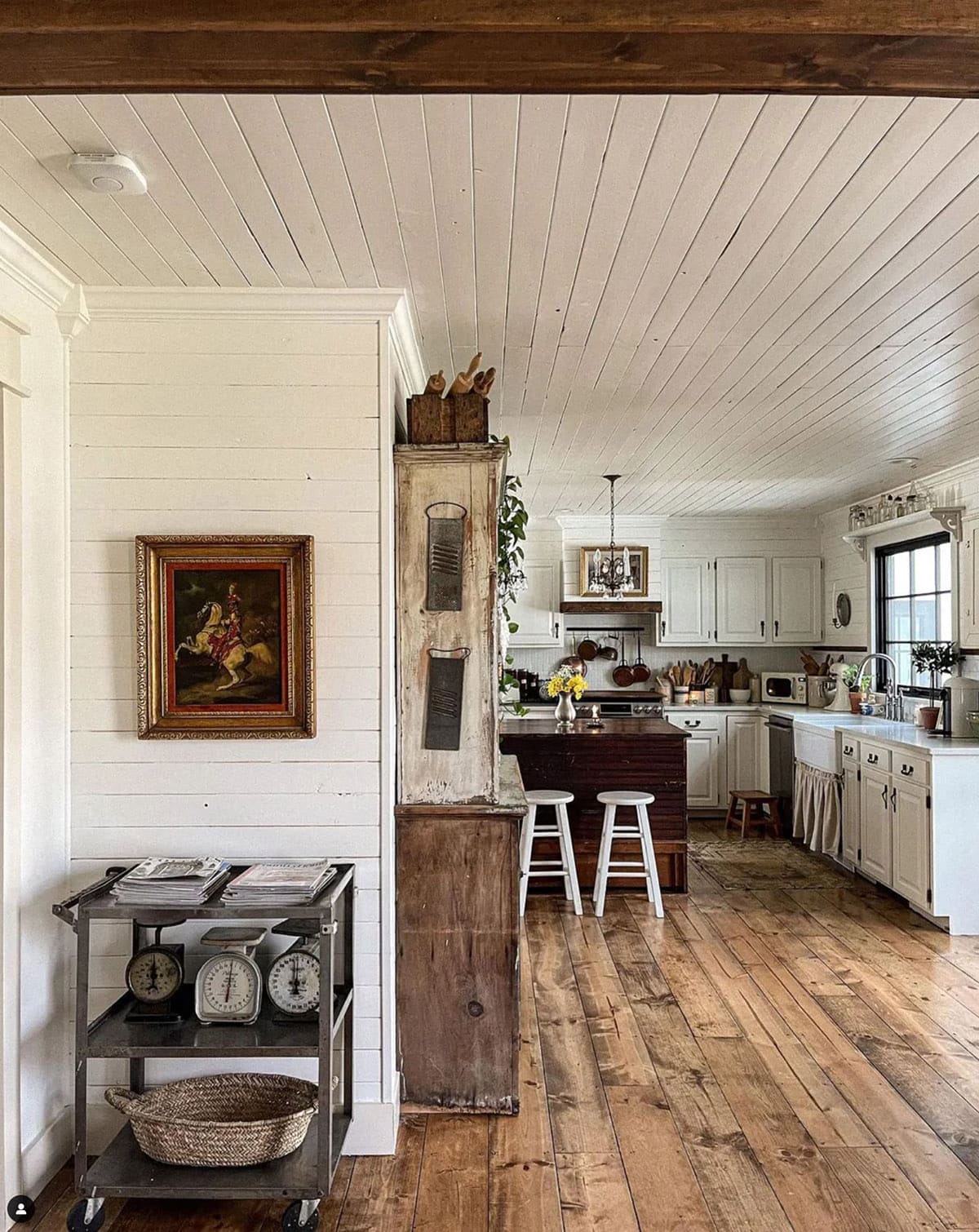 Create a Workout Area with Shiplap Accents
If you are lucky enough to have a dedicated workout room or space in your home, you might feel the need to glam it up. This Workout Area from The Lily Pad Cottage used stained wooden planks across a feature wall in the room.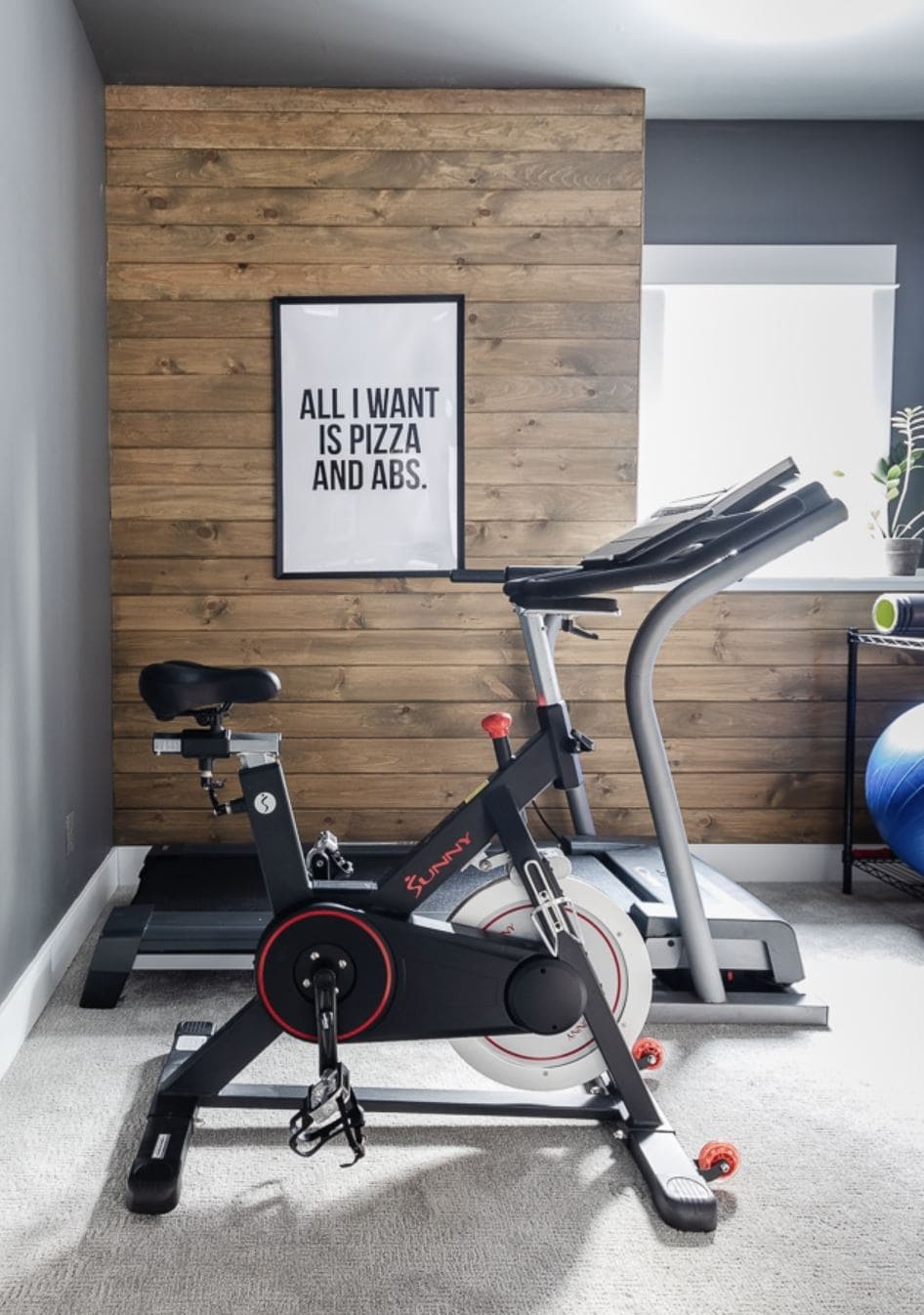 Shiplap In Bedrooms
Let's all take a master class in how to use shiplap in a bedroom with Liz Fourez at Love Grows Wild. Liz's stunning master bedroom has been a viral design for years (for good reason!). The shiplap extends to the ceiling where it's finished off by a beautiful wooden beam and lace curtain. This is a great example of a timeless shiplap design.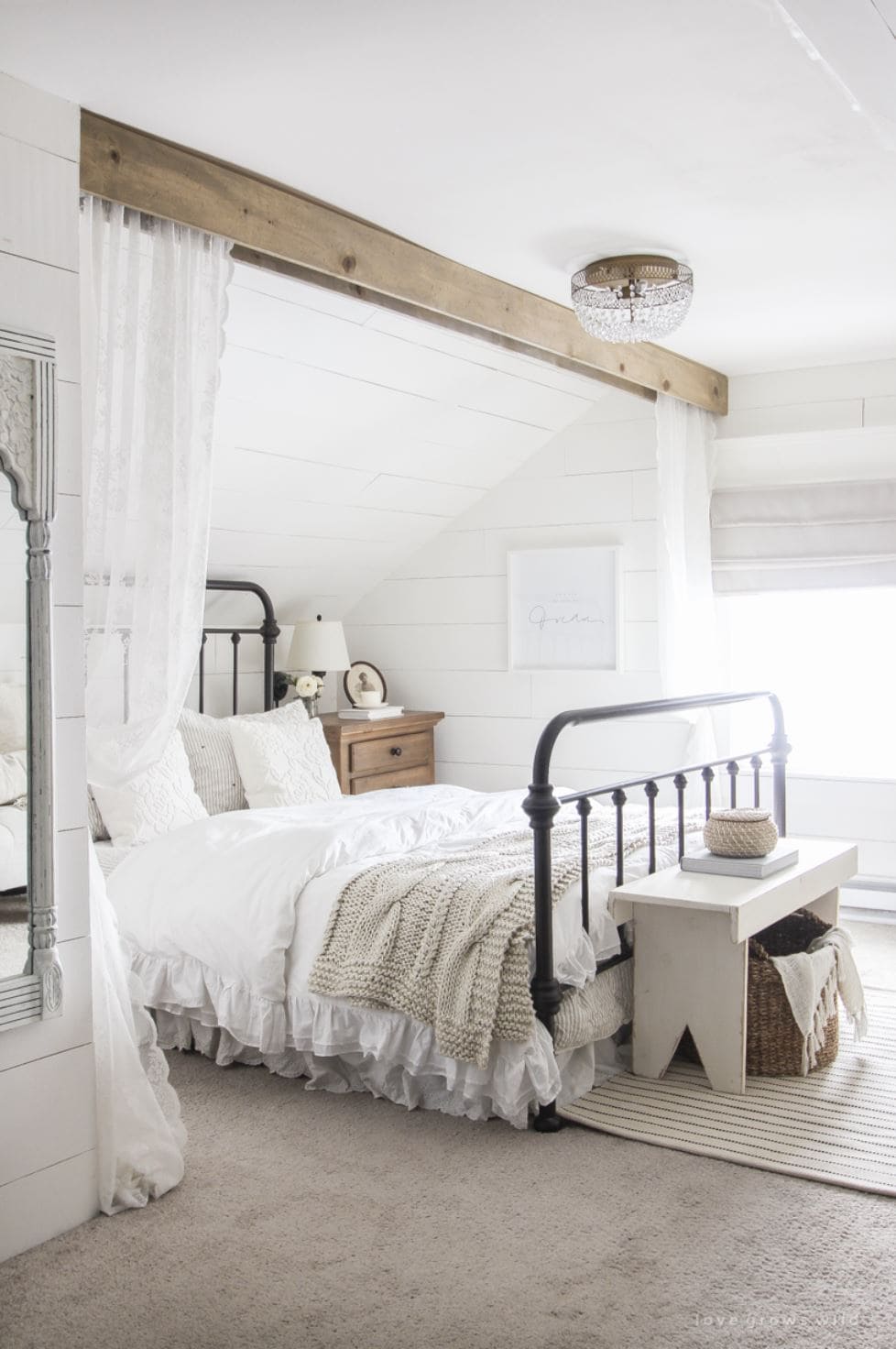 Shiplap In a Kitchen
I really like the idea of using shiplap on a ceiling. It's not the typical "accent wall" placement, and it has the added benefit of covering old popcorn ceilings (without the mess of scraping). This white planked ceiling in a white kitchen from @homesweetlakehouse on Instagram provides the rustic appeal of shiplap, but in an unexpected way by adding it to the ceiling instead of the walls.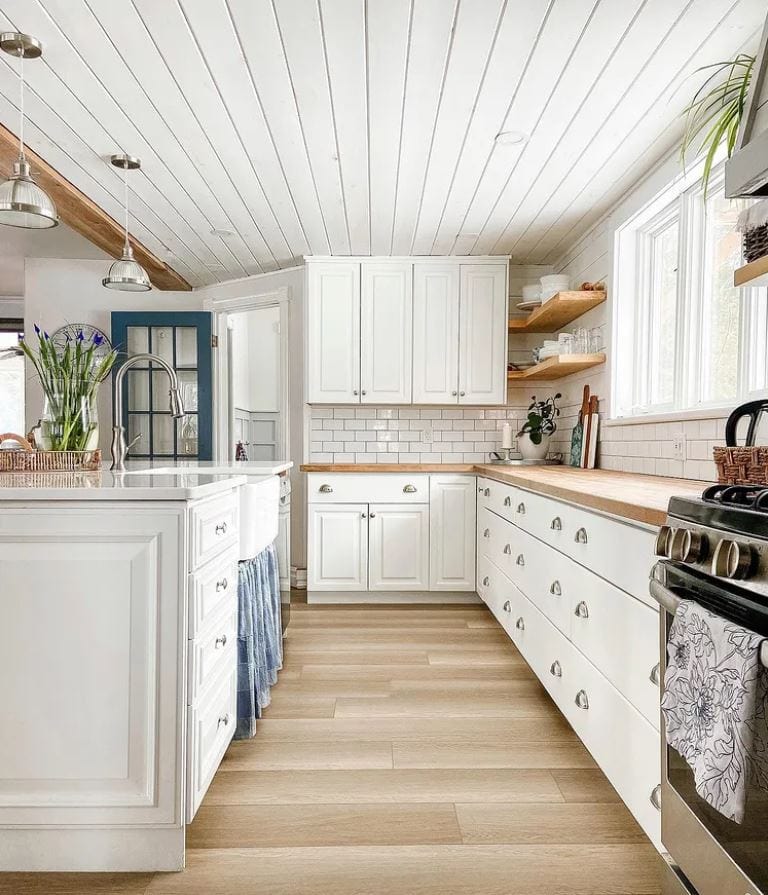 Use Shiplap As an Accent Behind Built-ins
What about using a little shiplap accent behind custom built-ins? These IKEA Pax Built-Ins from Details by Shelby are lovely. They use the IKEA Pax system, but there are plenty of customizations that make the entire built-in unit look like it came with the house. Note the storage shelf, bench seating, and of course, the shiplap detail between the units.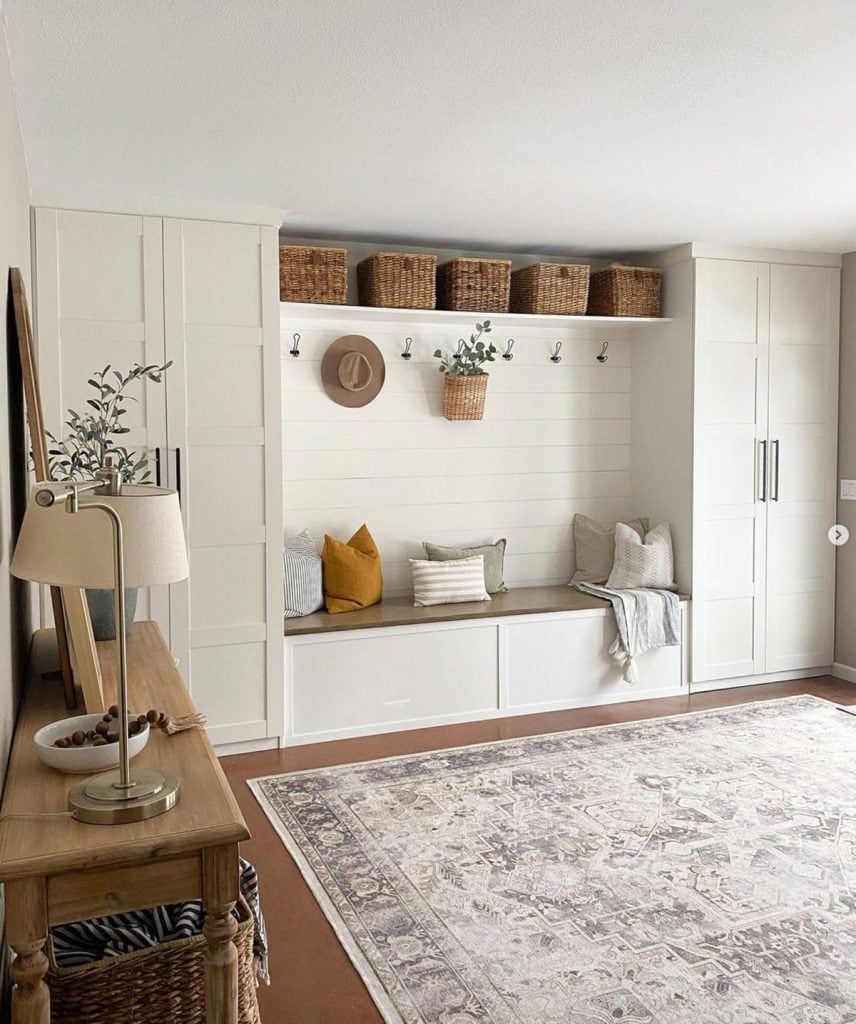 Modern Farmhouse Laundry with Shiplap Accent Wall
I would love to spruce up my laundry room to look as pretty as this Modern Farmhouse Laundry from A Classy Fashionista. The shiplap accent wall ties all the elements together for the perfect farmhouse design. Add some sweet farmhouse signs for a touch of charm.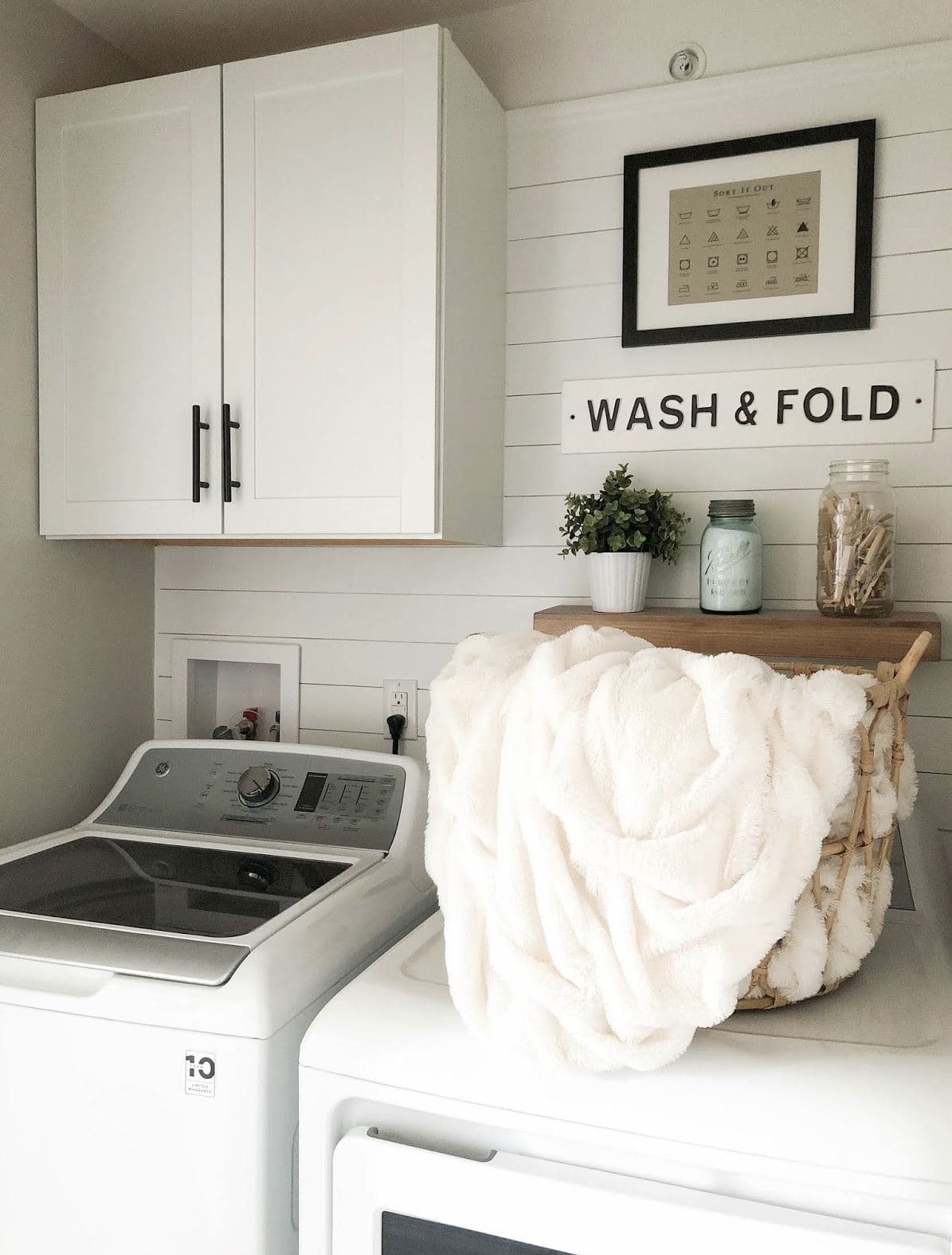 A Planked Backsplash In the Kitchen
Here, a Planked Backsplash from A Beautiful Mess was an easy fix for a dated kitchen backsplash. Tiling a backsplash for the first time can be a tricky project that might end up taking a lot of time. Installing shiplap will still require you to break out those DIY skills, but might feel like an easier option to update that kitchen in a hurry.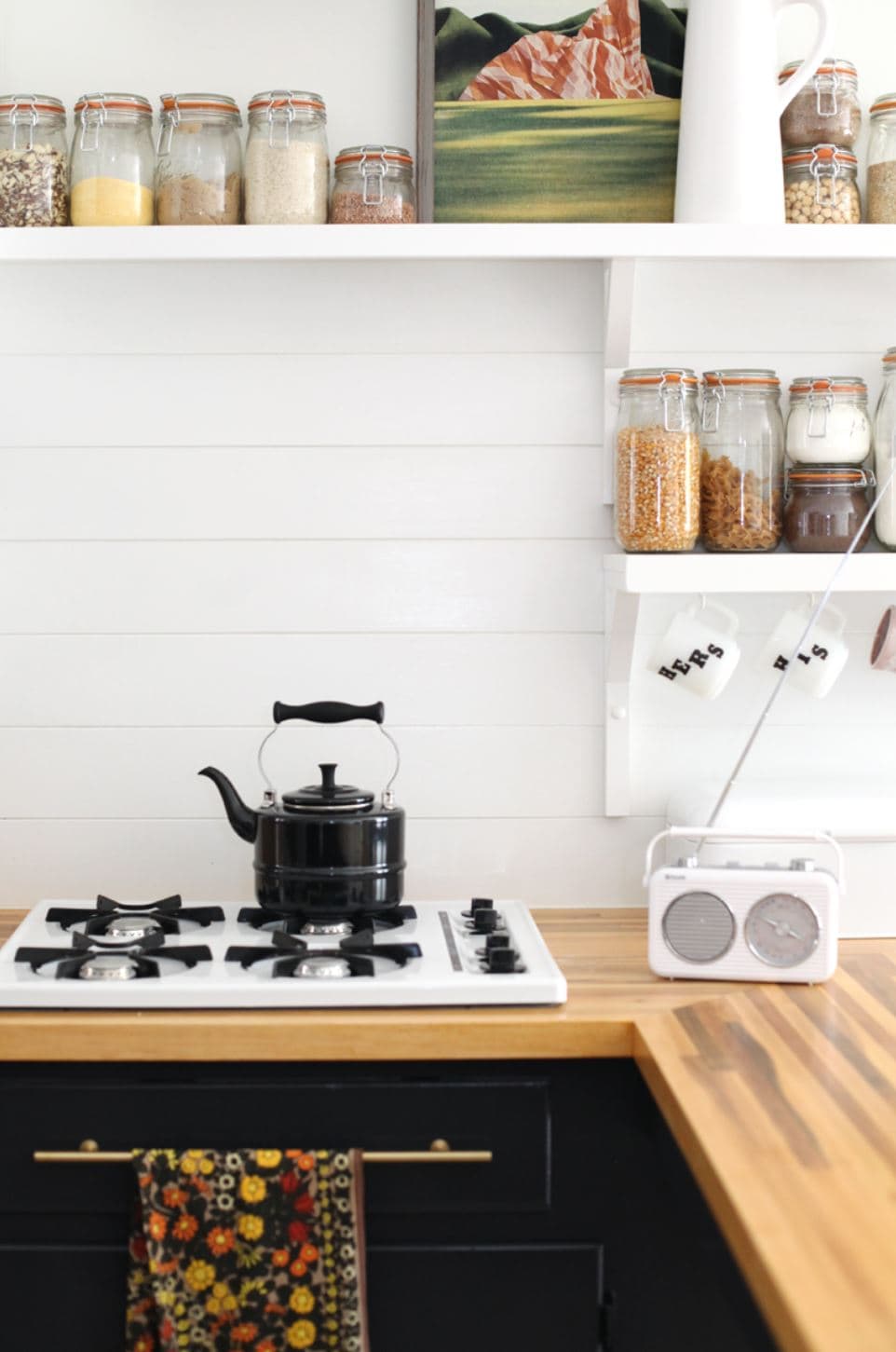 Half Wall in a Powder Room
This adorable "California Casual" Bathroom Makeover from Lauren at Bless'er House is a great way to add character to a small space. The shiplap gives the space dimension and interest without taking up valuable space in a small powder room. The choice to go with a vertical shiplap painted gray keeps the space looking fresh and up-to-date.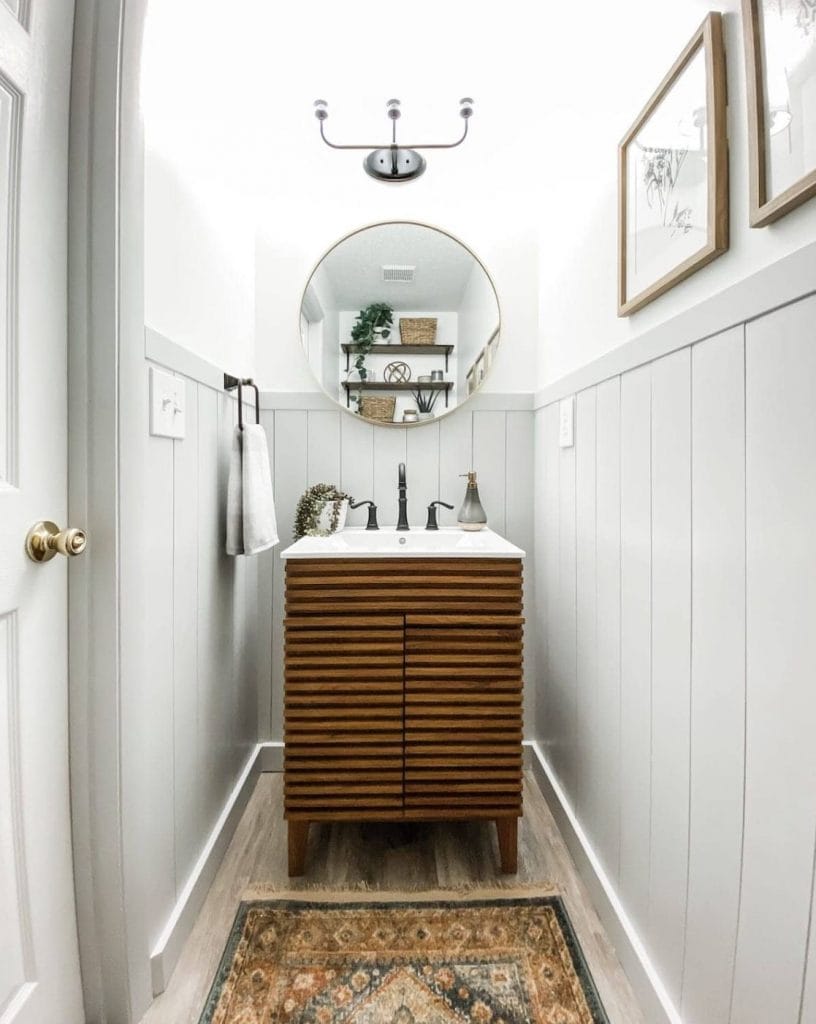 Shiplap in your Mudroom
I love this easy Mudroom Makeover from The Lived In Look. Use a small accent wall of shiplap in your mudroom (or mudroom nook) and add some cute hooks for hanging cold-weather clothing. A bench is a handy spot for putting on shoes or stashing backpacks after school.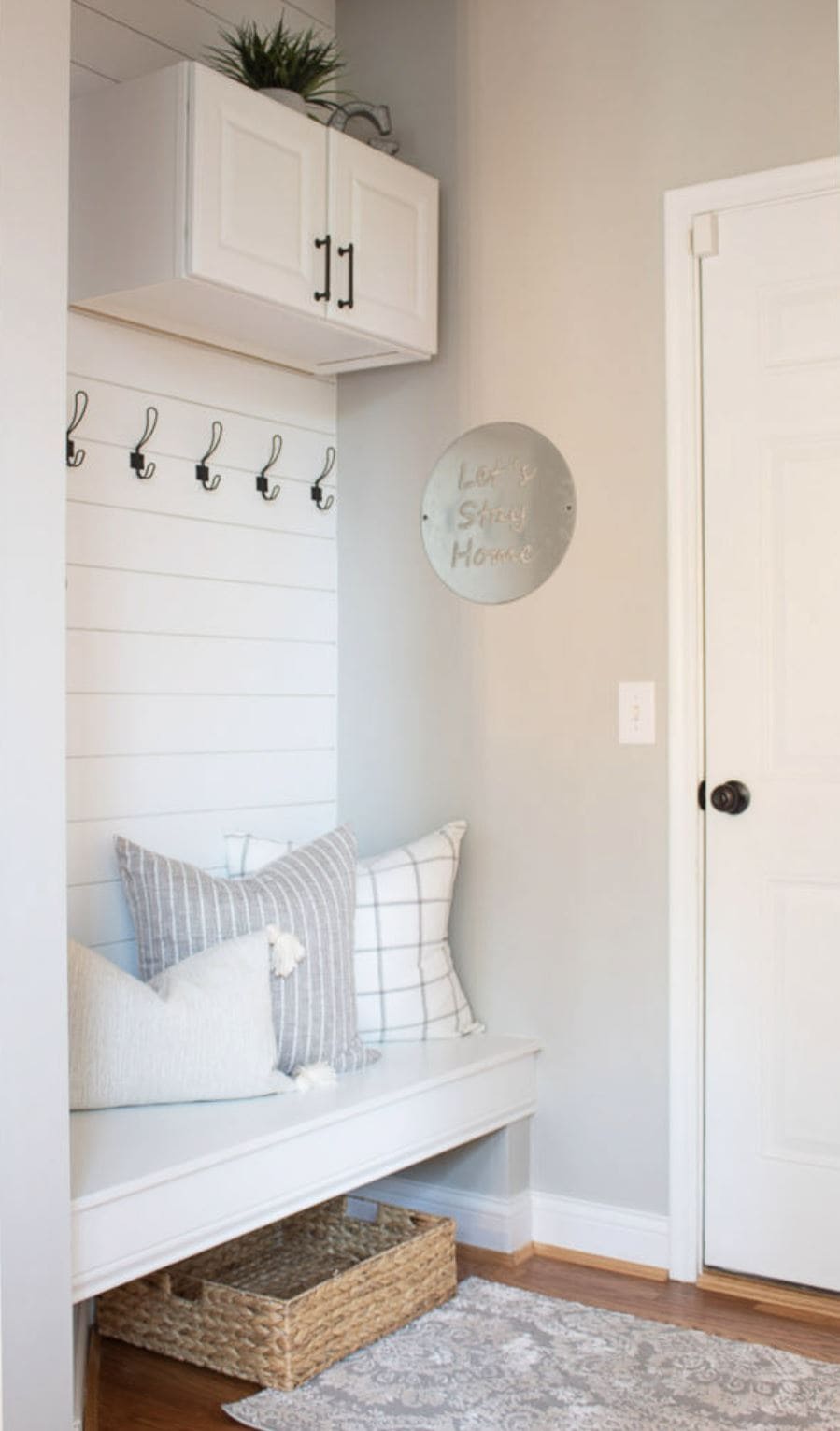 A Small Accent Wall for Just a Touch of Farmhouse Charm
If you'd like to add some shiplap to your home, but haven't installed it before, trying a small accent wall first is a great idea. This Shiplap Accent Wall from Lilies and Life shows how much of an impact even a small section of shiplap can make. Add art, a mirror, or a vintage blackboard on top. Or, install hooks for hanging storage.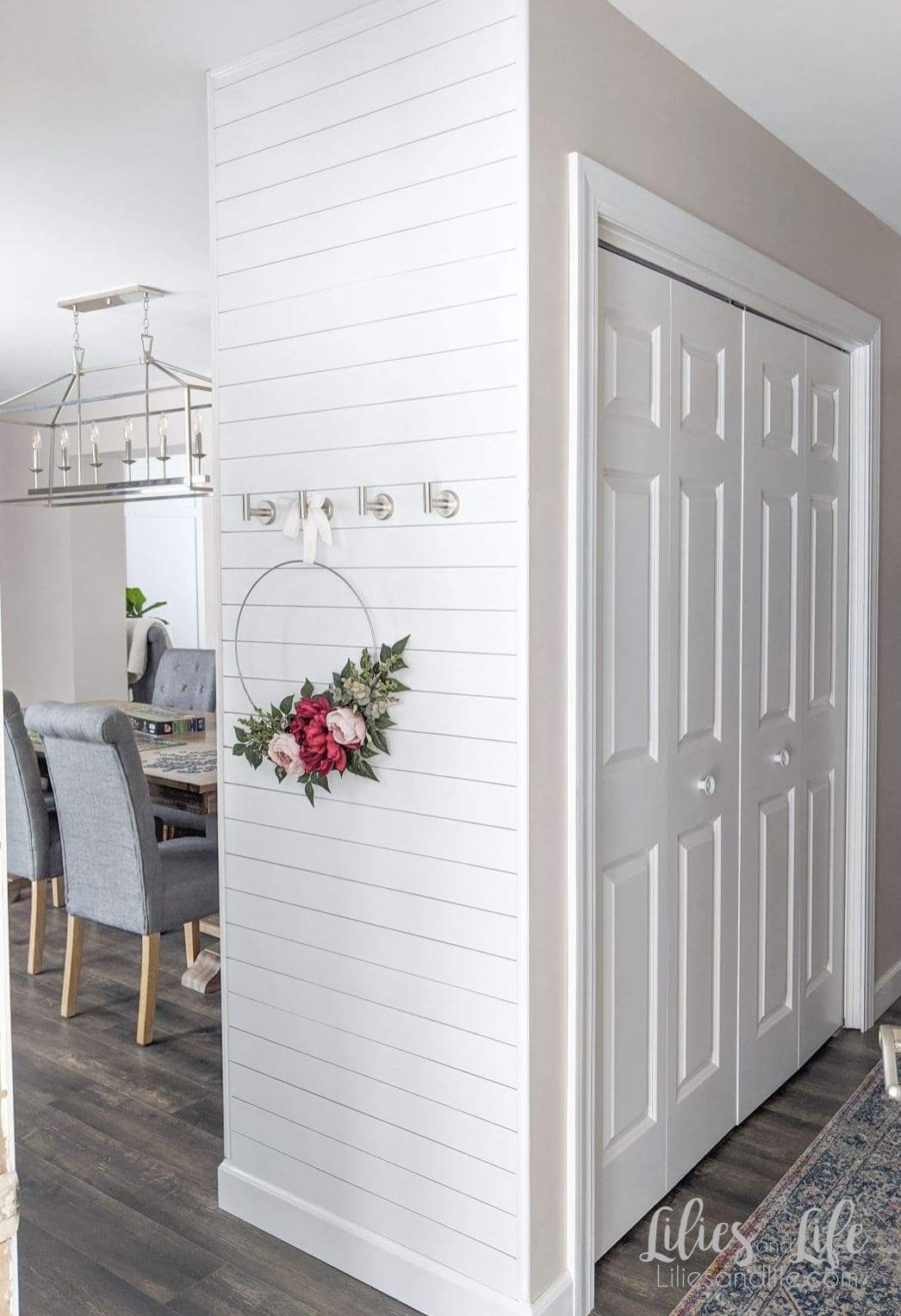 Try Black Shiplap For a Fresh Twist!
If you want something a little different, opting to paint shiplap a dark color like black, gray, or a deep blue will give depth and character. This Black Shiplap Wall in a Baby Nursery is from @alieshaporto on Instagram and it is a very cool look!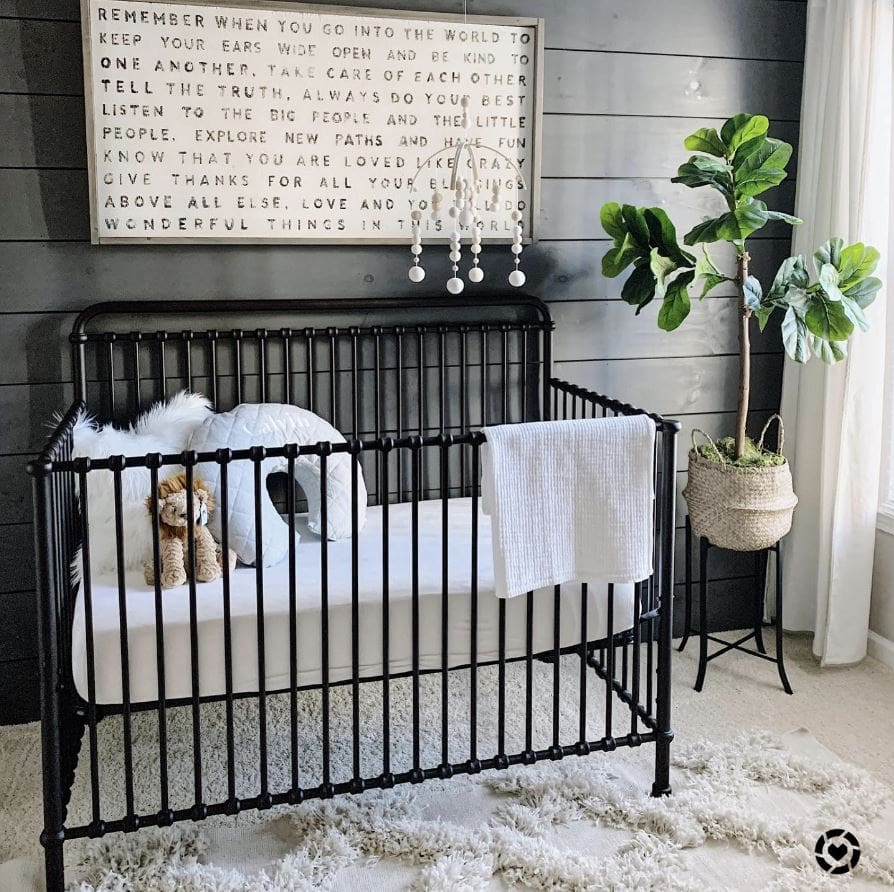 Use Shiplap Around Your Fireplace
Got a fireplace that needs a facelift? This DIY Shiplap Fireplace from Charleston Crafted is a big project, but the results will be worth it. These DIYers painted horizontal shiplap a deep blue-gray and placed it over the fireplace, a custom bump-out, and around the existing windows. A huge design impact for sure!
Cover Bathroom Walls with Shiplap
This beautiful Farmhouse Bathroom with Shiplap from Jenna Kate Design is a classic farmhouse style room. The planking is nice and wide and looks beautiful with that gorgeous floor!
Check out my roundup of shiplap bathroom ideas for even more great ideas (and practical tips) for using shiplap in a bathroom.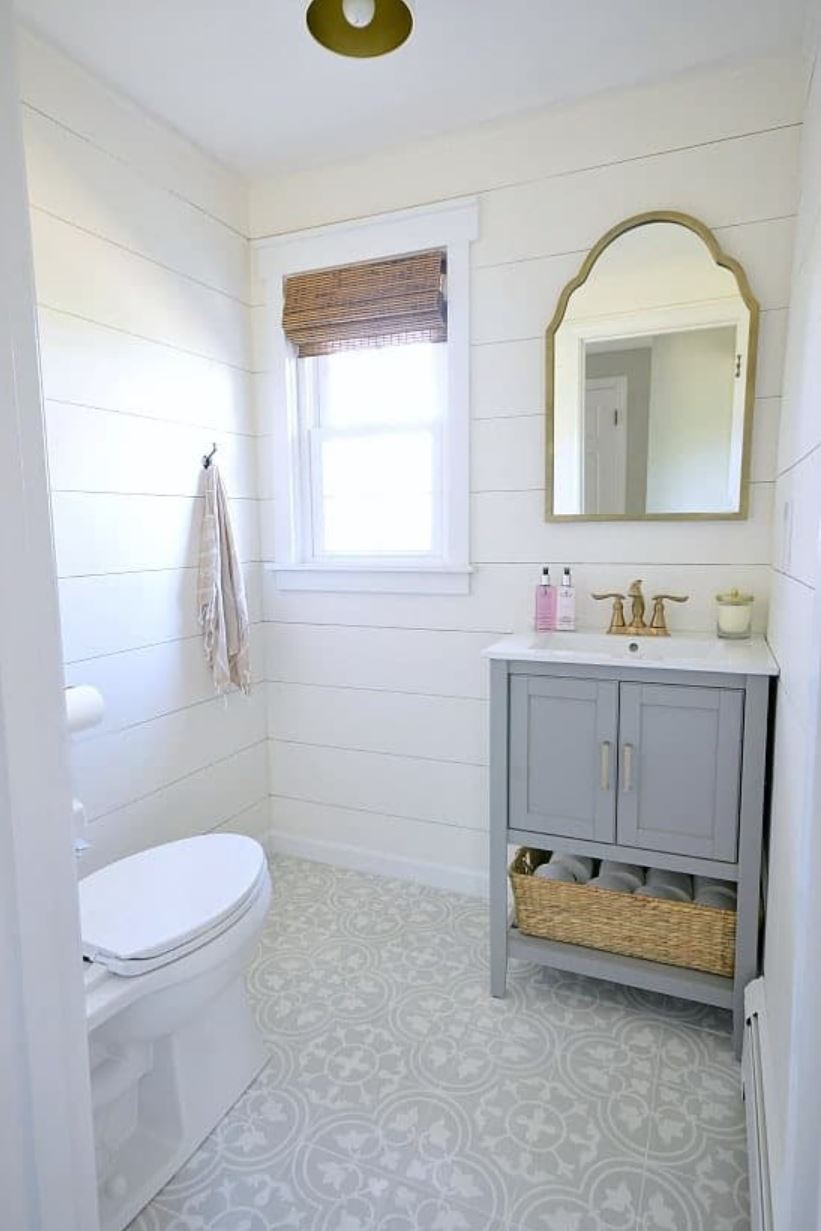 A Petite Farmhouse Nursery with Shiplap Walls
This sweet Farmhouse Nursery with Shiplap from Elizabeth Joan Designs is actually designed in a walk-in closet. When you are pressed for space it might feel like designing a cute space is too challenging, but it is worth it. Using shiplap gives the space charm without adding bulky details and the lighting is a cool hack that doesn't require wiring electrical into the space–what a win!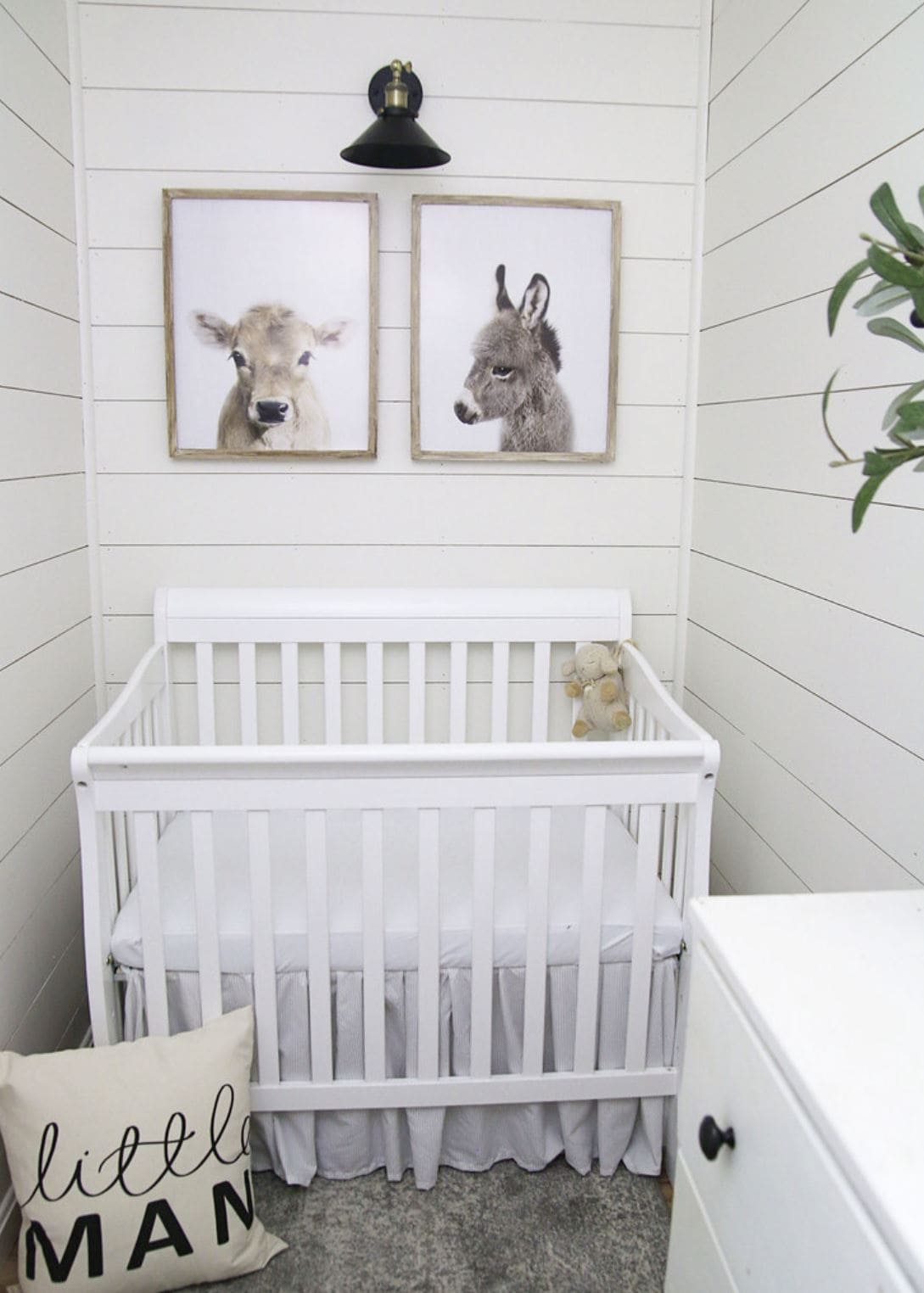 Shiplap Laundry with Farmhouse Accents
This farmhouse style Laundry Room with Shiplap from Simply2Moms is basically everything I dream my laundry room could be! I love all the cute touches of farmhouse décor!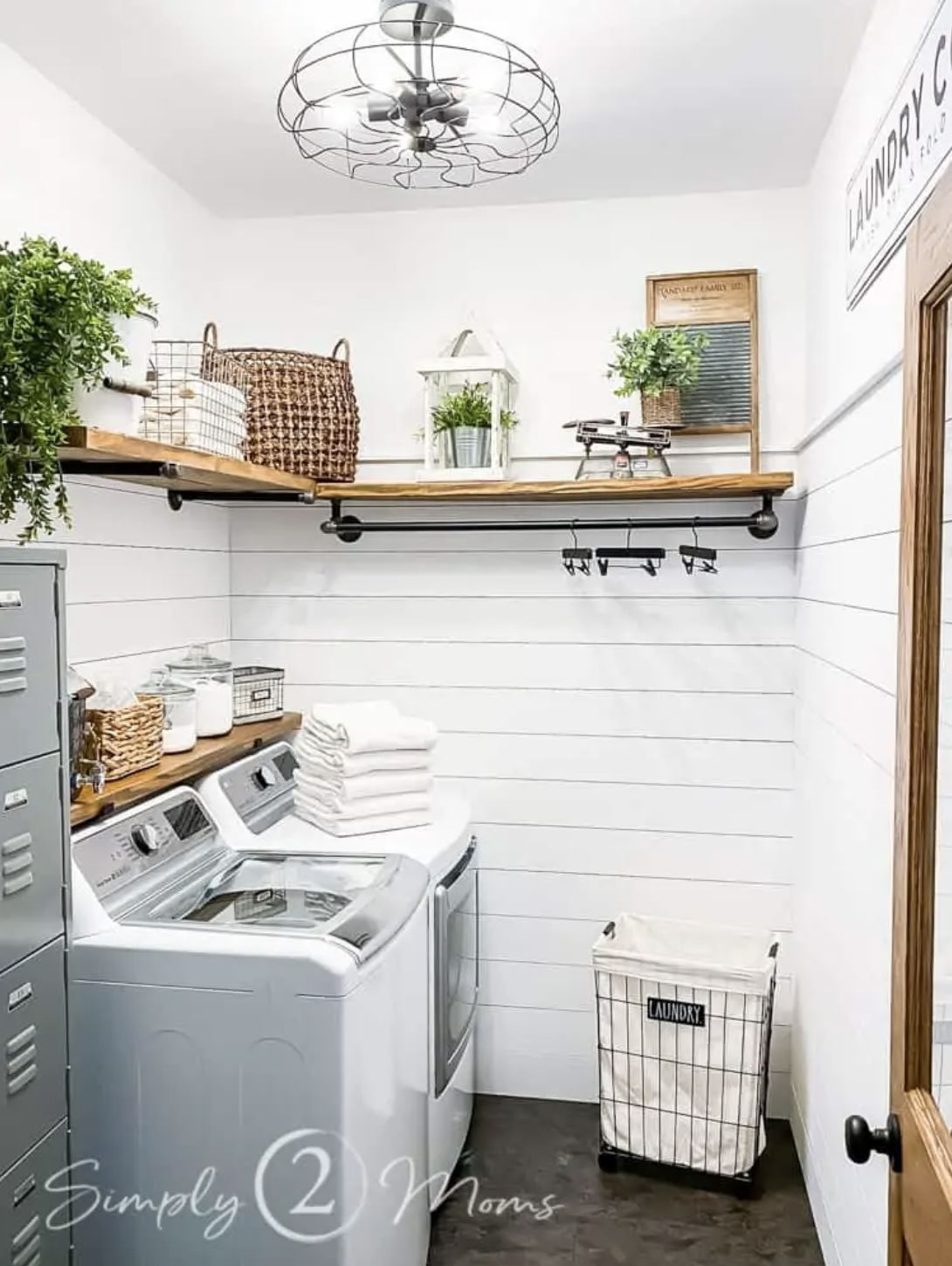 Use a Headboard for a "Temporary" Shiplap Look
If you are concerned about the trend of shiplap fading off into the sunset, then you might consider some less-permanent options that don't require nailing dozens of boards into your drywall. Yep, removing shiplap does not sound like a fun task, so if you aren't sure, go with something like this Planked Headboard from Sincerely Marie Designs. The look without the hassle.
Tip: You can also look into shiplap wallpapers if you aren't sure how long you want to keep the look.
Shiplap Headboard
We made a shiplap-style headboard too and it was relatively simple DIY project. Plus, it was lots of fun to use milk paint to "stain" it. You can build a simple planked headboard like this and customize it any color you like for a way to incorporate the shiplap look without attaching boards to your existing drywall.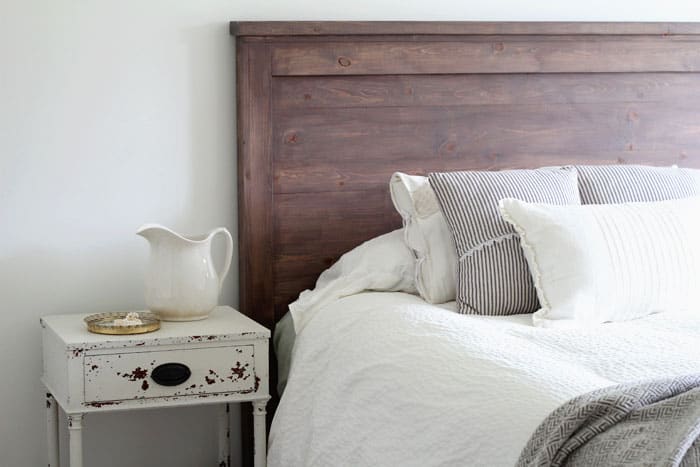 Shiplap Half Wall in a Laundry Room
Pairing white shiplap with a bold wall color is a stylish look in this Shiplap Laundry Room from Heart-Filled Spaces. If you have never installed shiplap before, starting with a half wall makes things a little easier. Plus, who wouldn't want a laundry room this pretty?!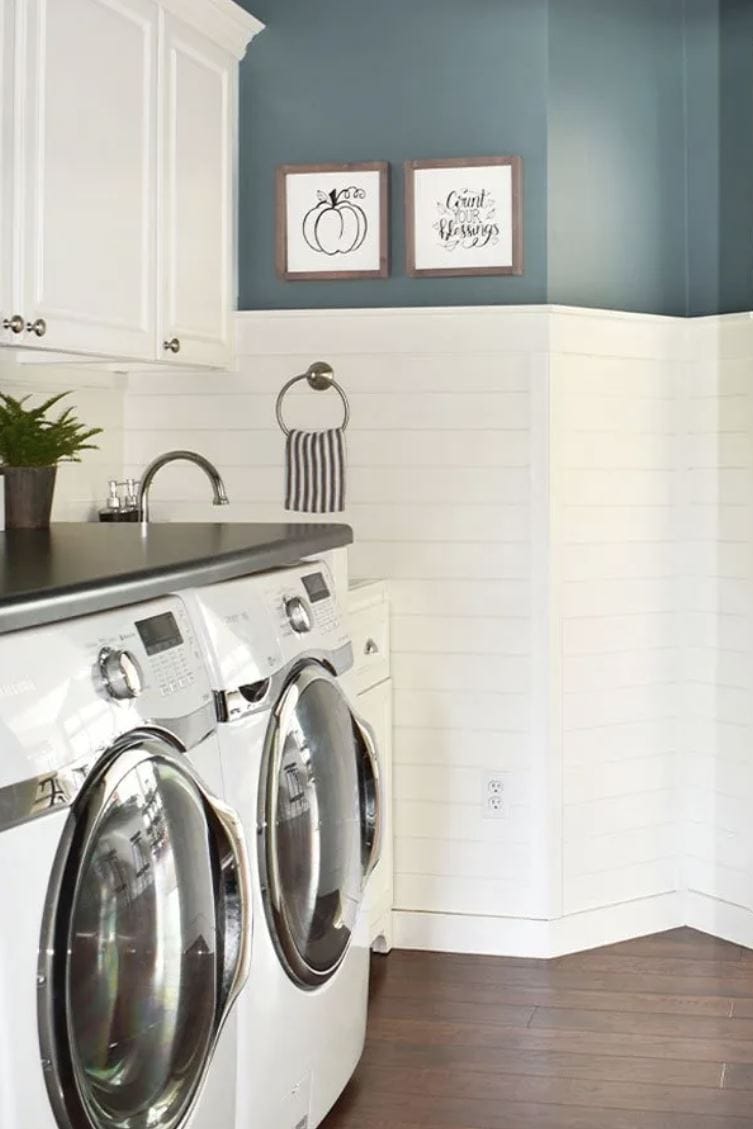 Simple Accent Wall
A simple shiplap accent wall is just the ticket for many spaces (bedrooms, nurseries, living rooms, etc.) and this Baby Girl's Nursery with Shiplap from Vanessa Calcara (project nursery) is a delight.
Wall to Wall Shiplap in a Baby Nursery
Wall to wall shiplap makes a beautiful canvas for the sweet touches of blue in this Baby Boy Nursery with Shiplap from Monika Hibbs.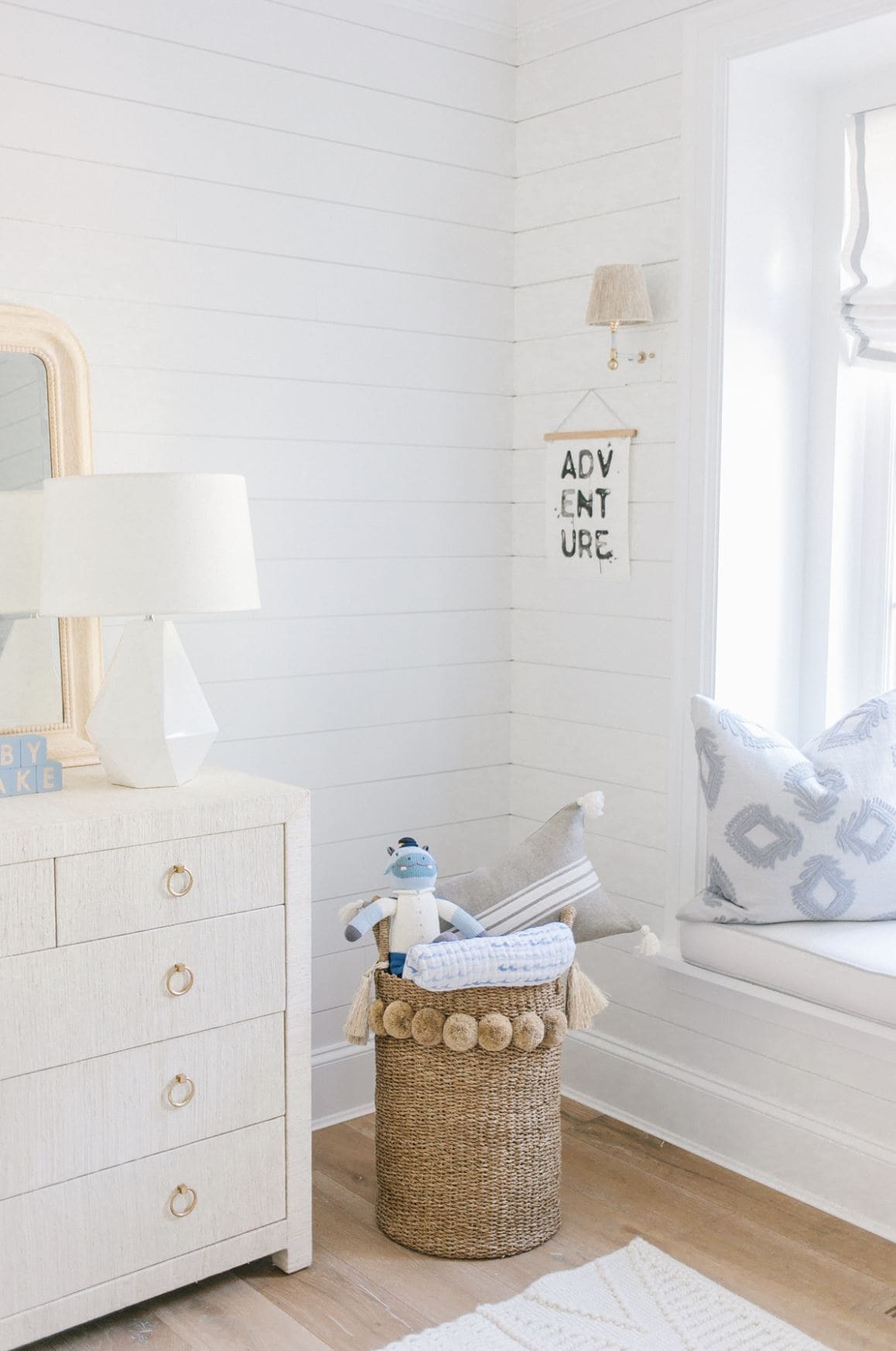 Shiplap Accent Wall in a Bedroom
A popular spot for a shiplap wall is behind the bed in a bedroom. The DIY Shiplap Wall from Cottonwood Shanty sure makes this farmhouse style bedroom a cozy and welcoming space. Opting to paint the walls and shiplap gray gives the space a bit of a twist on the popular soft white shiplap walls.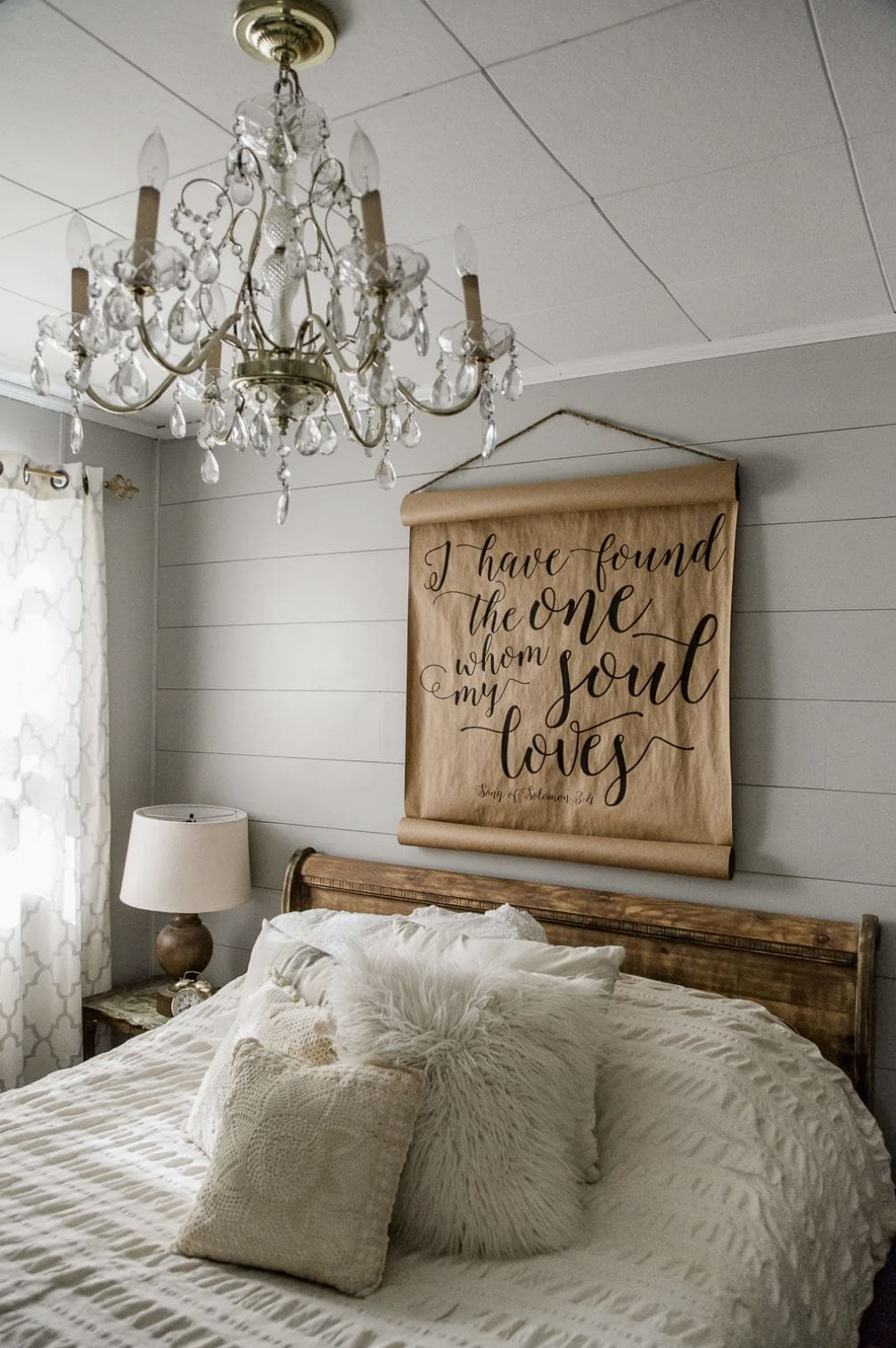 A Simple Shiplap Headboard in a Beachy Bedroom
Another pretty DIY Shiplap Headboard, this one from Starfish Cottage in a coastal bedroom. Again, opting for a shiplap headboard instead of a whole wall means that you can change the look easily whenever you want!
Laundry Room with Vertical Shiplap
Laundry rooms can be a challenge to decorate. This Vertical Shiplap Laundry Room from Arin Solange At Home looks so clean and fresh with all that vertical shiplap throughout.
I hope you enjoyed this roundup of shiplap wall ideas! I have so many ideas for my own home from looking through the photos and dreaming of what I could do with unlimited time and plenty of planking.
Happy decorating!
More Farmhouse Ideas