IKEA KALLAX shelving units might seem simple, but the possibilities for customization are endless! Add legs, add paint, add overlays. Store crafts, toys, books. Make a bench, make a dresser, make a tv stand. You'll love this list of over 25 brilliant IKEA KALLAX hacks!
Please note that this post contains affiliate links which allow me to earn a small commission when a purchase is made at no additional cost to you. Read more here.
IKEA Kallax shelving units are full of possibilities. These amazing storage pieces can be used as-is OR you can get creative with hacks and ideas that can totally transform these basic furniture pieces. I've included over 25 ideas here along with tips and tricks for customizing your IKEA setup.
The IKEA Kallax starts off with a range of ready-to-assemble sizes: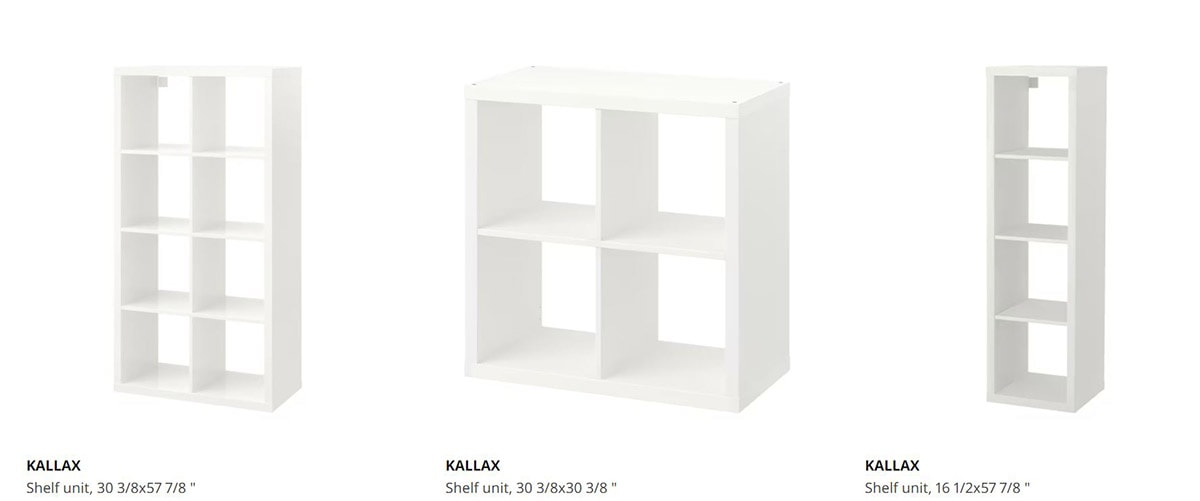 You can buy a giant 5×5 cube shelf and use it as a room divider or mass organizer. Or, pick up the small 2×2 cube to use for end tables, nightstands, and more. There's vertical shelving too and you can try adding legs or organizer inserts to customize the look.
What about the Expedit? Note that the Kallax is a newer version of the retired Expedit. If you have an old Expedit, a lot of these tutorials and ideas will work for that shelving unit too. By the same token, a few of the ideas I've included are made using the Expedit, but the same principles will work for this newer model.
KALLAX Inserts
The IKEA inserts that are available for the Kallax include: drawers, doors, simple storage boxes, storage boxes with lids, and inserts with a door that doubles as a blackboard. The insert with compartments divides each cube into four diagonal spaces that as a knitter all I can think is YARN STORAGE, but would be handy for storing a variety of items.
There's even an insert for bottles. A cat house? Yes, they have that too. And a myriad of beautiful baskets and storage boxes to suit any home décor style.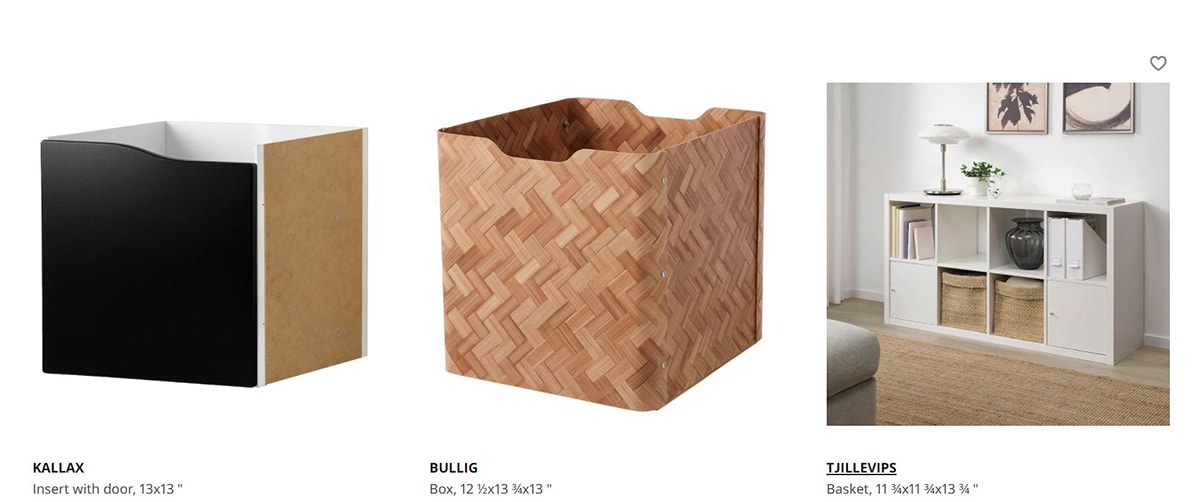 You can also use the IKEA Kallax Planner to design your perfect Kallax situation.
How to Add Legs to the IKEA Kallax
Perhaps one of the easiest way to level up your IKEA Kallax and make it look a little more expensive is to add legs. IKEA has made this easy with the shelving unit + underframe option with legs you can purchase ready to build. You can also grab a base separately as well.
There's also easy ways to add more customized legs to the IKEA Kallax too. This pretty bookshelf hack from Delia Creates is a great example.
How to Paint the IKEA Kallax
You can also use paint to customize your piece! Though not a post specifically about the IKEA Kallax, this winner of a tutorial from Lauren at Bless'er House provides instruction for how to correctly paint IKEA laminate furniture using a deglosser, adhesion primer, and more. Get that high-end look you are after with a fresh coat of paint.
What Else Can You Do With an IKEA Kallax?
You can use them as workstations, craft tables, benches, storage, dressers, card catalogs, tv stands, and so much more. Leveling up the look with the addition of legs, paint, or hardware can make your budget-friendly Kallax look expensive and luxurious.
Let's dive into the ideas!
IKEA Kallax Hacks
Make a DIY Card Catalog
If you have ever tried to hunt down a vintage card catalog, then you know how challenging they can be to find. Not to mention pricey! Terra from The Savvy Heart came up with this gorgeous Apothecary Cabinet/Card Catalog using the IKEA Kallax. It's a budget-friendly DIY that will provide a huge storage opportunity for any room that could use some tidying up.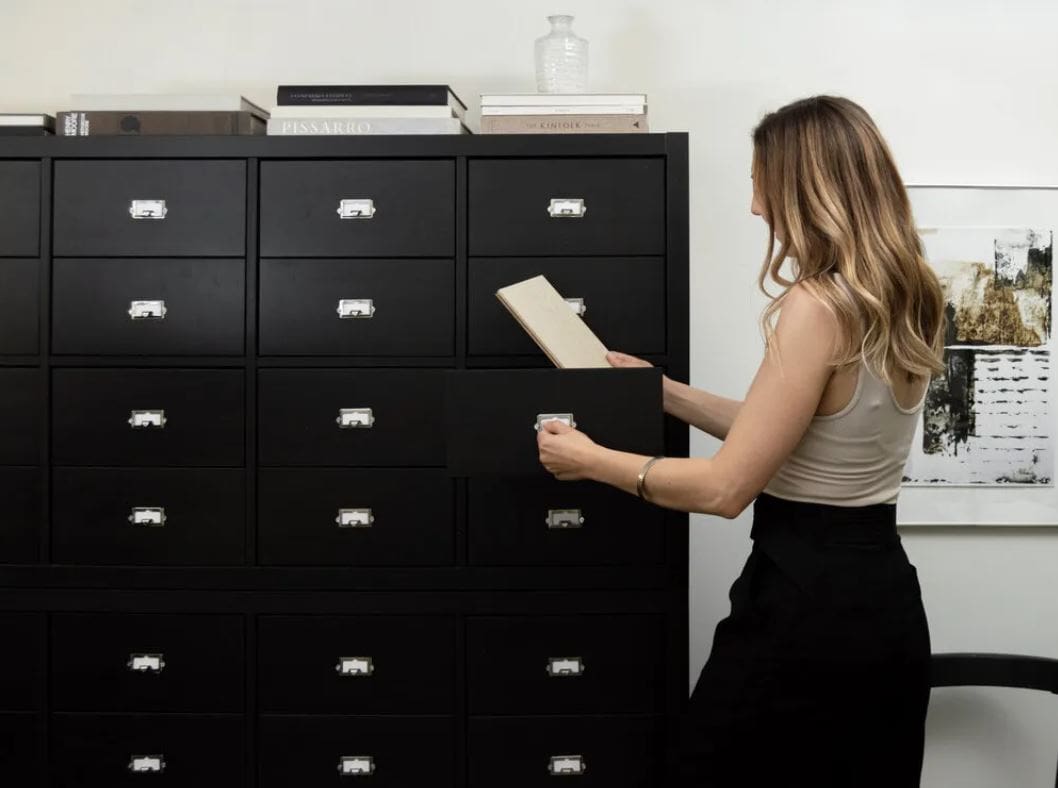 Try Adding Doors and Overlays for a Luxury Storage Unit
This might just be my favorite Kallax hack on the list! Ceres from The Pink Dream styled this Kallax so beautifully, but the custom Kallax overlays (from My Overlays) and the gold ring knobs make this piece look absolutely dreamy.
Turn An IKEA Bookcase into Locker Storage
This IKEA Bookcase into Lockers from Little House of Four makes the toy storage in this living room completely hidden. I am ALL about that. The bronze hardware makes the budget-friendly Kallax look far more expensive than it is. This piece would be a great addition to a farmhouse style home. Note that this is an Expedit, but the same technique can be used with the newer Kallax.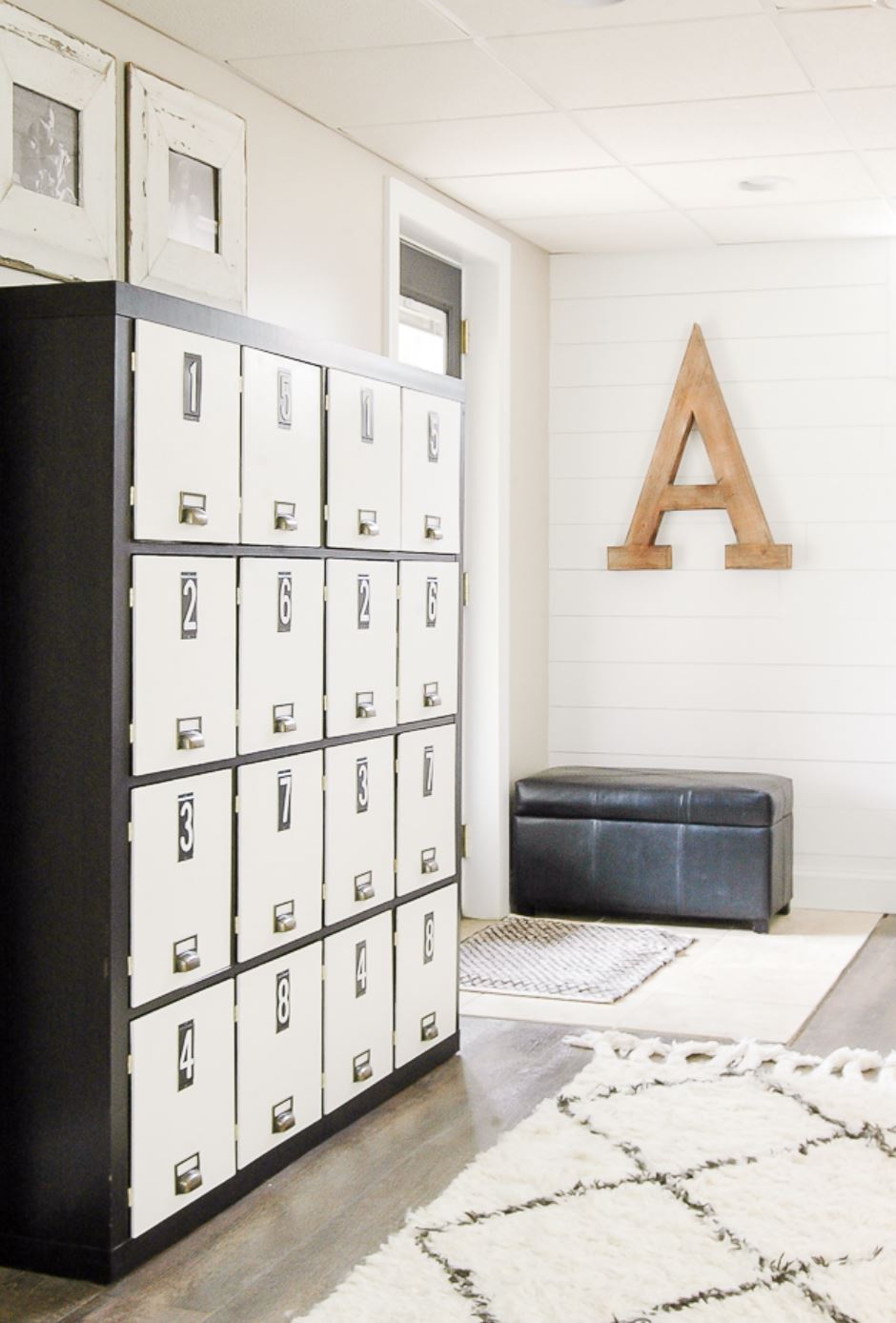 Kallax Craft & Office Organization
Artist Jiselle Williams has a craft room that is full of color and inspiration. This IKEA Kallax keeps supplies organized and readily at hand. Serious craft room goals right here!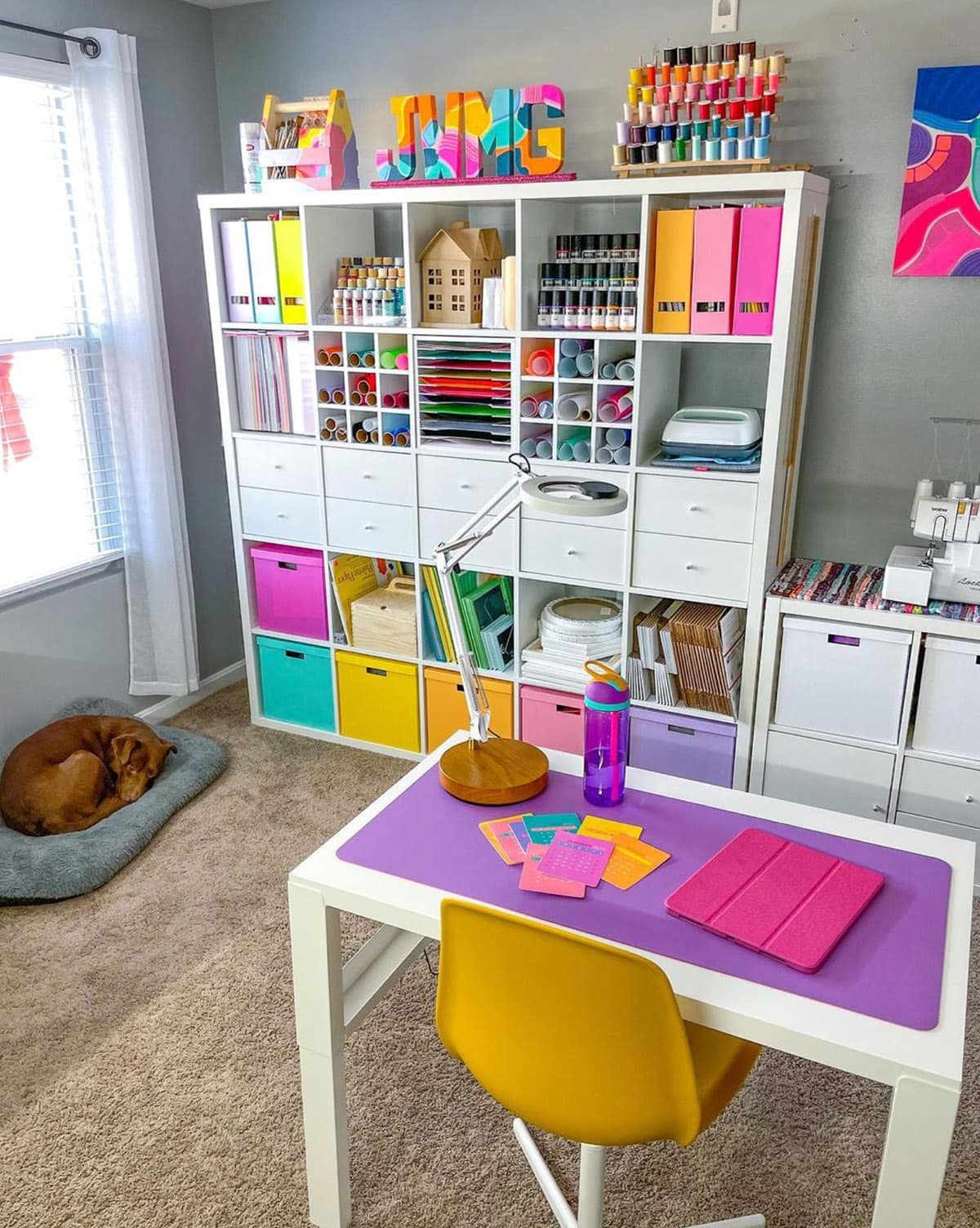 Rustic Shelves Hack
This tutorial for using the Kallax to create these DIY Rustic Cube Shelves from Home Made Lovely includes step-by-step instructions on how to make your own doors as well as give them this unique rustic aged patina. A lot of work, but so worth the final result!
Use a Kallax to Store Toys
This IKEA KALLAX Toy Storage from Mrs. B Organized utilizes Kallax door overlays and paint to create a beautiful custom look. Add some baskets and this storage piece is ready for all the toys, all the time.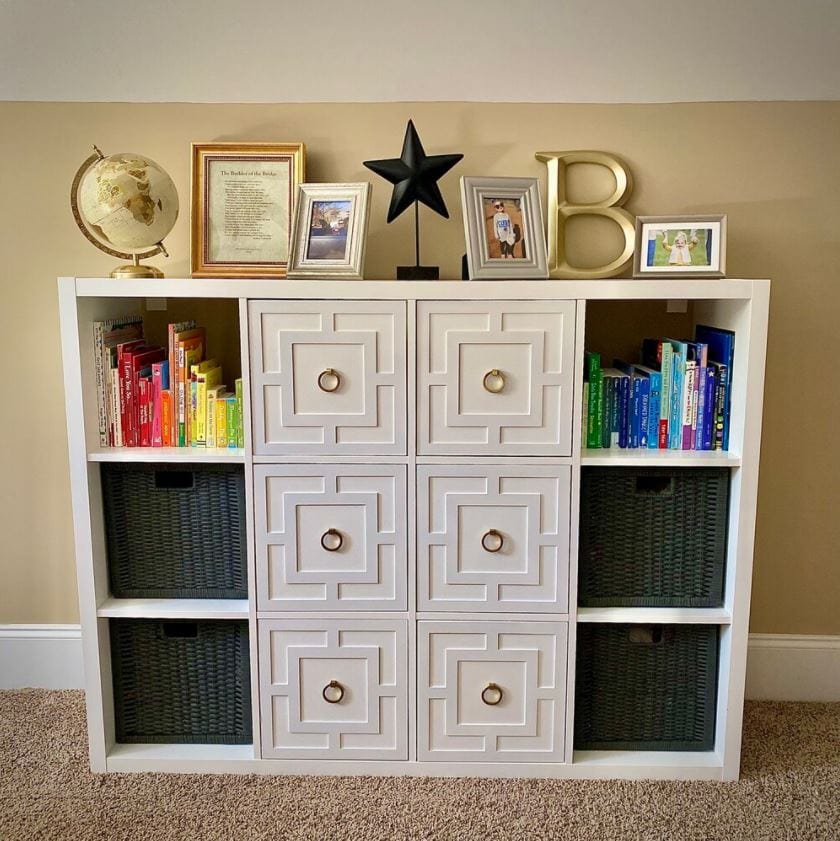 Add Faux Wood Doors and Brass Rings for a Classy Storage Piece
Jazzmine from Dash of Jazz created this Home Bar Cart Kallax Hack utilizing wood grain contact paper and pretty ring pulls for a custom finish. This technique could be used in a variety of ways to create different looks and storage pieces. Such a good hack!
Bookshelf + Storage
The Kallax of course is begging to be used as a giant bookshelf. I love the idea of using the lower half for hidden storage (use the IKEA baskets or doors made for the Kallax) and then topping things off with a book collection. This IKEA Hack for Bookshelves (using the Expedit) from Dans le Lakehouse does just that as it balances the busy-ness of book spines with handy closed-off storage.
Kallax Banquette Seating Benches
If you are up for a bit of a wood-working project, this IKEA KALLAX Banquette Seating from At Home with Ashley is such a great hack. The shelves have even been set up on their backs to allow for hidden storage under the bench tops–how cool is that?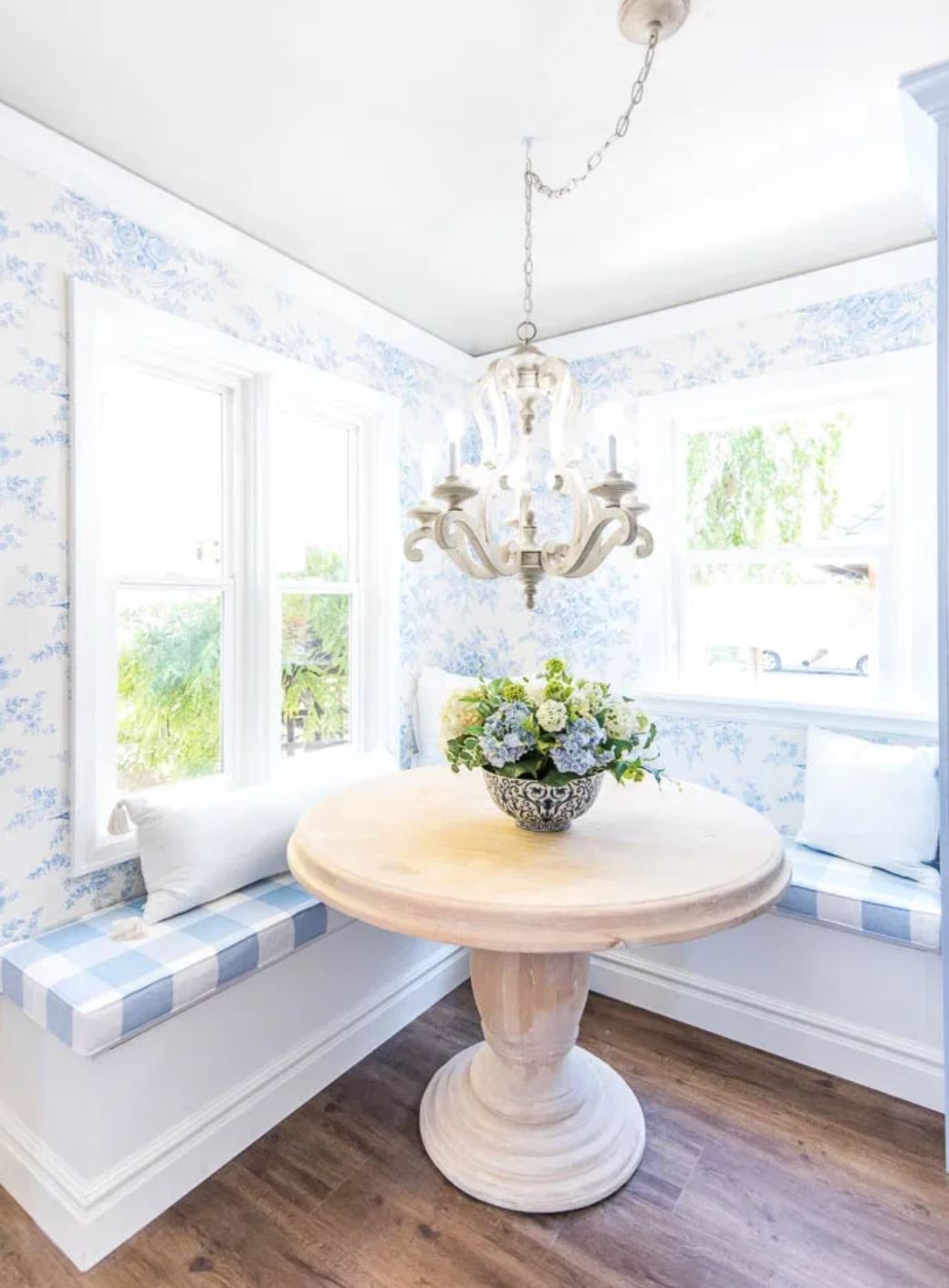 Make a Giant Craft Table
Having a giant craft table where I can cut fabric and set up my Cricut is a dream of mine someday and this IKEA Craft Table Hack from Landee See Landee Do is so inspiring! The counter height is great for comfortable crafting and the built-in storage makes it basically craft table perfection. Love it!
Vertical Bookshelf with Legs
The Kallax is really endlessly customizable but this Kallax Bookshelf with Legs from Delia Creates demonstrates how even the simple addition of legs can make the piece look more stylish and modern.
Nursery and Kids' Room Storage
These IKEA Kallax Shelves in a Nursery from Caitlin Marie Design showcase favorite toys and books, but also include handy storage baskets for some hidden storage space to keep a nursery or child's room looking neat and tidy.
Storage Bench Kallax Hack
This Storage Bench from Feeling Nifty features closed off storage and a comfortable seating cushion for a casual storage bench.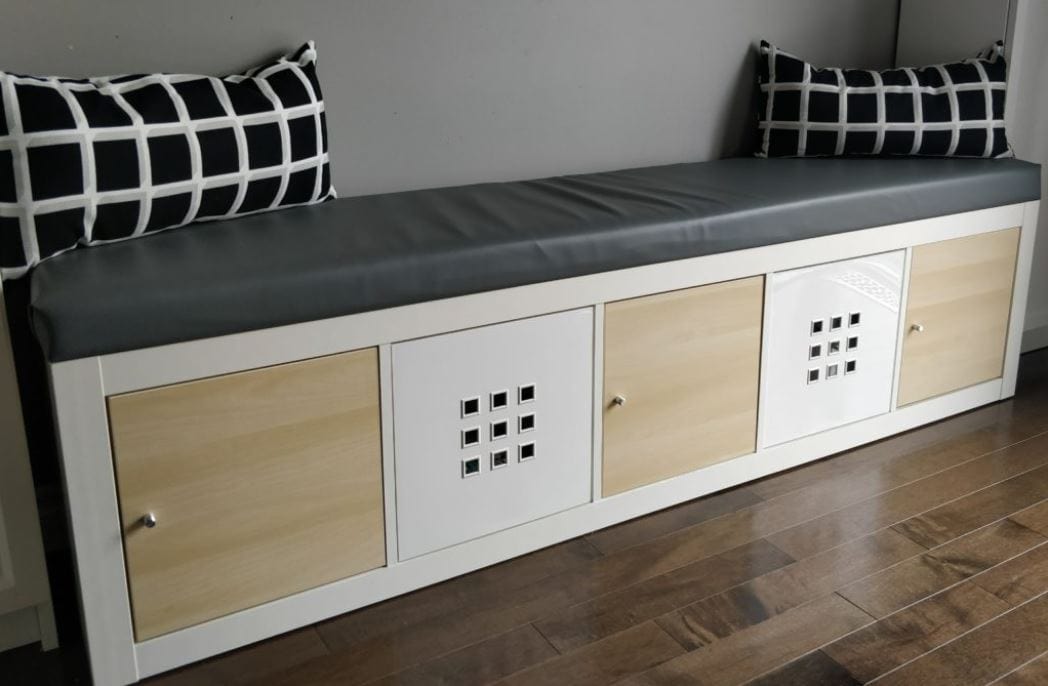 Add Legs for a Custom Look
This Kallax Hack tutorial from Where the Smiles Have Been shows how to construct an IKEA Shelf with Added Legs.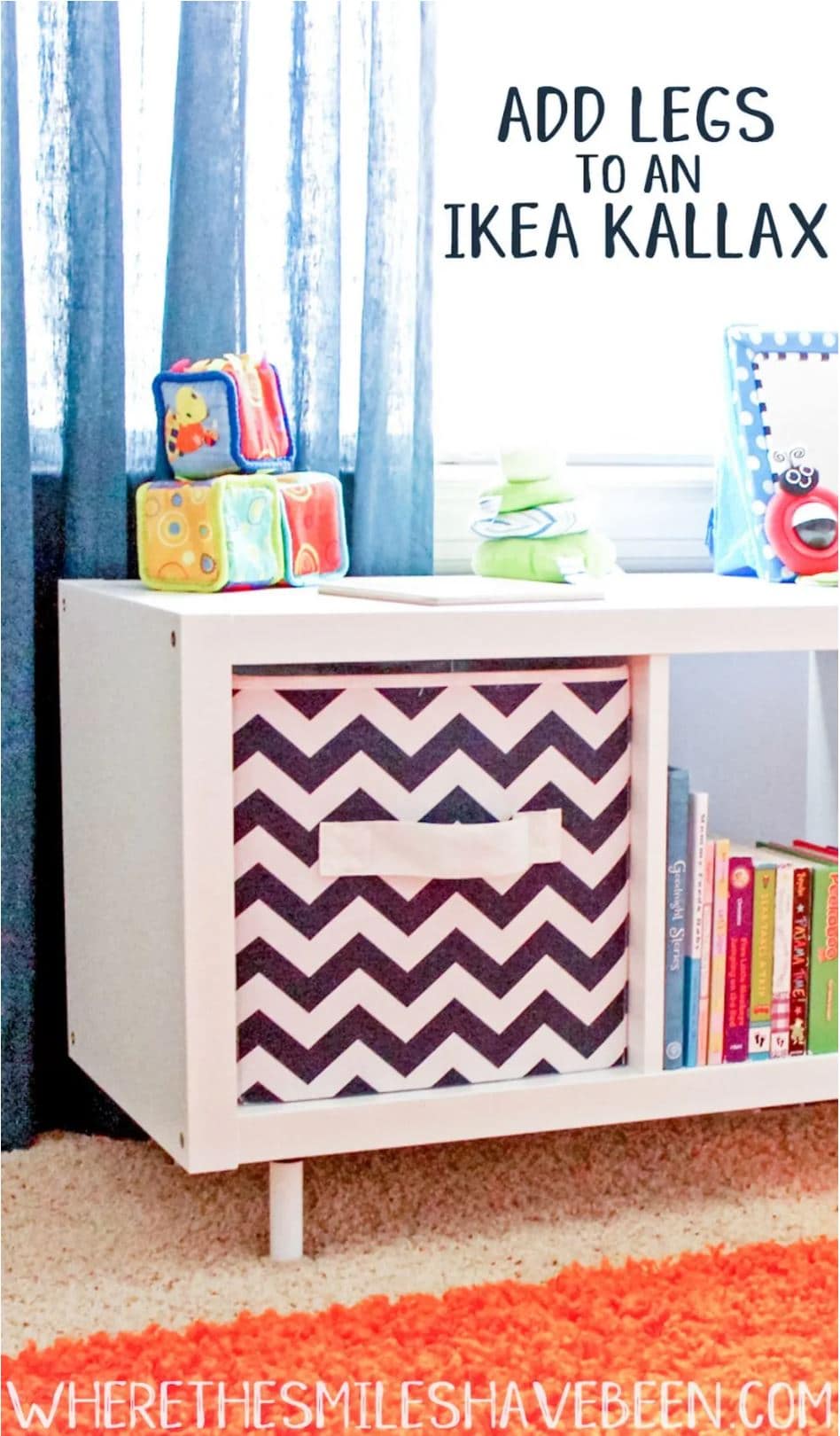 Floral Storage Bench
This IKEA Shelf Flip from Crafty Box Girls shows how to hack the Kallax into a storage bench with legs. The use of colorful storage baskets will customize the look for a one-of-a-kind piece.
Playroom Storage and Bench – Kallax Hack
If you need lots of storage in a family room, check out this IKEA Kallax Playroom Storage and Bench from Kate Decorates. Try combining multiple Kallax units for easy storage that the kids will love using too.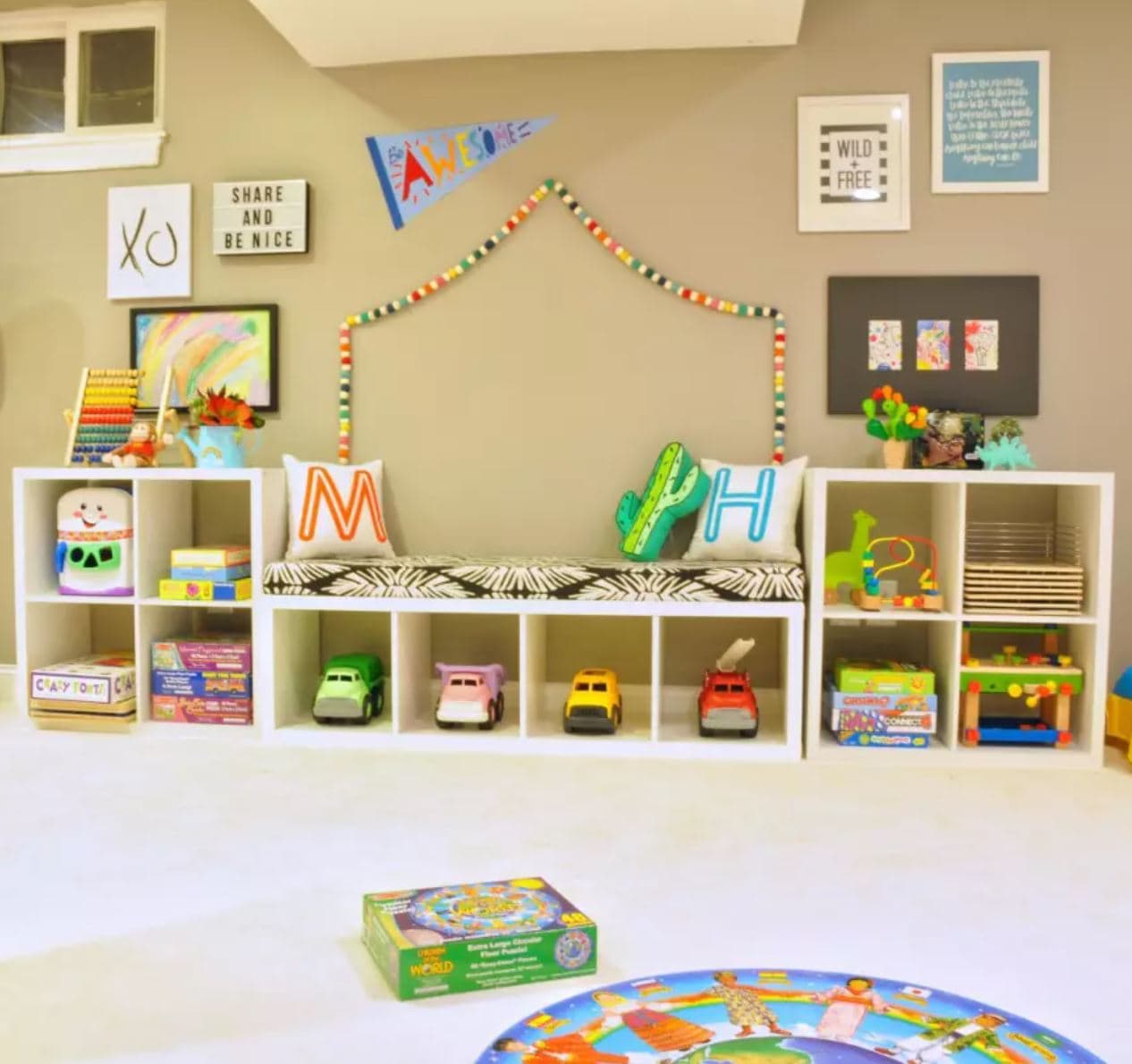 More Kallax Hacks to Try
I hope you enjoyed this roundup of some of my favorite IKEA Kallax Hacks.
Here's even more amazing Kallax projects to inspire you!
More DIY & Home Décor Ideas