The Best Knitting Needles for Beginners
New to knitting? If you are trying to figure out which knitting needles to buy for the projects you want to knit, you'll love this helpful guide from an experienced knitter with my top recommendations for the best knitting needles for beginners.
Please note that this post contains affiliate links which allow me to earn a small commission when a purchase is made at no additional cost to you. Read more here.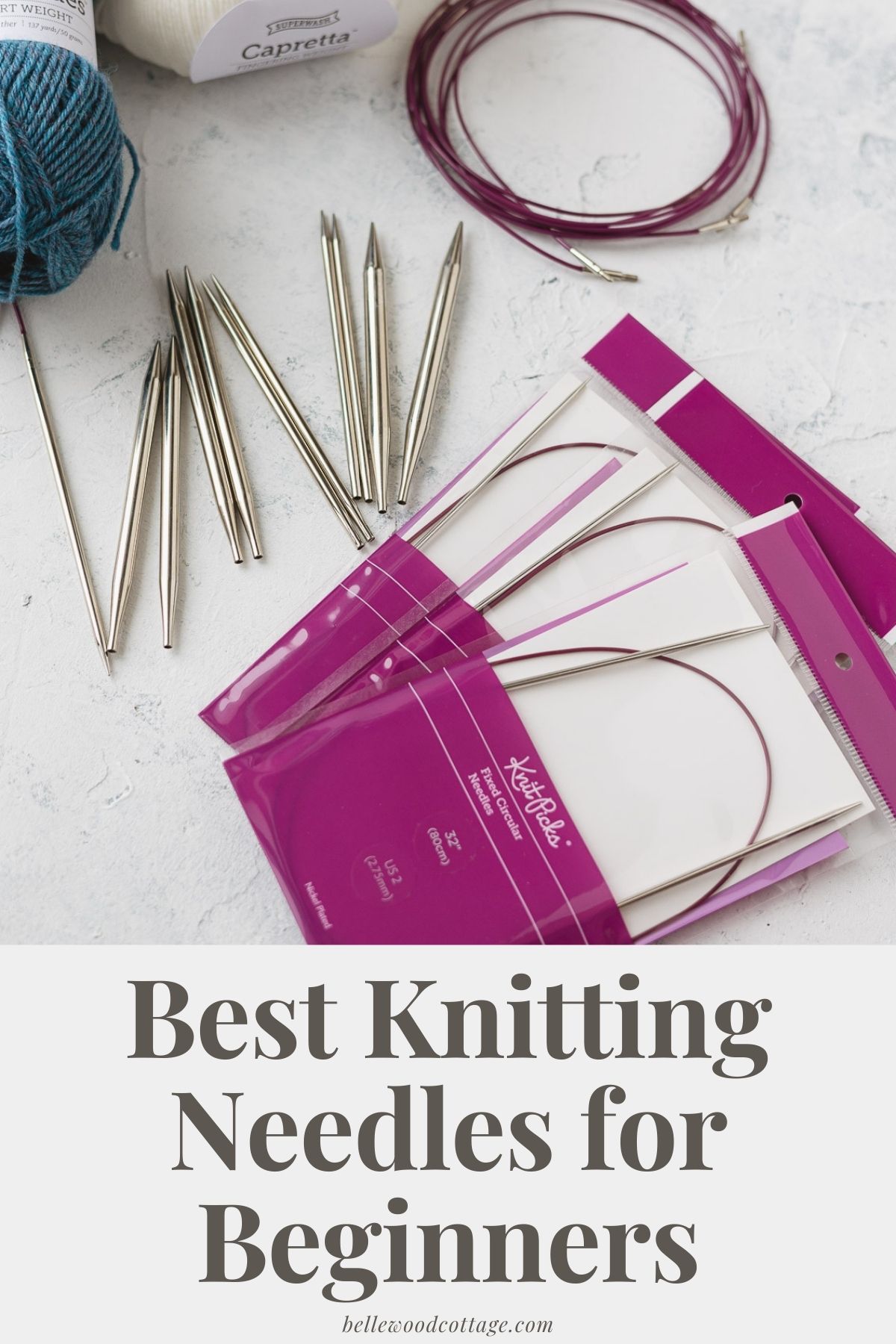 After over 15 years of knitting, I have a few thoughts on the best knitting needles. Everyone has preferences and you'll discover yours as you continue to knit. In this post I'll walk you through the various styles of knitting needles (straight, double-pointed, circular), the different materials (wood, stainless steel, nickel, etc.), and the pros and cons of each style.
Use the following table of contents to jump to the topic you are most curious about. Or, keep reading for a step-by-step walk through of the variety of needles available.
If you are just starting out, you might have already picked up a pair of needles to learn the basics. Whether you've already finished a project or two, or if you don't have a single needle yet, here's my advice for your very first knitting project:
Knitting Needles for Your First Knitting Project
For your very first knitting project, you might want to start with a good knitting kit for beginners. It's wonderful to have everything pre-packaged and ready to go.
A good kit will include needles of course and once that first project is complete, you can begin to expand your needle collection for future projects (I'll share my favorite way to get all the sizes you need while saving money too).
If you aren't starting with a kit, grab a pair of 10″ straight needles (in maybe a US 7 or 8) and practice your stitches with a worsted weight yarn.
Straight needles come in sets of two and have a stopper on each end to prevent stitches from sliding off. They are used for working flat pieces (washcloths, scarves, and patterns that are knit flat and then stitched together later).
Once you've learned the basics of knitting on that first set of needles, the fun can begin. Testing and stockpiling both yarn and tools (the building of the "stash") is nearly as enjoyable as the knitting itself.
Knitting Needles and Gauge (or, why you need a lot of needles)
So, you are ready to build your needle collection. You're ready to try knitting socks, sweaters, lace, cables, and all manner of projects. Where to start?
The thing about knitting is that you're going to need more needles than you think. Why? Well, because selecting a set of needles for a project isn't as simple as checking the pattern guidelines and purchasing the recommended needle.
We all knit a little differently and one of the most crucial parts of (most) projects is achieving "gauge". This is a set number of stitches and rows within a square of knitting (often measured in a 4″ square). You should always check the gauge of each pattern before starting and then make a gauge swatch to check if you are meeting the requirements.
If you aren't achieving gauge for a particular pattern (assuming your yarn choice is correct) you will need to switch needle sizes. Naturally, it's best to have all the sizes handy to avoid trips back to the yarn store (or waiting for a needle to ship).
Don't ignore gauge if it's off. If you just keep knitting, you'll risk ending up with projects that are potentially entire sizes too large or small.
A Variety of Needle Sizes is Essential
So, basically if you want to be able to start any project on a whim (and you do), you need options. Having a variety of knitting needles sizes is essential. In fact, you want EVERY size. This is why I like Interchangeable Needle Sets, but more on that in a moment.
But, it's not as simple as just buying a pair of needles in every size. The different styles of needles (straight, double pointed, circular) affect the knitting process too. Even the material the needles are made from matters. That's where choosing needles can feel overwhelming!
So let's walk through the differences between circulars, interchangeable (circular) needles, straight needles, double pointed needles, and even cable needles. Then, I'll share my favorite knitting needle solution that'll set you up for nearly any knitting project.
The Different Kinds of Knitting Needles
Straight Needles
The quintessential knitting needles. Straight needles are sets of two needles on which the knitting is worked back-and-forth. Used for flat knitting, the needles have a stopper at each end to keep the stitches on. They come in a variety of materials (steel, plastic, bamboo, etc.) and a variety of lengths.
What to Know: It's easy to accumulate tons of these while trying to get the right size for new projects. They can also be hard on your hands. You cannot knit in the round with straight needles. Pieces are knit flat and then seamed.
Double Pointed Needles
While they might look intimidating (and are excellent for showing off your knitting prowess), double pointed needles aren't too tricky to use and they are the classic way of knitting in the round. Using four or five needles (one is used to work the stitches), these needles are great for socks, mittens, sleeves, and other small in-the-round projects.
What to Know: Again, it's easy to accumulate tons of these while trying to get the right size for new projects. If you like knitting with wood needles, be prepared to replace smaller sets of DPNs as they can occasionally snap while knitting. They are sold in various lengths so be careful to choose the appropriate length for the project you plan to knit.
Fixed Circular Needles
Fixed circular needles are used for knitting in-the-round instead of double pointed needles (DPNs). You have to match the correct cable length to the project you are knitting for true "working in the round". I use the "Magic Loop" method which allows you to use a longer circular for smaller pieces of knitting. Incredibly handy! These needles can also be used for flat knitting.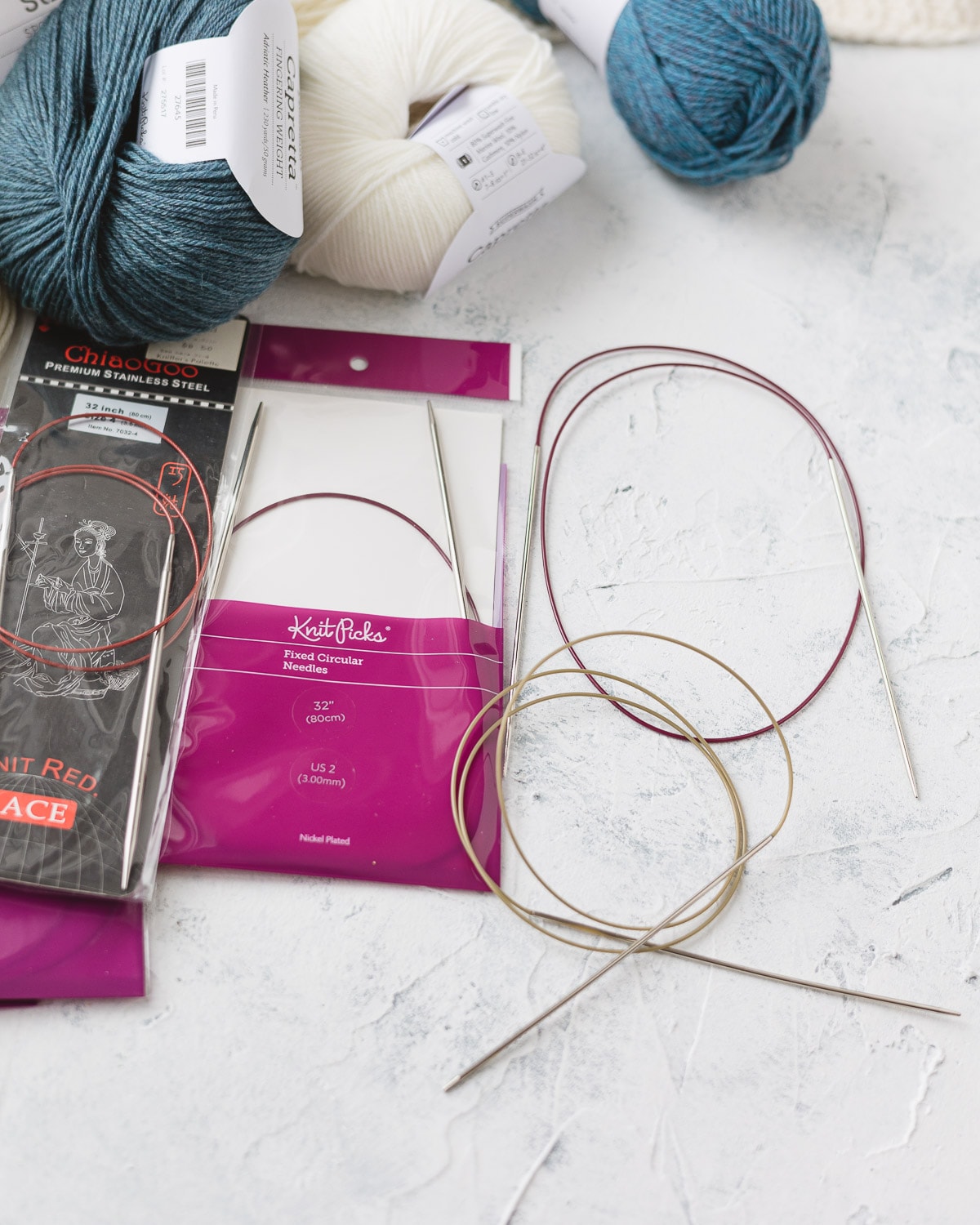 There is more flexibility with circular needles than with the other styles, especially when you learn the Magic Loop Method of knitting in-the-round, which allows you to use almost any circular (provided the cable has enough length) for knitting round pieces as you would with DPNs.
Below: I'm using the Magic Loop method with a Chiaogoo circular needle to knit a cable-and-lace mitten.
I use fixed circular needles for the smallest sizes of needles (US 00-3) when knitting socks etc. Having multiples is nice if you like to start more than one project at once. Since I use the Magic Loop method, I usually opt for 32″-40″ cables when I purchase new fixed circular needles.
What to Know: Be careful when buying circular needles. Skip the craft store brands and choose high-quality needles like those from Knit Picks, Addi, or Chiaogoo. Attempting to knit a project with a circular with a stiff cable and poor joins is no fun at all.
Interchangeable Needles with Flexible Cables (circular needles)
I'm going to talk about these a LOT more in a minute, because they are my top recommendation for beginners. These are knitting needle sets comprised of interchangeable needle tips and cables that can create dozens of combos of circular needles.
As we noted, circular needles can be used to knit flat and in-the-round so these interchangeable needle and cable sets provide basically everything you need for knitting any project.
What You Should Know: Cheaper interchangeable sets might have poor joins which can snag the yarn as you knit. Choose a good-quality set with excellent reviews. You can remove needle tips from the cable of one project to start a new project, but if you use a certain size a lot you may still want multiple needle tips in a particular size.
Most interchangeable knitting needle sets are for the larger sizes, so for sizes US 0-3 you'll likely still need to purchase fixed circulars.
Note that Chiaogoo does make Interchangeable Sets in the tiniest knitting needle sizes. You can find their needles (though not all varieties) at many local yarn shops and online at Michaels. Some of the needles are also available on Amazon.
Cable Needles
If you'd like to add cables to your knitting, then a set of cable needles is a must. Grab a pack of these to hold live stitches as you work cables in a variety of gauges.
This set of three cable needles shown is from Knit Picks: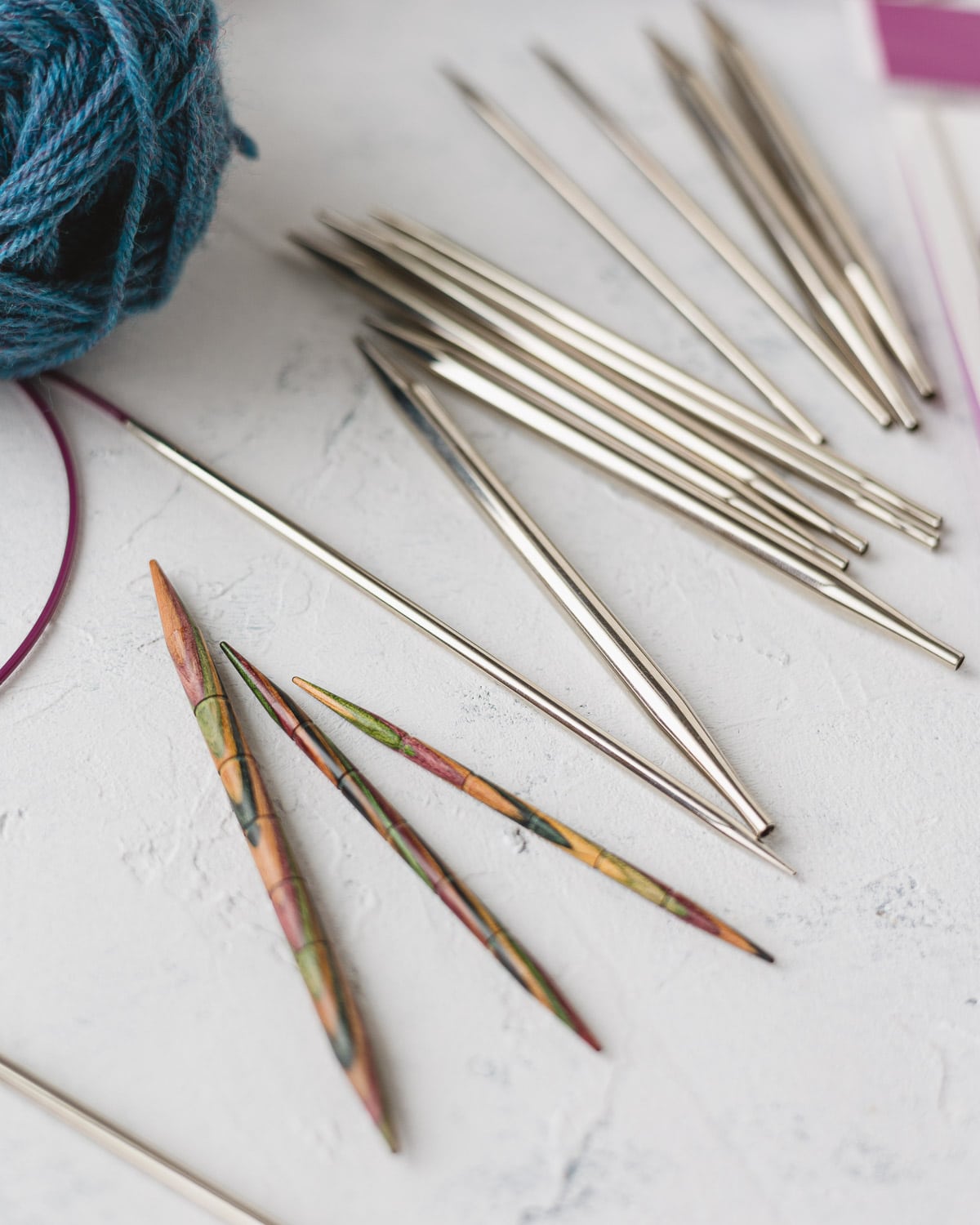 More about needles:
There are so many more options to explore for knitting needles. You can check out square knitting needles, bamboo needles, needles built for speed, needles designed for lace. No matter which needles you buy first and how much you love them, I can guarantee you will continue to add to your collection because it's irresistible to keep trying out new tools!
Now, before we move on, let's cover the variety of materials you might find for knitting needles:
What Are Knitting Needles Made Of?
Metal: Not all metal needles are created equal.
I have a stash of old aluminum straight needles from maybe the 60s and while I love the historical value of them (and keep them because of the sentimental value they have for me), they are the kind of needles to make a person dislike knitting. Clank, clank, clank.
What I like best: Instead I prefer Knit Picks, Chiaogoo, and Addi needles. Addi Turbos (nickel-plated brass circular needles) are basically the gold standard for knitting needles. I like them quite a bit (though I have not tried their interchangeable sets), but Chiaogoo and Knit Picks needles come in a close second.
Since Chiaogoo and Knit Picks are more affordable needles, they make up the majority of my collection. Note that the Knit Picks Needles (I own the Interchangeable Nickel Set and Fixed Circulars) are made from nickel.
If you need a nickel-free needle, try the Knit Picks Interchangeables in one of the wood variations (or this aluminum set), or try the Chiaogoo Stainless Steel Interchangeables (also shop Chiaogoo at Michaels).
Plastic: Plastic needles are not for me. Even higher quality plastic needles feel grabby and slow. These softer needles could potentially be useful if metal needles are too hard on your hands.
Wood & bamboo: Wood much nicer to knit with than plastic, but can be grabby and slow. I've found the wood (laminated birch) needles from Knit Picks are nice and probably a little faster than the average wood needle. Wood needles can also break.
Best Knitting Needles for Beginners
So, besides the few sets of needles you've undoubtedly accumulated at the start of your knitting journey, there is one product that can set you up for nearly any knitting project. All at once, no fuss, and with significant savings too.
Interchangeable Knitting Needles Sets
An interchangeable needle set. These sets are a set of (often) about nine or ten needle sizes. Each size includes two needle tips that attach to cables to create exactly the needle you need at any given time. Attach one tip to each side of the cable and you've got a needle that can be used to knit just about anything.
I use the Knit Picks Options Nickel Plated Interchangeable Needle Set and love it.
Here you can see the needle tips and the cables with the metal connecting end. All that is required is to select the desired needle size and attach the tips to a cable length of your choice: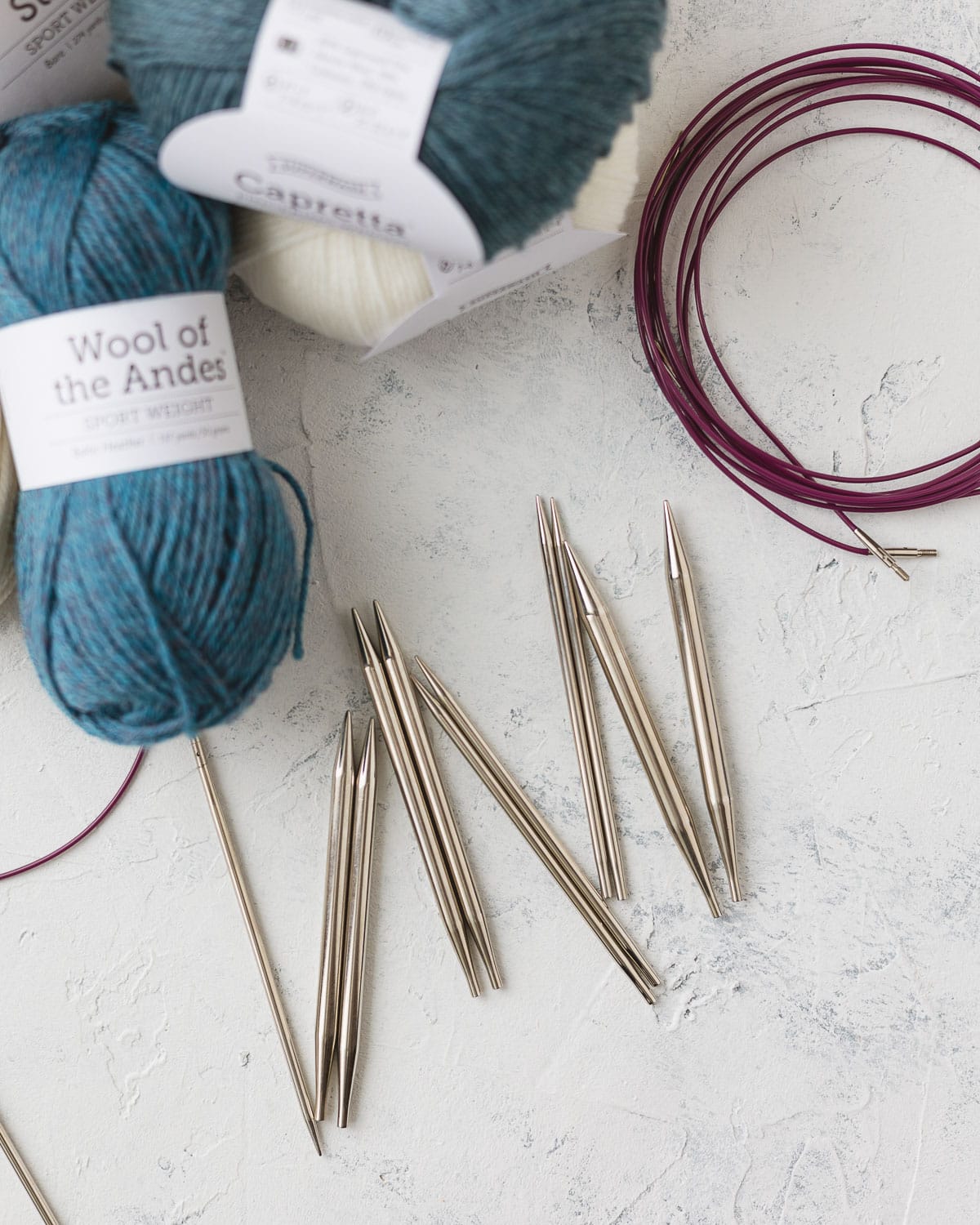 Though the needle created is called a "circular" needle, circular needles are actually far more flexible than you might think. Circular needles can be used both for knitting "in-the-round" AND for knitting pieces flat. Just turn your knitting back and forth the same way you would with straight needles.
Another beauty of the interchangeable set is that you can attach a shorter cable for working a small project and a longer cable for working giant shawls or blankets.
If you are going to commit to circulars, I highly recommend learning the Magic Loop Method of knitting in-the-round. It's not scary and it provides ultimate flexibility with your new needle set (basically allowing you to use any needle in the same way you would have used double pointed needles).
I knit a lot of smaller projects so I use my 32″-40″ cables and the Magic Loop method most frequently.
You'll want to keep your interchangeable needles well-organized so the tips do not get mixed up. Keep a needle gauge handy to double check the tips before you proceed with your project.
Just swap your needles and cable length as needed. Need the needle tips for another project? No problem, detach and slip on the end caps to protect your project until you return to it.
What about smaller sizes?
You should also purchase US sizes 0-3 (which are often too small to be included in interchangeable sets) in fixed circulars. You'll use these for socks and other smaller gauge knitting. I like purchasing 32″-40″ cables and using the Magic Loop method.
What about shorter needles?
If you plan to do a lot of knitting that requires short circulars (16″) and don't use the Magic Loop method, you might want to consider also purchasing a Short Interchangeable Set that will allow you to create these smaller needles.
More About Knit Picks Options Interchangeable Knitting Needle Sets
The Knit Picks Options Interchangeable Knitting Needle Sets are the most budget-friendly of all the interchangeable sets I've found by far. They are available in nickel, laminated birch, and aluminum tips. You can buy a complete set for around $60 and they work so well.
Other sets are also a great value (considering how many needles you can create), but often cost double the price of the Knit Picks set–or even more. I've seen sets up to $200.
I've had my Knit Picks set for a looooong time and I know they've made improvements over the years, but any issues I had at first were easily resolved by the company. A few problems I had were that occasionally a cable would detach from the metal piece that connects the needles (though again, my cables are one of the older versions). Additionally, though the joins are very good, some cables have tiny grabby spots.
One other WONDERFUL feature of the Knit Picks Sets is that you can buy a "Try-It" set for around $17. You get two pairs of needles (a US 6 & 7) and the cables. The sets each include different needles, so explore the various options before picking one to try.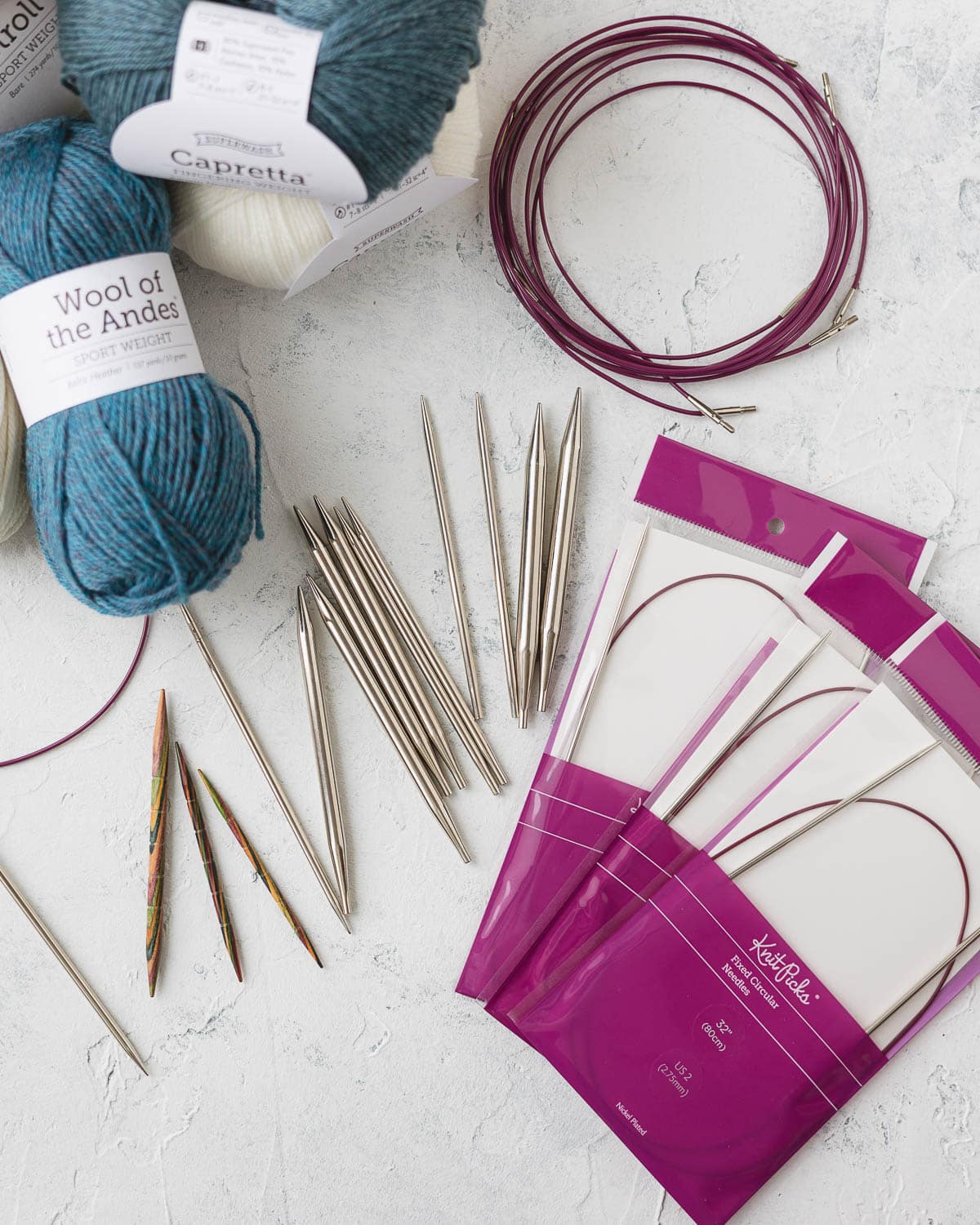 Great Reasons to Buy an Interchangeable Knitting Set
extremely economical option since you get dozens of needle combinations at once
no extra trips to buy a different needle size in the middle of a project
use the needles for flat, circular knitting, or "Magic Loop" circular knitting
sets include needles in the majority of sizes giving you ultimate flexibility
create the length you need by attaching a shorter or longer cable (24″ circular and up)
can also purchase a "Short" Interchangeable Set for 16″ needles
projects can be set aside and needles used elsewhere with the use of "end caps"
flexible circulars can be a lot more comfortable to knit with than traditional straights or double-pointed needles
Shopping Suggestions
I know all this can feel a little overwhelming, so here's my shopping suggestions one more time:
The Essentials: Knit Picks Interchangeable Options Knitting Needles (US size 4-11), cable lengths 24″, 32″, 40″ included.
The Fine-Gauge/Sock Knitter: Add fixed circular needles in US size 0-3 (for knitting at smaller gauges (socks, mittens, etc.)
(optional) Short Circulars (16″): If you often require a shorter cable length (16″) purchase the Short Interchangeable Set. I usually just use the Magic Loop method instead!
What Are the Downsides of Interchangeable Needle Sets?
Overall, I think the pros of purchasing an Interchangeable Needle Set far outweigh any potential drawbacks. However, they can be an investment, so it's worth fully considering the purchase before going for it.
Here's a few potential cons of an interchangeable knitting needle set:
sometimes joins aren't perfect and the yarn can snag as you knit
you need to assemble a needle before starting a project (takes just a moment or two, but it's an extra step)
needles can loosen and fall off while knitting (usually you will notice immediately if a needle is loosening up, but worth noting)
larger initial investment versus purchasing needles one at a time (overall though it can be a huge savings)
Can't Decide on a Set?
Purchase the Knit Picks Try-It Sets to experiment. Quick tip, like I noted on my Knit Picks Review post, the needles are available on Amazon too (free shipping!), but the cost of the needles is higher. If you also need yarn or other supplies, order direct from Knit Picks and hit their shipping minimum ($65 for USA) for the best value.
Alternatively, try a fixed circular needle in multiple brands (Knit Picks, Chiaogoo, Addi) as you start and complete knitting projects and then, when you have a favorite, make the bigger investment.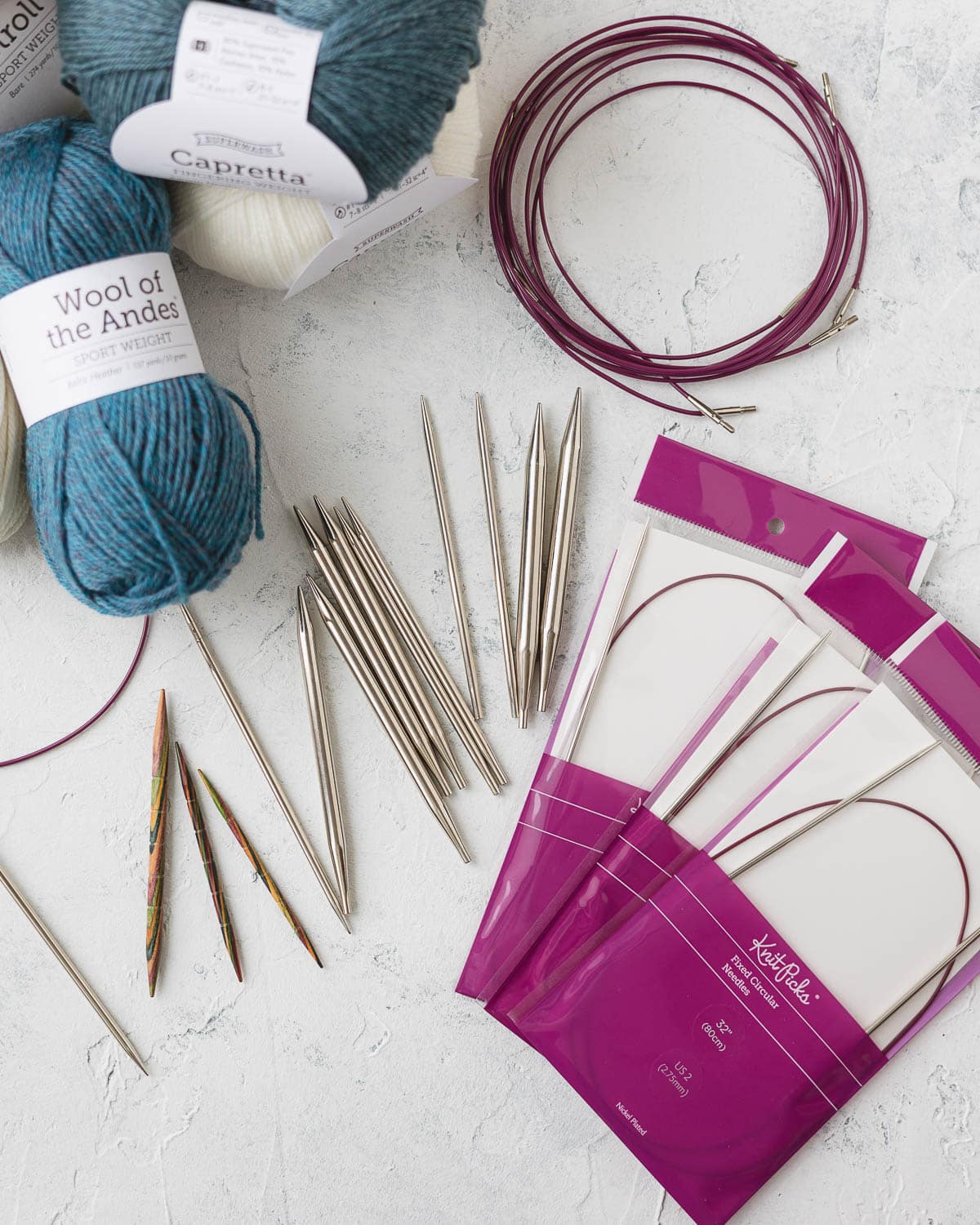 Knitting Needles to Avoid
Not all needles are high-quality. If you want the best knitting needles for beginners, I highly suggest sticking with the top brands. If it's sold at a big box craft store…just run away.
There is nothing more horrible than a circular needle with a stiff cable. Except maybe a cheap plastic needle. Or a wooden needle that breaks halfway through a project. Or metal needles that clank while you knit. Ugh.
In a pinch of course, these can do the job if necessary, but for your daily knitting, you want to have quality. You'll spend a lot of hours using your knitting needles, so choose tools you love using.
Adding to Your Collection
Admittedly, you probably won't stop collecting needles after purchasing an interchangeable knitting needle set. You won't *have* to collect any more needles, but the siren song of the yarn store will likely capture your wallet and best intentions a time or two.
In fact, writing this post has me absolutely convinced that I need to add some the laminated birch needles to my collection (I just want to try them!). So, I probably won't be stopping either.
But if you are looking for the best knitting needles for beginners and hope to start your collection in an economical manner, I think you'll love the solution of an Interchangeable Set to get things started.
Have fun knitting! ~Ellen
More from Bellewood Cottage