Ultimate Knit Picks Yarn & Needle Review
Knit Picks is an online shop filled with affordable high-quality yarns and needles for knitters. Get all the details of shopping at online at Knit Picks in this detailed Knit Picks Review. Whether you are shopping for natural fiber yarn, dye-your-own yarn, needle sets, accessories, or knitting books, you'll find many options to suit a wide range of knitting projects and pursuits.
Please note that this post contains affiliate links which allow me to earn a small commission when a purchase is made at no additional cost to you. Read more here.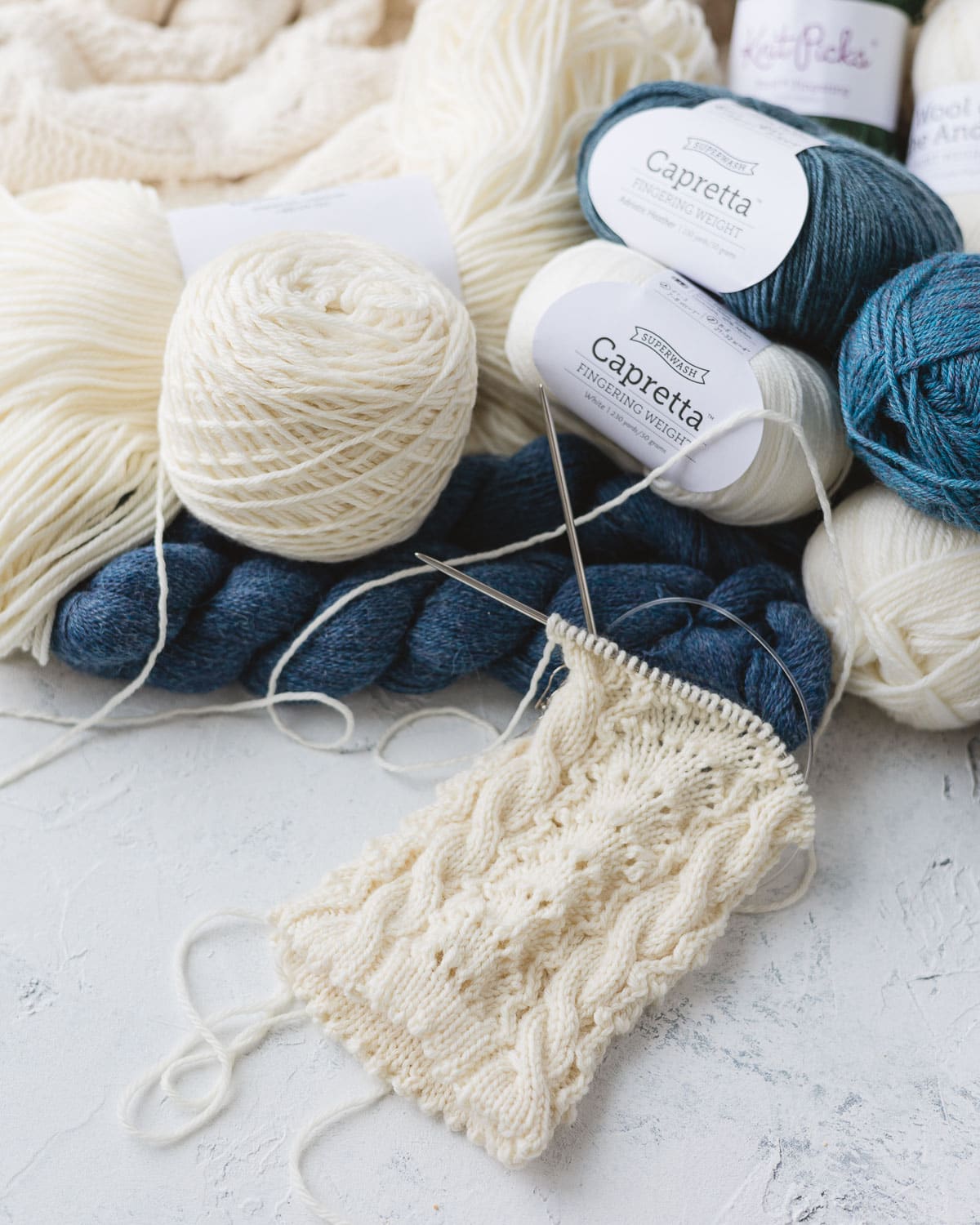 As a knitter of 15+ years I've bought my fair share of yarn. Yarn from local yarn shops, sheep & wool festivals, craft stores, yard sales, and of course, online.
Early in my knitting journey, one of my top priorities was finding yarn I could afford. 15 ish years ago, that led me to craft stores. While the selection has improved in the past years, there really wasn't much to choose from then and I selected far too many cheap acrylic yarns.
You tend to get what you pay for when it comes to yarn. But, that doesn't mean you can't locate high-quality yarn and needles at more affordable prices. Enter, KnitPicks.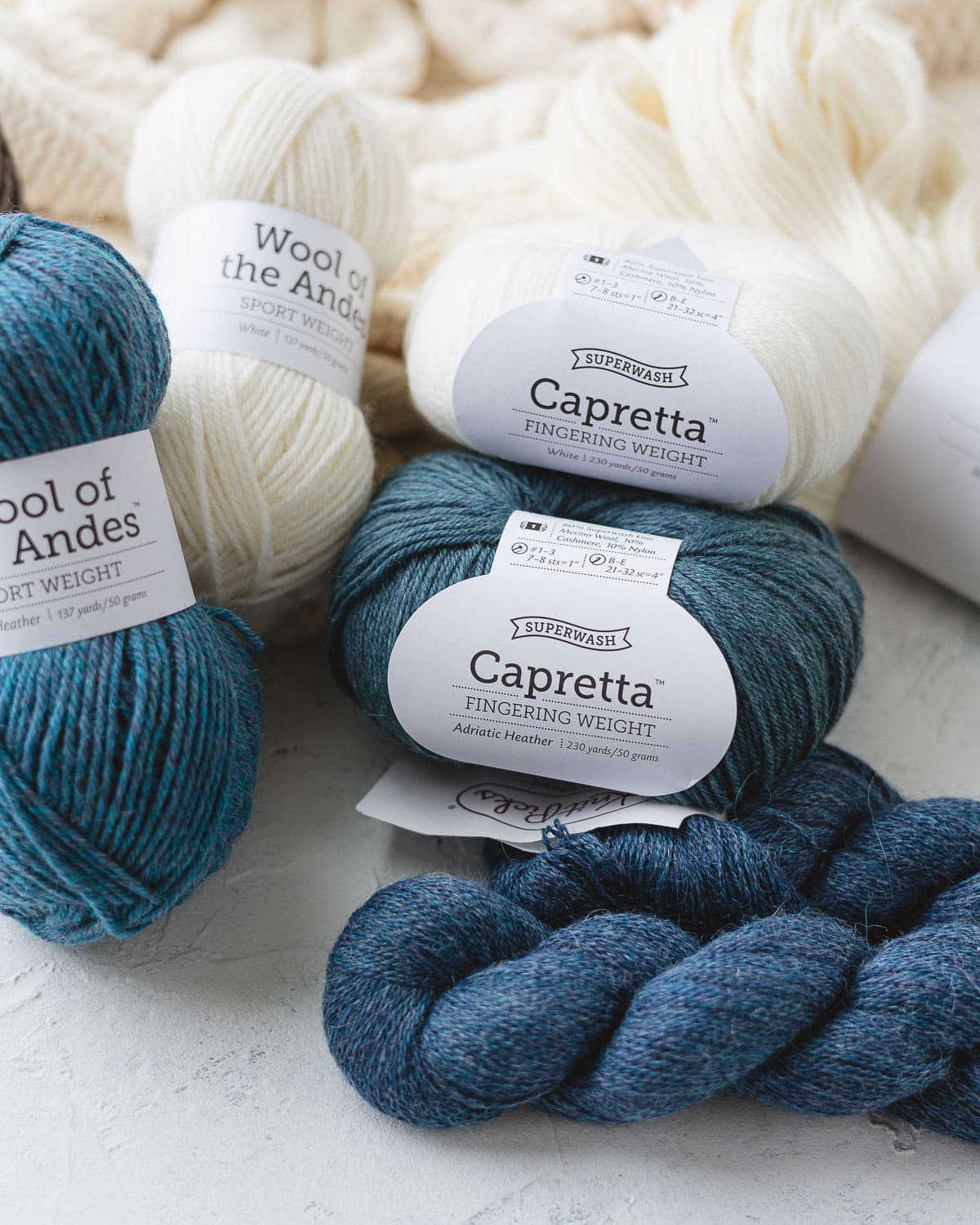 Once I learned the joys of knitting with natural fibers and premium yarns, I was on the hunt for these soft and squishy skeins at affordable prices. KnitPicks.com has been a resource I've used nearly my whole knitting career now. It's a fantastic resource of knitting needles, yarns, and more. All at prices I could afford and with the quality I'd grown addicted to.
It's hard to believe how long I've been plotting knitting projects and purchasing yarns, but when I just put in a recent order after plenty of time away from the needles (toddlers will do that to you), I wanted to share my Knit Picks experience and give you some pointers for shopping at Knit Picks (and saving money on yarn too)!
Knit Picks Yarn Review
The first thing you will notice when you arrive at KnitPicks.com is the huge selection of yarn. Let's chat through the yarn options available first and then we'll cover knitting needles and more.
Wide Selection of Fiber, Weight, and Color
One of the best parts about shopping online is the extensive selection of fibers, weights, and colors. Shopping in person has perks (such as being able to ask questions or handle samples), but shopping online has its own perks too!
When you shop online, there's no question about where to find a particular fiber, weight, or color. On KnitPicks.com head to the "Yarn+ Fiber" tab, click the weight you need (lace, fingering, sport, worsted, etc.), and start shopping. Now you can see at a glance the possibilities. Open new tabs for yarns you are curious about to check out the color selection.
Knit Picks carries Peruvian wools, wool blends, alpaca, cotton yarns, superwash yarns, tweed yarn, dye-your-own yarn, an impressive assortment of sock yarn, and so much more.
Quality
Over the years of ordering from Knit Picks, I've always been impressed with the quality of yarn. I've of course had a miss or two (usually due to a color appearing different on my monitor or selecting the wrong fiber choice for a project). But overall, I've loved my choices of yarn and I certainly keep coming back for more!
What makes it high-quality? The yarns are soft, squishy, easy to knit. Though there are a few acrylic/acrylic blend yarns, the primary focus is on natural fibers. There are also a lot of super-wash yarns which are wonderful when knitting for gifts (hand wash always seems to scare people).
Some brands of yarn are plagued with knots throughout the skein. My skeins from Knit Picks are almost always a single length of yarn throughout–no joins.
Much of the yarn is available in ready-to-knit skeins instead of being sold in hanks which must be wound.
Note: If you buy yarn that is sold in a "hank" be sure you have a ball winder and swift (or access to one). Then you can easily wind your yarn into a useable ball/yarn cake for knitting.
I've also found the yarn to have good longevity (which is also impacted by the number of strands and the gauge at which it is knit). One pair of Selbu mittens I knit several years ago with Knit Picks Palette has held up over years of use, only now just getting some small holes. They do pill quite a bit, but mostly on the inside only.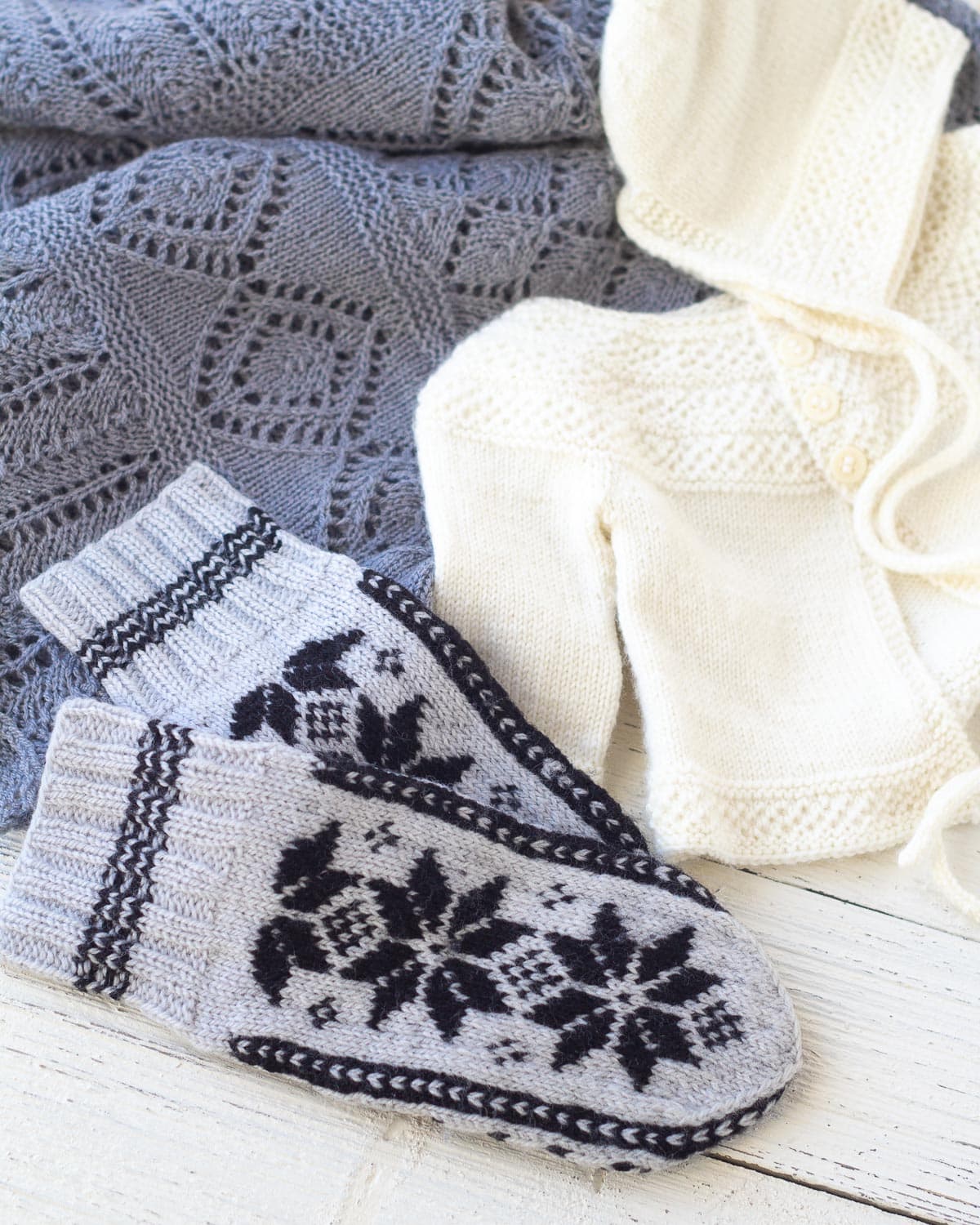 I will note that some of the most budget-friendly wool yarns that Knit Picks sells (made from Peruvian wool) tend to be a tiny bit more stiff and scratchy. They aren't right for every project, but I have used them frequently when knitting Selbu mittens and other colorwork projects.
Each yarn has individual reviews to help you determine if the yarn you've selected is a good fit for the use you have in mind.
Tons of Great Sock Yarn
Socks are very popular in the knitting world because once you have mastered knitting a heel, they are easy and fun. The perfect canvas for testing new skills or playing with color.
Knit Picks selection of sock yarns is excellent. They have irresistible gradients, kettle-dyed skeins, tweeds, handpainted yarns and more.
Affordable
I've mentioned it already, but the affordability of Knit Picks keeps me coming back again and again. In many cases I've found comparable yarns to the premium brands for anywhere from $1-4 less per skein at Knit Picks. It makes knitting sweaters and larger projects far more feasible for any knitter on a budget.
Available Online
Since I started knitting I've unfortunately seen the closing of many yarn stores in my local area. Spots I used to love to frequent are completely gone and it's a bummer. Luckily, we do have online options. Knit Picks Yarns are available online anytime you want to shop and there are no restrictions of travel or distance.
How long will it take to get my yarn? I believe orders take a day or two to process and I usually wait a week for my yarn from there. It's not instantaneous, but I feel like it's fast enough.
Frequent Sales + Free Shipping Offers
Also keep an eye out for frequent sales at Knit Picks. I've noticed they rotate sales each month on a particular yarn and they also have larger sales around Black Friday and such.
Free Shipping is available for USA addresses at $65+, AND free shipping is also available to Canada on orders over $75.
Self-Dye Yarns
Finally, if you'd like to dye your own yarn the "dye-your-own" bare yarns from Knit Picks are the perfect template for creating your own unique colors.
These natural yarns are available in larger hanks (and at a discount) from their already-dyed counterparts. I've used this to my advantage whenever a large project requires a natural yarn. In fact, I used some of their bare yarns for baby sweaters for my little girl:
Still nervous about buying online? Here's a few tips if you are nervous to buy online:
start small and sample a variety of yarn before you commit to sweater or afghan-size amounts (smaller amounts are great for socks, mittens, etc.)
keep notes on what you like/didn't like in a knitting journal
wait for a sale so you can purchase a greater quantity of yarn for your budget
learn the differences in fibers and wool varieties so you can better predict how a yarn will knit up
share an order with a friend to meet the free shipping minimum
Should I buy from Knit Picks or Their Amazon Shop?
You can purchase yarn and needles from Knit Picks on their website, KnitPicks.com OR from Amazon. Which one is better?
I prefer to buy directly from Knit Picks (not the Amazon store) for a few reasons:
The prices are lower on KnitPicks.com (in some cases by a LOT).
KnitPicks.com has the complete selection of yarn and products, whereas their Amazon shop is more limited
More a la carte options at KnitPicks.com
Free shipping at $65+ on KnitPicks.com
Knit Picks Needle Review
While I'm going to cover Knit Picks needles in greater detail in a post about the Best Knitting Needles for Beginners, I also wanted to cover the selection here.
Knit Picks Options Interchangeable Needle Sets
As a new knitter, I quickly realized that circular needles gave me the most flexibility. A lot of knitting is done in the round and projects like lace shawls required a very long needle (which a long-cabled circular provided) to fit all the stitches even while being worked flat.
But, I wasn't sure how many circular needles to buy and in what lengths. Enter, interchangeable needle sets. These are a DREAM come true for knitters, especially knitters on a budget. The general idea is that you get 9 pairs of needle tips (US 4 to 11), cables in 24″, 32″, and 40″, and end caps. All for about $60. Very easy way to get nearly any needle you will need at a very budget-friendly price.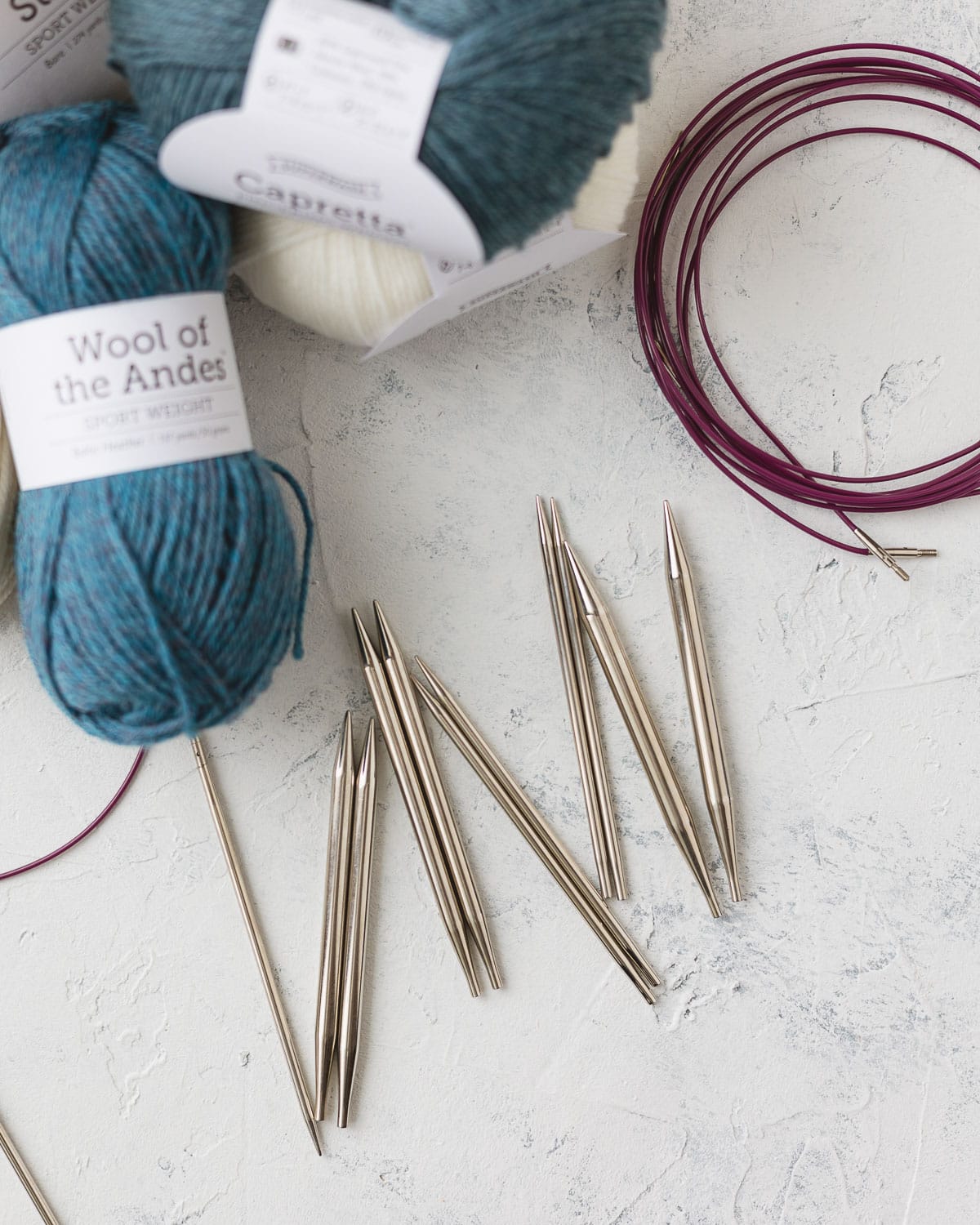 While you are shopping through the interchangeable needle sets, note that Knit Picks carries "Try It" sets too which include two sets of the interchangeable needles at a low cost.
I've owned my set of interchangeable needles nearly as long as I have been knitting! While I have had the occasional problem with cables separating from the attachment piece, overall I'd give the set a solid 4/5 stars for the overall quality, knitting experience, and price.
Wide Selection of Metal and Wood Needles
I also need lots of fixed circular needles (I own the nickel-plated ones) in smaller needle sizes. I use US 0-3 needles for socks, mittens, and the like.
These are available in abundance as well as double pointed needles and more. You can also pick up a set of crochet hooks for anytime you require one (dropped stitches etc.).
Knit Picks Knitting Kits (Great for Beginners)
If you are a beginner, this might all feel a little overwhelming. That's where grabbing a kit or two can be ideal.
Knit Picks offers Learn to Knit Kits as well as Project Kits. Lots of great options for knitters who are just starting out! Definitely give the kits a browse if you are looking to learn a new knitting skill, find a gift idea for a knitter, or want a simple beginner project.
Knitting Tools and Accessories
Don't miss the additional tools and accessories available on Knit Picks, especially if you are a beginning knitter. You will need a swift and ball winder for winding yarn, cable needles, stitch markers, storage, and more. You don't have to buy everything at once, but it's nice to know there are budget-friendly options available as your knitting gear needs increase.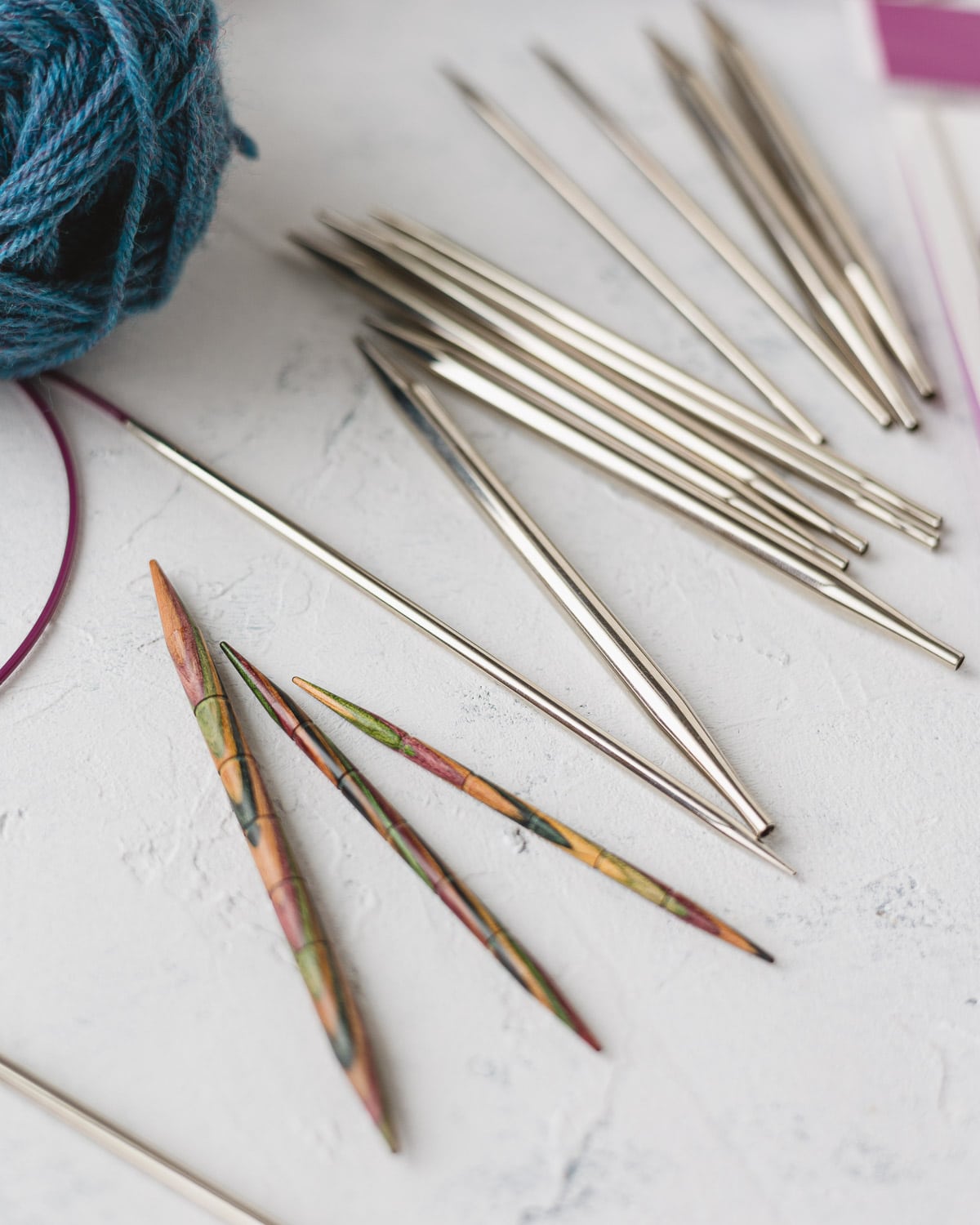 Books & Patterns
Finally, there's a wealth of patterns (including free ones) and knitting books available and with frequent sales and discounts you can often find brand-new books for less than even Amazon's prices.
Where to Start?
Hopefully at this point you aren't too overwhelmed. If you are eager to start shopping, my suggestion is to first, head to KnitPicks.com and create an account. That way your selections will be saved in your cart. Start choosing some yarns for future knitting projects you have lined up (and needles too as needed), and when you hit that free shipping threshold, order and await your yarn-filled package! Enjoy!
More Craft Ideas