30+ LAST MINUTE Homemade Christmas Gift Ideas
This list of 30+ LAST MINUTE Homemade Christmas Gift Ideas is filled with ideas that are quick, easy, and appreciated. No one wants to give a lack-luster gift right? If you want to give a homemade gift that won't fall flat, browse this list of easy gift ideas to complete in less than an hour!
Please note that this post contains affiliate links which allow me to earn a small commission when a purchase is made at no additional cost to you. Read more here.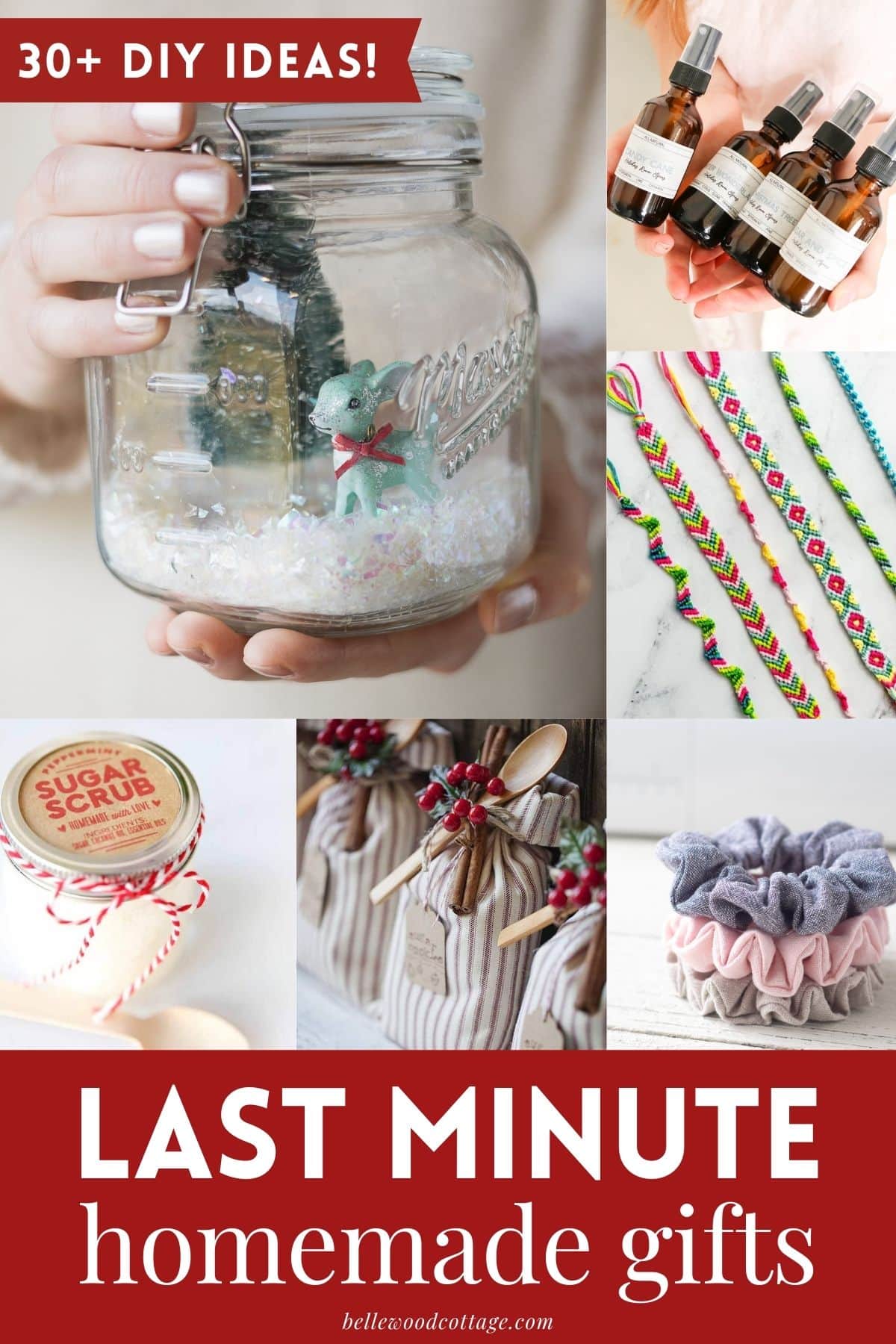 As I sourced these ideas, I looked for projects that took minutes (or less than 1 hour) to create. I included a couple of exceptions where the project itself is very quick, but requires some dry time (like for paint). These exceptions have been noted so if you are REALLY short on time, you can choose something else.
What are my favorite ideas?
Personalize a Gift Card: I think gift cards are always one of the most appreciated gifts, but also one of the most impersonal. Give your gift pizzazz with homemade gift card envelopes (The Homes I Have Made), or even sew a Mini Zipper Pouch (Crazy Little Projects) to hold the cards.
Consumable Gifts: While I did include some food items on the list (that's really a whole 'nother topic!), I also included some wonderful bath & body products like Holiday Room Spray (Tidbits) and Whipped Peppermint Hand Scrub (A Beautiful Mess).
Consumable gifts are nice to give since everyone is always running out of these types of products and having a homemade (chemical free!) version is certainly appreciated!
As for edible gifts, soup mixes like the ones from Wholefully are a healthy gift choice that will be well received after all the indulgence of the holidays!
Gifts in a Jar: One of my favorite ways to give a homemade gift is in a mason jar. You can source vintage jars or just grab a few at a local grocery or craft store. Pack your jar with goodies like craft supplies, gift cards, small treats or even small homemade items like scrunchies.
Check out my list of Mason Jar Gift Ideas if you want more DIY gift-in-a-jar ideas!
Love free craft ideas? Subscribe to Bellewood Cottage for more fun and relaxing craft ideas straight to your inbox!
30+ LAST MINUTE Homemade Christmas Gift Ideas
These last minute gifts are all easy to make yourself, budget-friendly, and most importantly, fast! If you are short on time, peruse this list of quick DIY gift ideas that you can make and gift in no time.
These quick ideas are also excellent if you need a "mass-produced" gift where making multiples is required. Let's check out the projects!
Salt Dough Ornament Kit
Put together a quick last-minute gift with Salt Dough Ornament Kits. Salt dough is so much fun for kids (and adults!) and these quick kits are easy to whip up and make great stocking stuffers.
Homemade Holiday Room Spray
Holiday Room Spray from Tidbits is so easy to customize with your favorite scents. Package it in pretty 2 oz glass bottles and add custom labels (find them on the tutorial) for a gift everyone will love!
Soup Mixes
Looking for a healthier gift to give this season? Try one of these wonderful soup mix recipes from Wholefully. Put together Split Pea, Coconut Curry, Chicken Noodle, or one of the other options for a healthy, hearty, and delicious homemade gift!
Personalized Photo Candles
These Photo Candles from It's Always Autumn make such a special gift for family members. If you are looking for a DIY gift to give grandparents or other relatives, consider this project. You'll need a laser jet printer for this one, but it's a quick craft that takes about fifteen or twenty minutes.
DIY Marbled Mugs
Dipped mugs with nail polish? Yep that's right! Use plain white mugs and spend an afternoon dipping your own custom designs with this DIY Marbled Mugs tutorial from DIY Candy.
No-Sew Fleece Blanket
SO quick! If you don't sew, you can still give an ultra-cozy homemade blanket as a gift. Try this No-Sew Fleece Blanket from Maison de Pax. Head online to peruse fleece options without leaving the couch or go to your closest fabric store to browse in person.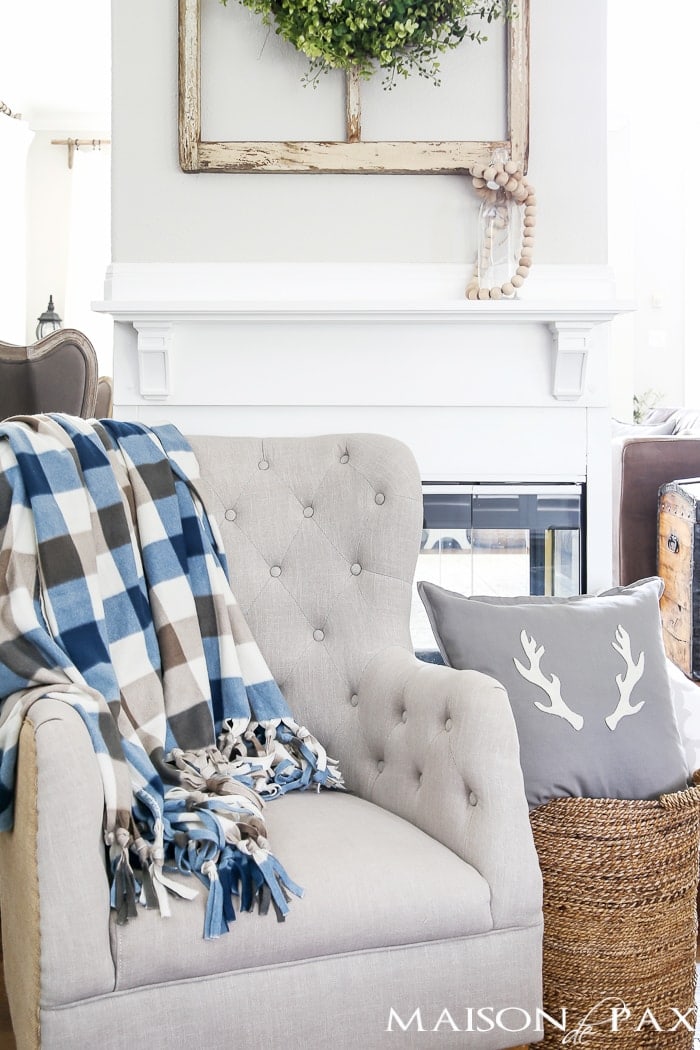 Homemade Scrunchies
One of my favorite projects on my blog, these scrunchies are easy to make and use up fabric scraps too! If you love to sew, put those scraps to good use and make up a stack of trendy scrunchies for a quick DIY gift idea.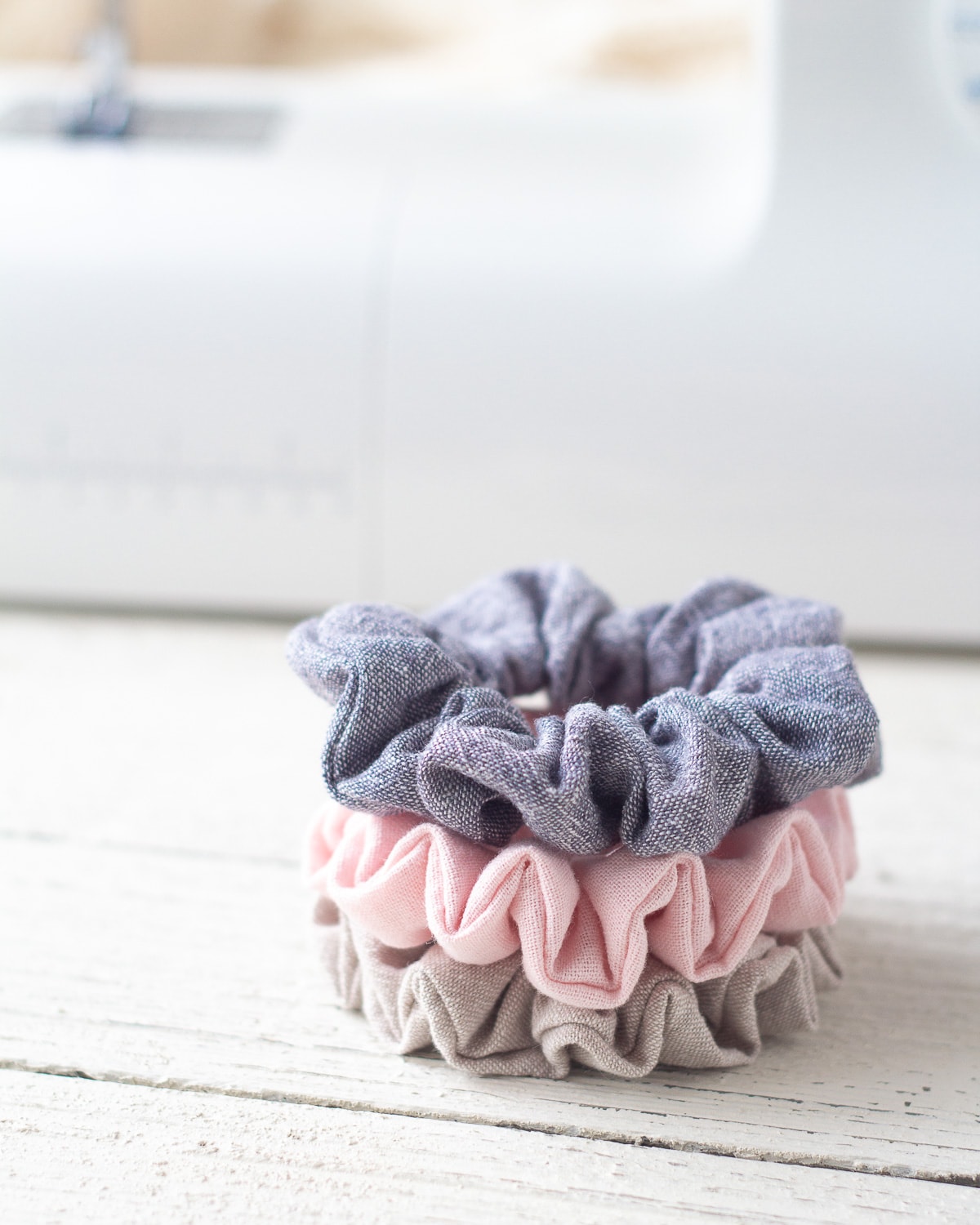 Scrunchies in a Mason Jar
Finished sewing your scrunchies? Pack 'em up in a mason jar for a pretty presentation.
Frame an Heirloom Recipe
If you are looking for something wholly unique and even sentimental, try this idea. Frame an heirloom recipe or letter from a treasured relative for special holiday gift for a loved one. The floating frame allows the entire page to be preserved. Project from Bless'er House.
Grandma's Recipe on a Dish Towel
Another special way to preserve an heirloom recipe. This tutorial from It's Always Autumn walks through three different methods for how to put Grandma's Recipe on a Dish Towel.
Handmade Gift Card Holders
While these Gift Card Holders look pretty fancy, you won't need any special paper cutting machines to make them! Megan at The Homes I Have Made has included a printable template you can use with your favorite holiday papers.
There's really no easier gift than a gift card and these little envelopes add a homemade touch that make it fun.
Friendship Bracelets
Making friendship bracelets from Sarah Maker is a sweet craft for kids and adults alike! These bracelets don't take long to make and you can choose your favorite colors and patterns to customize each one.
Mini Zipper Pouch
If you sew, try this Mini Zipper Pouch from Crazy Little Projects. Use it to stash gift cards or cash!
Hidden Money Mason Jar Gift
Gifting cash? Try this Hidden money mason jar from SavvyHoney. This unique way to gift cash is clever and QUICK!
Christmas Potpourri Simmer Jars
For a sweet-smelling holiday gift, try Christmas Potpourri from Yellow Bliss Road. These jars take just minutes to put together and the sweet and spicy smells of Christmas can simmer on your recipient's stovetop (or in a slow cooker) all day. A practical and affordable last-minute gift!
Brown Sugar Scrub Jars
This Brown Sugar Body Scrub from The Honeycomb Home is made from brown sugar, coconut oil, and essential oils. So so quick and easy. You can order small tins as shown in the tutorial, or try 4 oz mason jars too.
Whipped Peppermint Hand Scrub
Whipped Peppermint Hand Scrub from A Beautiful Mess is a festive gift that will be put to good use during the cold winter months!
Pumpkin Spice Mix in a Jar
For all those holiday baking needs, whip up jars of homemade pumpkin spice mix for your friends. I've found that my homemade mix has far more flavor than the store bought ones and I've been baking with it all season long this year. SO good!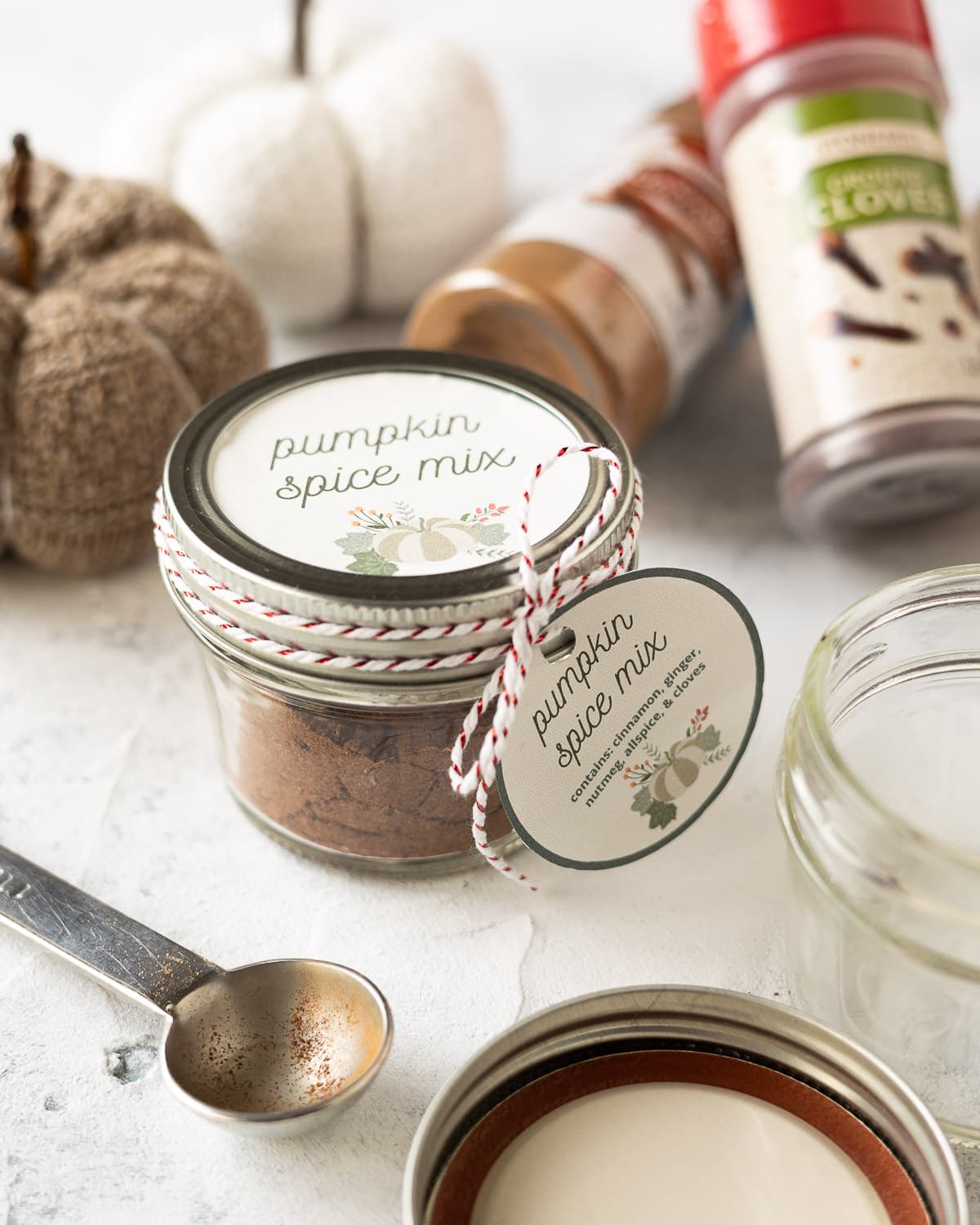 Craft Kit Mason Jar
If you have a friend or family who loves to craft, pull together a special craft kit mason jar for them. Head to the craft store, grab a jar (I recommend a wide-mouth quart or something similar) and fill with any craft supplies that catch your eye!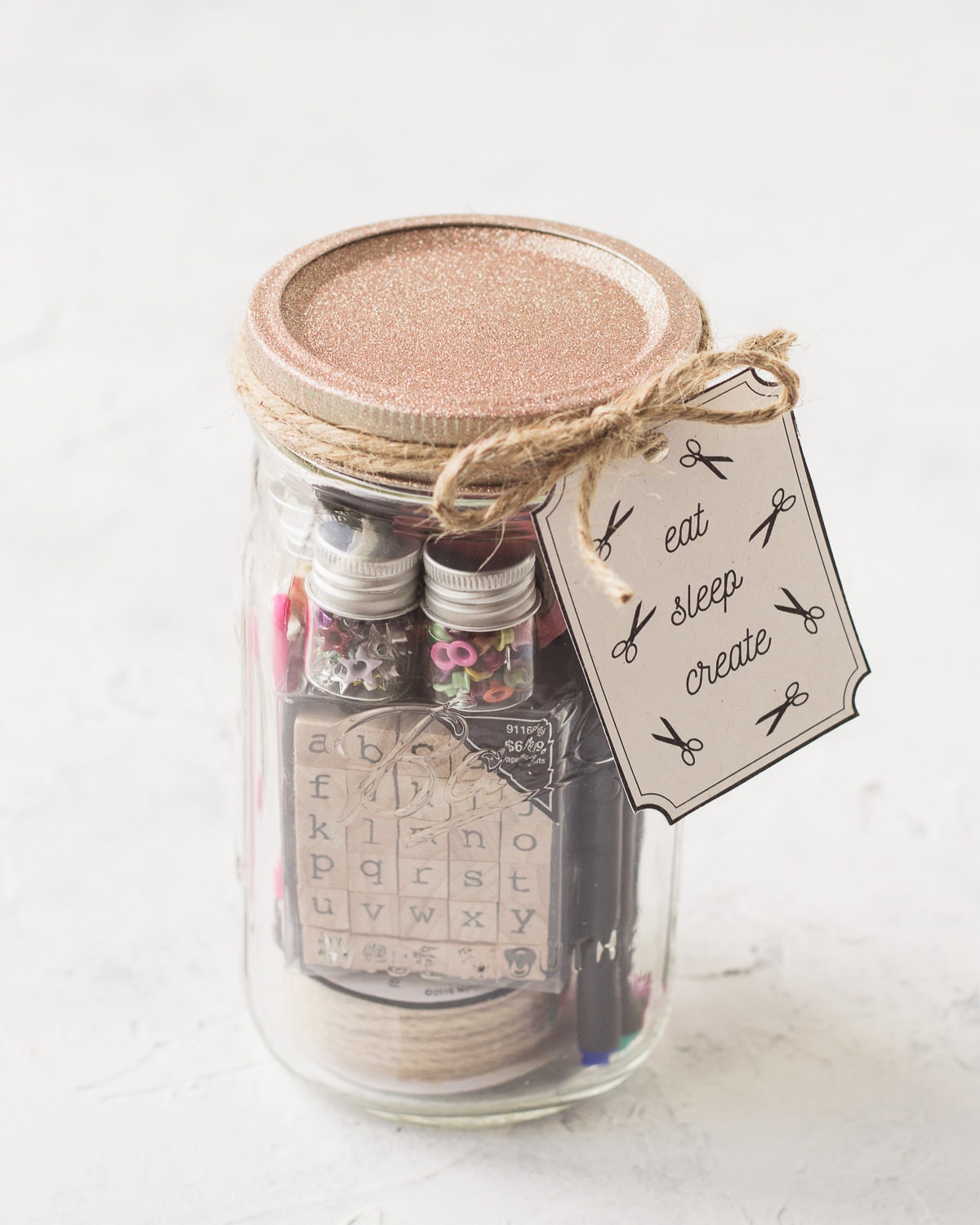 Homemade Pillow Mist
Another fun bath & beauty DIY gift, this Homemade Pillow Mist from A Beautiful Mess is quick to make and adorable packaged in a pretty spray bottle.
Stamped Tea Towels
Kids will love making these Stamped Tea Towels too. This easy project from Tidbits includes printable labels–just be sure you have enough time for the paint to dry completely before gifting!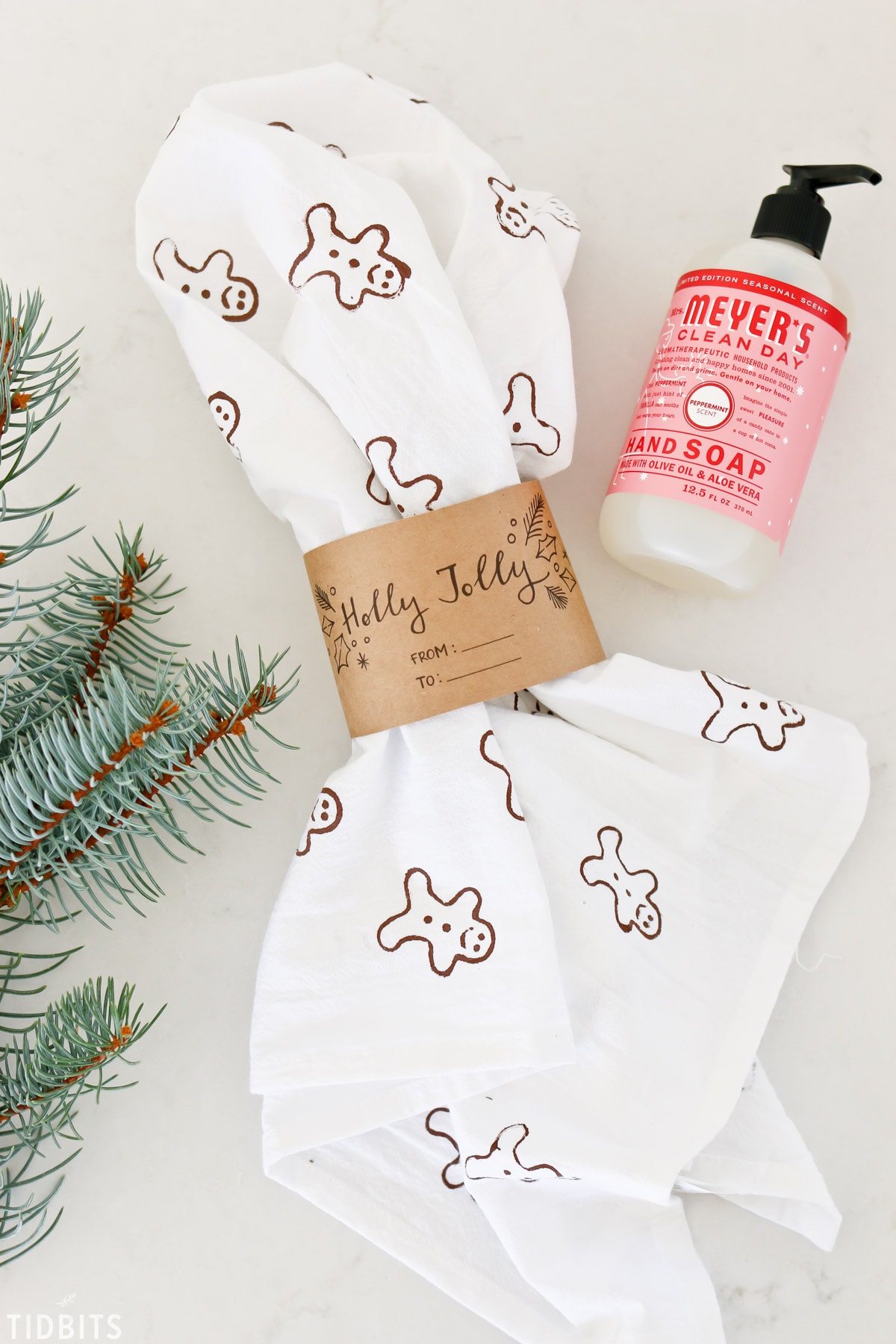 Sugar Cookie Gift Sacks
The perfect combo of store-bought and handmade, these Handmade Sugar Cookie Sacks from Celebrate Creativity feature handmade gifting sacks, but utilize a store-bought cookie mix for a quick gift idea.
DIY Monogrammed Candles
These DIY Monogrammed Candles from The Homes I Have Made are made using foil vinyl and a Cricut. You'll need to peel the old labels off your candles before applying your monogram, so be sure you have time to do that before getting started.
Melted Snowman Bark
Melted Snowman Bark from Creations by Kara is a great family gift or kids gift to give. Definitely get the kids involved with making this one–it's so fun! Make sure you have enough time for the bark to harden completely before getting started.
Homemade Flavored Herb Salt
This Flavored Herb Salt Mix from The Rising Spoon is an excellent gift choice for anyone who enjoys spending time in the kitchen. This herb and salt mix is also gluten-free, vegan, and whole30 friendly.
Sewing Kit Mason Jar Gift
Another crafty gift idea in a jar. The tutorial for this sewing kit mason jar includes a shopping list and tips on what exactly to put in your jar.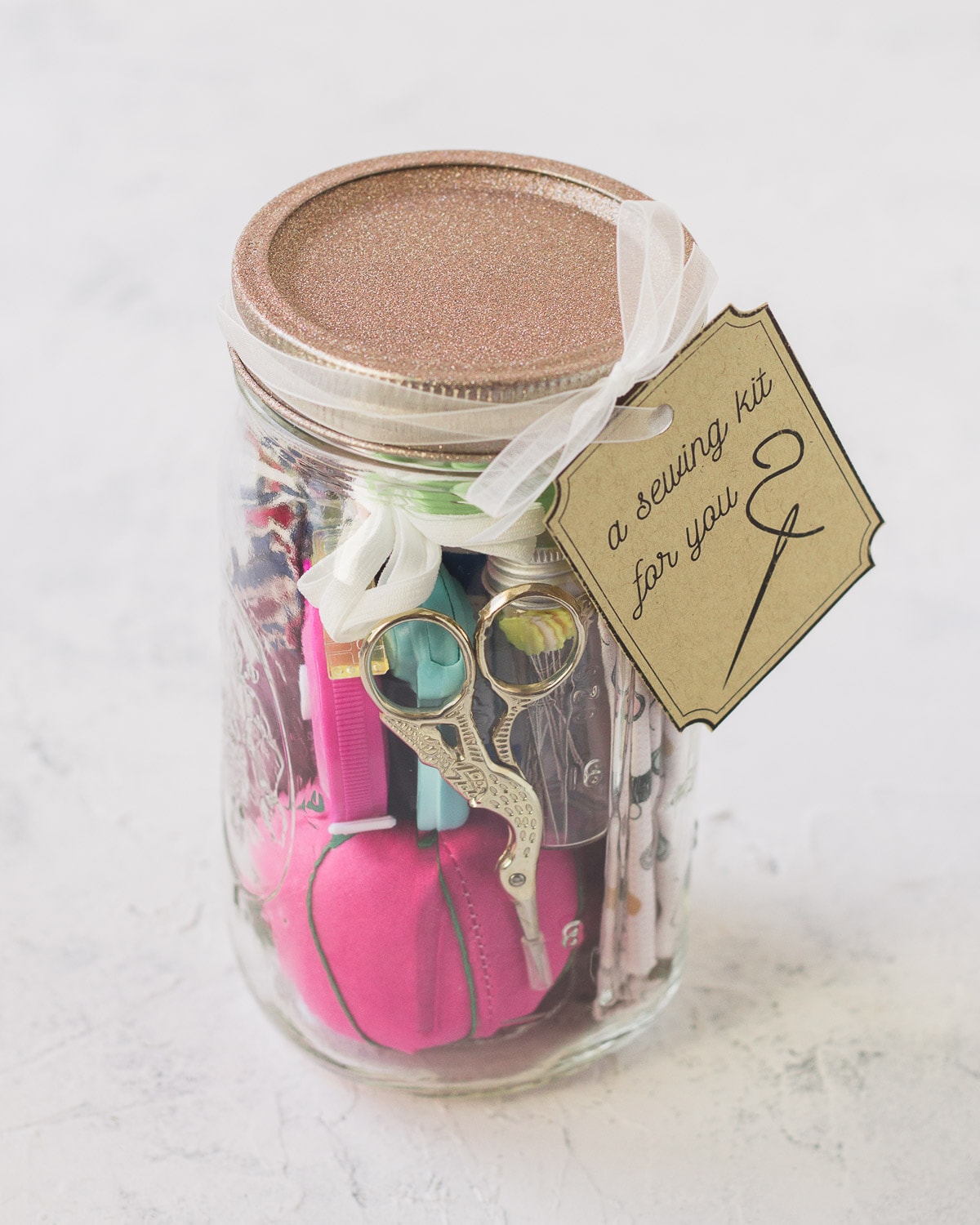 Handmade Drawstring Bags
This easy sewing tutorial creates homemade drawstring bags that can be used as produce bags, reusable gift wrap, project bags (like for knitting etc.), organization, and lots more.
Make a set to gift or use one to package a store-bought gift.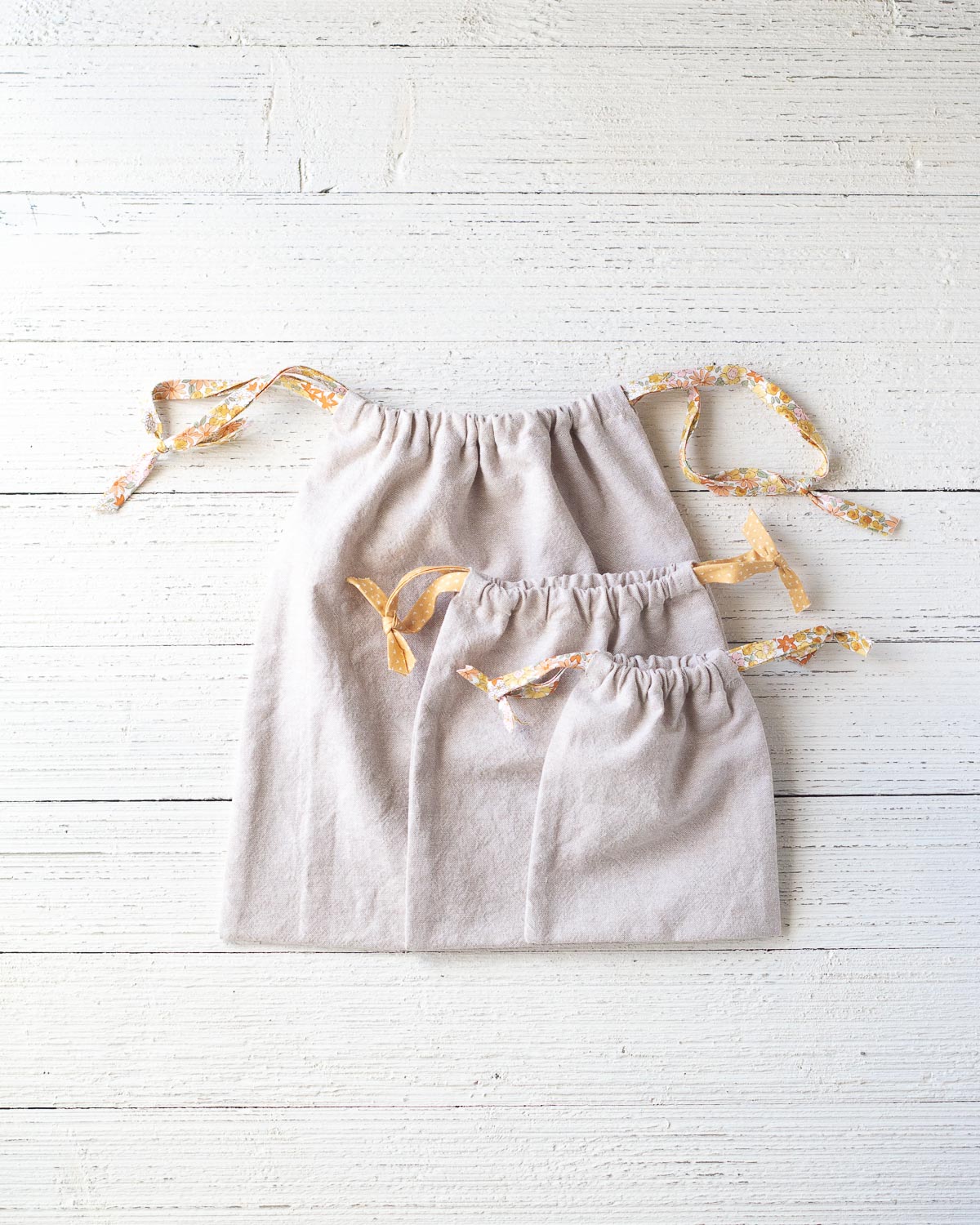 Peppermint Sugar Scrub
Another festive Sugar Scrub Recipe (and pretty printable tags) from Skip to My Lou.
Shake and Pour Pancake Mix
This cute pancake mix will certainly be appreciated during the busy holidays! Try this Shake and Pour Pancakes from Skip to My Lou for a homemade gift-in-jar idea.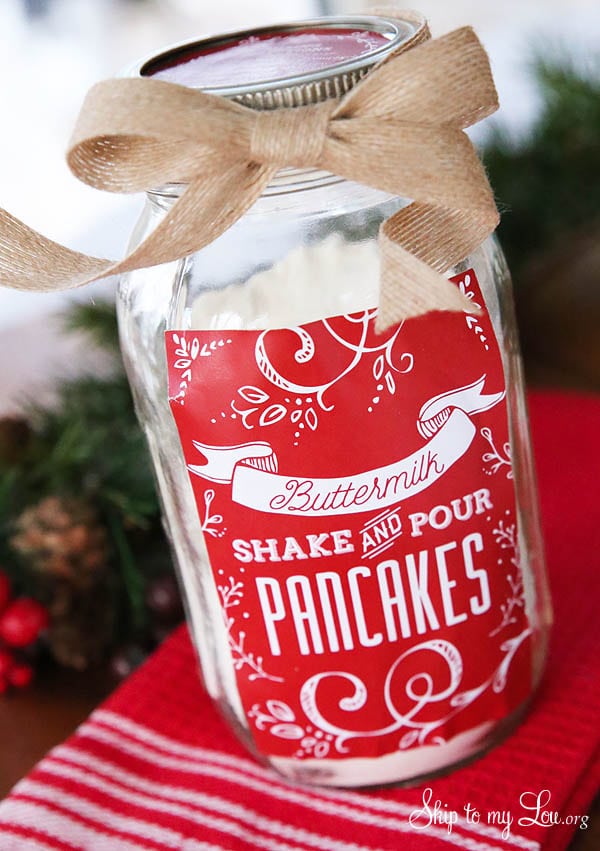 Salt Dough Ornaments
These Salt Dough Ornaments from Good Life Eats make a great craft for a holiday party, but they are also excellent homemade gifts (or gift tags!) too. Salt dough requires time to dry in the oven, so plan accordingly.
Office Survival Kit
Going back to work after a holiday break is really no fun at all! Offer a pick-me-up with a jar filled with office survival tools. I used this set of Fisher Price Little People The Office Characters to add a little fun to the jars!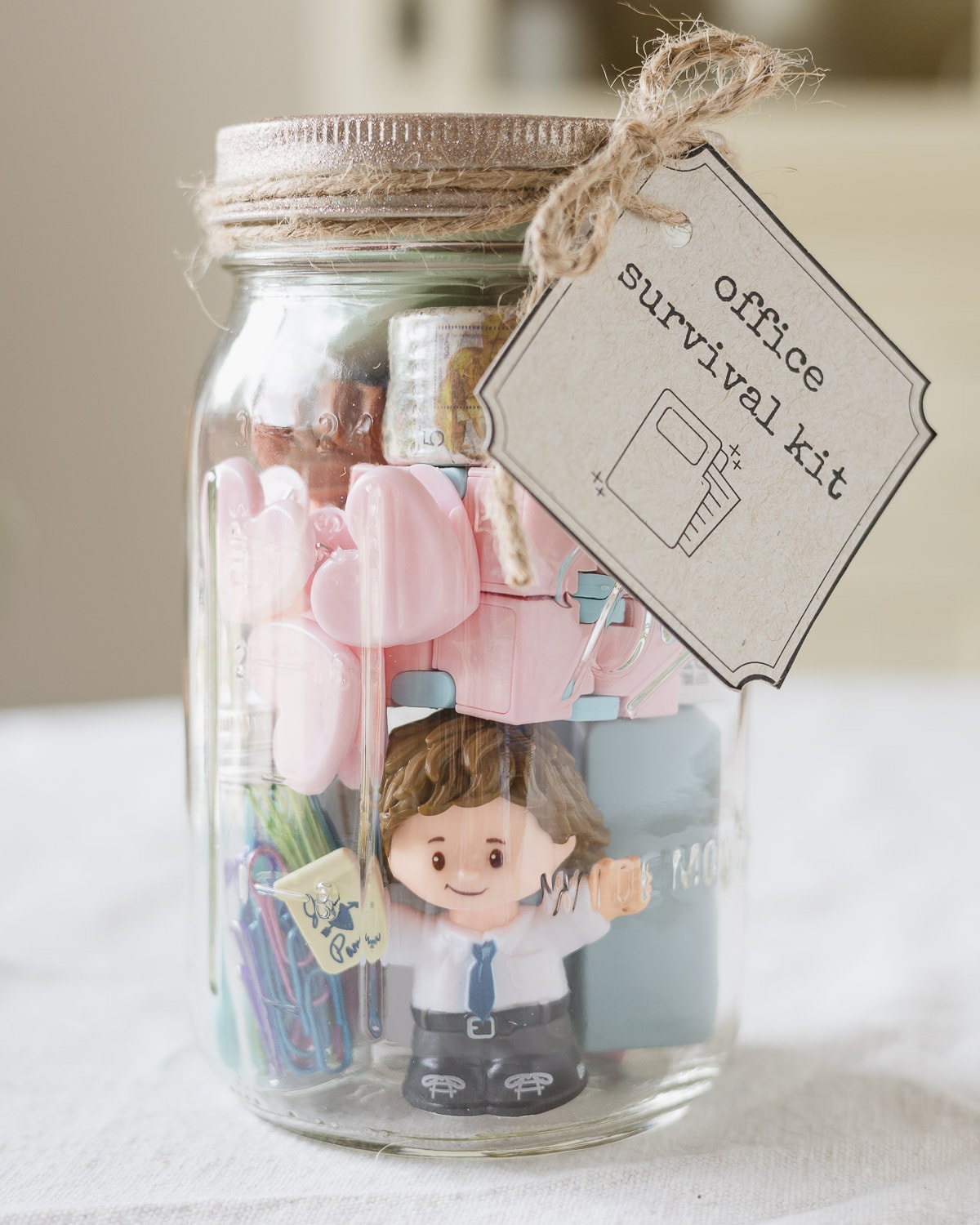 Chili Garlic Oil
Another quick and easy food idea, try this Chili Garlic Oil from Good Life Eats.
Christmas Hot Chocolate Bombs
Hot Chocolate Bombs are still trending and for good reason! Make these Hot Chocolate Bombs at home with silicone molds and this tutorial from On My Kids Plate. Recipe requires around 3 hours of chill time so be aware of that before getting started.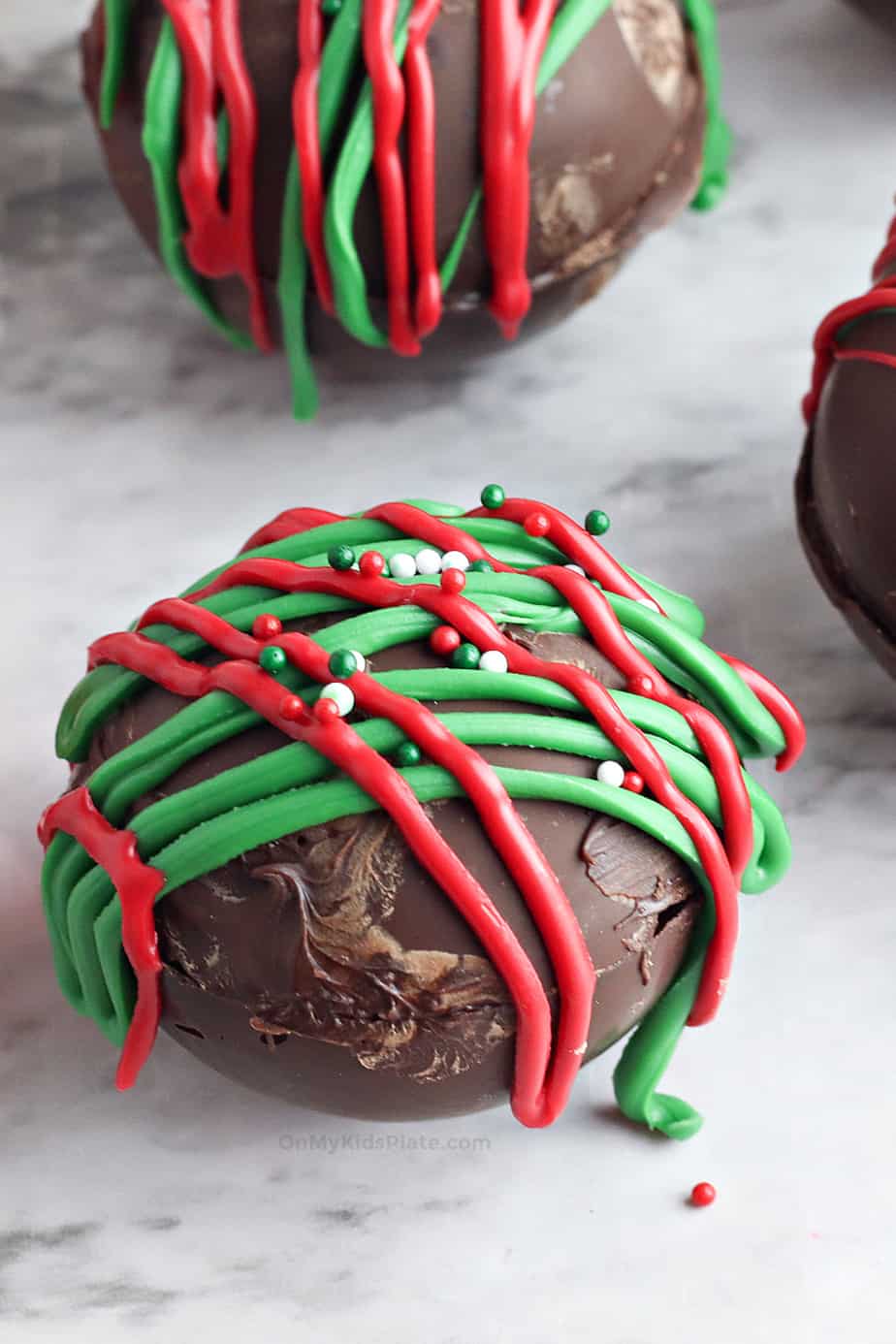 Bag of Cash Teacher Gift
Need a holiday gift for a teacher? Try this Bag of Cash Teacher Gift from Creations by Kara. Grab the printable poem if you want to try out this idea yourself!
Christmas-in-a-Jar Mason Jar
Finally, for gifting a little holiday spirit, try crafting one of these Christmas Scene Jars with favorite ornaments, bottle brush trees, and glittery fake snow.
I hope this list helped you discover some perfect last minute homemade Christmas gift ideas for the recipient you had in mind! Thanks for stopping by!
Craft with me! If you love to craft, follow along on Instagram and Pinterest or watch my videos on YouTube for more ideas like this one!
Happy Crafting! ~Ellen
More DIY Christmas Ideas