"Craft Kit" Mason Jar Gift Idea for Crafters
Need gift ideas for the crafter in your life? This "Craft Kit" Mason Jar Gift Idea makes a thoughtful gift for a friend or any creative person you might know. Plus, don't miss the free printable gift tags at the end of the post!
Please note that this post contains affiliate links which allow me to earn a small commission when a purchase is made at no additional cost to you. Read more here.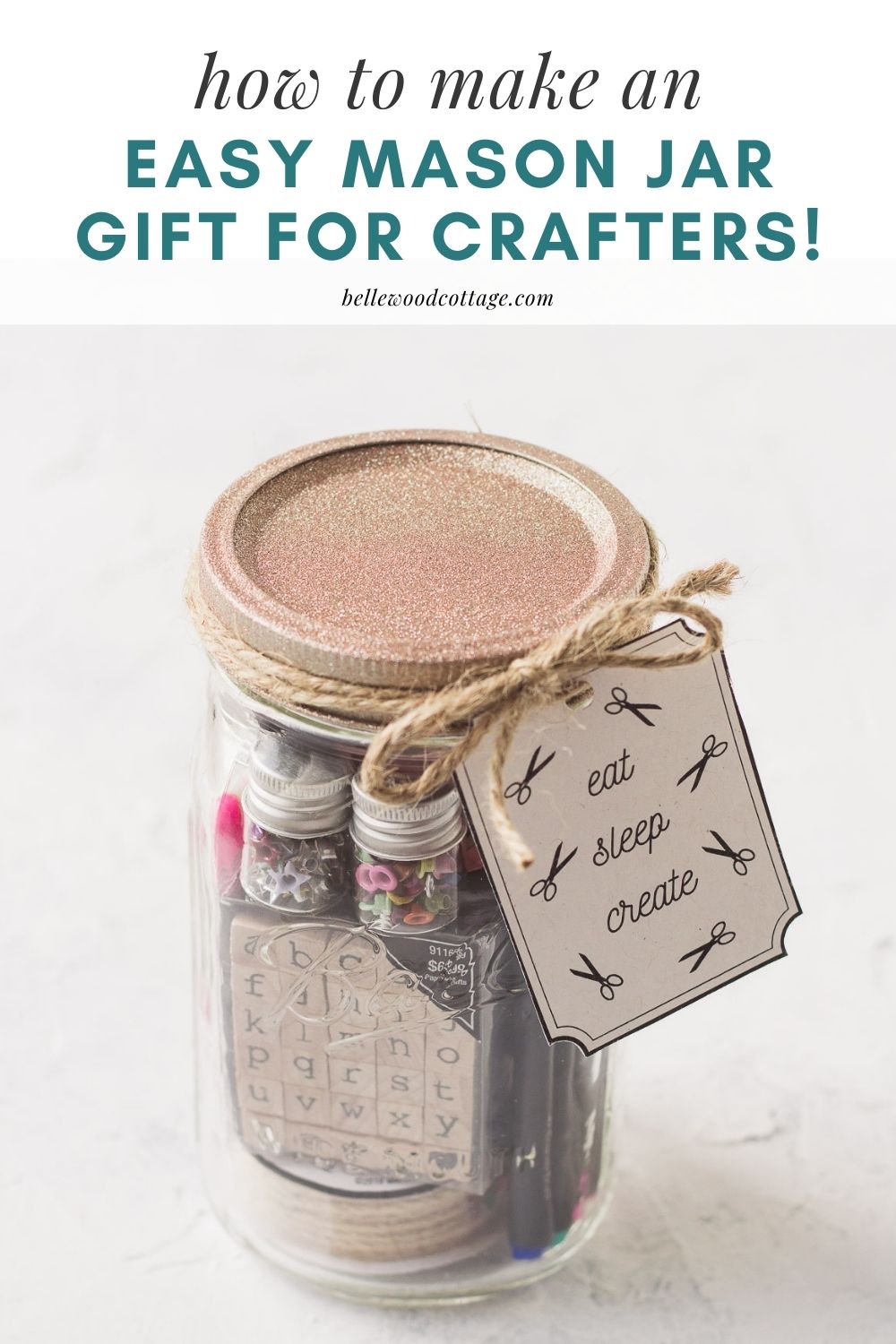 I love creating little mason jar gifts. A glass jar is a great way to tuck odds and ends together for gifting and they turn out so cute!
Putting together this "craft supplies" mason jar gift idea makes a great handmade gift for Mother's Day, birthdays, Christmas and more. You can color-coordinate the supplies you choose and customize the jar to the recipient's favorite crafts.
Include everything from scrapbooking pens to spools of twine, rubber stamps to embroidery scissors. If it can fit into a jar, it's fair game!
I had so much fun choosing the craft supplies to put into these jars and if you are considering putting one of these jars together for a gift, do it! You'll have a blast shopping and arranging all the crafty goodies.
What Size Mason Jar to Use for a Gift?
I like using a wide-mouth quart jar for this craft supplies jar. If you already have some on hand, perfect! Otherwise they are usually easily found at Target, Walmart, and down the glass jar aisle of the craft store.
Can't find a wide-mouth quart jar? Choose a larger jar that is tall enough for the supplies you'd like to include. Pens tend to be tall so you might not be able to include those in a different size jar, but many other craft supplies will fit into smaller jars easily.
What to Pack in the Craft Supplies Jar?
Ooo, my favorite part! Here I've listed all my ideas (and there are so many more supplies you could go with) with links and suggestions. I've also included a detailed supply list at the end beneath the photo of each specific jar gift I created.
I bought most of my supplies at Hobby Lobby, but shop your favorite craft store.
And don't miss my printable labels and shopping tips at the end of the post–I've included some helpful hints for making sure your jar turns out beautifully!
Now, let's talk about what to pack in your jar!
Gift Card
If you have the budget to add in a gift card, purchase one at the recipient's favorite craft store. Etsy, Amazon, Hobby Lobby, and Michaels are a great place to start. Local craft stores are a favorite of mine too!
Chocolate or a Snack
Including a small treat like candy or chocolate is a great way to fill out a jar. Crafters need sustenance! A hot chocolate packet, gourmet instant coffee, or tea are other "snacky" ideas.
Retractable Tape Measure
This is one of those things that I really think everyone can use another of. Retractable tape measures are so handy!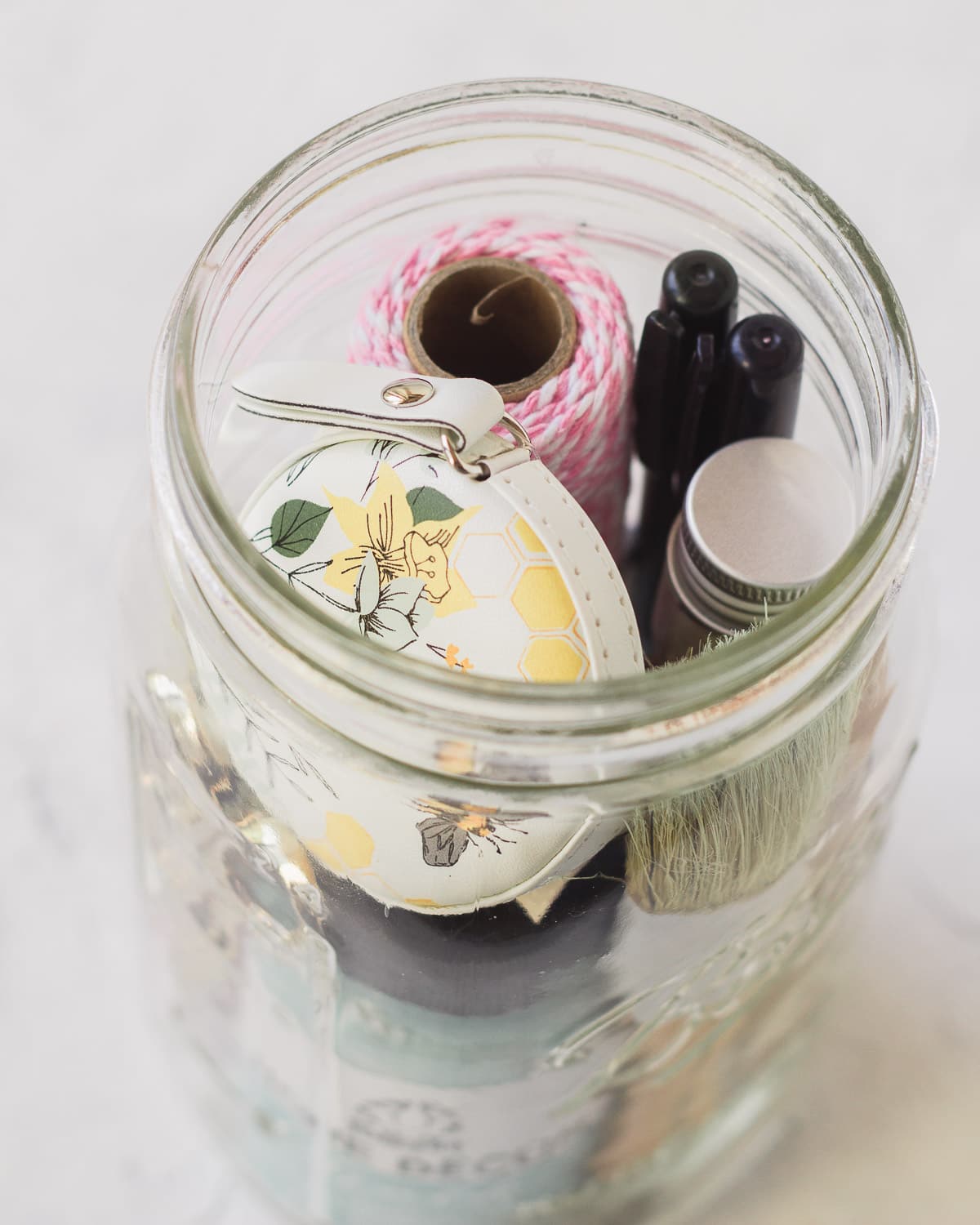 Adhesives
Adhesives like a good glue pen or scrapbooking squares can be used by a crafter in a multitude of ways.
Acid-Free Pens
I like to include acid-free pens so they can be used for scrapbooking or any other purpose. This set of colorful pens on Amazon is a favorite, or you could try some calligraphy pens.
Cute Embroidery Scissors or Mini Craft Scissors
Pretty embroidery scissors or mini craft scissors are always appreciated. I'm always losing my scissors and love having extras around. You can even try folding scissors.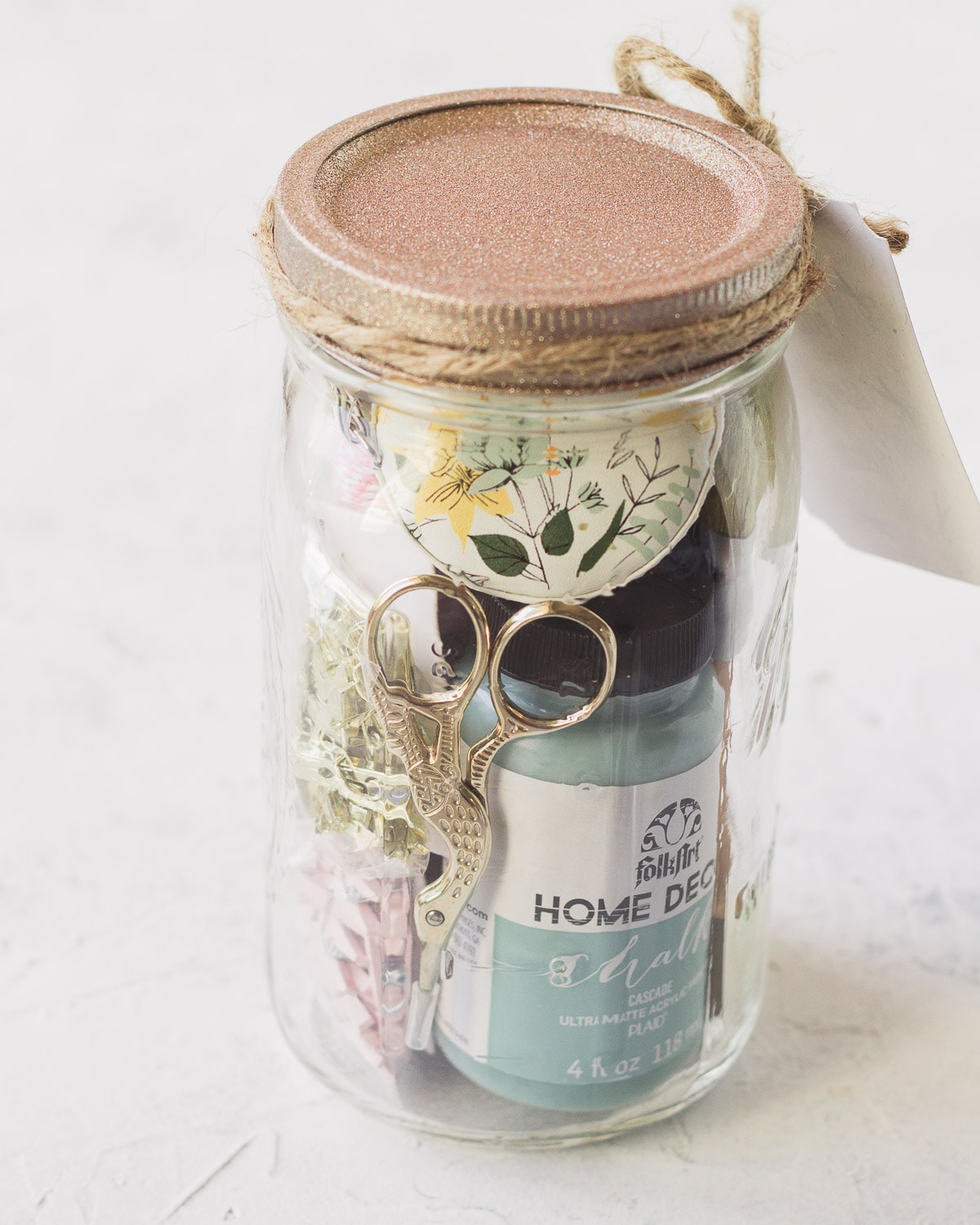 Washi tape
Washi tape is a favorite of mine to include in gift jars. Grab some craft-themed washi tape (or any other style you like!) and add a few rolls. Handy for lots of projects.
Craft Knife
Mini craft knives fit easily into a glass jar gift.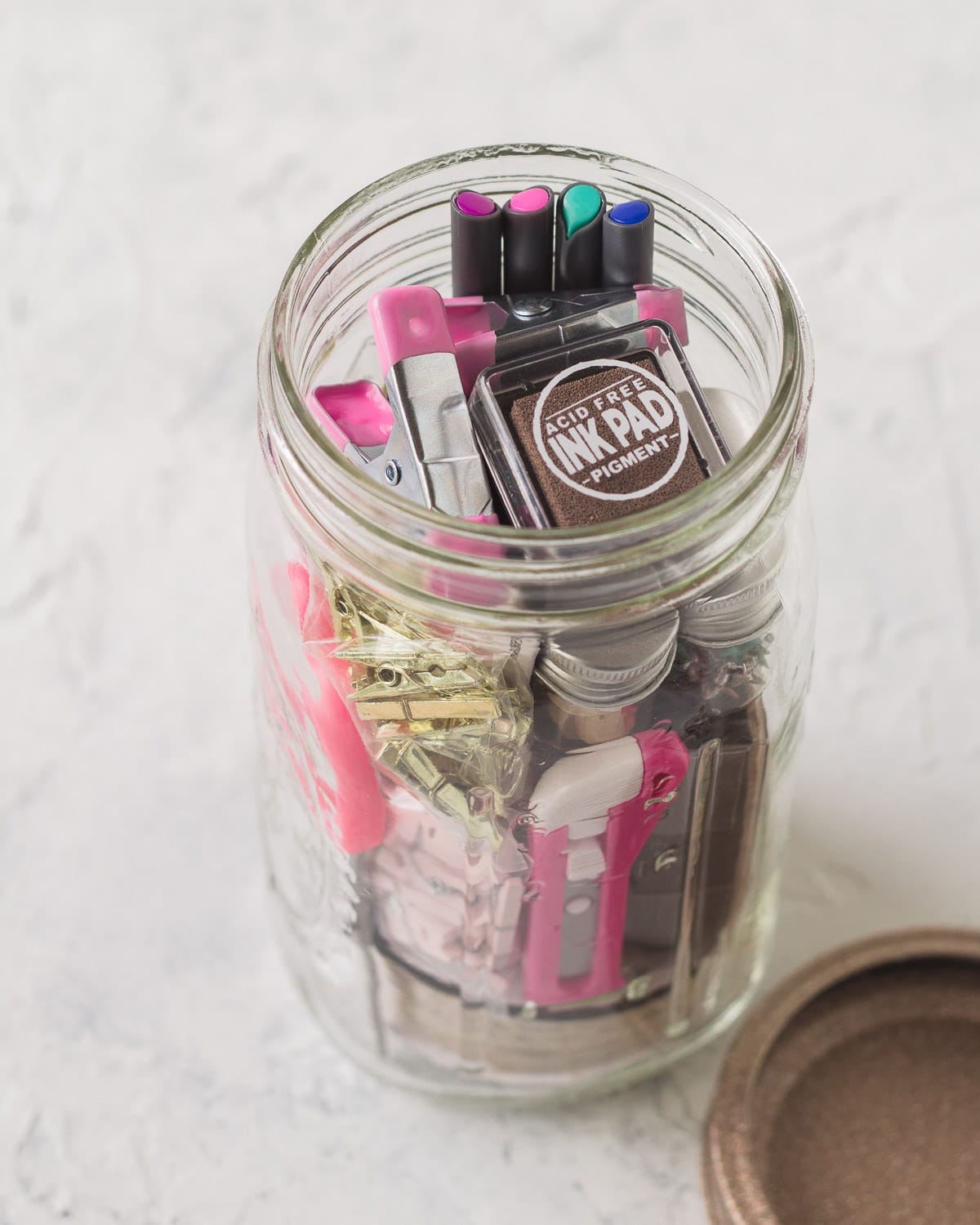 Mini Sewing Kit
I found these tiny kits at Hobby Lobby for $2 and they are so cute! Even if your recipient is well supplied with sewing tools, these mini sewing kits can still be tucked into a purse or bag for emergencies.
Craft Twine
Often used for wrapping packages, craft twine can add a pop of color to your jar.
Tiny things
I love little craft items like charms, eyelets, mini clothespins and the like. Safety pins, buttons, and embellishments are also useful. Package these items in jars like these 5 mL tiny glass jars (I found mine at Dollar Tree) for a cute and organized presentation.
Planner Tabs
As a crafter I have several three-ring binders filled with crochet pattern printouts, knitting patterns, tutorials, and more. Check the scrapbooking/planner section for cute tabs, clips, and even mini stencils for staying organized.
Craft Clamps
Another Dollar Tree Find! The pack of six is easy to split among multiple jars.
Pom-Pom Makers
You'll have to choose a small pom-pom maker, but using a store-bought version is so much easier than the cardboard trick crafters will often turn to in a pinch.
Lace Trims or Ribbons
Sometimes the spools these trims are sold on are a little too large for a mason jar. If that happens to you (or if you are making multiple jars), rewind the trim into a small hank and add it in that way instead.
Mini Rubber Stamps and Ink
Any mini stamp is a fun addition and I like these little alphabet stamps paired with some mini ink pads.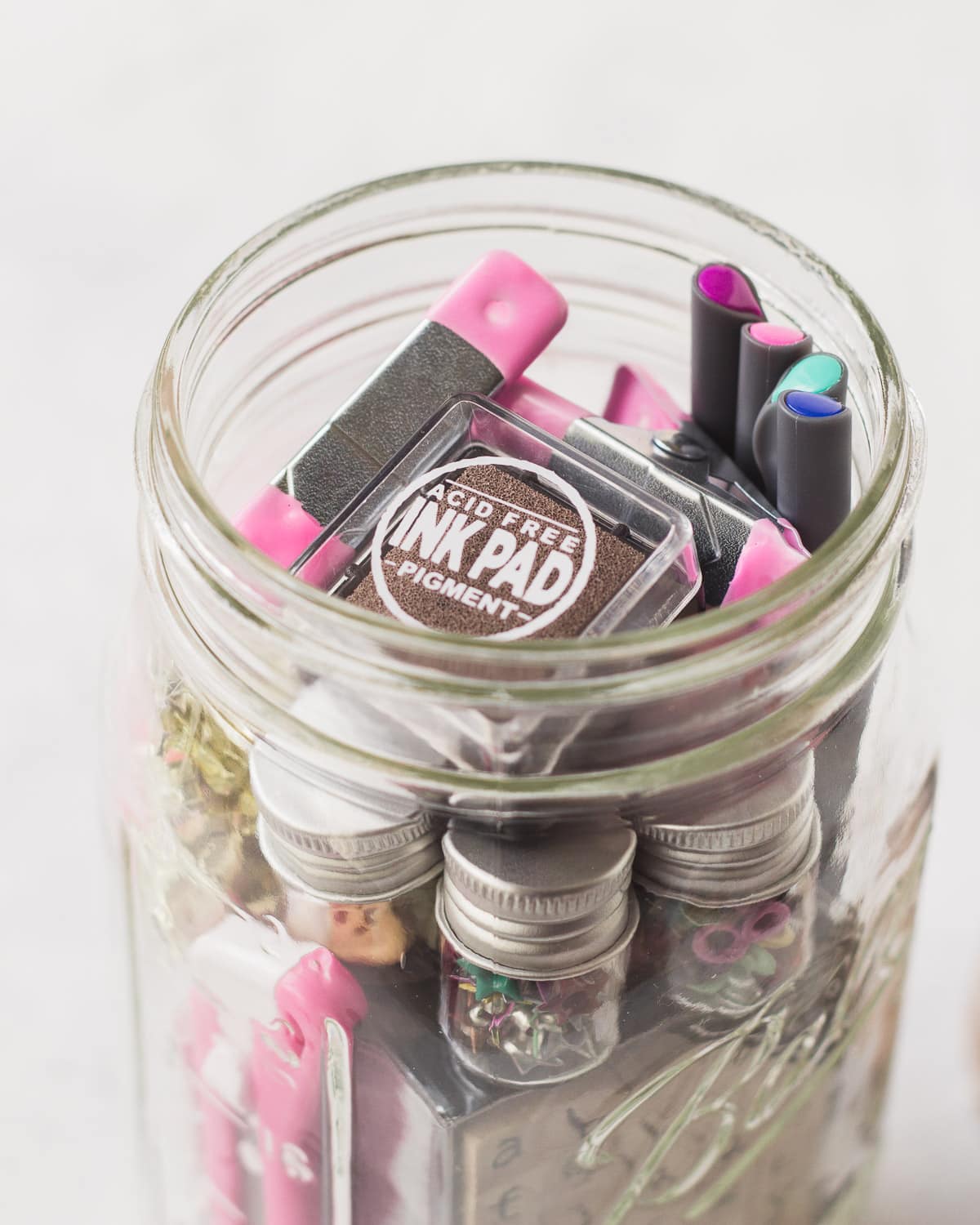 Small Craft Paints
Choose small 2-4 oz containers of various craft paints. Include a mini paintbrush or tie a larger one onto the side of the jar.
Handmade Items
Don't forget, you can absolutely include things you've made yourself. Maybe it's handmade stitch markers for a knitter or bias tape for a sewer. Be creative and add a few special touches to make your jar unique!
The "Crafting Basics Jar" Gift Idea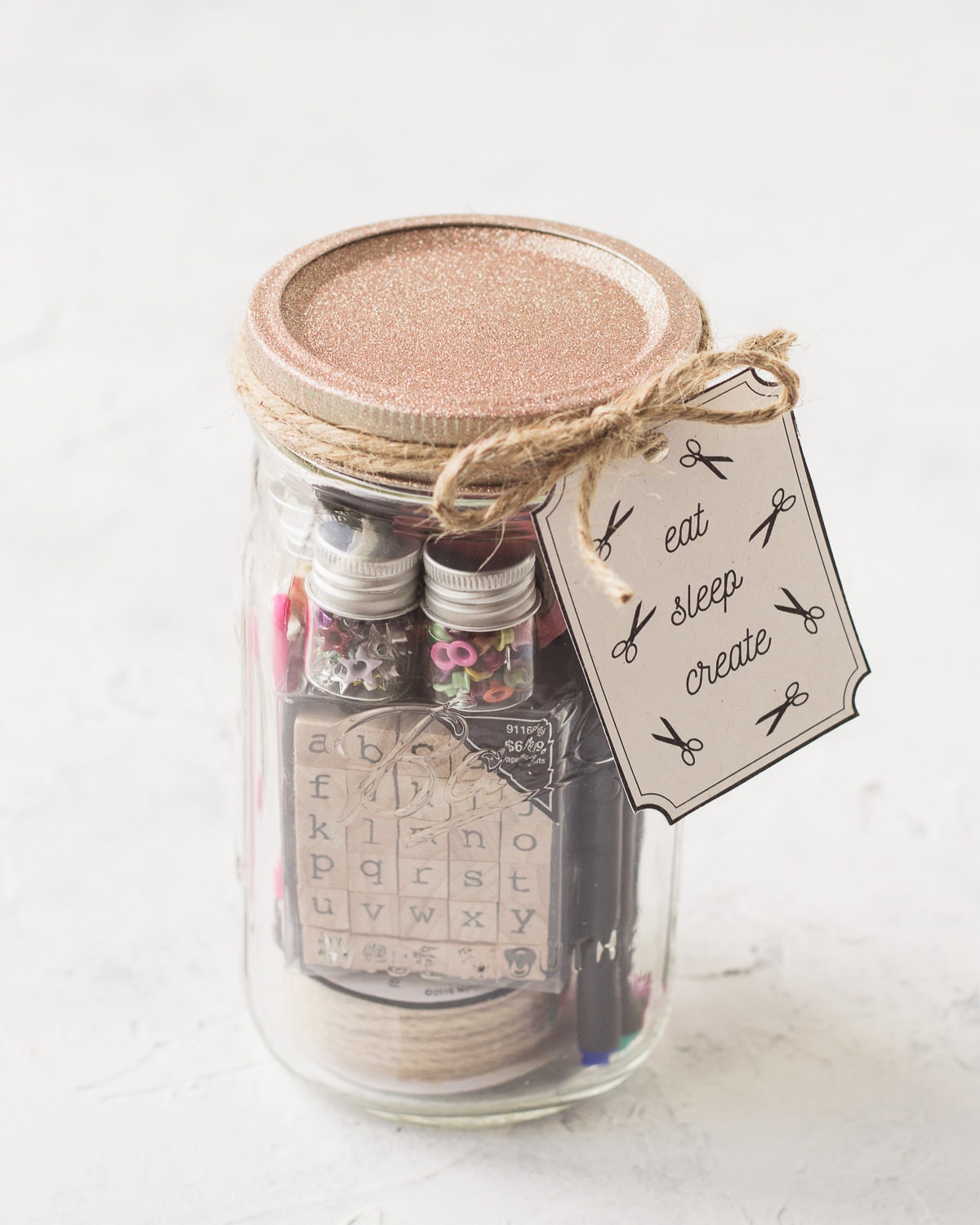 I included: Vintage Type Alphabet Wood Stamps, two mini inkpads, a small craft scissors (Dollar Tree), two craft clamps (Dollar Tree), a spool of twine, four colored pens (from this pack on Amazon), scrapbooking eyelets and buttons packaged in mini glass jars (Dollar Tree), mini craft knife, craft twine, and two packs of mini clothespins.
The "Chalk Painting & More Jar" Gift Idea
I included: a 4 oz Folk Art Home Decor Chalk Paint, and a 2 oz DecoArt Metallic Acrylic Paint, a very small brush, a miniature glass jar (from The Dollar Tree) filled with buttons, two calligraphy pens, four spools of washi tape, two packs of mini clothespins, a spool of craft twine, a retractable tape measure and a fancy embroidery scissors.
Remember, try to stick to an overall "theme" and color scheme with your gift jar. Here's some more ideas for how to narrow the focus of your jar and choose gifts your recipient will LOVE!
Scrapbooking and Card Making Jar
For a recipient who loves to scrapbook, there are lots of fun things to add into a jar. Pens and adhesives (choose acid-free and rated for archival use) are items that seem in constant need of replacing, so they will be well appreciated.
Try a Zig Glue Pen, scrapbooking pens, scrapbooking squares (I love these!), and mini craft knives. Stickers and scrapbooking embellishments are also fun, but you may have to get creative with fitting them into a jar.
And of course, an easy addition is washi tape. If you are filling multiple jars, buy some large packs of washi tape off of Etsy or Amazon and divide them between the gifts.
Sewing Kit Jar
I wrote a whole post on the supplies to choose plus tips for creating a sewing kit mason jar!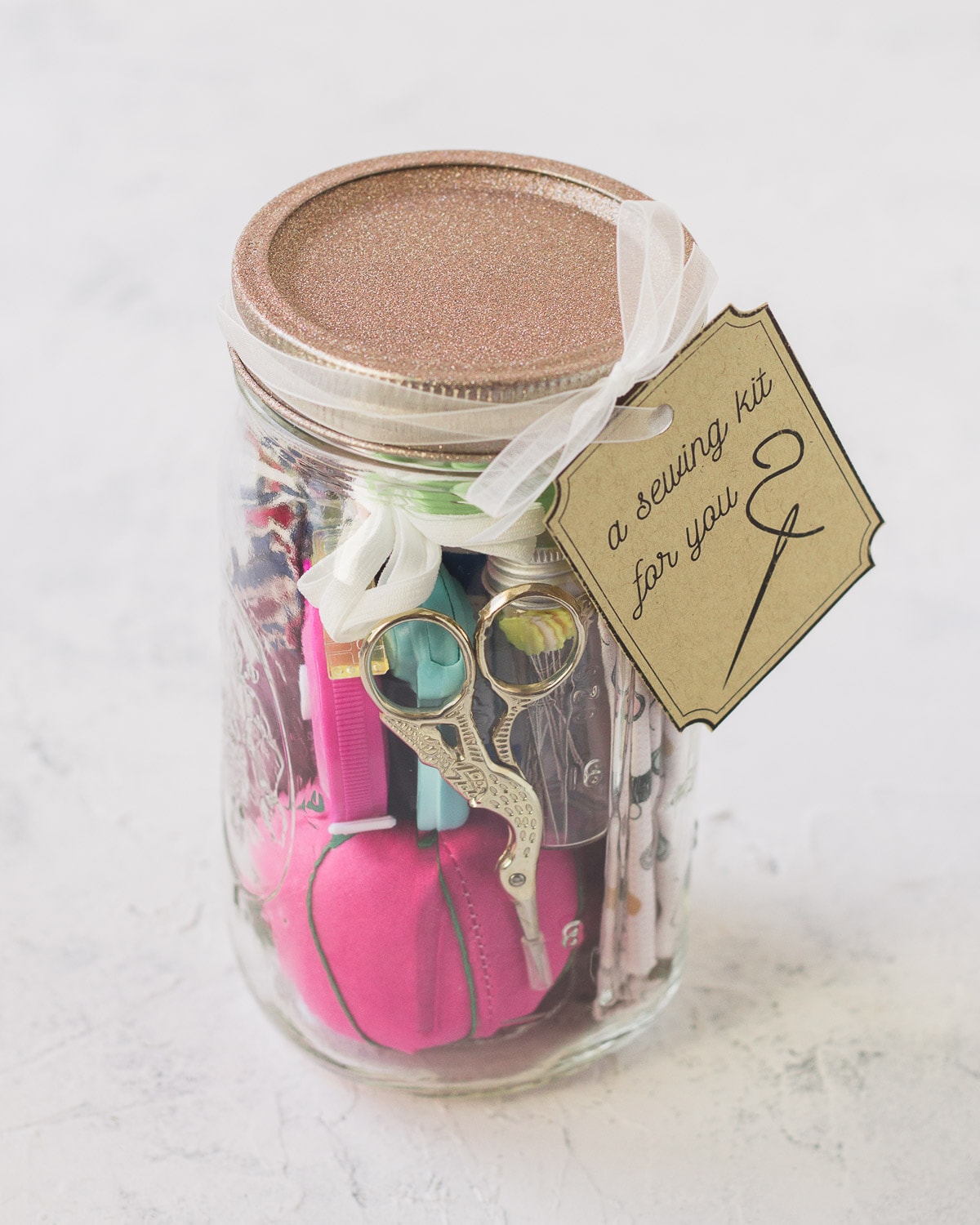 Tips for Creating a Craft Supplies Mason Jar Gift
Before you start shopping, here's a few quick tips for putting together your own craft supplies mason jar gift. Note that you don't need to worry too much about choosing supplies that your recipient may already own because craft supplies tend to get used up quickly.
Plus, crafters love options! We will never complain about expanding our craft supply stash!
Buy More Than You Need
While you shop, select more items than you think you need. Sometimes things don't fit or look weird or cost more than you thought at the checkout and are no longer quite as cute (just saying).
And, don't take things out of the packaging until you decide on the final jar configuration. You can just return the extras that are still factory-fresh.
Color Coordinate
I usually choose a color and a metallic or neutral to base my choices off of. I try to keep as many items as I can within the color scheme and then I add others in as needed if I can't find a particular item in the color I want.
You might pick up your "big" items and see what color they are and go from there. Working around a color scheme makes the jar look much neater!
Grab a Jar at the Store
If your glass mason jar is at home, grab one from the craft store and leave it in your cart while you shop. Use it to ensure you are choosing items that will fit. Then, just return the jar before you head to checkout.
De-Package Items
Now, like I mentioned already, do this after you've decided on your official layout so you can still return excess items (or you can add them to your personal craft stash of course–I won't say a word). But sometimes taking off the packaging can help items fit neatly and look more interesting inside the jar.
Shop In-Store or Online Depending On…
If you are putting together one jar, shop in store. Check out the bargain areas and any section with mini versions of popular craft supplies. Try to go when there's a sale on the primary category you'll be shopping (knitting notions, polymer clay, scrapbooking, etc.) to save money.
If you are putting together lots of gift jars (perhaps for party favors or Christmas gifts for instance), you can save money by buying in bulk online. Things like washi tape, retractable tape measures, buttons, and the like can be found for great deals online.
The downside of buying online is that it can be hard to tell if things will fit. So look for dimensions in product descriptions and keep your jar nearby as you shop.
Note: if you are making multiple jars you can also switch to a pint-size jar to keep costs down, but you'll be a bit more limited on what will fit.
Free Printable Mason Jar Gift Tags
Grab the free printable gift tags!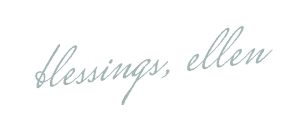 More Mason Jar Ideas from Bellewood Cottage