What to Order Your First Time at Crumbl Cookies
With a constantly rotating menu and SO many delicious-sounding cookies, how do you know what to order your first time at Crumbl? Here's a few tips for making your Crumbl experience awesome + a few of my favorite must-try flavors (including the delicious S'mores cookie which I wrote a whole review for!).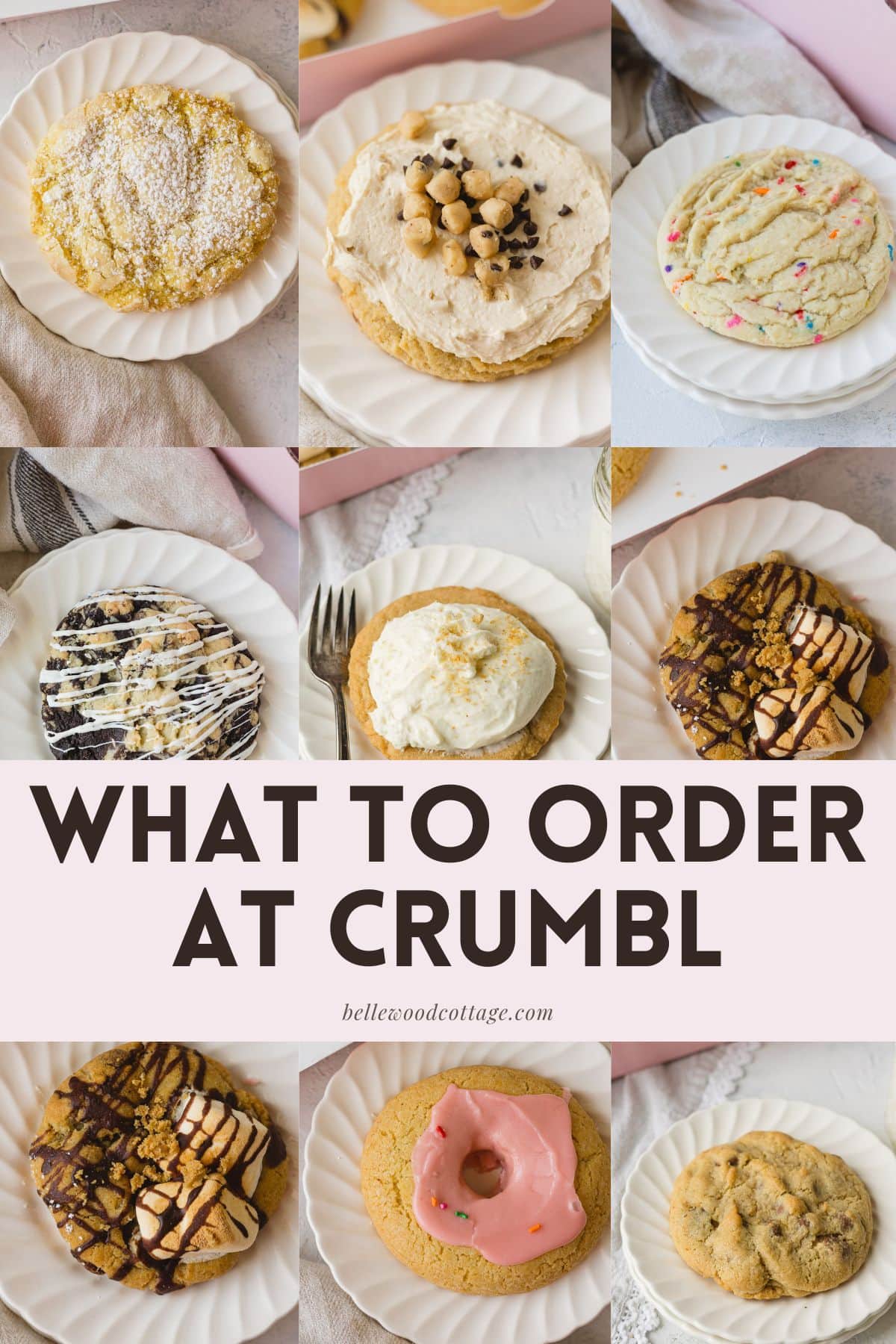 Ever been to Crumbl Cookies? If not, maybe you are wondering what all the hype is about–AND which cookies you should order if you go! This post will tell you everything you need to know.
OR, maybe you are already a Crumbl pro and are simply reading this post out of curiosity. If that's you, I want to hear from you! I bet you have your own fantastic Crumbl tips too, so share away in the comments! What's one must-try flavor you want people to know about?
What Your First Crumbl Cookies Order Should Be
TLDR: You can probably tell, I like Crumbl Cookies! So this post is packed with tips and thoughts about Crumbl, but if you are in a hurry and are ordering NOW, here's what you should snag:

Buying a 6-pack box? That's easy! Order one of each flavor this week.

Buying a 4-pack box? I suggest starting with a Milk Chocolate Cookie and then choosing cookies with different "base" cookies (for example: chocolate, peanut butter, and sugar cookie) so you get the biggest assortment of flavors to sample! Make sure at least one of the cookies you select is frosted because the frosting is oh-so-good.
What You Should Know First!
Walk right into Crumbl, order just about anything, and you'll come away happy! However, here's a few things you might want to know first:
Rotating Menu
Crumbl Cookies serves gigantic freshly baked cookies (and Crumbl Cream–which is ice cream with Crumbl Cookie pieces inside, yes please). They have a rotating menu which changes each week on Sunday night (stores are closed Sundays, so you can taste the new flavors on Monday when the stores are back open).
The cookie menu features the weekly standard of a Milk Chocolate Chip Cookie plus 4-5 other rotating flavors. Some cookies are served warm, others are served chilled.
Very Large Cookies
Note that the cookies are huge! If you check out nutrition information you'll see that each cookie is 4 servings (this was recently adjusted from a larger serving number). So, if you eat a whole cookie yes, it is a lot of calories (around 600), but hey, it's dessert! Share a few, or plan to freeze leftovers if you like.
Ordering on the App Is Easy
I highly suggest making your Crumbl order on the Crumbl Cookies app. It's easy and the best part is that you collect "Crumbs" which are points towards getting free cookies! Who could argue with that? There's other ways the app helps you get free cookies too (check out my tips on How to Get Free Crumbl Cookies) so it's worth taking a moment to install it on your phone.
Your First Crumbl Order
Now, let's order!
Buy In Store, Don't Ship
First, I recommend buying in-store if possible. I hate sounding negative because I love Crumbl too, but IMO their shipped cookies just were not yummy…AND with the extra cost of about $10 to ship them, it really didn't feel worth it.
The in-store cookies are freshly baked and taste superior to the shipped cookies. Plus, you have a full selection of "served chilled" and "served warm" varieties complete with frostings and toppings. The menu for shipping is limited and doesn't include cookies with perishable frostings/fillings (glazes are sometimes there).
Plus, if you head in-store you also get a chance to take a peek at the cookie-making happening behind the counter which is fun!
Pick a Good Week
This goes for anytime you are grabbing Crumbl Cookies…pick a good week! Crumbl works really hard on their weekly menus and creates some pretty superb line-ups, but there's no question that some weeks are just better than others. Go on a week where you can hardly decide which flavors to choose and you are guaranteed to have a great order.
Buy a 4-Pack or a 6-Pack
This will depend a little bit on if you are buying just for yourself or sharing with a friend or two. I suggest sharing if possible so you can select a larger variety of cookies to try all at once. Part of the fun is sampling the different flavors and comparing, so buying more than one cookie is my ideal!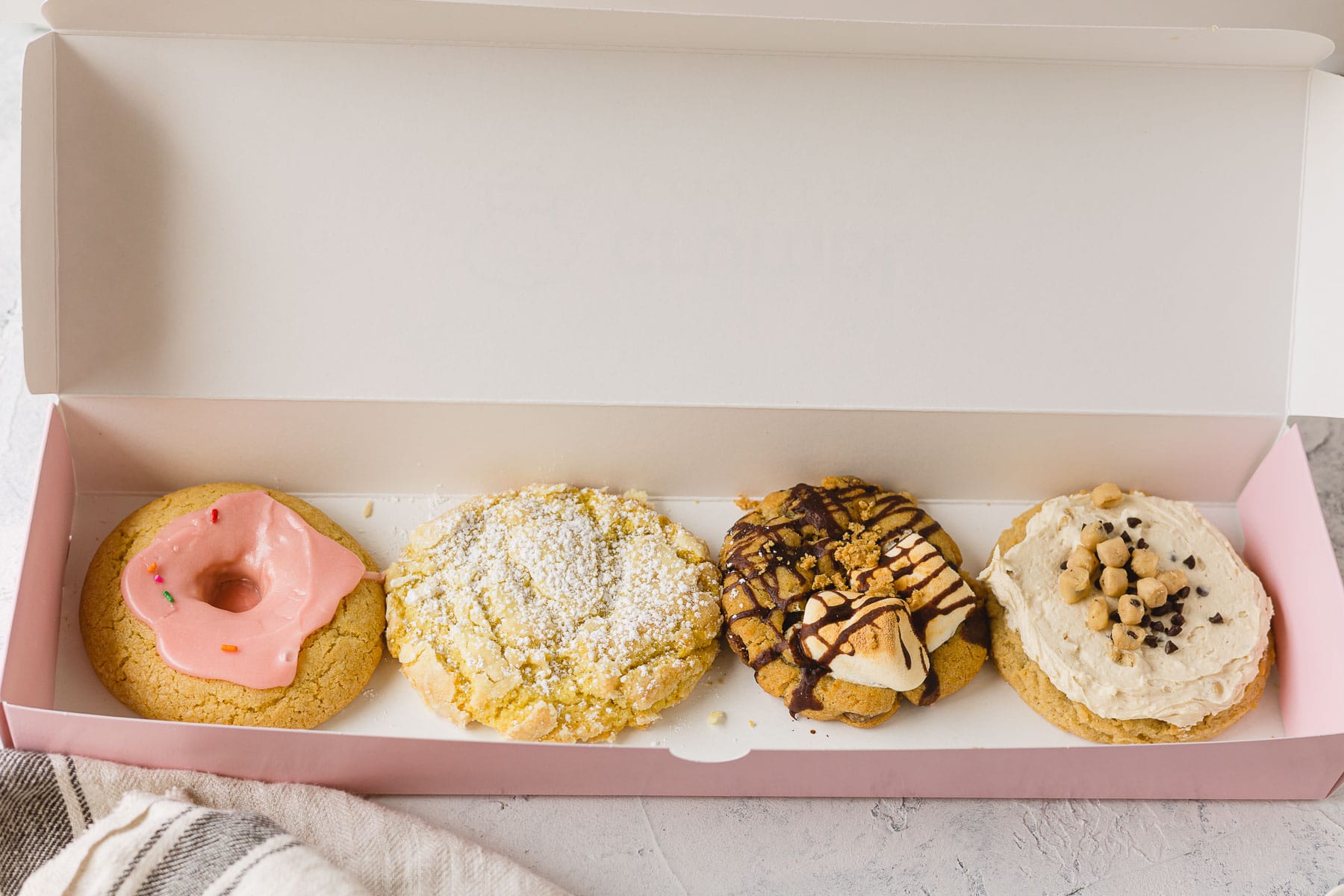 Storing leftovers: Be sure to store your leftovers correctly. Anything with frosting or that is "served chilled" needs to head to the fridge, while more basic flavors like the Milk Chocolate Chip Cookie can be stored at room temp. Here's How to Freeze Crumbl Cookies if you need longer term storage.
Select a Variety
Most of the Crumbl Cookies fit into one of the "base cookie" categories: chocolate, peanut butter, sugar, and original base. There are of course cookies that are completely unique too, but those are some general categories.
If you are getting a 6-pack box, that's easy, just order one of each flavor!
If you are ordering for the first time and filling up a 4-pack box, here's what I suggest:
Start with a Milk Chocolate Cookie and then choose cookies with different "bases" (so you can try chocolate-base, peanut butter base, and sugar cookie base) so you get the biggest assortment of flavors to sample!
The Milk Chocolate Chip Cookie is a classic (available every week) and gives you a great idea of what Crumbl Cookies are all about.
My favorite base cookie is anything chocolate and my second choice is anything peanut butter!
Of course, there are other bases like the cheesecake style cookies with graham cracker crumbs baked right in, or lemon cookies (which I would consider a sugar cookie base with lemon flavoring), and other unique cookies too.
Above all, choose what sounds good!
Oo, and also make sure you have at least one "warm" cookie (Milk Chocolate Chip is served warm) and at least one "chilled" cookie. The chilled cookies are usually the frosted ones and their frosting is SO good!
Hint: Crumbl's Pink Sugar Cookie (an almond-flavored sugar cookie with thick pink frosting) used to be a weekly standard on the menu. It's since been retired onto the rotating menu and if you see it (and like almond flavor), grab it. It's a classic!
What If I'm Just Ordering One Cookie?
If you are just ordering one cookie, I actually suggest skipping the Milk Chocolate Chip! It's pretty good, but it's on the sweet side, and in the end, it's a chocolate chip cookie. If I was only buying one cookie I'd probably choose a chocolate base cookie, ideally with frosting! It's fun to try a flavor that is truly unique to Crumbl if possible.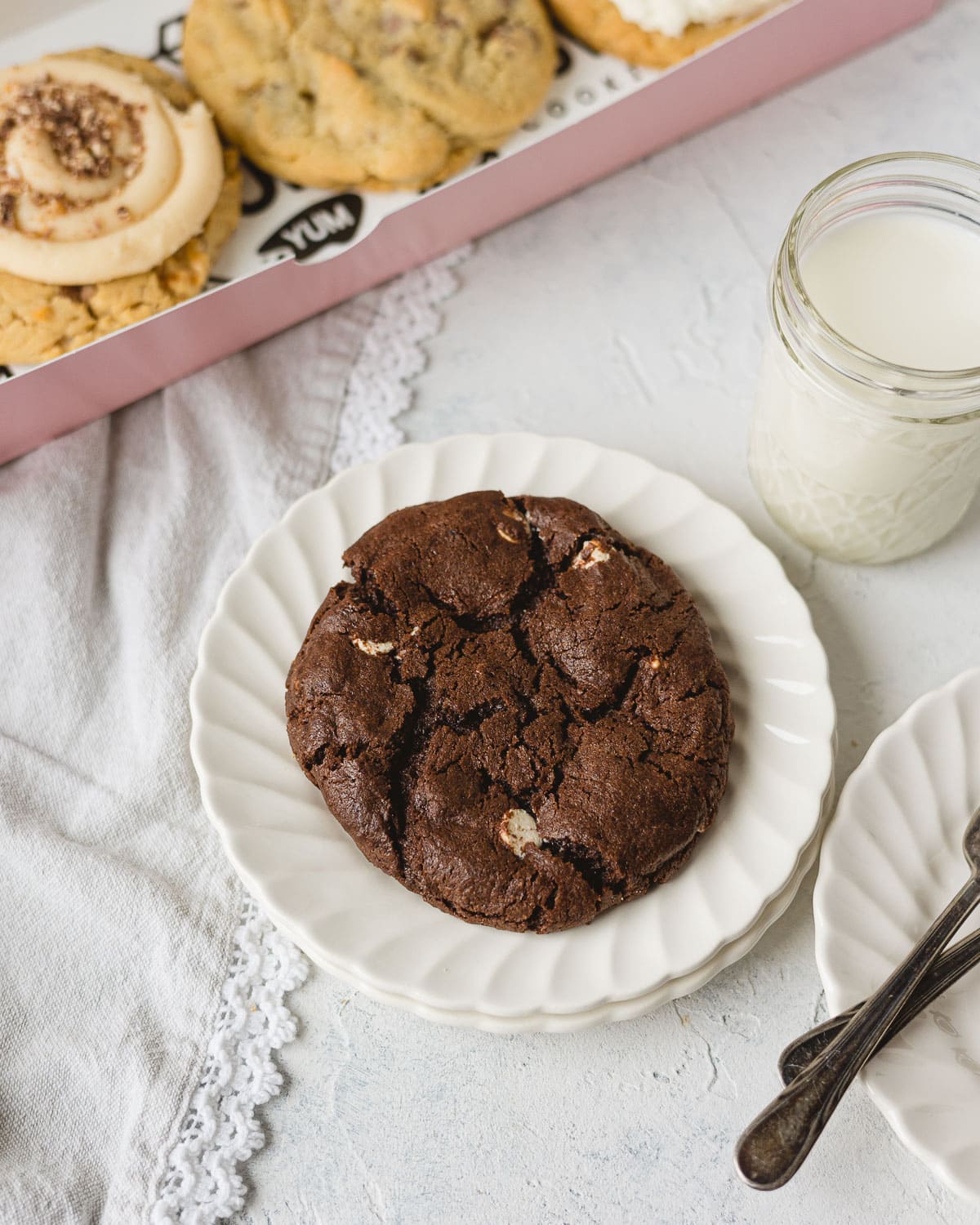 Don't Forget About Crumbl Cream
I always forget about Crumbl Cream, but it's true, Crumbl sells pints of ice cream too–flavored with chunks of Crumbl Cookies.
SO Many Flavors to Choose!
Did you know Crumbl has over 200 flavors now? Plus, as I've followed along I've noticed that sometimes flavors get small tweaks and changes when they are re-released. So, if you see something you want you should go for it, because you never know when it'll come back (and if it will be a bit different when it does).
Hint: Most changes are pretty minimal like a different frosting style (piped versus spread etc.), but I've noticed some cookies that didn't get rave reviews the first time around will have heavier edits.
My Personal Must-Have Flavors
Obviously with over 200 flavors, I certainly haven't tried all of them! But, if I have to choose, here's a few of my "must-try" flavors: Chocolate Chip Cookie Dough, S'mores, Key Lime Pie, Triple Chocolate, and anything with Oreo. What are your favs?
Missing Crumbl? Try a Copycat Recipe!
If you don't live near a Crumbl or are waiting for a favorite flavor to re-appear, try making a copycat recipe!