dealing with stains and bleed-through on painted furniture – the hutch diaries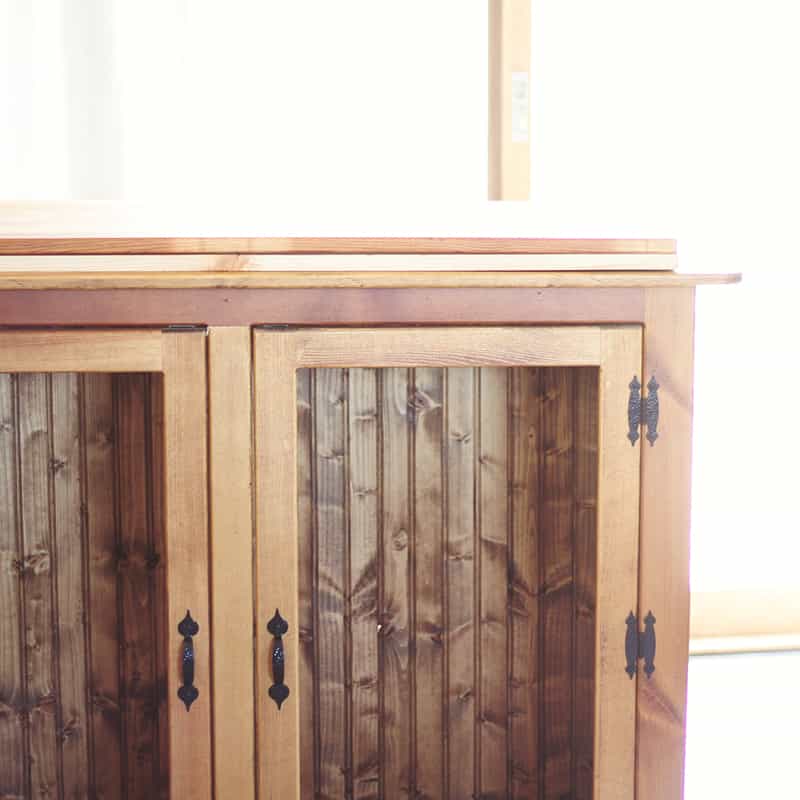 So. Painting this hutch has been an interesting project to say the least. Before this project, I was fairly confident in my refinishing abilities. I'd experimented with several different pieces of furniture, different brands of "chalk-style" paint, and variations on prep (like priming and sanding). I had encountered bleeding finishes (where the original stain of the piece creeps through the chalk paint, leaving unsightly blemishes on the finished pieces) and learned how to combat them (stain blocking primer).
However this project has been mistake after mistake for me it seems. So, what's a blogger to do? Share those mistakes so that no one else has to make them! Thus, in the interest of benevolence, I give you this post.
To give you some context, I am using Annie Sloan's chalk paint on this piece in Old White.
Here's a quick summary of my chalk painting "mistakes" with more detail as you read the post:
Improper prep. Each piece of furniture is different and honestly, if it's salvaged furniture (and sometimes even if it's brand new) you just have to prep it. This can mean filling holes, sanding, or coating with a primer.
Painting straight from the chalk paint can.
Painting knotty pine.
Emphasis on #3. Don't paint knotty pine. Unless you want all the tears.
Now the details:
1 – Improper prep: So, I jumped right into this project, painting my Old White chalk paint right onto the pine hutch I had recently purchased. I knew something was wrong when I was using up the paint at an alarming rate and it was drying usually streaky. I decided I'd try a second coat, as this piece has a ton of surface area and maybe I just wasn't used to paint being gobbled up that quickly. The second coat though turned out pretty iffy. I knew it wasn't looking good. And I had used SO much paint. There was no way I was finishing the entire piece (with a potential third coat needed) using only one can. And I was beginning to be worried that even two cans might now be enough. At $40 a can, my little money-saving furniture rehab project was looking dismal. The thought of purchasing $120 in PAINT (for three cans) for a hutch made me want to cry.
Here it is, looking oh so sad (one coat here):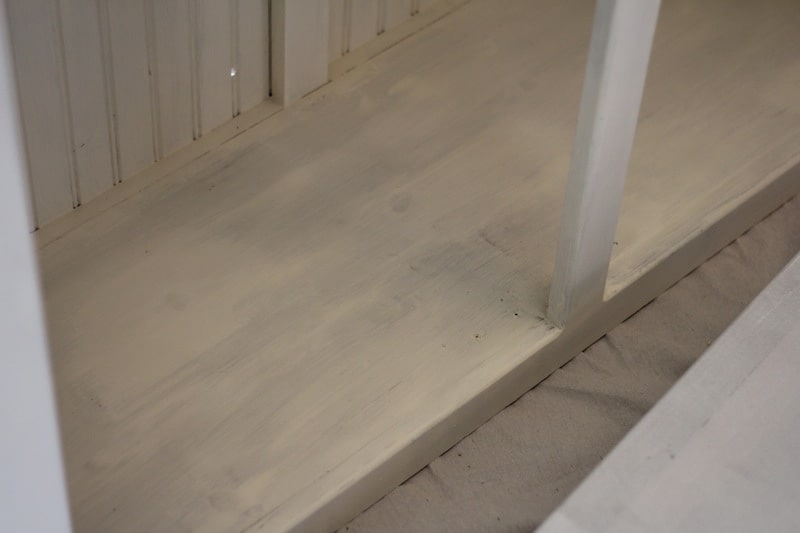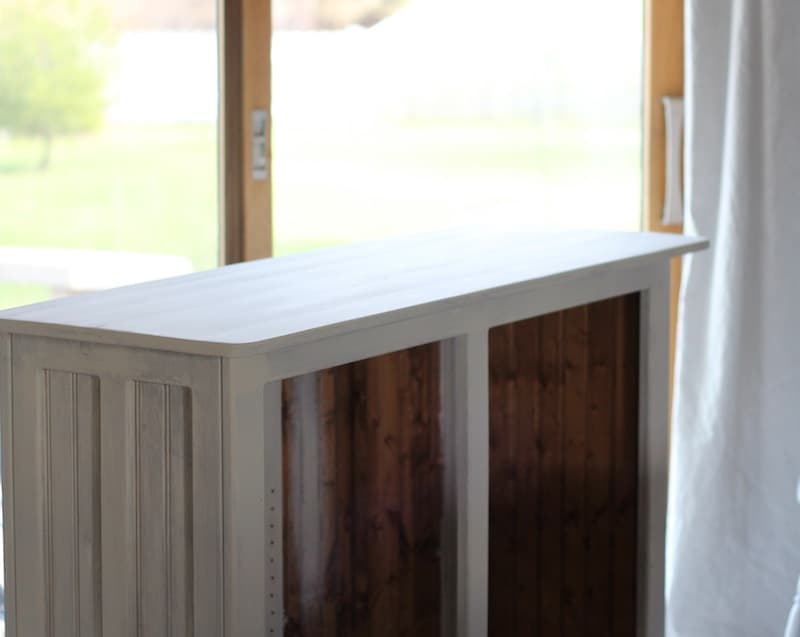 And two coats here: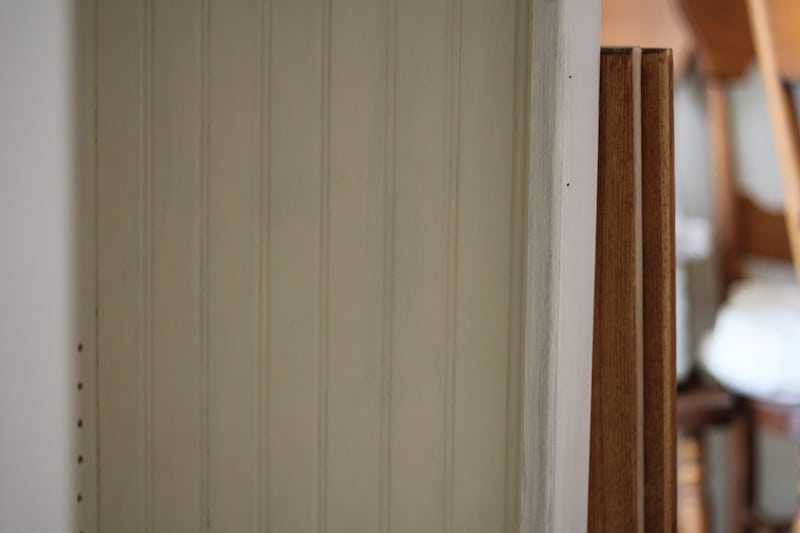 I realized after dwelling on the problem, that my hutch probably hadn't been sealed with anything more than a furniture wax (or maybe oiled?), so basically I was painting a raw wood…which is a huge chalk-painting no-no. I didn't even think of it, since the piece was obviously stained, but it was a total fail on my part. Basically, the paint was just soaking in like crazy.
I finally had the bright idea to prime the whole thing. I decided I would leave the top half of the hutch alone for the time being, and attack every other surface with two coats of my go-to primer: Zinsser Smart Prime. I love this stuff because it's water-based, easy to clean up, and WORKS. Plus, it adheres very well to the various surfaces I've tried it on.
Look at this beauty with two coats of primer, sooo much better already: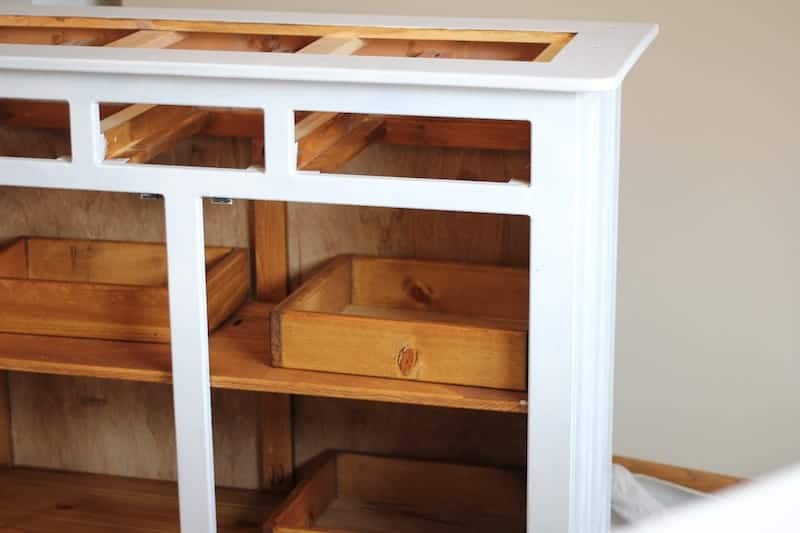 Takeaway: don't paint raw wood (this includes raw wood that is stained, but still unsealed)
Takeaway: a great primer is a quick and easy step that can cover a multitude of sins. However, see #3 for more on choosing a primer!
2 – Painting straight from the can: The other problem I corrected was to start thinning down my paint (don't do this in the can; grab a second container) until it was the consistency of a thick wash. Worked like a charm over the primer. I got a beautiful finish with just the right amount of brushstrokes, the painting itself went SO much faster without struggling with spreading the thick paint, and I realized that if I had started this way I probably wouldn't have needed that second can.
Takeaway: Save paint (and your painting hand!) by thinning down the very thick Annie Sloan paint. It goes further, and it's a lot faster (and easier) to paint a piece with lots of little crevices. I probably will still continue to do some projects straight from the can, but I do think this solution is a great way to make your paint go further.
3 – Painting knotty pine: Which brings me to my final point. I ran over to my local Annie Sloan dealer, grabbed another can of paint, and headed home. I was all ready to jump in and get this thing finished when I noticed something was wrong. It looked like someone had gotten dark fingerprints all over my piece (and it looked awful!) and I was momentarily perplexed. As I continued to examine the piece, I realized it was bleed through of some kind. The problem was though, this was the piece that had already gotten two coat of heavy-duty stain-blocking primer. And looked amazing the day before.
It's far more obvious in person, but here are some photos (this is with two coats of primer and one coat of chalk paint):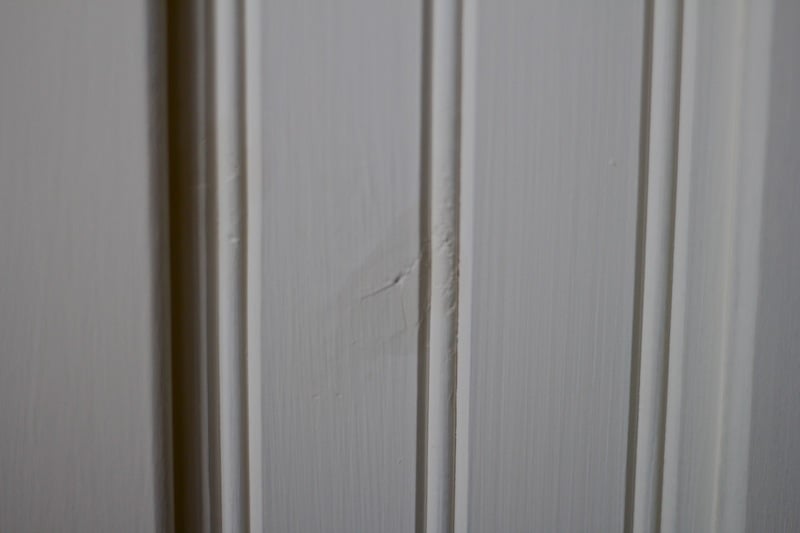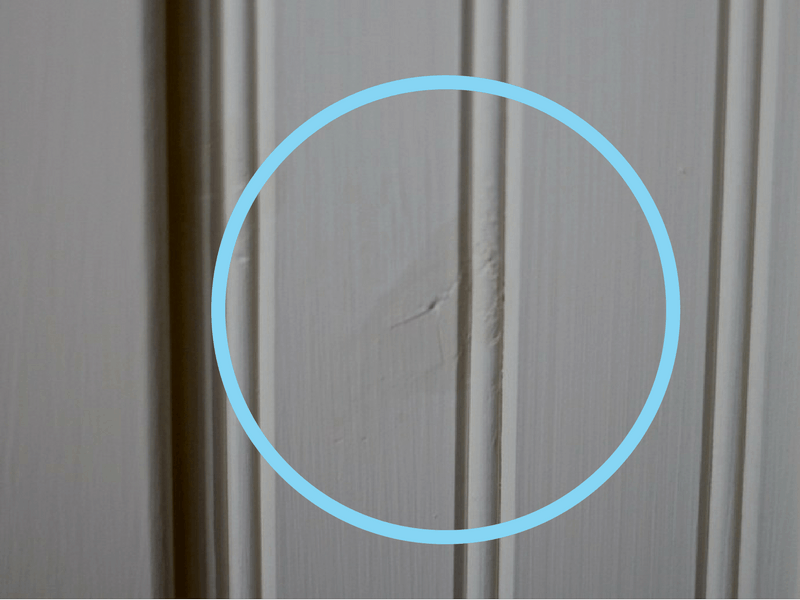 Well, after eventually putting two and two together, I realized it was the knots in the pine bead board (that the majority of the hutch is made from) bleeding through all those coats of primer and paint. Oh the horror. I immediately started researching knotty pine and quickly discovered (which of course, I had never ran into any of this in all my other reading and painting experiments) that knotty pine does not like paint. The knots are almost impossible to stop from bleeding through. And apparently, other than a very toxic, very expensive primer (that is NOT even guaranteed to work!) there really isn't a lot you can do. So, takeaways?
Knotty pine is the worst.
Don't paint knotty pine.
If you must, prep and pray!
Or, just don't do it.
Primer. All the Shellac-based Primer.
See #4 for my hopeful solution.
At this point, I'm feeling a little bad for all the knotty-pine hate, but as my husband reminded me…wood is beautiful as it is. So if you have a knotty pine piece, enjoy its character and choose something else to paint. Really.
4 – A glimpse of hope: At this point, I was all kinds of crabby and bummed. Wasting money + failed diy is not my favorite thing. What am I going to do? Well, since my bleed-through isn't as bad as some examples I have seen online, we went ahead and grabbed a can of the super toxic primer and are going to give that a shot. The idea is that a shellac-based primer is the only man for the job, and this variety from Zinsser seems to be the market standard: Zinsser B-I-N Shellac Based primer. I have read that pine sap is particularly vicious and can often bleed through shellac even years after the knots are sealed, so I'm hoping that if that's the case, it's a good twenty years before that happens!
I'm praying that it works and even though it will be a lot more work to get the piece finished, it will hopefully be worth it in the end. And at least I learned something I guess?
But, I leave you with this advice: don't buy knotty pine in hopes of chalk-painting it! Unless you don't mind taking on a troublesome project. The main issue to me (besides the fact that I don't know for sure if the primer will solve the issue!) is that the primary benefits of chalk paint (easy clean up, no-prep, low vocs) are lost if you have to buy this toxic Zinsser primer and slap it all over your piece.
As a note, I also learned that redwood and cedar are difficult to paint as well. Antique mahogany is also known for bleed-through, but it seems as though there are more resources and primer options for combating the potential bleed-through with that particular wood.
I will for sure be doing an update (hopefully it doesn't end with me throwing the whole darn thing on craigslist for $1) and until then I wanted to leave you with more reading that you will find useful if you are encountering any stains or bleed-through on a painting project.
Resources (note that some of the resources suggest using straight shellac, but overall I feel like I have the best chance with the B-I-N primer):
Stop bleed-through when painting furniture – from Salvaged Inspirations (read the comments here)
Stop knots from bleeding through paint – From Steve Maxwell, baileylineroad.com
Using shellac to seal pine knots – from SFGate
On using shellac for chalk paint bleed through issues – from the Purple Painted Lady
See ya in a few days with an update! Assuming I can drag the hutch outside today and get that primer painted on!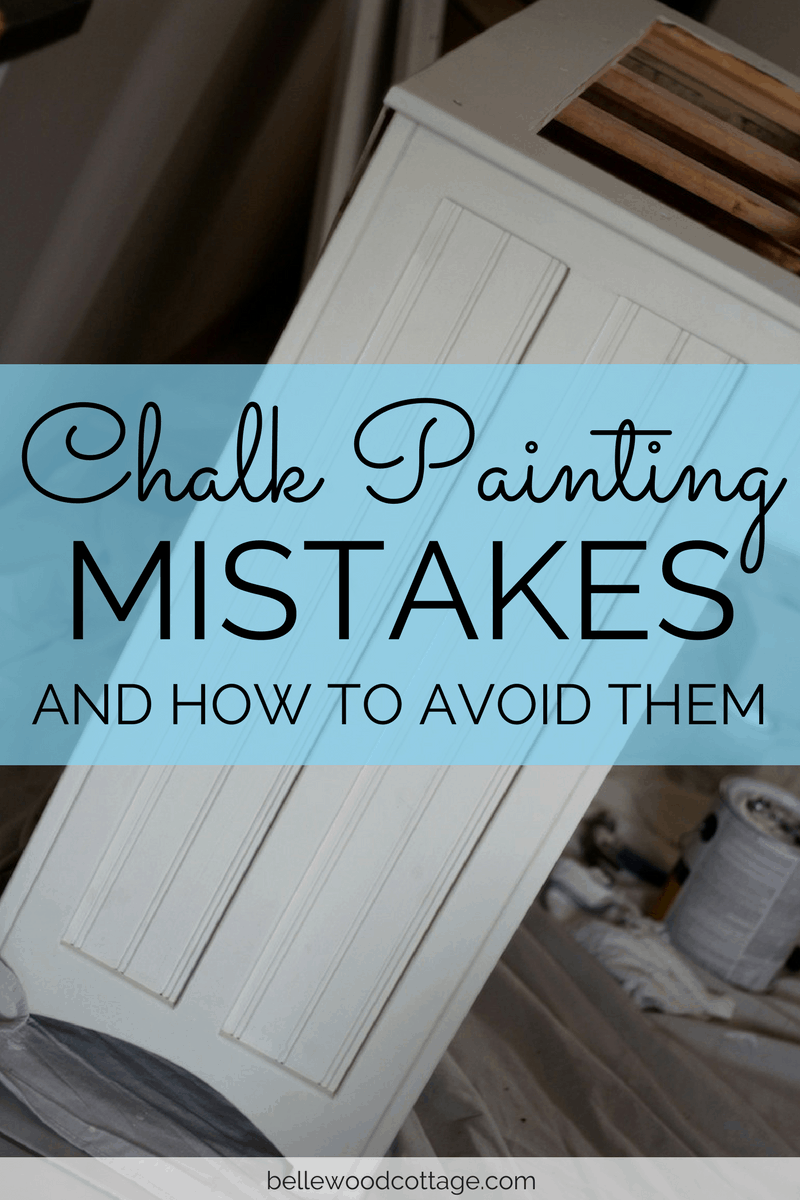 Save