The Best Wordpress Plugin for Pinterest (From a Fellow Content Creator)
Save time blogging and learn how to optimize your images for SEO, Pinterest, and screen readers with the best Wordpress Plugin for Pinterest. A Wordpress plugin that allows you to create both Pinterest descriptions and alt text for images, add a Pinterest hover button to your website, upload hidden Pinterest images, and much more.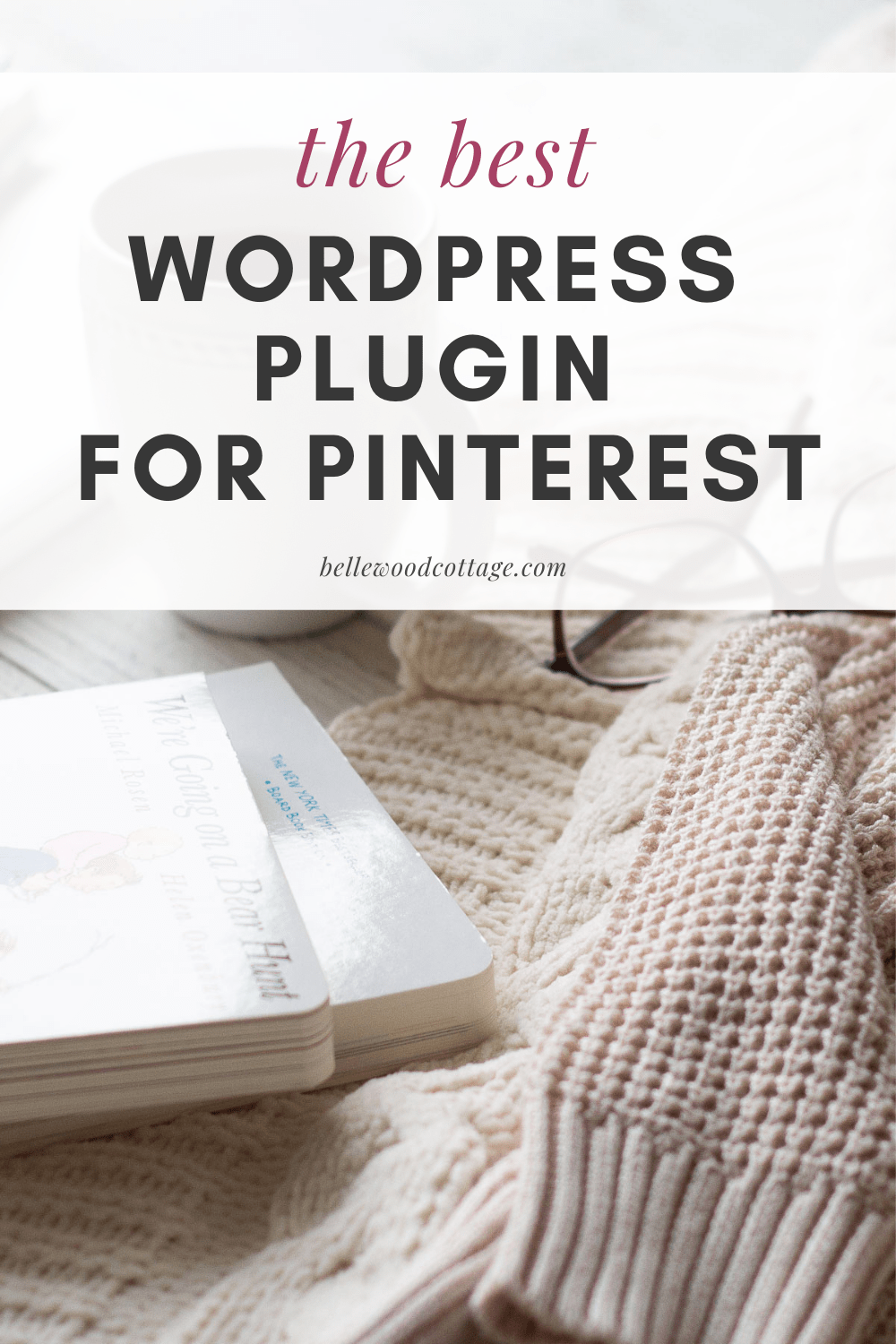 Please note that this post contains affiliate links which allow me to earn a small commission when a purchase is made at no additional cost to you. Read more here.
Though I primarily blog about diy projects and kids' books, I love the world of blogging and content creation and when I stumble upon something particularly awesome, I want to share it! Hence, for all my fellow bloggers and content creators, I bring you today's post.
If you are on Wordpress (and I bet you are), you need this Wordpress plugin for Pinterest. It speeds up post writing, makes Tailwind scheduling easy, helps posts rank on Pinterest and Google, keeps your website functional, and it allows your to grow your website more quickly by saving time and energy.
Ok, ok, what am I talking about already?!
Tasty Pins, a Wordpress Plugin for Pinterest.
Want to add a Pinterest hover button to your Wordpress site? Tasty Pins does it.
Want to disable pinning on certain images? Try Tasty Pins.
What about those extra-long Pinterest-optimized images that look clunky on your blog posts? Tasty Pins will hide those for you. And so much more.
If you've been blogging for awhile, you know that there are plenty of problems to run into. Between site speed, content creation, wrangling social media, etc. etc., you know already that blogging isn't easy! So, maybe you can imagine what a relief it was to install a plugin that solves SO many problems.
What Is the Best Wordpress Plugin for Pinterest?
Tasty Pins is the best Wordpress Plugin for Pinterest because it allows you to set alt text AND Pinterest descriptions, add hidden Pinterest images to blog posts, disable pinning as needed on certain images (or image sizes), create a custom Pinterest hover button, and lots more. And it's an incredibly reasonable $29.
So hold up. What is alt text and why should we be careful about how we're using it? Let's review:
What is Alt Text?
Alternative text, "alt text", describes an image on your site in case a visitor can't see the image. Maybe it didn't load, maybe the user is using a screen reader etc.
So your photo of a slice of bundt cake might have an alt text something like this:
"A slice of lemon bundt cake on a white plate with a vintage fork."
Alt text is the alternative to seeing the image. So, when you see that "alt text" field after uploading your image to Wordpress, use it to describe the image. Accurately. Succinctly.
But, on the other hand, your Pinterest description needs to be optimized for keywords on Pinterest. It might read a little something like this:
"This easy Lemon Bundt Cake Recipe with Lemon Glaze is the perfect crowd-pleasing cake recipe. Get the recipe plus my three best tips for preventing a bundt cake from sticking to the pan. #cake #recipe #dessert"
Unfortunately, for some time it was suggested as a best practice to slip that Pinterest description into the alt text box as a quick way for Pinterest to grab image descriptions. If you have been placing Pinterest text in your alt text boxes, it's time to change that asap.
Much like you don't want your recipe showing up on Pinterest with the description, "A slice of lemon bundt cake on a white plate with a vintage fork", visitors trying to figure out what your image is don't want to listen to a sales pitch every time they encounter another angle of cake.
Not only does the practice of using the alt text field for pin descriptions dissolve your website's functionality for those who can't see your images, but you are also missing a valuable chance to optimize for search engines AND Pinterest.
Not to mention, if you're writing posts with photos, having visitors pin your content, and using a Pinterest Scheduler like Tailwind, then you need those Pinterest descriptions to be attached to your blog post images so that your carefully crafted Pinterest descriptions actually make their way onto Pinterest.
How to get it done? Enter Tasty Pins. Upload your images to Wordpress and you'll see that the plugin adds a few new fields for you to fill out. With Tasty Pins, you have a field for alt text, a Pinterest title, AND a Pinterest description.
So, save yourself time and energy by entering alt text and Pinterest text correctly the first time you write a blog post. Use Tasty Pins to get the job done correctly moving forward (and as a helpful way to repair alt text on older content too).
Want to learn more about alt text? Here's a great blog post from Tasty Pins all about alt text and more ways you can benefit through entering it correctly.
One of the things I love about WP Tasty, the brand that is behind Tasty Pins, is that the company was created by bloggers for bloggers. These are content creators who understand how Wordpress and blogging work and how important SEO and Pinterest optimization are to every content creator. Their products (you can also check out Tasty Pins and Tasty Links) seamlessly address some huge problems bloggers run into.
Adding the Tasty Pins plugin is a strategic move that will solve dozens of problems for you without weighing down your site. Want to be convinced? Here's the top reasons I love Tasty Pins:
1. Tasty Pins Provides Separate Fields to Enter Alt Text and Pinterest Descriptions
Like we discussed, it's imperative to use your alt text field correctly. But, where should Pinterest descriptions go? Tasty Pins adds fields for a Pinterest description, title, and even a "disable pinning" box. It looks like this:
Tasty Pins is easy to use and it allows you to write the jazziest Pinterest descriptions you want AND still serve your readers (and Google) by providing correct alt text.
2. Tasty Pins Makes It Easy to Add a Pinterest Button to Your Website
Trying to add a Pinterest hover button to your website? I've been there (and ditched multiple plugins that were clunky and never worked well). When you install Tasty Pins you'll get a default Pinterest button that will pop up with no further customization needed.
But if you want to customize, there are options for that too–along with a super-helpful option to select the minimum height/width of images where you want the hover button to appear. Keep reading for more on that later!
3. Lots of Images? Save Time with the Default Pinterest Description Field
When you are writing a post with lots of photos (hello tutorial posts!), you are probably going to get bored entering your Pinterest descriptions over and over again. Tasty Pins has an option to add a default description to your post. Found at the end of your Wordpress post draft, it looks like this:
I often add my Pinterest description here and then update specific images if I want to switch things up with different wording. Huge time-saver! (note: you will still add alt text individually for each image!)
4. Use Hidden Images to Avoid Clunky Images in Posts
If you're still entering long vertical Pinterest images at the ends of your posts, try using the Tasty Pins hidden images feature instead. You can upload hidden images and even force the pinning of those images if you like.
5. Utilize "Disable Pinning" to Keep Your Pinterest Presence Professional
Nothing worse than spotting your blog post pinned in the wild…with a weird pixelated logo from your website header. womp womp. Never again with Tasty Pins features like "disable pinning".
As noted above you can select the minimum image size where the Pinterest hover button will pop up. However, you can also disable pinning of individual images with a simple checkbox.
For instance, maybe you include ingredients photos with your recipes, but only want the finished recipe photos to end up on Pinterest. Just disable pinning for any images you don't want on Pinterest.
OR, use the "Force Hidden Image" as noted above to ensure an image of your choosing is pinned when a vistor saves your article.
6. Excellent Support Team
I always read the emails I get from WP Tasty because they include so much useful information. They stay ahead of what is happening in the blogging/content creation world and I love seeing the new updates come through that make their plugins better and better. With how expensive premium plugins can be, I'm constantly amazed that I only pay $29 a year for Tasty Pins.
7. Money Back Guarantee
If you are like me and you prefer to see how a plugin works with your site before committing, no worries. Tasty Pins offers a 15-day money back guarantee so you can test out the plugin and make sure it works for you.
I think you'll love the increased functionality of the plugin both as you write blog posts and schedule them to Pinterest. I love how much time it saves having all my Pinterest descriptions attached to images so when I schedule to Tailwind it's as simple as selecting the images I want and choosing the Pinterest boards to send them to.
8. Lightweight Plugin
Site speed is crucial. However, it's also a challenge to get websites running faster and faster. So, let's not make things harder by adding lots of plugins that aren't even helping us grow. Instead, be vigilant about which plugins make the cut. Tasty Pins is a lightweight, highly functional plugin that will solve many problems for you all in one install.
Now for some commonly asked questions!
How Do I add a Pinterest Hover Button to My Wordpress Site with Tasty Pins?
To gain organic pins (versus pinning your own content, which you should also do), you need to make it easy for visitors to save your content for later. If visitors can't figure out how to pin your content…well, it won't be pinned. So, make it easy with a simple hover button.
The beauty of Tasty Pins is that once you install the plugin, you don't have to fuss around with settings to get a simple Pinterest hover button to appear over the images on your Wordpress site. Tasty Pins includes a default Pinterest hover button that will work right away.
Once you install Tasty Pins on your website, you'll see the basic "pin it" Pinterest hover button pop up over your images. Instant success! That's all you need to do. However, Tasty Pins also offers some options to further customize your Pinterest hover button on your Wordpress website if desired.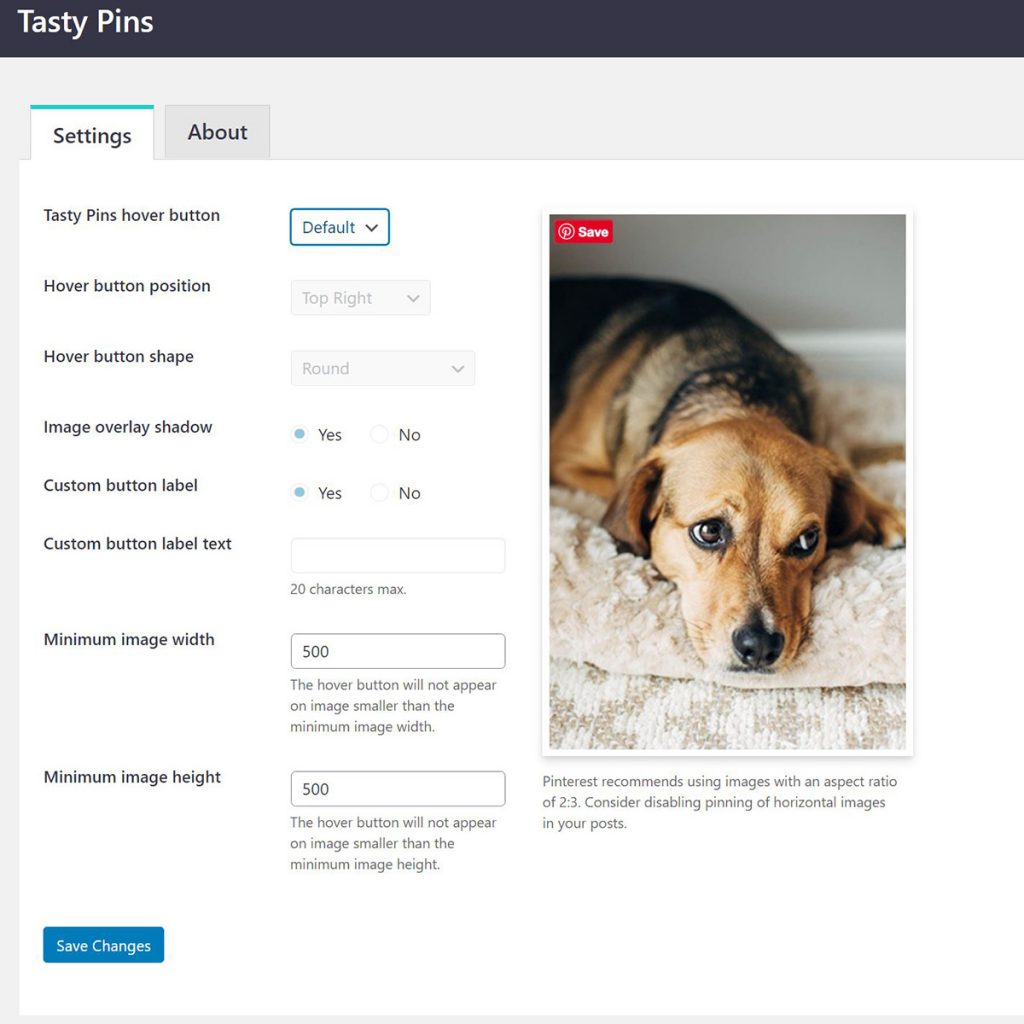 You can customize the shape and placement of the button, plus (my favorite) add an image overlay shadow that appears upon hover, and add 20 characters of custom text.
Here's an example:
Can You Make Money on Pinterest?
Throughout this conversation, you might have been wondering, is it even worth it to optimize for Pinterest? Can I grow my blog and earn money through that platform? In other words, is Tasty Pins worth the $29?
Emphatic yes. If you aren't leveraging Pinterest for driving website traffic (and thus, increasing your earning potential), you are missing out.
To gain increased traffic to your website via Pinterest, you need to first create great visual images for the awesome content on your website. Then, optimize the images with keyword-rich descriptions using Tasty Pins. Finally schedule your own content (I use Tailwind for this) to your keyword-rich boards on Pinterest.
If you are strategically utilizing Pinterest, your traffic can grow exponentially as people discover your images on Pinterest (and pin them themselves using your handy Pinterest hover button).
And traffic growth equals:
increased ad revenue
increased affiliate income as links are clicked
brands interested in collaborations
email list growth
the formation of a committed fan base
The very first income I earned through my website was a blog post that gained traction on Pinterest. I'll never forget the excitement of seeing a huge spike in my analytics and the resulting income (that continues to this day).
So yes, you can absolutely make money through Pinterest and Pinterest marketing should be something you invest time and resources in as you grow your blog or website.
What Are You Waiting For? Go Grab Tasty Pins!
More About Blogging