Didn't find out baby's gender? Not sure where to buy cute clothes? I'm here to help with a round up of REALLY cute gender neutral baby clothes. Come shop with me!
Whether you didn't find out gender for your own baby, are shopping for a friend, or are early on in pregnancy (but still wanna shop! I got you.), you might have wondered where in the world to find cute (read: not ugly/boring) gender neutral baby clothes.
Well friends, I am here to help.
Please note that this post contains affiliate links which allow me to earn a small commission when a purchase is made at no additional cost to you. Read more here.
I am about six months along in pregnancy and while this is my first baby, well, let's just say I've logged some serious hours of baby clothes shopping over the last few months.
What are the struggles of not finding out baby's gender?
As I've planned and shopped and shopped some more, I've realized that the main struggles with not finding out gender or being "team green" are (in my opinion):
-impatient family/friends
-impatient self (holla)
-wanting to buy all the cute boy/girl things and having to restrain one's self because at least 50% of whatever you buy will indeed be rendered useless once said child arrives
-ugly/boring/limited gender neutral options
BUT.
All my not-finding-out friends, we can still buy cute baby things! In fact, I think there is actually a great argument for gender neutral pieces being a lot MORE appealing than run-of-the-mill girl/boys clothing. You don't have to buy all things green just because you aren't finding out!
Can I really use gender neutral baby clothes for a boy or a girl?
Absolutely. Here's my rationale:
If you have a boy: Oftentimes gender neutral baby clothes are sliiiightly more towards the masculine side (no lace, bows, frills, etc.) with lots of grays, browns, whites, navys, and stripes. So if you have a boy, you are basically set once you purchase your gender neutral goods. No problem-o.
If you have a girl: In this case, simply invest in a few girly accessories, such as headbands or hair clips (I am obsessed with all things Baby Bling). I personally adore the look of a little girl in a simple white sleeper with a gorgeous headband bow. So sweet.
If you want to have more than one child: Well guess what? You get to use all these cute things again no matter the gender of future kiddos!
So where to find this stuff? I recommend starting your journey with places like Target, Gap, Carter's, Amazon, and H & M. You will also have success shopping small shops or brands that tend to do a lot of organic stuff. I find these shops/brands often have at least a few gender neutral color choices in all their styles.
If browsing online, try looking for "newborn", "firsts", "unisex", or "organics". These categories will often be full of choices in gender neutral colors (grays, whites, creams) and patterns. And don't overlook the possibility of dressing baby in bold solid colors like reds or navys (or even dark brown or black) too.
Alright, let's dive in! These 15 outfits are just a small sampling of what I've found, but trust me, each of these links is a rabbit trail of shopping goodness.
Really Cute Gender Neutral Baby Clothes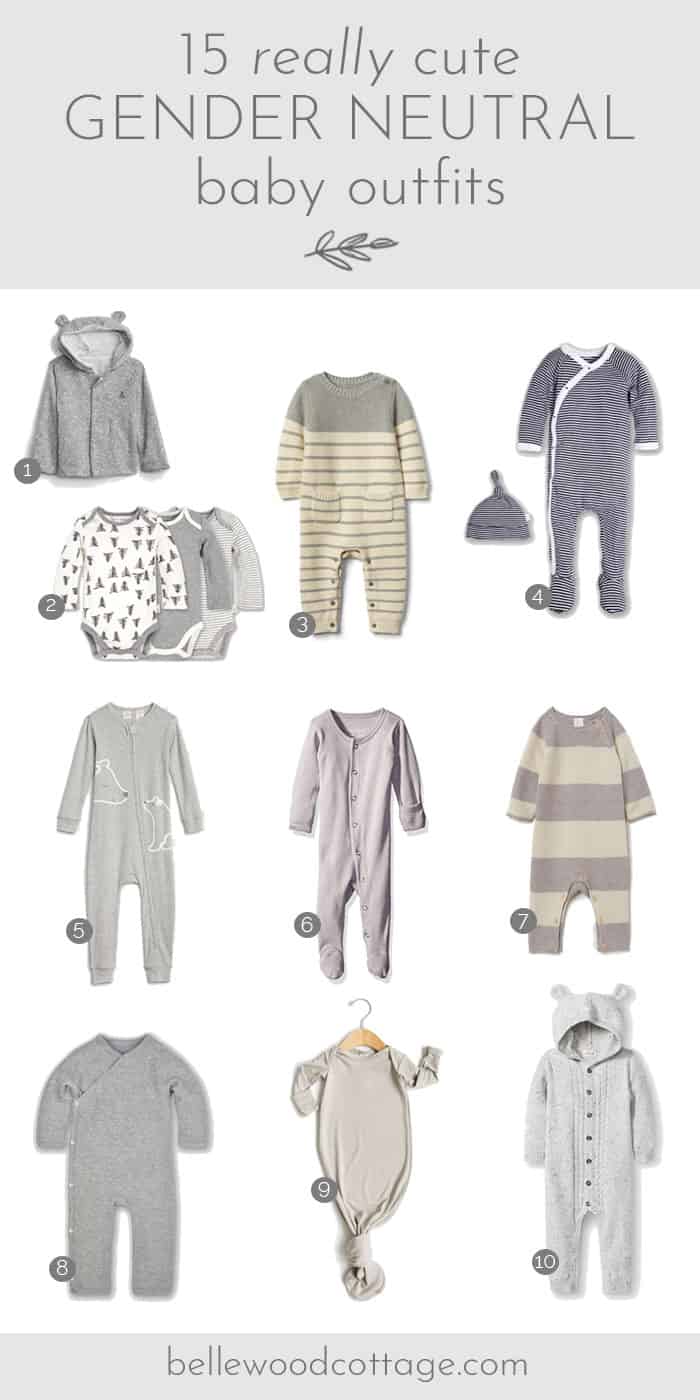 1. Favorite Reversible Bear Hoodie Sweatshirt. I mean, every baby needs one of these.
2. Burt's Bees Winter Theme Onesies. These are selling verrry quickly. If they restock, I would snap them up quick.
3. Garter Stripe Onepiece. I think I technically found this in the girls section of Gap, but it's a great gender neutral choice.
4. Burt's Bees Baby Organic Footed Kimono and Hat. For a little girl I think I would skip the hat and add a headband instead. CUTE.
5. Organic Polar Bear Onepiece. Polar bears? Baby Pajamas? Yes.
6. L'oved Baby Organic Cotton Footed Overall. I discovered this brand on Instagram and am obsessed. All their colors are so soft and subtle you could honestly get away with using most of them for either gender.
7. H & M Fine Knit Overall. H & M is so good at gender neutral options. These onepieces are sweet and cozy.
8. Organic Cotton Quilted Bee Kimono Coverall. Gotta love the simplicity and style from Burt's Bees.
9. Knotted Gown in Slate. Knotted gowns are the CUTEST. I guess I'm not yet sure how practical they are, but you can bet our babe will be trying them out!
10. Baby Hooded Critter Sweater Romper. Really hoping Target keeps restocking this one, because it is selling out fast. Grab it quick if you want it.
And yes, keep on scrolling for more options!
11. Carter's Two Piece Quilted Set. Tiny quilted clothes just get me. A lil newborn in quilted fabric? Too sweet.
12. Knotted Gown in Camel. I'm telling ya, I can't stay away from these knotted gowns.
13. Kimono Romper – Moss. I would pair this with a hairbow/headband for a little girl, but I love this soft mossy sage color for either gender. Such a refreshing break from baby blue and pink!
14. H & M Onepiece Overall – Mustard. Another onepiece from H & M. I love mustard for a unique gender neutral color.
15. L'oved Baby Organic Infant Gown (Beige). The button up neckline and the sweet pockets are so classy. And do I spy mitten cuffs? Perfection.
Are you shopping gender neutral for baby?
Alright, so tell me! Are you "team green" or did you find out? Maybe you are shopping gender neutral anyway! Let me know in the comments if this round up was helpful and where your favorite place to find gender neutral baby clothes is.
<3 Ellen
More From Bellewood Cottage
Educational Toys for One-Year-Old Toddlers…Under $25
18 Strategies for How to Work from Home with a Baby or Toddler
Unique Board Books to Give at a Baby Shower
Newborn Baby Essentials Checklist for Months 0-3
Farm Animal Board Books for Babies
Follow Me On Instagram!