Gender Neutral Nursery Reveal
This simple (and budget-friendly!) gender neutral nursery is the perfect starting point to add finishing touches once a tiny boy or girl arrives.
Please note that this post contains affiliate links which allow me to earn a small commission when a purchase is made at no additional cost to you. Read more here.
Putting together a nursery AFTER discovering a pregnancy makes total sense. But, have any of my fellow mamas wished they'd started BEFORE all the crazy pregnancy symptoms took hold? Like, how much easier would designing, painting, and hauling furniture be without a growing belly to work around?
All that to say, yeah, I didn't exactly finish our nursery before our little was born. And afterwards? Well, newborn life hit us like a ton of bricks and instead of the baby's room being the sweet calming space I'd imagined, our nursery was instead filled with clutter and giftbags. Oops.
Well, a few months after the fact, life is WAY easier. Way way way. And so this space got finished up and is now usually mostly tidy. Usually. Mostly. Gotta add my qualifiers to any statement regarding the state of tidiness in my house.
This is the "stage 1" nursery. The room we planned back when we didn't know if we were having a girl or boy. A gender neutral nursery ready for customizing once its inhabitant made his/her arrival.
Once our baby arrived and we were surprised by a tiny daughter, I immediately began envisioning the changes I could make to this space for our little girl. So stay tuned for those updates. I had/have lots of ideas in the works, but I need dial it in before I go too crazy (all the pink things!).
Whether you are finding out gender, waiting until the end of pregnancy, combining siblings in the same room, etc etc…a simple neutral nursery scheme is a great place to start. I hope you can use some of these ideas to create a special room for your own little one!
How to Create a Gender Neutral Nursery
Sources: Crib // Crib Sheet // Dresser // Elephant Art // Farmhouse Light Fixture // Curtains (drop cloth curtains made from bleached drop cloths) // Curtain Rod // Curtain Rings // Peg Wall Rack // Basket-no longer sold (similar-ish) // Botanical Art from Bless'er House // Letterboard // Baby Cardigan // Rattle

Select Neutral Furniture and Customize Accessories
Choosing a bold color statement for a crib/dresser/rug (higher budget items) can be a lot of fun, but if you are hoping to re-purpose furniture as baby grows or reuse things you already have, it makes sense to keep the big purchases neutral.
Use accessories to give more character to a space instead, such as:
White crib + floral crib sheets
Natural wood dresser + wild animal bookends
Natural jute rug + blue ticking stripe curtains
Even things like swapping hardware on a dresser to give it a new spin for baby can be a great way to customize a space.
We went with this dresser from Ikea (I seriously love these! Clean lines and so easy to swap hardware if you want) and this Jenny Lind crib I'm obsessed with. Details for us ended up landing in wood tones category, but you can totally use more color in a gender neutral space too. We will next be adding some pops of pink and girly elements to refine the space a bit more for our little.

Add Meaningful Details
This little rocking chair from my grandpa is special because I grew up with it. It's surreal to see your own childhood mementos featured in a space for your own child. In a neutral room, these special pieces can add a lot of detail and character. Using vintage pieces is a great way to customize a baby's room without getting tied down to a theme or color.
I also added in this little chair that I painted a soft green with milk paint. I had two of these chairs and painted one green and one pink. Swapping in the pink chair was one way I updated the room after our daughter arrived.
This blanket was one I knit in preparation for our baby. Definitely glad I picked a neutral color and started well ahead of my due date, because it was a more intense project than I anticipated!
Choose Botanical Artwork
I love the trend of botanical artwork. It's so calming and adds depth to a space without making a huge color statement. You can find this piece of printable art (for free!) over at Bless'er House as well as lots of other options to print.

Designing a Neutral Nursery:  Plan to Customize After Baby's Arrival
Of course, if you have multiple siblings in the same room, you might choose to just maintain a neutral nursery. However, if you would like to add in more color or a theme after you have discovered baby's gender, here are some great places to do it.
Curtains (HomeGoods and Marshalls always have gorgeous options that won't break the bank)
A wall mural
Wallpaper
Stencil a wall
Crib sheets
Crib skirt
Hardware on dresser
Artwork – just swap out green botanicals for the color of your choice
Wall decor
Bookends
Books (choose books with spines of your preferred color(s) and use them in key areas for a pop of color)
Vintage items (a dress, shoes, a wooden train, a teddy bear)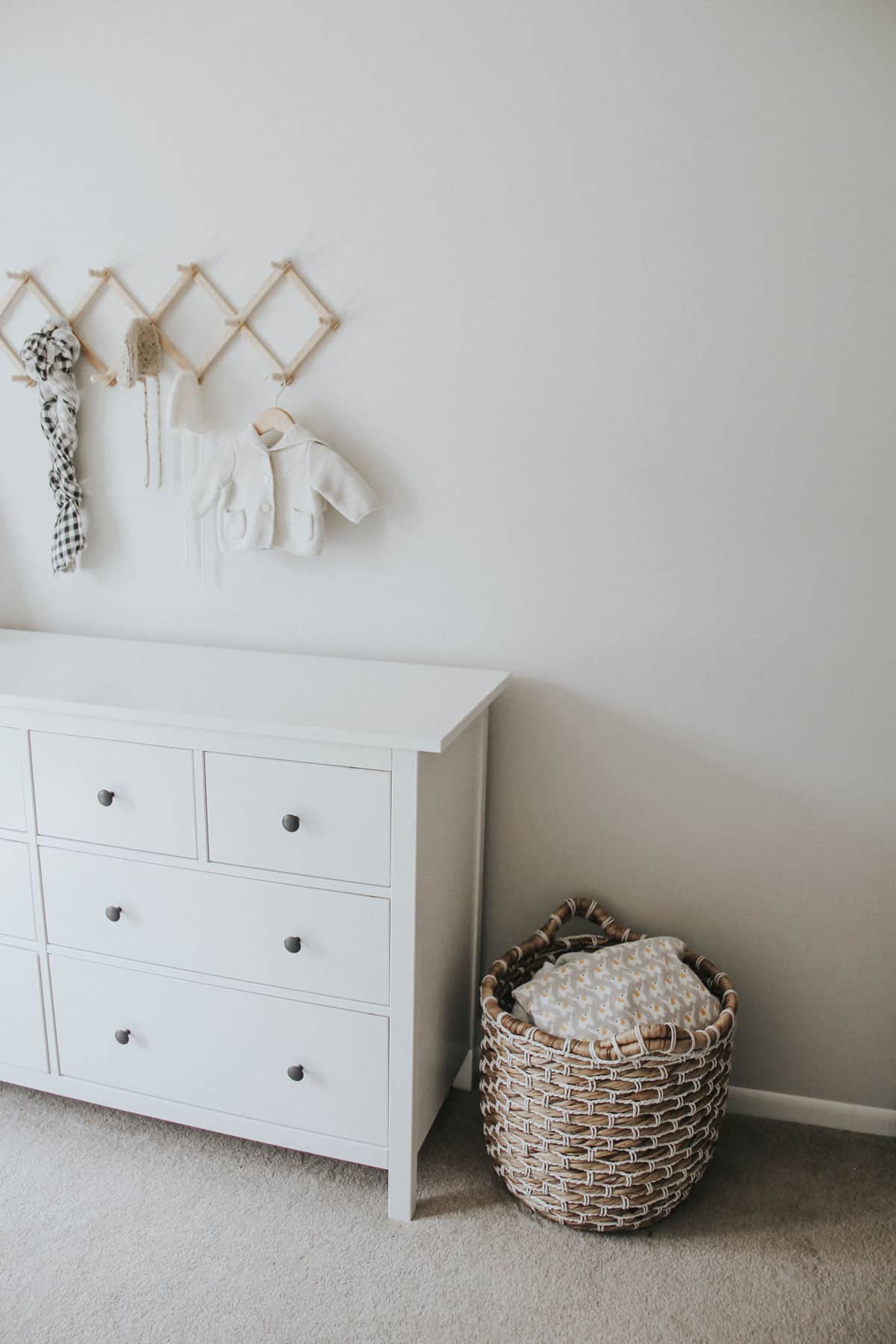 I'd love to hear how you styled your kiddo's nurseries! Did you go for a neutral nursery or redecorate for each kiddo? What is your preference?
Ellen <3
Sources: Crib // Crib Sheet // Dresser // Elephant Art // Farmhouse Light Fixture // Curtains (drop cloth curtains made from bleached drop cloths) // Curtain Rod // Curtain Rings // Peg Wall Rack // Basket-no longer sold (similar-ish) // Botanical Art from Bless'er House // Letterboard // Baby Cardigan // Rattle
MORE POSTS TO HELP YOU PREP FOR BABY
Newborn Baby Essentials – Months 0-3
Really Cute Gender Neutral Baby Clothes
How to Sew Burp Cloths for Baby
Elephant Inspired Gender Neutral Nursery
DIY Muslin Swaddle Blankets