What to Know About Working at Crumbl Cookies
Considering employment at Crumbl Cookies? Here's a list of what to know about working at Crumbl! As a Crumbl employee you could be involved in baking cookies, decorating cookies, making deliveries, or even managing a store.
The huge list of Crumbl cookie flavors (and the prospect of free cookies) make this job really appealing! And with over 900 locations (and growing) there may well be a Crumbl store near you–and it could be the perfect fit for a great job.
Please note! I have no affiliation with Crumbl–I just enjoy writing about their cookies!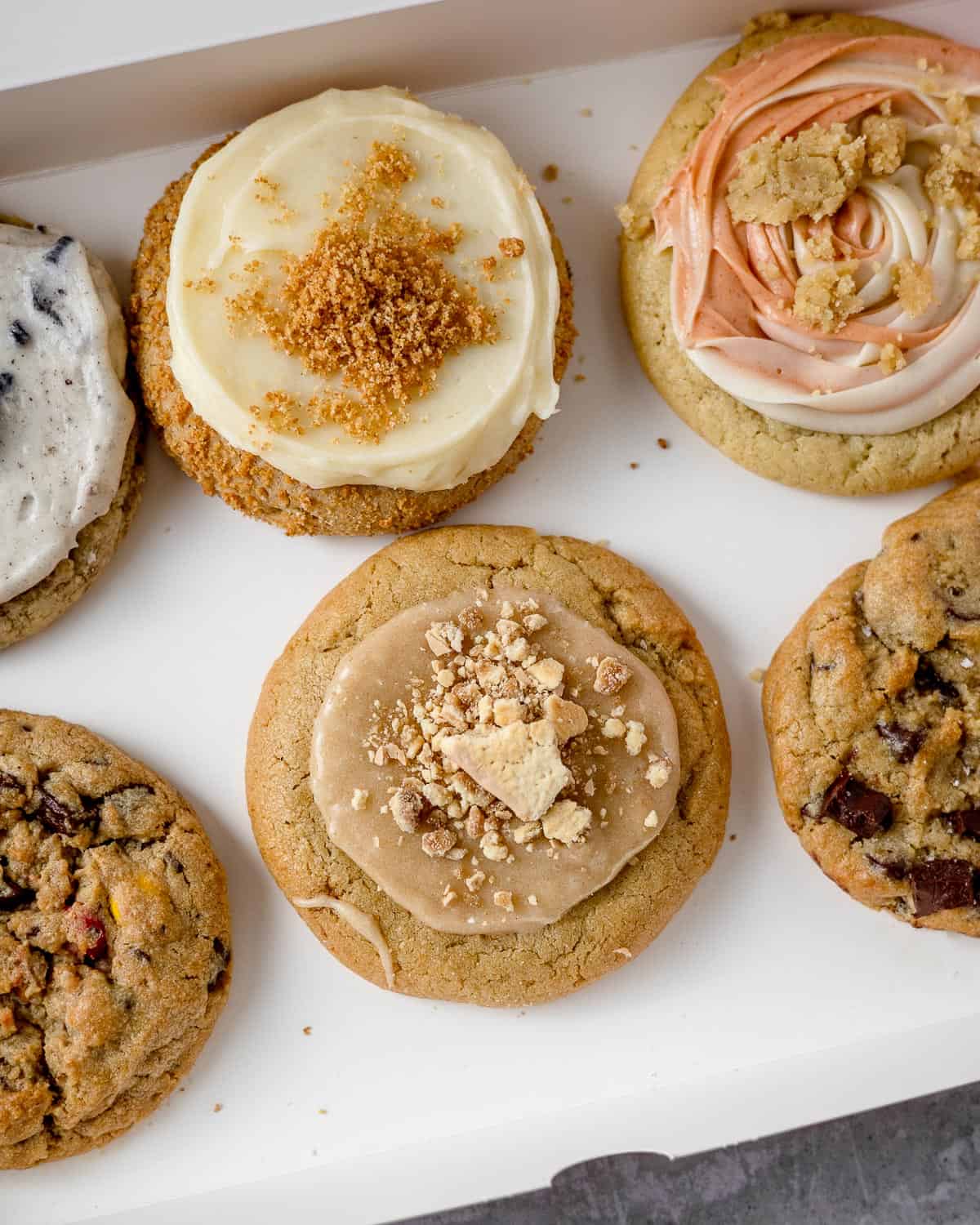 What's the scoop about working at Crumbl Cookies? I talk a lot about the popular cookies here on the blog, so I thought it would be fun to explore what it would be like to work at a Crumbl store!
What Is Crumbl?
Have you heard about Crumbl before? Crumbl started out as a small cookie bakery in Logan, Utah and has expanded across the United States with over 900 stores. As I'm writing this, Crumbl just celebrated their sixth year of business (on 9/27/2023), so you can see how quickly they have grown!
Crumbl's goal is to connect people over what Crumbl calls "the world's best box of cookies". While I don't think Crumbl Cookies are truly the *best* cookies I've ever had, some of the flavors are pretty darn good. And you really can't beat the size, variety, and sheer fun of the rotating menu.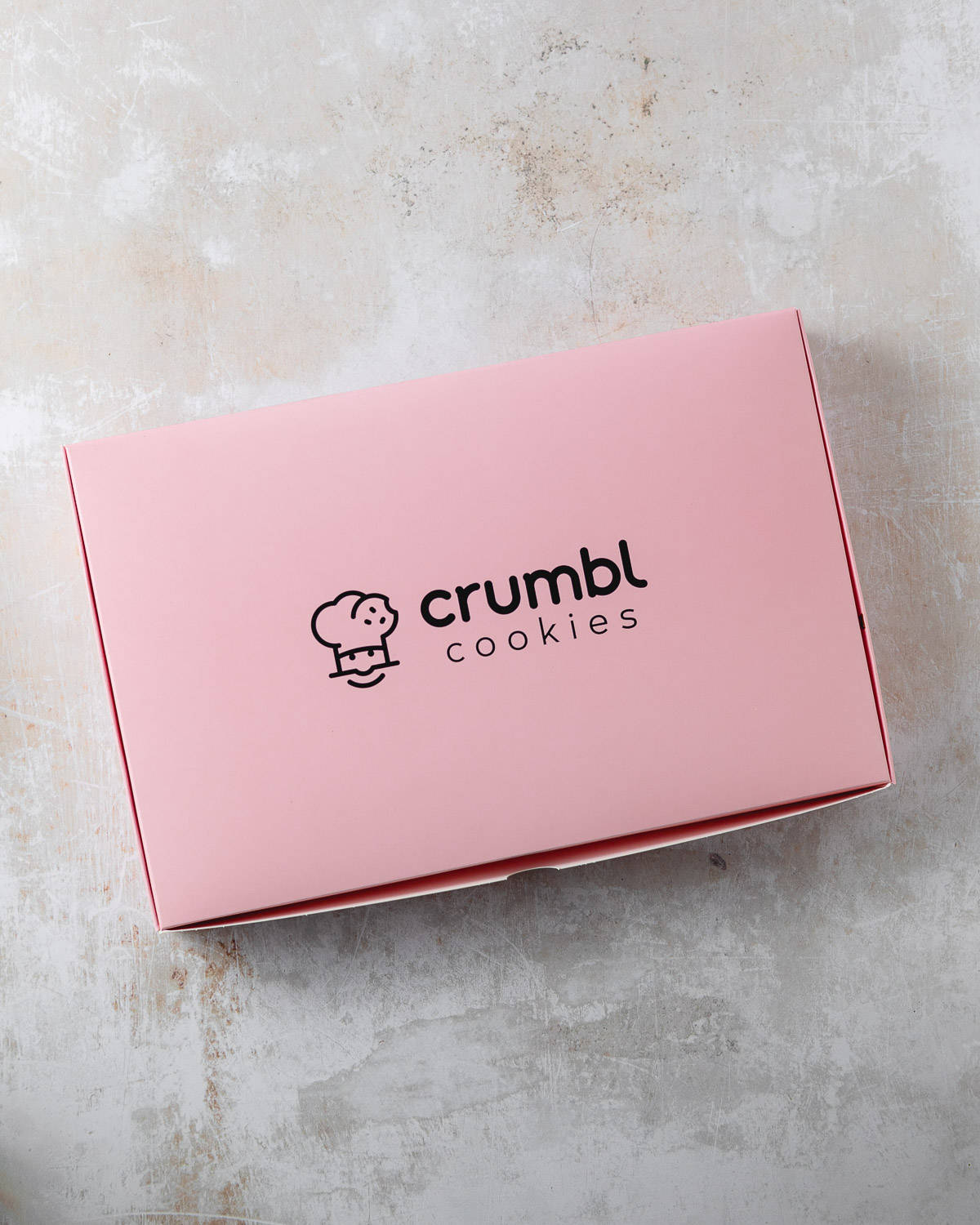 Each week, all the stores offer a fresh new menu of six cookie flavors (including a standby flavor of either Milk Chocolate Chip or Semi-Sweet Chocolate Chunk).
How Many Flavors of Cookies Does Crumbl Offer?
The stores work off of a giant rotating menu of over 250 cookie flavors. Each week Crumbl selects 4-5 specialty flavors (often with a brand-new flavor in the mix) in addition to their staple Milk Chocolate Chip Cookie or Semi-Sweet Chocolate Chunk Cookie. Six options total are offered each week.
The cookies are huge. Each cookie is measured at four servings and many of them weigh around 5 or 5.5 ounces per cookie. The flavors span from classics like Sugar, Mint Brownie, and Peanut Butter, to more unique offerings like Cotton Candy, French Toast, Hummingbird Cake, Maple Bacon, Strawberry Cheesecake, and Mint Chip Ice Cream.
The cookies have been so popular that they've spurred on a huge social media following as well as a ton of interest in crafting homemade versions. These homemade copycat recipes satisfy fans' cravings for their favorite flavors when they are slow to come back to the weekly menu.
Psst! You can make your own Crumbl style cookies any time you want with my growing library of Crumbl Copycat Recipes.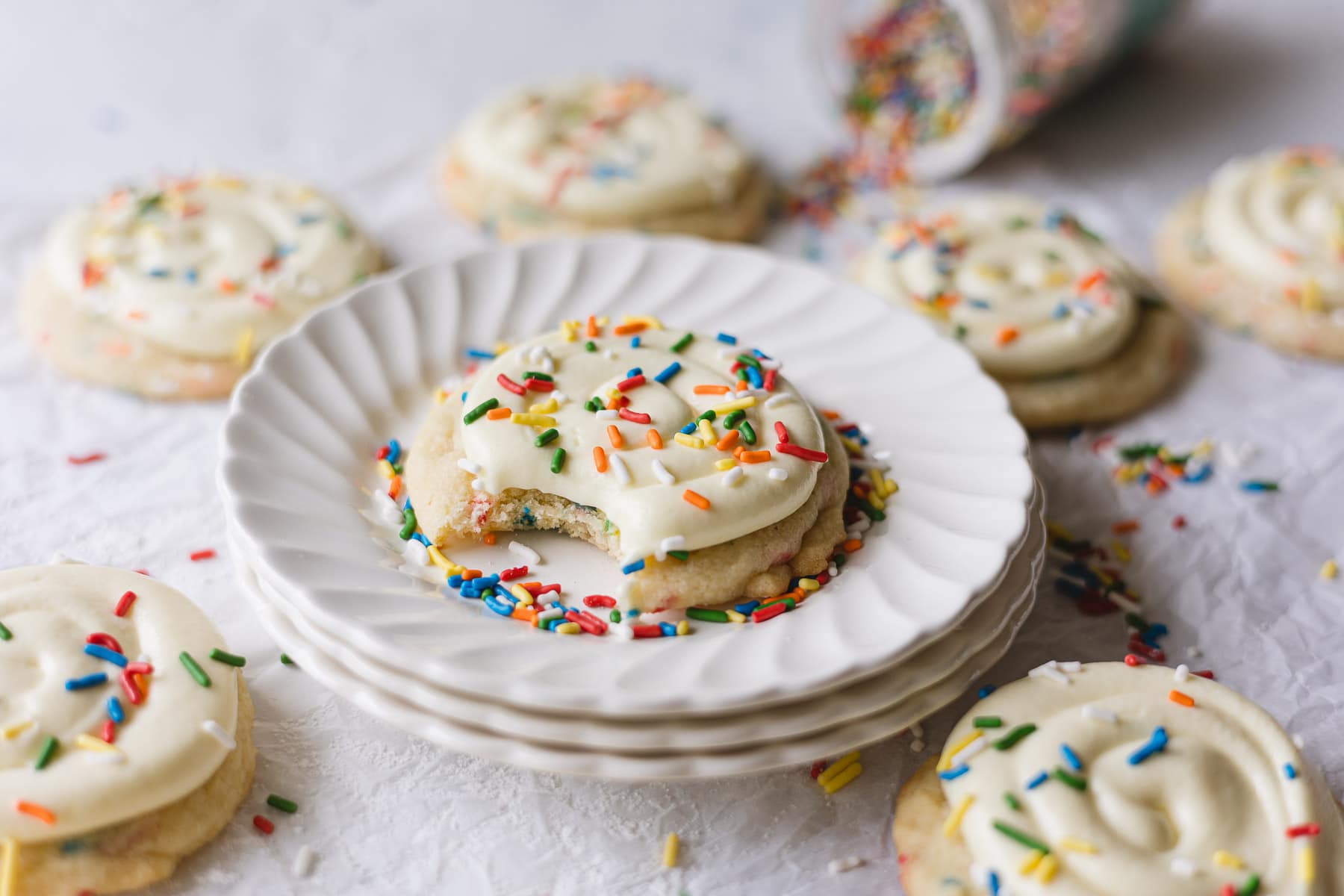 What To Know About Working At Crumbl
So, what is is like to work at Crumbl? I gathered lots of information together to create this post so you can get a better idea of what it would be like to be employed at the cookie giant. I'm specifically chatting about working at a Crumbl storefront here. Here's a list of a few things you should know before you apply.
Do you work at Crumbl?! I want to hear from you!
Leave a comment at the end of this post with what you love (or don't love) about working at Crumbl.
1 – Closed on Sundays
One unique thing about Crumbl is that every store is closed on Sundays. So you'd get a guaranteed weekend day off work. This is great for anyone who attends church regularly or anyone who needs a consistent day off.
Retail jobs can be tricky because it is a lot of weekend and evening hours, but with Crumbl you will not have to worry about working Sundays.
2 – You Get Free Cookies
If you can't get enough Crumbl cookies, then you know those yummy cookies can break the budget. Working at Crumbl would be fun for lots of reasons, but free cookies is surely one of them!
In answer to this question, "Will I get to eat cookies?" Crumbl answers on their webpage, "150% yes. In order to sell cookies you have to BELIEVE IN COOKIES, right?"
Note: Some employees have reported that you receive a free cookie on each shift you work. Others have reported that you receive a percentage discount on cookie purchases. I'm not sure of the exact policy at the current time.
3 – You Have to Be at least 16 Years Old to Work at Crumbl
If you are eager to get started, know that you will have to be at least 16 years old before you apply to work at your local Crumbl Store.
4 – You Should Love Baking and Decorating Cookies
Stop into your local Crumbl and you'll see employees shaping, weighing, baking and decorating cookies. They make a lot of cookies! If this process sounds like fun, working at Crumbl might be the job for you.
Some employees note that weighing the dough can become repetitive and tedious. Be warned that you could be doing a lot of repetitive tasks if you are in charge of cookie production–especially on busy days!
If you have eaten a cookie (or several) at Crumbl, you know that many of the flavors require a little bit extra pizzazz, whether frosting, glaze, sprinkles, or other decorations. Besides baking up the cookies, you will be responsible for adding these toppings and decorations.
5 – You Can Apply to be a "Baker", "Driver", or "Manager"
Crumbl explains that their bakers and drivers will produce cookies to fulfill orders, but driving is also required as needed for delivery orders. You should be a confident driver before applying to work at Crumbl.
6 – Customer Service Is a Big Part of the Crumbl Work Experience
Crumbl employees will be called to efficiently and professionally prepare orders for customers, as well as sometimes interacting directly with customers.
As with many customer service positions, this might include:
graciously dealing with angry or upset customers
having a good attitude no matter the state of your personal life
ensuring every customer enjoys a positive experience while they are in-store
7 – You Can Snag a Full-Time or Part-Time Position
Whether you are looking for a part-time job or a full-time job, Crumbl offers both options. Your options will depend on what is available at your local store when you apply.
8 – You'll Have to Work Late Nights and/or Early Mornings
Crumbl stores open bright and early at 8 AM, so some shifts will start much earlier to bake cookies and prep the store for opening. This is great if you are an early bird. On the other hand, Crumbl stores remain open until 10 PM or midnight (stores close at midnight on Friday and Saturday nights).
This means that if you work a closing shift you might be up pretty late to clean the store and close up for the night.
Where Do I Apply to Work at Crumbl?
You can get started with an application right on Crumbl's website. Click "apply today", and the website will take you to an employment page with an area to fill out an application.
You'll be asked to start with filling out a simple form that requests your name, phone number, email, and an answer to a simple question, "Why Should We Hire You?".
Questions About Working At Crumbl
Is working at Crumbl cookies hard?
Working at Crumbl Cookies would likely be a great first or second job. You'll gain experience preparing delicious cookies, working with customers, preparing orders, and even making deliveries. Every job requires dedication and hard work, but overall I think Crumbl would be considered a fun place to work.
Can I Work at Crumbl If I'm Still in High School?
Yes! You need to be 16 years old at least to work at Crumbl. If you are 16 or older it's a great option for working during high school. You'll have to learn how to balance work and school, but it'll be a fun gig creating yummy cookies!
Do You Get a Discount If You Are an Employee at Crumbl?
Word on the street is that you receive one free cookie per shift or possibly an employee discount on cookies while you are employed at Crumbl. If you secure a job at Crumbl, the managers will go over any benefits with you before you start.
Why Is Crumbl So Popular?
Most everyone loves cookies and Crumbl has taken that appeal and created a successful business that has led to the opening of over 900 stores in six years. The interesting flavors, gigantic cookies, rotating menu, and stellar social media game all contribute to Crumbl's success.
What Are Some Good Answers to the Question, "Why Should I Hire You?"
There are so many ways to answer this question–it can be hard to know where to start! You will want to review your skills, experiences, and qualifications for the job. Any achievements you've had at prior positions (or in school if this is your first job) are helpful to mention.
Take some time to talk about what you like about Crumbl and why you specifically want to join the Crumbl team. Make sure the team reviewing your application can tell that you are excited about the prospect of a job at Crumbl!
More Crumbl Posts