Top Crumbl Flavors for Fall
Fall is here and it's time for some seriously scrumptious fall flavors to make their debut at Crumbl Cookies! Whether you're a Crumbl connoisseur or a newbie ready to embark on a cookie adventure, you'll love the potential flavors that are headed your way.
Picture this: a Caramel Apple Cookie that tastes like a crisp autumn day, a S'mores cookie that'll transport you to a cozy campfire, a Cranberry White Chip Cookie bursting with fruity goodness, or an Apple Crumb Cake Cookie that's a taste of fall in every bite! These past flavors are just a few of the possibilities as Crumbl begins to debut their fall flavors.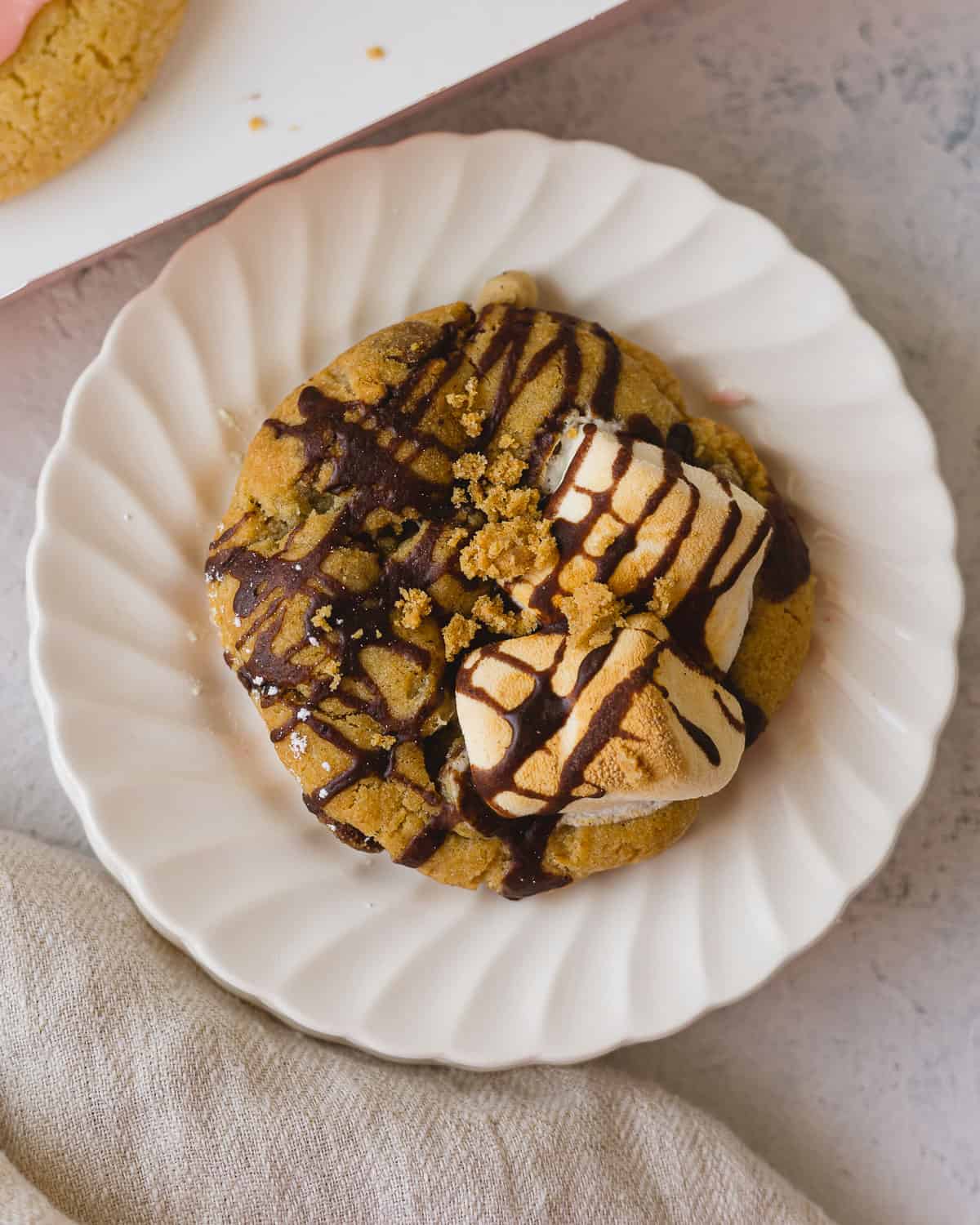 What Is Crumbl Cookies?
Curious about the Crumbl Cookies craze? It all began with a small shop in Logan, Utah selling chocolate chip cookies. Fast forward to today, and Crumbl has skyrocketed to stardom with a whopping 700+ locations that serve up what they call, "the world's best box of cookies."
Part of Crumbl's magic lies in their jaw-dropping menu rotation. Nearly 300 cookie flavors are part of their giant menu and each week they handpick five flavors to produce, often throwing in a fresh and exciting newbie. In addition to the five flavors, you'll always have a familiar standby with Milk Chocolate Chip and Semi-Sweet Chocolate Chunk alternating weeks.
Want to know all the Crumbl Flavors? I have a complete list of all the Crumbl Flavors for you!
Now, let's talk size. These cookies are not your run-of-the-mill treats; they are GIANT cookies. We're talking a whopping 5.5 ounces per cookie.
Crumbl never plays it safe; they bring the party to your taste buds. Sure, you can savor the classics like Snickerdoodle, Monster, and Peanut Butter. But what makes Crumbl Cookies truly spectacular are their specialty flavors.
Unique flavors like Cotton Candy, French Toast, Fried Ice Cream, Pecan Pie, Raspberry Lemonade, and Mint Chip Ice Cream will keep you guessing.
Now, let's get to talking about the fall flavors you need to watch for!
Top Crumbl Flavors for Fall
While it's impossible to predict exactly which flavors will make an appearance for any given season, we can take a pretty good guess that Crumbl will be breaking out the pumpkin, apple, cinnamon, and spice treats for their fall flavor lineup.
Here's a alphabetical list of some of the flavors you might expect to see (and some that may have already turned up!):
Apple Cider Muffin
A warm spiced apple cider muffin in cookie form! Picture this: a Crumbl Cookie with apple cider glaze and a tantalizing cinnamon brown sugar streusel. This cookie was served on the September 11-16 menu.
Apple Crumb Cake
An apple-infused delight! This cookie is topped with a brown sugar glaze and includes cubes of baked apples and a sprinkling of cinnamon streusel.
Apple Pie
A buttery pie cookie, crowned with apple pie filling and cookie crumbs. Sweet as pie! Some of Crumbl's other "pie-themed" cookies include French Silk Pie, Key Lime Pie, and Pecan Pie.
Autumn Sugar
I don't have a description for this past cookie flavor, so it's a flavor mystery, but maybe this is the year it'll make its way back onto the menu!
Brown Sugar Cinnamon Ft. Pop-Tarts®
A brown sugar cinnamon delight. Starts with a brown sugar cinnamon cookie, brown sugar cinnamon filling, cinnamon cream cheese glaze, and crumbled Pop-Tarts® on top. Served warm. This brand-new flavor was announced on 9/17/2023.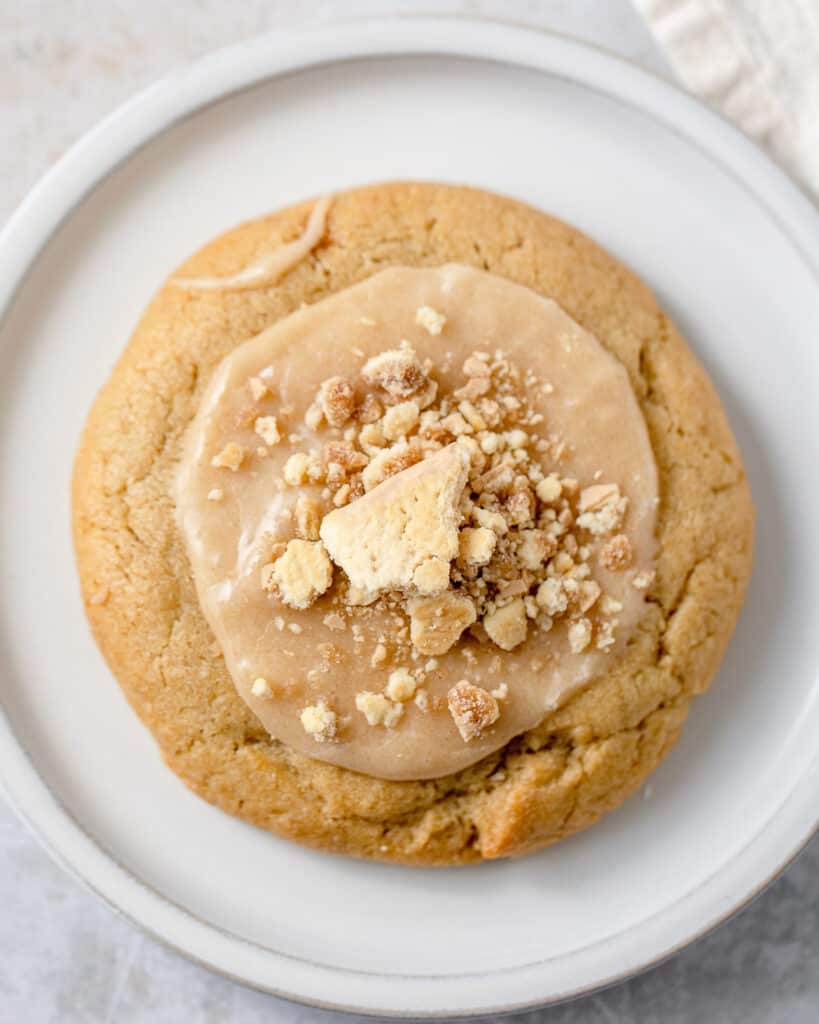 Candy Corn
No description for this one either–but a Crumbl Cookie + candy corn sounds like a pretty darn good fall option! I'm guessing this one is a sugar cookie with frosting and candy corn pieces, but I couldn't find any photos online either.
Caramel Apple
This Crumbl Cookie is warm and inviting–a cozy sweater for your taste buds! It's a cinnamon apple cookie, with caramel cream cheese frosting, a sprinkle of chopped Granny Smith apples, drizzle of caramel, and (as if that all weren't enough!) some streusel. Last served the week of Sunday, October 2, 2022.
Caramel Cake
Immerse yourself in caramel heaven with this caramel sugar cookie topped with a caramel glaze.
Caramel Popcorn
A buttery cookie with caramel frosting topped with a thick caramel drizzle and pieces of caramel corn.
Caramel Pumpkin
A pumpkin cookie swirled with caramel cream cheese frosting and dusted with a sprinkle of pumpkin pie spice.
Caramel Pumpkin Cake
Warm and fluffy, like a pumpkin hug in cookie form! This is a pumpkin cookie with caramel cream cheese frosting and a sprinkle of pumpkin cookie crumbs. Was on the September 4-9, 2023 Crumbl menu.
Carrot Cake
A spiced carrot cake cookie with swirling cream cheese frosting and a sprinkle of pecans.
Chocolate Pumpkin Cheesecake
A dark chocolate cookie with cookies & cream pieces with pumpkin spice cheesecake frosting and cookies & cream crumbs.
Churro
A soft lightly crispy cinnamon cookie topped with cinnamon buttercream and rolled in cinnamon sugar.
Cinnamon Crunch
A warm cinnamon cookie, draped in vanilla cream cheese glaze, crowned with crunchy cinnamon cereal streusel, and sprinkled with cinnamon sugar. Also presented on the Crumbl menu as "Cinnamon ft. Cinnamon Toast Crunch™" (which used to come with a frosting and now comes with the vanilla cream cheese glaze) as well as the new name, "Vanilla Glaze ft. Cinnamon Toast Crunch™".
You can try my copycat recipe for this sweet Cinnamon Cookie if you wish!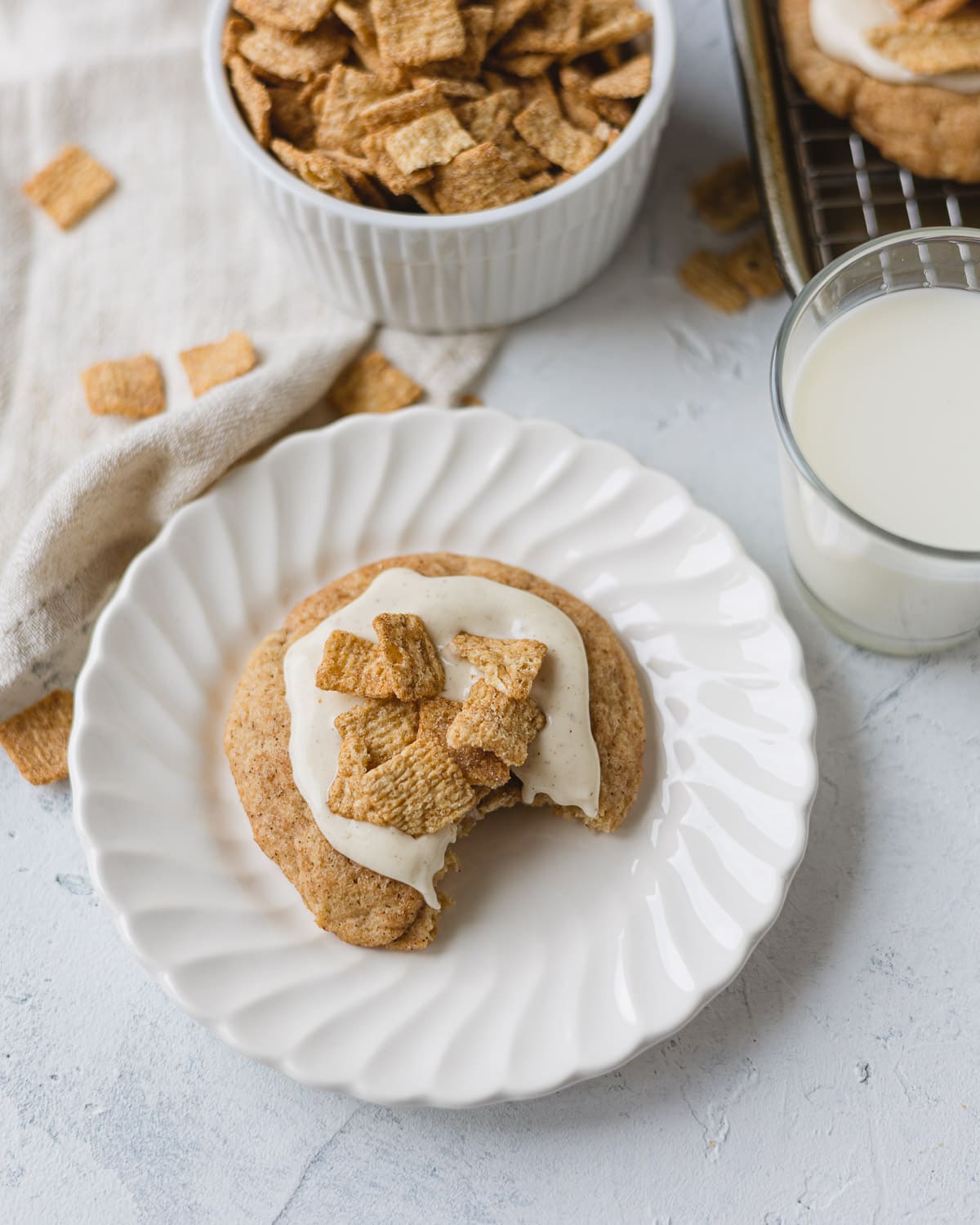 Cinnamon Frybread
A frybread cookie, smothered in melted butter and topped with cinnamon buttercream.
Cinnamon Roll
This sweet Crumbl favorite is a soft cookie covered in cinnamon brown sugar and finished with an ultra-thick swirl of cream cheese frosting.
Cornbread
Cornbread is a fall favorite and now you can have it in cookie form! Crumbl's version is a cornbread cookie with a honey butter glaze, a scoop of honey buttercream, and a drizzle of honey.
Cornbread Honey Cake
A twist on the Cornbread Cookie, this variation features a warm cornbread cookie, topped with honey cream cheese frosting, golden honey, and cornbread streusel.
Cranberry White Chip
It's cranberry magic! A buttery vanilla cookie with dried cranberries and white drops. Also known as Cranberry White Chip ft. Ocean Spray®️, featuring Ocean Spray®️ cranberries. More cranberry delights could possible include past flavors Cranberry Craze or Cranberry Vanilla.
Gingerbread Cake
A warm gingerbread cookie topped with the classic Crumbl frosting swirl (cream cheese frosting here!) and gingerbread man sprinkles.
Gingersnap
Feel the holiday cheer! A cookie filled with the warmth of molasses, brown sugar, cinnamon, and ginger, topped with sugar crystals.
Honey Cake ft. Teddy Grahams®
Embrace the graham goodness! A graham-flavored cookie, frosted with honey butter, drizzled with honey, and adorned with Teddy Grahams.
Maple Bacon
A sweet and savory adventure! A fluffy buttermilk cookie, crowned with maple frosting, real bacon bits, and a drizzle of maple syrup.
Maple Cinnamon Roll
A vanilla sugar cookie, topped with cinnamon roll filling, and crowned with a swirl of thick maple frosting.
Pecan Pie
A warm sugar cookie filled with a generous helping of pecan pie filling.
Pumpkin Cake
Pumpkin spice dreams! A soft pumpkin spice cookie topped with cream cheese frosting and sprinkled with semi-sweet chocolate chips.
Pumpkin Cheesecake
This is a chilled cheesecake cookie with a buttery graham cracker "crust" base, pumpkin cheesecake frosting, and a sprinkle of graham cracker streusel. This is a new cookie flavor first served on the September 25-30 menu.
Pumpkin Chocolate Chip
A warm pumpkin spice cookie with semi-sweet chocolate chips throughout.
Pumpkin OREO®
A warm dark chocolate cookie with pumpkin cream cheese frosting topped with OREO® crumbs and a mini OREO® cookie.
Pumpkin Pie
A slice of autumn! A pie crust cookie filled with classic spiced pumpkin pie filling and topped with a dollop of whipped cream.
Pumpkin Roll
Crumbl's Pumpkin Roll Cookie is a pumpkin spice cookie topped with a swirl of vanilla cream cheese frosting.
Sugar with a Pumpkin Candy
This fall-themed cookie starts with Crumb's sugar cookie base and is frosted with a vanilla buttercream and finished with a festive pumpkin-shaped candy. Served chilled.
Sugar Featuring Mother's® Eerie Critters™ Cookies
A vanilla cookie with white chip frosting, sprinkles and a Mother's® Eerie Critters™ Cookie (also previously featuring "Mother's® Halloween Animals).
S'mores
One of my all-time favorites! A chewy graham cracker cookie, stuffed to the brim with milk chocolate chips, crowned with toasted marshmallow glory, then drizzled with chocolate and a sprinkle of buttery graham cracker crumbs. Check out my S'mores Cookie Review for more about this cookie. This cookie was last served on the September 11-16 menu.
Or, if you missed your chance to snag this cookie, whip up my sensational S'mores Copycat Recipe!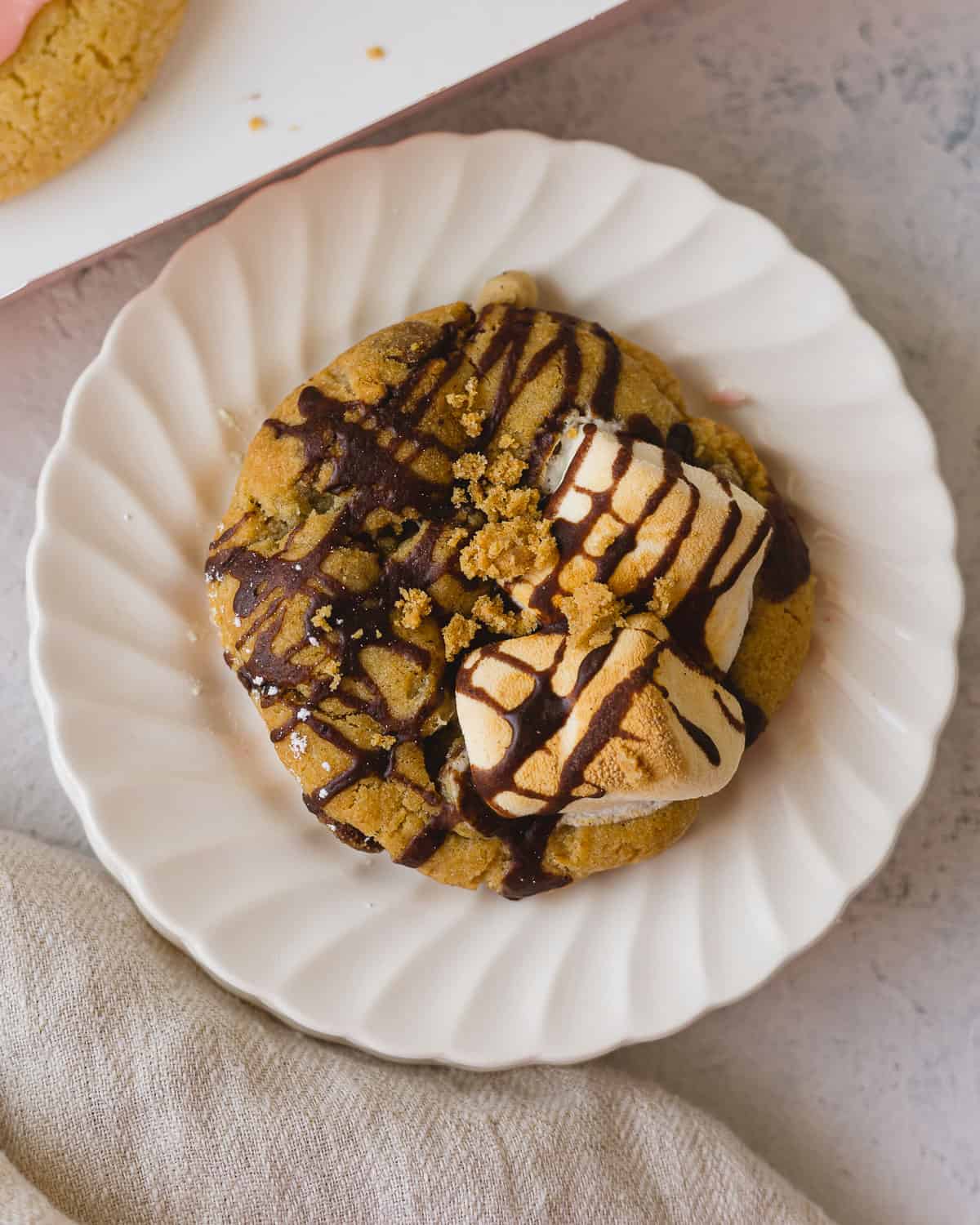 Snickerdoodle
Pure cinnamon sugar perfection! Crumbl's Snickerdoodle is a vanilla sugar cookie, bathed in cinnamon sugar. Try my Better Than Crumbl Snickerdoodle Recipe for a twist! Last seen August 14-19, 2023.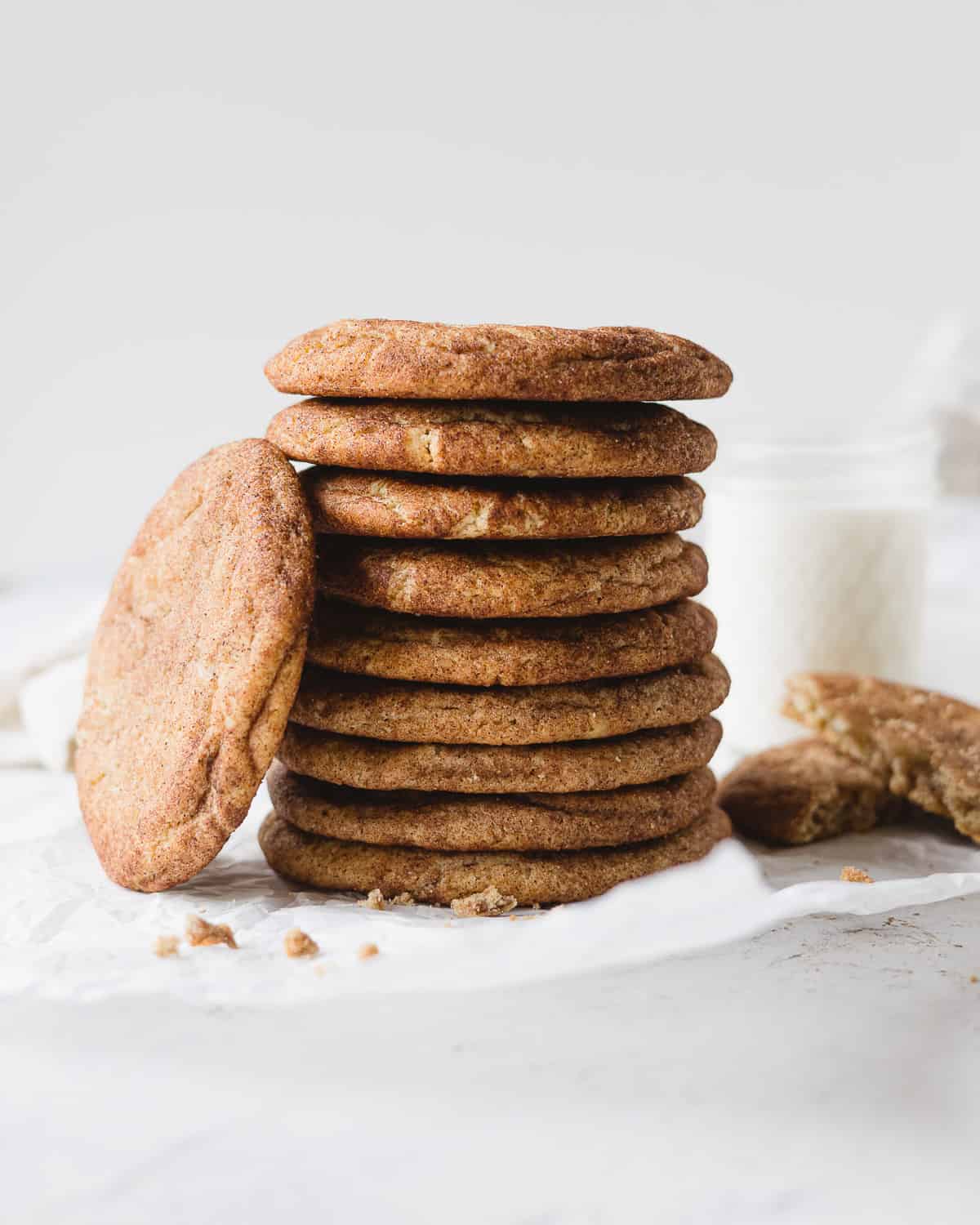 Snickerdoodle Cupcake
Cupcake dreams in a cookie! A warm vanilla sugar cookie, rolled in cinnamon sugar, adorned with cream cheese frosting, and dusted with a sprinkle of cinnamon sugar. Last seen August 28-September 2, 2023.
Which Crumbl flavor are you hoping to see this fall?!
Share in the comments!
More Crumbl Posts
Crumbl Copycat Recipes
Can't get enough cookies? Don't forget to check out my growing list of Crumbl Copycat Recipes.