How to Save Money on Hobby Lobby Fabric
Hobby Lobby is one of my favorite spots to find affordable fabric for sewing. With good sales and an excellent clearance section, it's easy to save money on Hobby Lobby fabric. Here is a list of quick shopping tips to get you started!
Please note that this post contains affiliate links which allow me to earn a small commission when a purchase is made at no additional cost to you. Read more here.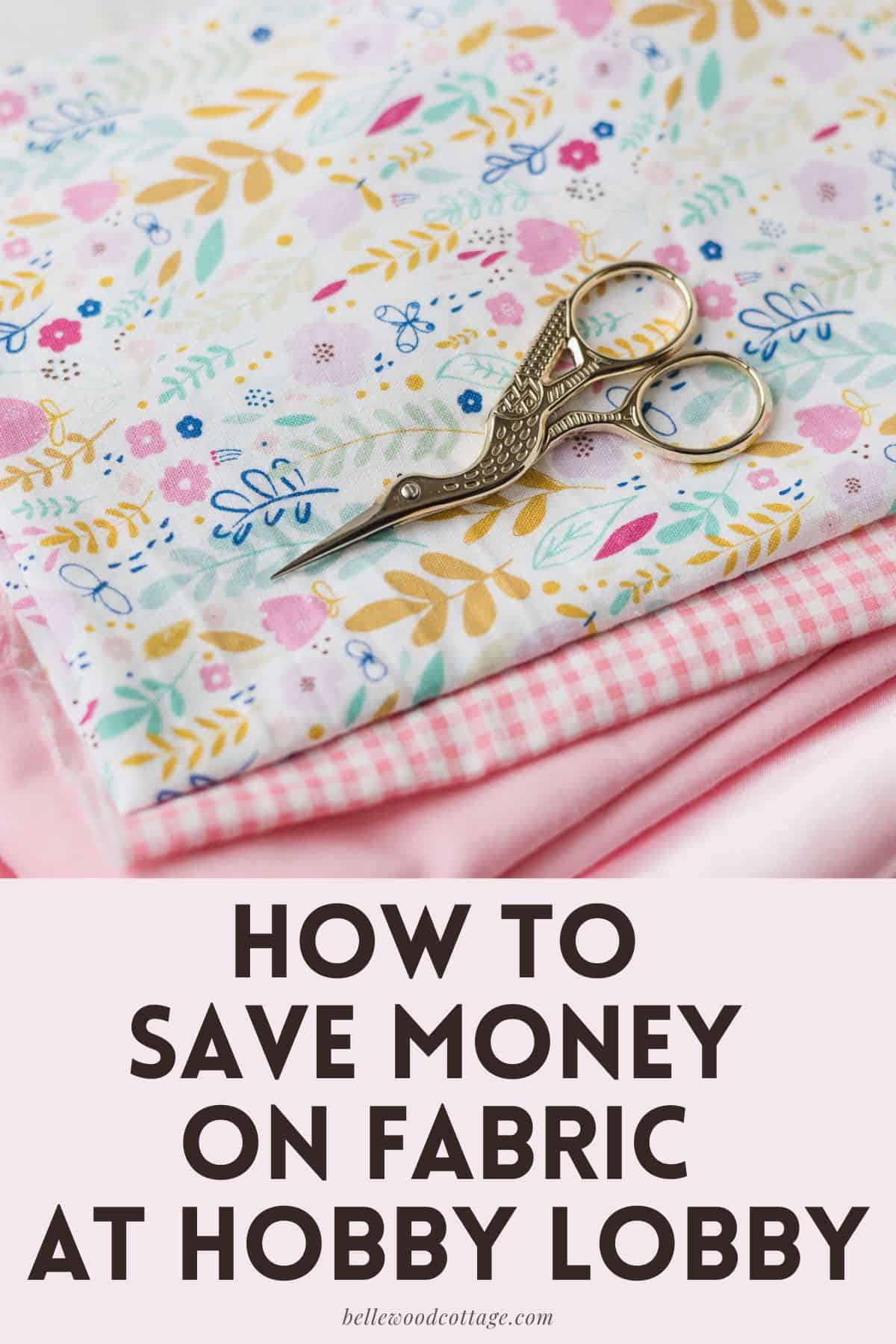 I love to sew, but it is frustrating when sewing your own apparel or home décor from scratch can cost as much (or more!) than ready-made items. If you are on a tight budget, the expense of purchasing quality fabric can be limiting. I'm always eager to learn of new sources for budget-friendly fabric, and Hobby Lobby is one of my favorite stops for some basic options.
Looking for easy sewing projects? Check out my popular tutorials for Drawstring Bags, Muslin Swaddle Blankets, and Scrunchies!
If you are sewing smaller items (like doll clothing, children's clothing, or accessories) try shopping your local thrift store for fabric to recycle. You can repurpose sheets, curtains, clothing, and more. I like to look for natural fibers (like cotton, wool, and linen) and fabric that is still in great shape.
Sometimes there is no way around it though–we need yardage and plenty of it. In those cases, a fabric store (or craft store with dedicated fabric area) is the best bet.
I got really into sewing doll clothes for my daughter over Christmastime and that has been a ton of fun. I've repurposed some old clothing as well as purchasing new fabric. Most everything that I purchased new came from Hobby Lobby and I was pleased that between sales and clearance fabric bolts I was able to come away with a big stack of fabric options without breaking the bank.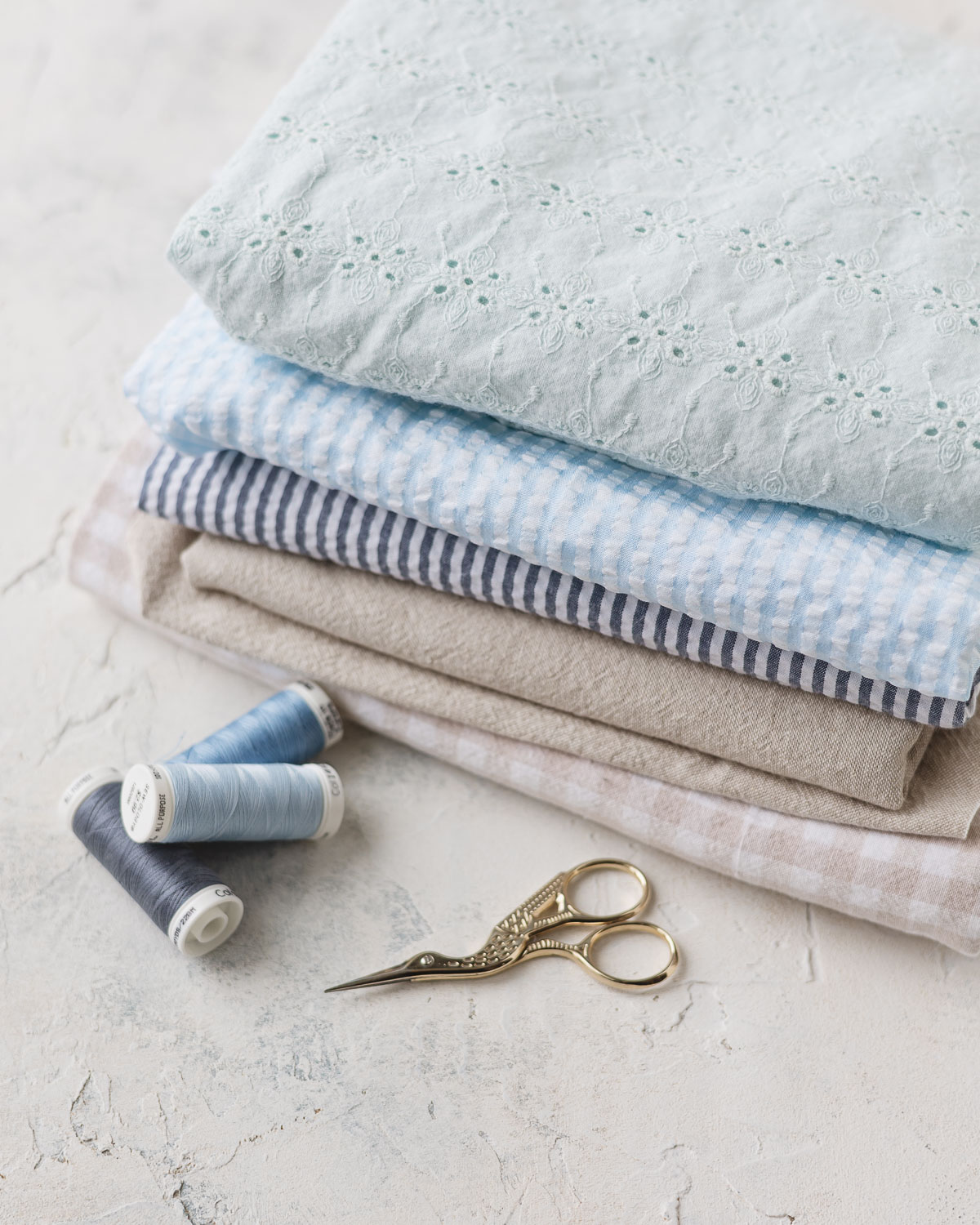 Fabrics I Like to Buy at Hobby Lobby
If you're not sure where to start at Hobby Lobby, this is a quick list of the fabrics I usually shop while I am there. The selection is smaller than a dedicated fabric store, but with still plenty to choose from.
linen blends (apparel and home décor projects)
flannels (for baby blankets and burp cloths)
double gauze (for baby swaddle blankets)
tulle (fluffy tulle is a must-have for doll dresses!)
seasonal fabrics (fun cotton prints and apparel fabrics in seasonal colors and weights)
cottons (a large selection of quilting cottons, though the patterns are pretty basic)
How to Save Money on Fabric at Hobby Lobby
Sales at Hobby Lobby have changed a lot in recent years. The most depressing change was the loss of the 40% off one item coupon. This weekly coupon could be used on one length of fabric which meant you could create your own sale whenever you needed some yardage.
Some other items that used to go on sale and no longer do (feel free to fact-check me on this if your store is different) are buttons and particular brands of notions. It's a bummer, so you might try Joann or even Amazon if you are noticing the item you need is not going on sale. I also love to buy from small shops on Etsy if I can find what I need there.
However, there are still great deals to be had and these are my tips for saving money on fabric:
1 – Wait For a 40% Off Sale
The most recent sale schedule for fabric at Hobby Lobby seems to be that every other week the fabric is 40% off. This is really a great deal and it's worth waiting for.
This deal is for by-the-yard fabric, so you won't be able to get the discount on fat quarters or bundles. The deal also doesn't apply to clearance yardage.
If you are like me and tend to require lots of smaller pieces of fabric all at once, this 40% all yardage sale is actually more useful than the old 40% one item coupon.
2 – Buy Instore Instead of Online
While the fabric sales are also valid online, I highly suggest a trek out to shop inside the store. You will be able to see colors accurately and confirm that the weight and texture of each fabric is what you need. You also have the benefit of shopping new shipments, remnants, and of course clearance!
One of the biggest benefits of shopping in store is being able to purchase the exact yardage you need. Since you can only order in 1 yard increments online, buying in-store can save you money if you only need small pieces of fabric.
3 – Check the Fabric Remnant Sections
This small section of fabric is usually located near the wall of threads and zippers. These are smaller pieces of fabric that are too small to be sold by the yard. They are folded, rolled, and packaged with a label indicating the yardage and final price.
If you need smaller pieces of fabric for patchwork, quilts, or other projects, this is a great spot to check.
4 – Check Out the Clearance Section
Many fabric bolts will be clearanced out as the seasons change (or the fabric is potentially discontinued). This clearance fabric is usually found in a few large bins in front of the cutting tables.
However, don't forget to scout around a bit more. I didn't realize it at my store until I casually wandered down the home décor fabric aisle, but that aisle was filled with dozens of bolts of clearance fabric–many marked down to $3 per yard. So wander around a bit before you settle on anything (or ask a store employee to be sure you've seen everything).
Certain seasons will have more clearance fabric available, so it's good to get in the habit of a quick check around the whole area even if you haven't had much luck before.
Note that the clearance price is final and you won't receive an additional 40% off from those bolts.
5 – Chat with the Employee Cutting Your Fabric
Everyone who works at my Hobby Lobby is so kind and eager to help. Strike up a conversation and you may end up getting the inside scoop on when bolts will be moving to clearance or when a new shipment is due.
6 – Plan Your Project Before Shopping
It's easy to overspend at the craft store, that is for sure! I've certainly added to my stash of craft supplies without much thought or planning–there are just too many fun products to buy.
However, with fabric, it can be challenging to use up stash if you didn't purchase the right yardage. Instead, plan before you shop and avoid those impulse buys.
It can also be frustrating to sit down to sew with a pattern and fabric and suddenly realize you are missing a crucial notion that requires a trip back to the fabric store.
Plan your project carefully before shopping. Be sure to check sizes and yardage requirements on your pattern envelope and note any notions you will need as well. This will save time, money, and hassle.
What are your favorite ways to save money on fabric at Hobby Lobby? I'd love to hear your tips and tricks!
More Sewing Tips