Gift Ideas for New Knitters (with Price Guide!)
New to knitting? This gift guide is full of fun (and useful!) gift ideas for new knitters. Whether you are buying for yourself or a friend, you'll love these ideas for your new knitting hobby. I've also included a convenient price guide so you can shop with ease!
Please note that this post contains affiliate links which allow me to earn a small commission when a purchase is made at no additional cost to you. Read more here.
Knitting saw a big surge in popularity in the last decade or so, and even more so in the last year. It's a hobby that can be as simple or complex, thrifty or indulgent as you choose. The repetitive, relaxing motions (and the chance to create beautiful woolen goods for oneself!) are a welcome respite from the challenges of life.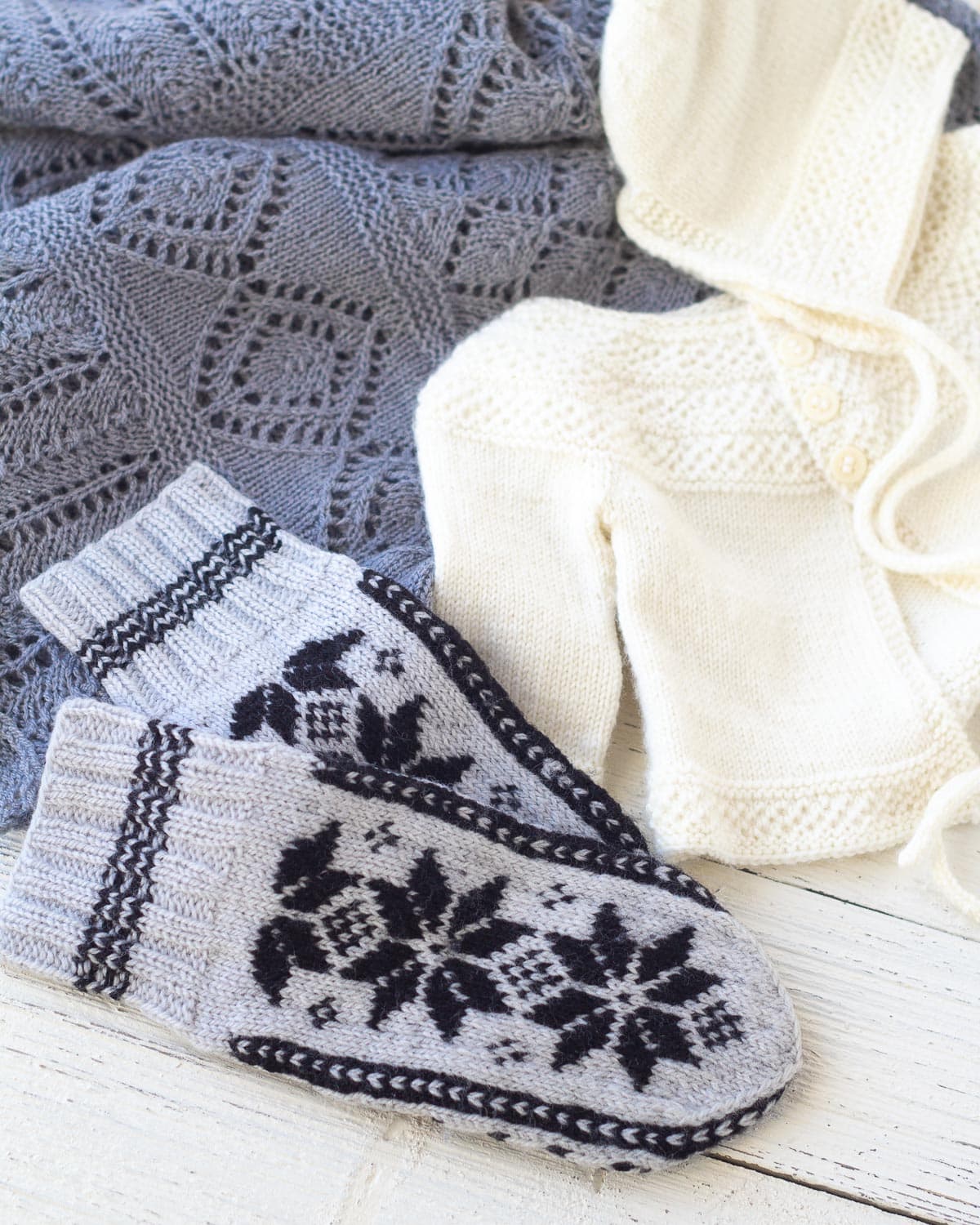 As a longtime knitter (It's been something like 13-14 years now?), I decided to share some of the tools I wish I had when I started knitting (and the tools I can't knit without!). If you are brand-new to knitting (or purchasing a gift for someone who is), these gift ideas are for you.
I know that knitting can potentially become a pricey hobby, but there plenty of budget-friendly supplies available too. I decided to organize these gift ideas for new knitters roughly by price–from low to high. You can scan the list easily that way.
In a hurry? I suggest picking out a pretty knitting kit like these for your favorite knitter. I love the kits from Knit Picks because they are affordable and include patterns, needles, and yarn–everything you need to get started. Knit Picks is one of my favorite online sources for needles and yarn!
Where to Start
If you just want to have fun browsing, I purchase much of my yarn and supplies from local yarn stores or from Knit Picks. Knit Picks has a great online selection of affordable needles, tools, patterns, books and project kits (and they have free shipping over $65). Note: Knit Picks does have a shop on Amazon, but I prefer to purchase direct from their website as I've found that products are less-expensive directly from Knit Picks. Additionally, not all the products are available on Amazon.)
If you'd like to find a local yarn store, try using Knitmap to see what is in your area. Many local yarn stores will also ship so you can check those options too.
Gift Ideas for New Knitters with Price Guide
I'm excited to share these gift ideas for new knitters! As a longtime knitter, I'm familiar with the products that are helpful to have as you get started, as well as products that just make knitting fun.
I've roughly organized the list by approximate price range from low to high (there is the most variance with the knitting project kits which range from about $17 to upwards of $70, depending on how much yarn is included).
Let's get started!
Stitch Markers (~$2-10)

There are all kinds of beautiful markers on Etsy, but these snag free markers caught my eye. These locking type markers are also very practical.
As you browse, I generally suggest looking for "snag free" markers and markers that are not overly weighty with charms and decorations (though I know, they are totally adorable!).
I've always used a small bag of cheap markers I bought when I started (essentially just jump rings, shown below) and I'm constantly picking through them trying to find the ones that aren't split open. I think I need to purchase an upgrade myself!
Retractable Tape Measure (~$6-10)

Another inexpensive gift is retractable tape measures. You really can't have too many of these! So handy for taking measurements before choosing a garment size as well as checking measurements as you knit. There are lots of cute options out there!
A Row Counter (~$6-10)

It's not the most glamourous gift, but a row counter sure is useful!
I have always meant to buy one of these and I'm currently asking myself, why haven't I?! For projects that require counting rows (um, basically all the projects), a simple tool like this is a huge help. And it enables you to stay focused on whatever show you are watching or podcast you are listening to instead of counting! Brilliant.
Pretty Scissors (~$7-15)

Ok, I'll take any excuse to go shop for some adorable embroidery scissors! But seriously, every knitter needs at least a few pairs of small scissors handy for cutting yarn and trimming ends. A pair of these will be appreciated!
A Needle Gauge (~$9-10)

A needle gauge allows a knitter to confirm they have the correct size of needle before they start knitting. This is particularly helpful if you own vintage needles or needles where the size marking have rubbed off. If you aren't sure what your knitter already has in their supplies, this is a safe choice because owning more than one is always handy.
This Clover Needle Gauge is great because it also allows the knitter to ALSO check the gauge of their swatch size (essentially how big the rows/stitches are in a test swatch) and allows for adjustments before starting a larger project. Also includes a crochet hook gauge.
This Mini Tool – Needle Gauge is a nice accompaniment since it's the perfect size for storing in a wallet or small notions bag.
I have this vintage needle gauge shown below, and I think I'm going to upgrade to the Clover Needle Gauge for the sake of getting that lovely 4″ square window to check my gauge with.
A Set of Crochet Hooks (~$10)

If your knitter doesn't have a set of these on hand yet they will THANK you. Dropped stitches are the worst and while you can manage to pick them up with a needle, it is fiddly and time-consuming. Having a set of crochet hooks is ideal because then you can grab a hook that matches the gauge of the project and pick up stitches without splitting yarn or any other annoyances.
Plus, you can learn to crochet with them!
Something like this set is really all you need as a knitter, but this set of laminated birch hooks is would be a more extravagant gift (especially if your knitter also crochets)–they are beautiful!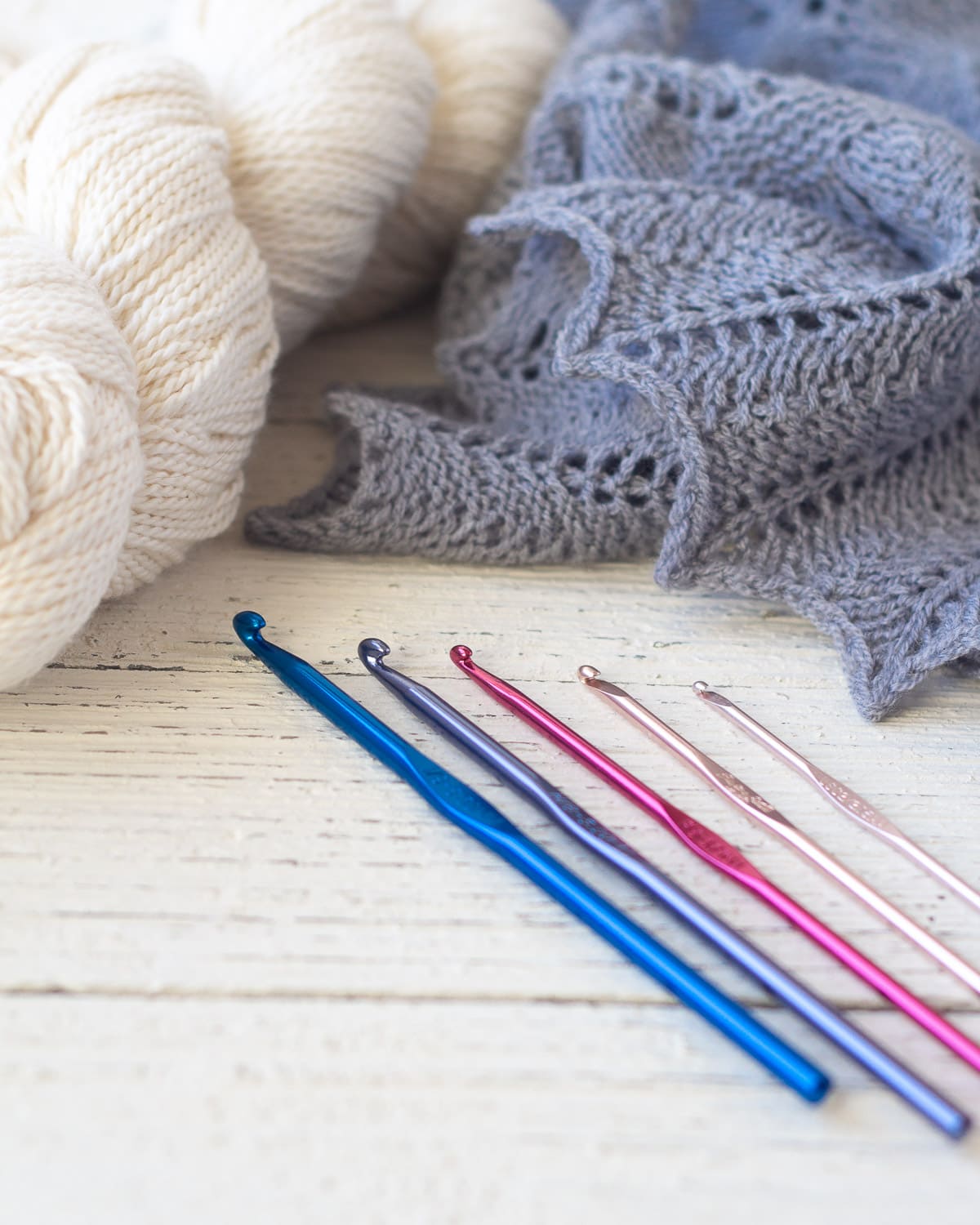 Beautiful Wooden Knitting Needles (~$14+)

For myself, I knit almost exclusively on circular needles. However, I love the appeal of traditional straight or double pointed needles and these wooden pairs are gorgeous. A showstopper of a gift with some soft skeins of yarn too perhaps.
Knitting Project Kits (from $17+)
Picking out yarn for a friend can be tricky. That's where kits come in. They package up the yarn, needles (sometimes!), and pattern so there are no questions about which yarn goes with which pattern, how many skeins you might need, etc.
Tip: Double check to see what the kit includes. Some include simply a pattern with yarn, others include needles and additional knitting supplies for completing the project. I like the Knitting Kits from Knit Picks because they are affordable and contain needles, pattern, and yarn. If you are looking for some budget-friendly kits, the dishcloth and hat kits are under $20.

Favorite kits:
More Ideas:
A Stitch Dictionary (~$20-30)

At first, beginning knitters are just trying to make sense of knit and purl, but it's so fun to start branching out into lacework and cables. Those are the techniques that really have that "wow" factor. A stitch dictionary (and a skein of good yarn to make swatches with) would be a welcome gift for a knitter who is learning the ropes.
Up, Down All-Around Stitch Dictionary (Hardcover-spiral) by Wendy Bernard is the book I would most highly recommend.
I own this book shown below. It is useful and has some great elements (and I've owned it forever, ha), but I like the Wendy Bernard book best!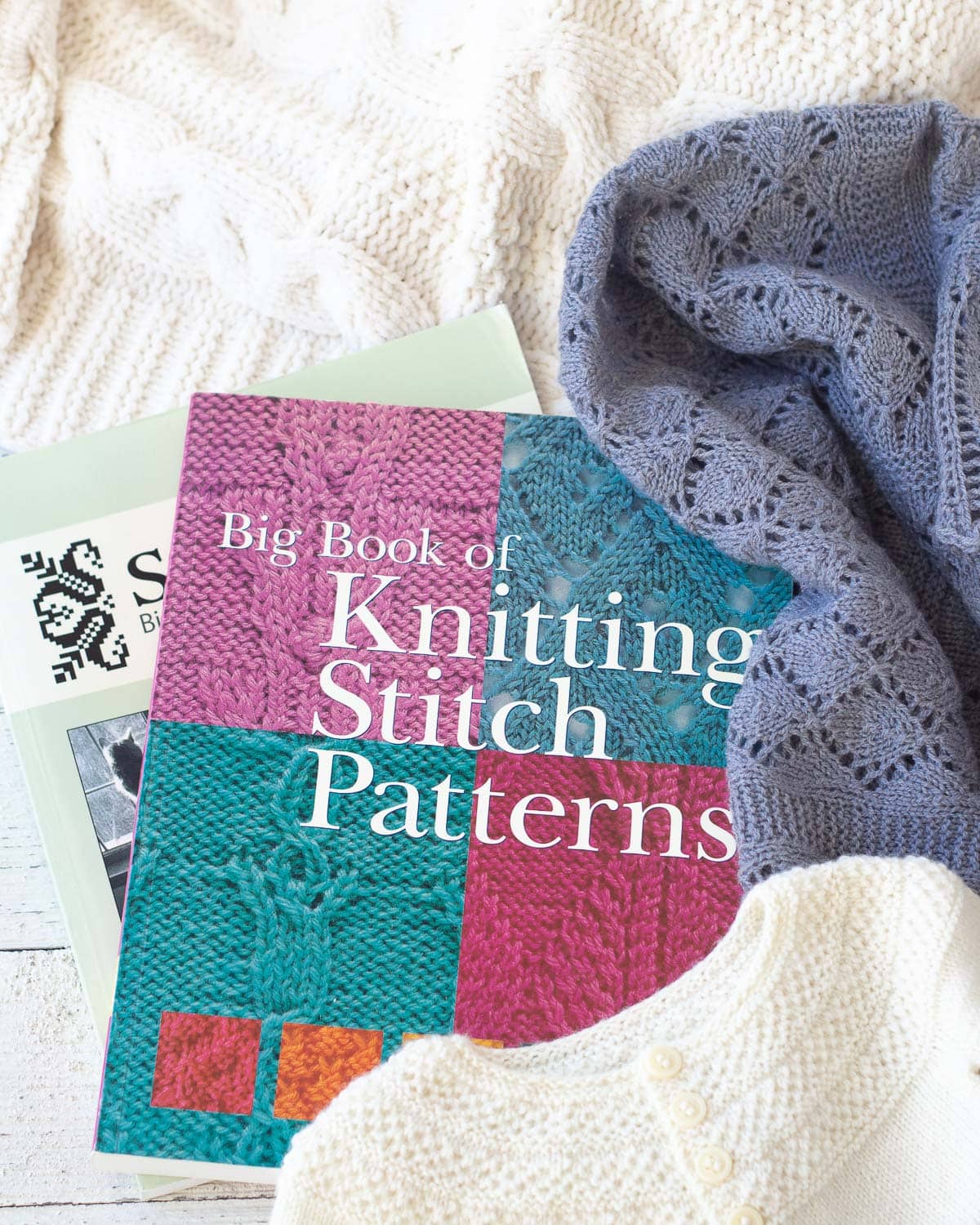 A Book of One-Skein Projects (~$20)

There are SO many amazing knitting books out there, it's hard to know where to start. For a beginning knitter, I suggest these project books full of one-skein projects because they are very approachable for starting out. Each small project can almost be thought of a swatch for testing new skills–and you get a pretty and useful result at the end! Working through small projects like these is a great way to hone new knitting skills.

Once you dive into the world of the "LYS" (Local Yarn Store), you will quickly realize that hanks are yarn are not meant to be knit from. Yes, those gorgeous twisted hanks need to be wound first, and while this can be done by hand, it is quite time consuming. It's far far easier to wind yarn with a ball winder and swift. Investing in these pieces makes a great gift for a beginner knitter.
Interchangeable Knitting Needle Set (~$60-$130 )

I nearly always knit with circular needles. You can use them to work in the round, work flat, and (my favorite), work the Magic Loop method. I purchased a full interchangeable set from Knit Picks early on in my knitting journey and never looked back. The Knit Picks needles are not perfect, but they are a super affordable option with plenty of room for growth.
I own the Knit Picks Nickel Interchangeable Knitting Needle Set, but I really like the looks of this newer Prism Aluminum Set too–the needles are each a different color, making it a snap to find what you need.
I would purchase any of the Knit Picks sets OR go with the more expensive (but epic) ChiaoGoo 7400-C Twist Tip Interchangeable Complete Set.
A Gift Card
But of course! A gift card is an excellent gift for a beginning knitter and I suggest that if the gift recipient has a local yarn store nearby to support their small business (and the wonder of shopping for yarn in person!) with a gift card. Or, if you prefer an online option, try my favorite online spot, Knit Picks.
Looking for a Gift You Can Make?
I used to sew little drawstring bags similar to this all the time when I was knitting. They are super handy for keeping projects contained and quickly stashing a project into a larger bag or purse.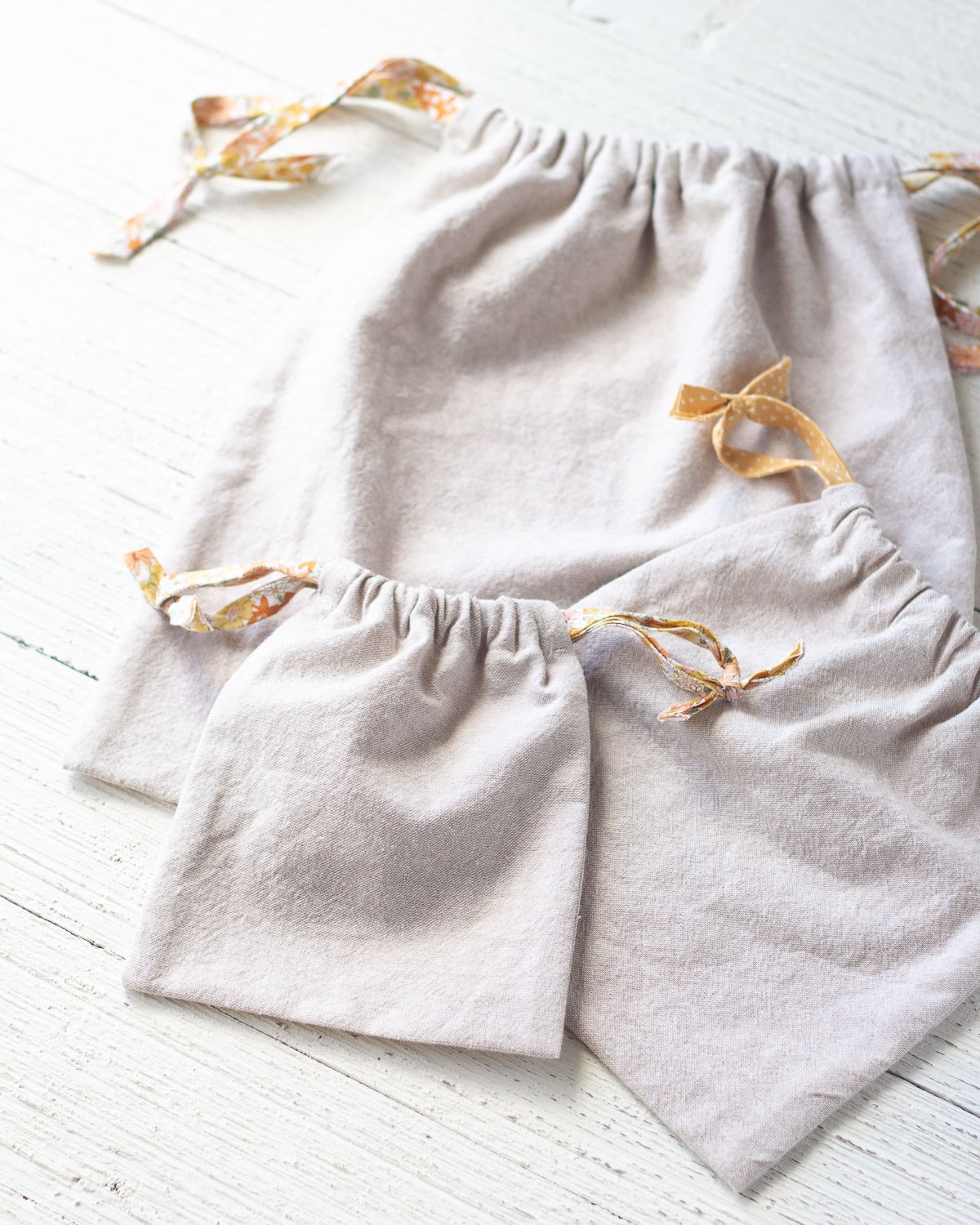 If you want to sew some of these drawstring bags I would make the large size I provide in the pattern. It'll be plenty of room for small to medium sized projects, like socks, hats, mittens, etc.
What Did You Choose?
I hope you enjoyed this list of gift ideas for new knitters and I'd love to hear what you picked out for your knitter! Leave me a comment and let me know. Or, let me know if you have any questions I can answer. Thanks for stopping by!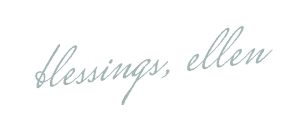 More from Bellewood Cottage