Office Survival Kit Mason Jar Gift
If you are looking for a funny Office Survival Kit to pack for your co-workers or friends, try this Office Survival Kit packed in a mason jar. The jar features plenty of mini office supplies–and an appearance from Jim and Pam!
Please note that this post contains affiliate links which allow me to earn a small commission when a purchase is made at no additional cost to you. Read more here.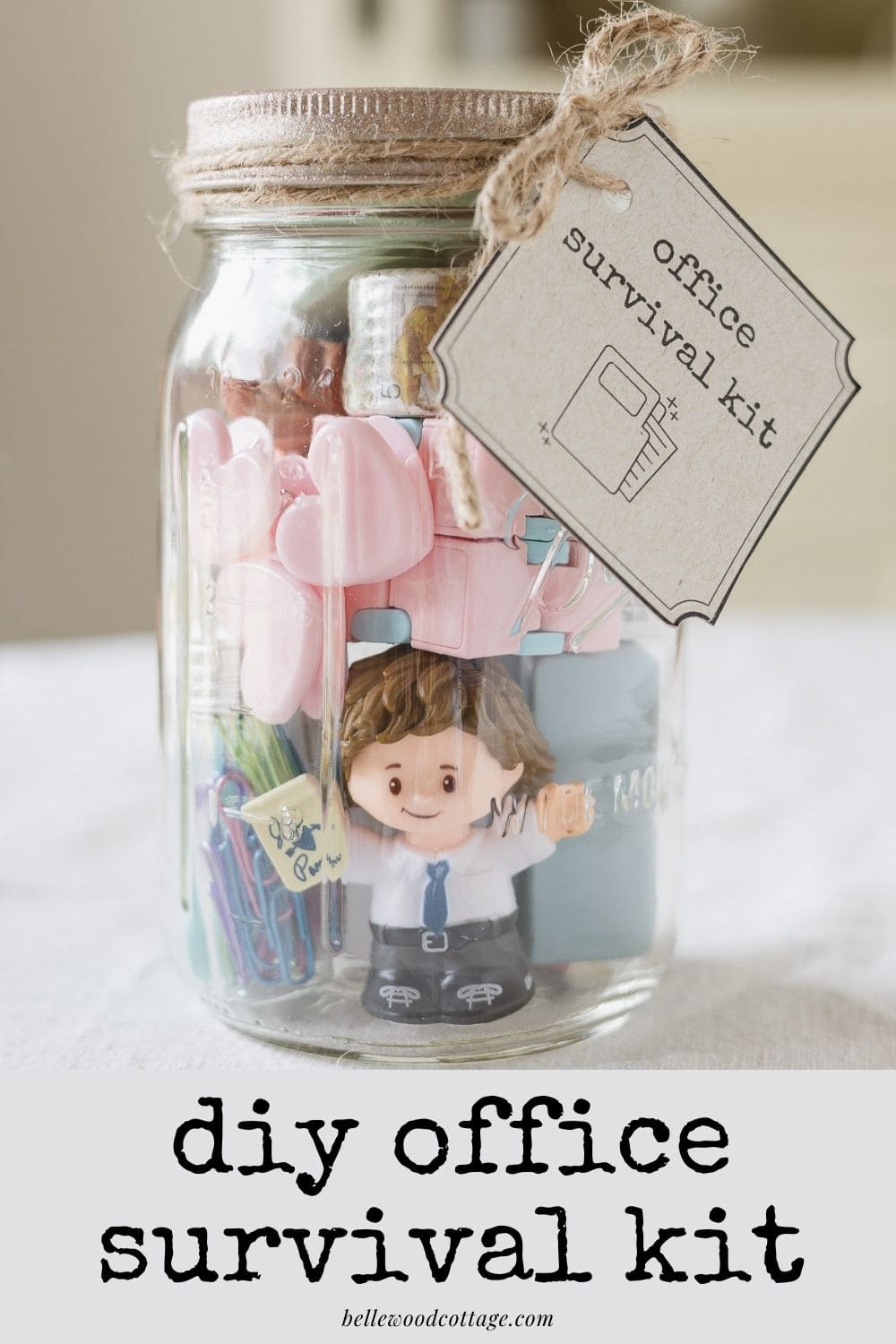 I love coming up with ideas for mason jar gifts. This little homemade gift idea was inspired by my admiration of Jim and Pam (I mean, awwww) and of course, my love of washi tape and tiny + cute office supplies.
Who to Give This Office Survival Kit To
Filling up a mason jar with cute office supplies is a DIY gift idea that's easy to customize and put together. I thought throwing in a couple of these Fisher Price Little People made the jar even more fun, but you could certainly customize the jar in other ways too!
Here's a few ideal recipients for this mason jar gift idea!
Office Co-Workers: But of course! You can fill the jar with practical items like hand sanitizer and good pens, or you could fill it with more creative ideas. Either way, if you include the Little People Office figurines, be sure to be diplomatic about which co-worker ends up with each character!
Teacher Appreciation Gift: Focus on supplies your favorite teachers could use in their classroom and maybe add a gift card as a special mark of appreciation. Some small supplies that would fit in a quart-size mason jar: travel packs of anti-bacterial wipes, mini hand sanitizer, tissues, dry erase markers, magnets, erasers, small rubber stamps, washi tape, binder clips, etc. etc.
Friend Gift (Birthdays, Holidays, etc): If you have a friend who still loves watching re-runs of The Office, fill a jar with some of these mini office supplies (I've included links below to everything I chose for my jar), write your favorite office quote on the back of the gift tag, and choose a Little People Jim, Pam, Dwight, or Michael to tuck inside for a funny gift they will love.
Back to School Gift: There are so many cute Fisher Price Little People sets out there (we especially love the Frozen set and the Lord of the Rings characters), you can pick something tailored to your child and include a figure or two with some of their back-to-school supplies arranged in a mason jar (or similar size plastic container).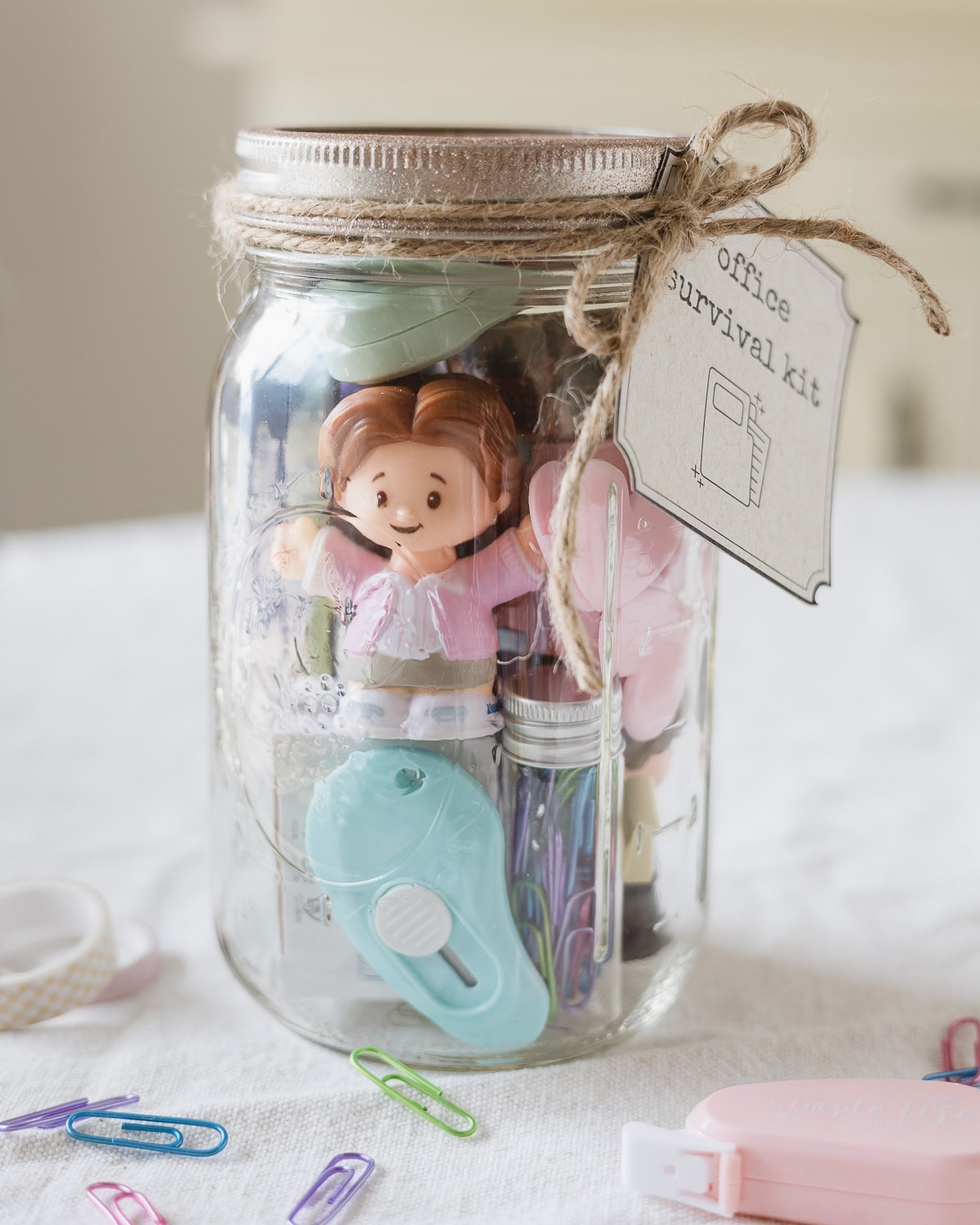 Little People "The Office" Characters
If I didn't have a toddler I might have never found out about the cuteness that is Fisher Price Little People these days. These classic toys have expanded into pop culture favorites like Lord of the Rings, The Office, and more.
The Little People "The Office" Set includes favorite characters Michael Scott, Dwight Schrute, Pam Beesly and Jim Halpert. They are spot-on and perfect for displaying on your desk at work or home.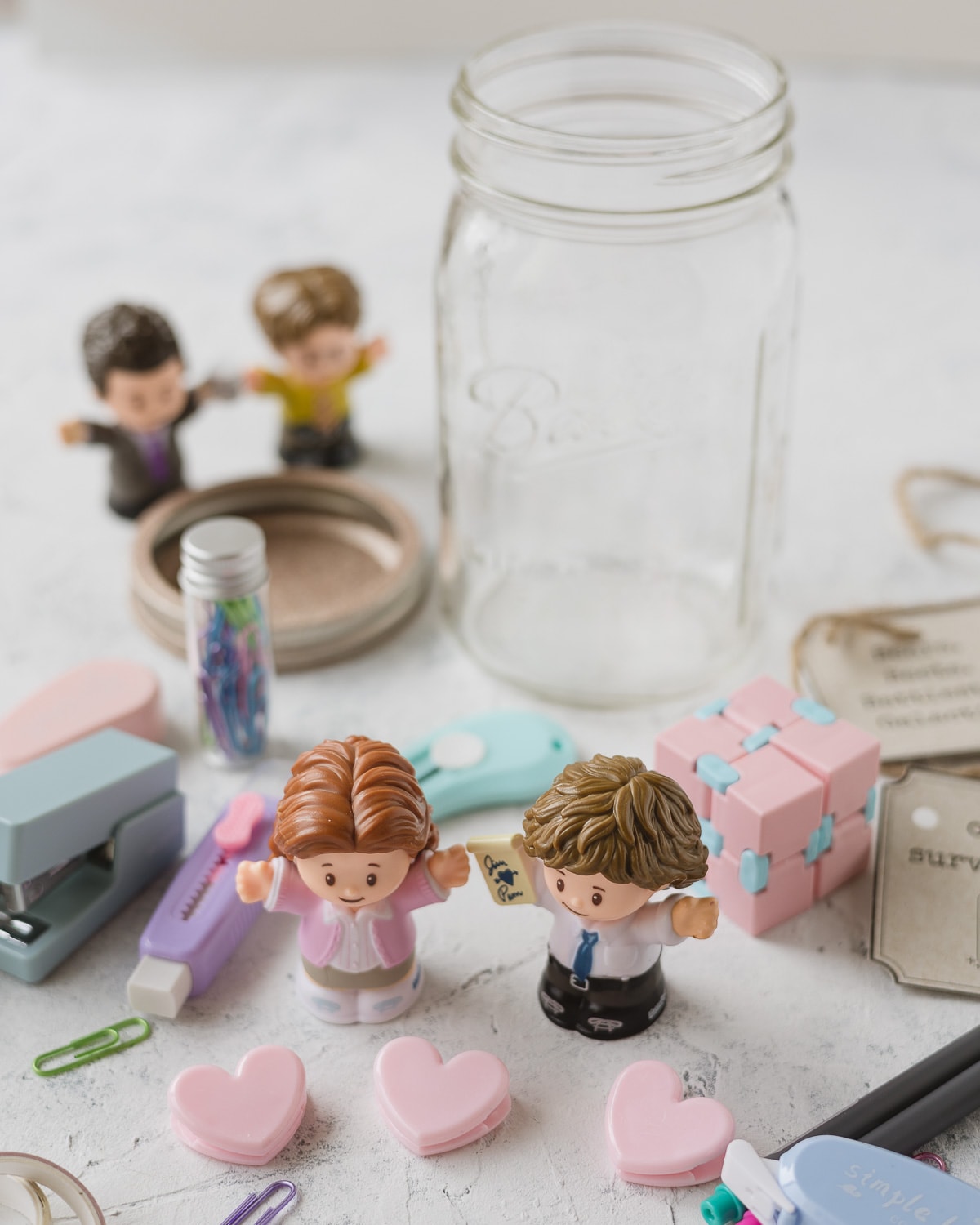 What You Need to Make Your Own Funny Office Survival Kit
While the supplies included in an Office Survival Kit can be pretty basic, this kit adds a little humor and fun with the addition of Jim, Pam, Dwight or Michael. Below I've linked up everything I included in my jar, plus additional suggestions.
Choose your essential (and/or humorous) office supplies (don't forget to choose items that'll fit in a jar) and fill the jar, attach a printable gift tag (download here for free), write a favorite quote from The Office on the back (optional) and you are set to go.
A one-of-a-kind homemade gift that is sure to bring a smile!
Office Survival Kit Supplies Ideas (Items I Used In Bold Font):
A mason jar – a wide-mouth quart jar (or similar) works best for this gift idea
Snacks (chocolate, chocolate covered espresso beans, hot chocolate, chocolate, chocolate, chocolate)
Coffee (individual packs of instant coffee fit great)
Tea
Hand sanitizer
Mini tissue
First Aid Supplies
Pens – good quality always appreciated! (I like these colorful ones and they just fit inside a mason jar!)
Erasers (I used this one, but sets like this are great too)
Pencil Sharpener
Fidgets like this magic cube or a fidget spinner
Rubber Bands
Glue Dots
Tips for Putting Your Kit Together
Here's a few quick tips for putting together a mason jar gift:
Use a Wide-Mouth Quart Jar: I like using the wide-mouth jars because it's easier to fit larger items inside. I grab a pack of wide-mouth quart mason jars at Target (about $1 per jar) and keep them on hand for home décor and gifting.
Buy More Than You Think You Need: When I'm making mason jar gifts, I usually wait to un-package the items I've purchased until I have a sense of what will fit in the jar. I like to have extras because having a half-full jar looks a little sad. It's easy to return things you don't need as long as the packaging is still intact.
Or, you can save the extras for yourself!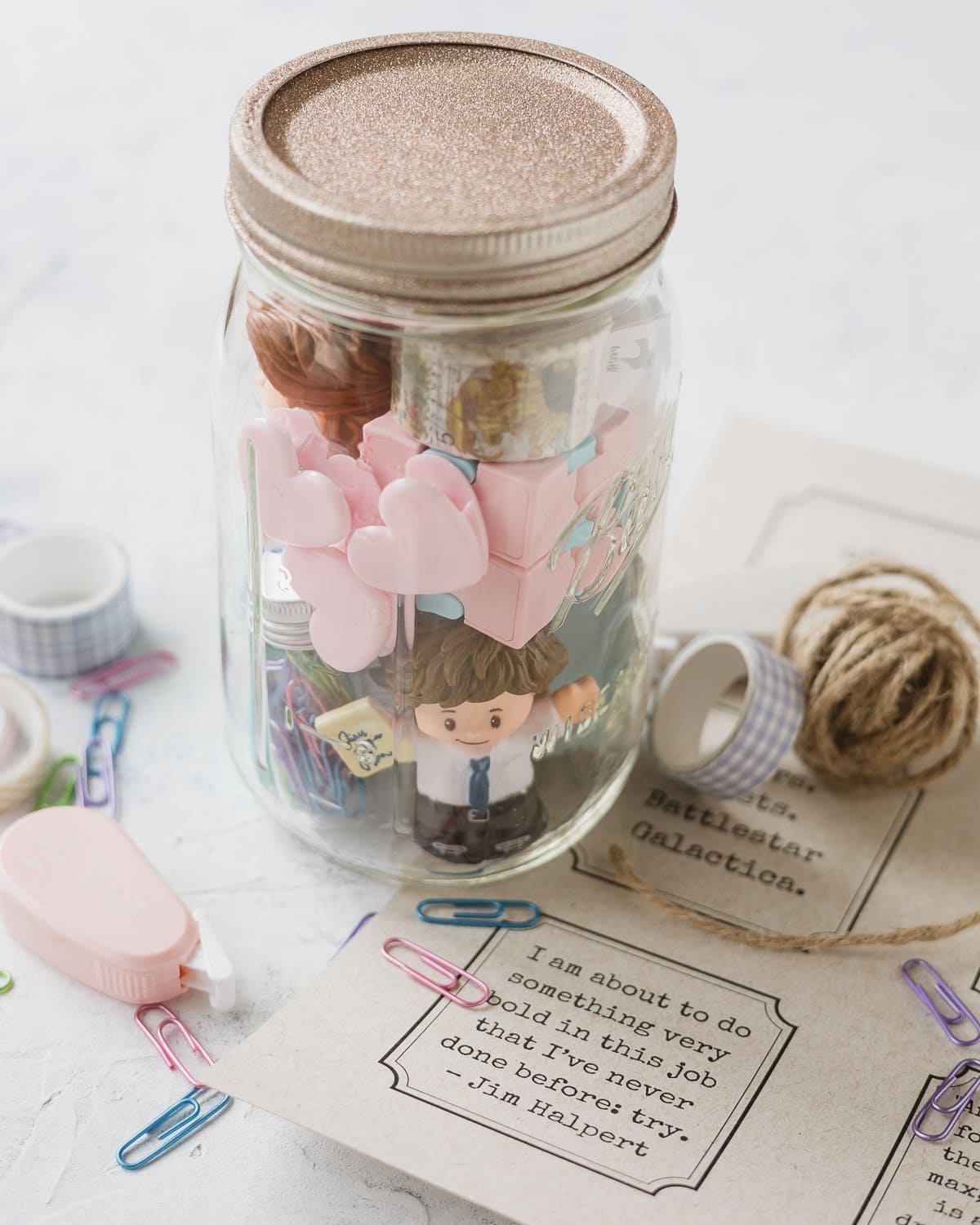 Choose a Color Scheme: Here, I used a lot of soft pastels and pink. Sticking to a color scheme makes for a cute jar.
Decorate the Jar Itself: An easy way to add a little glam to the jar is to spray paint the lid with glittery spray paint.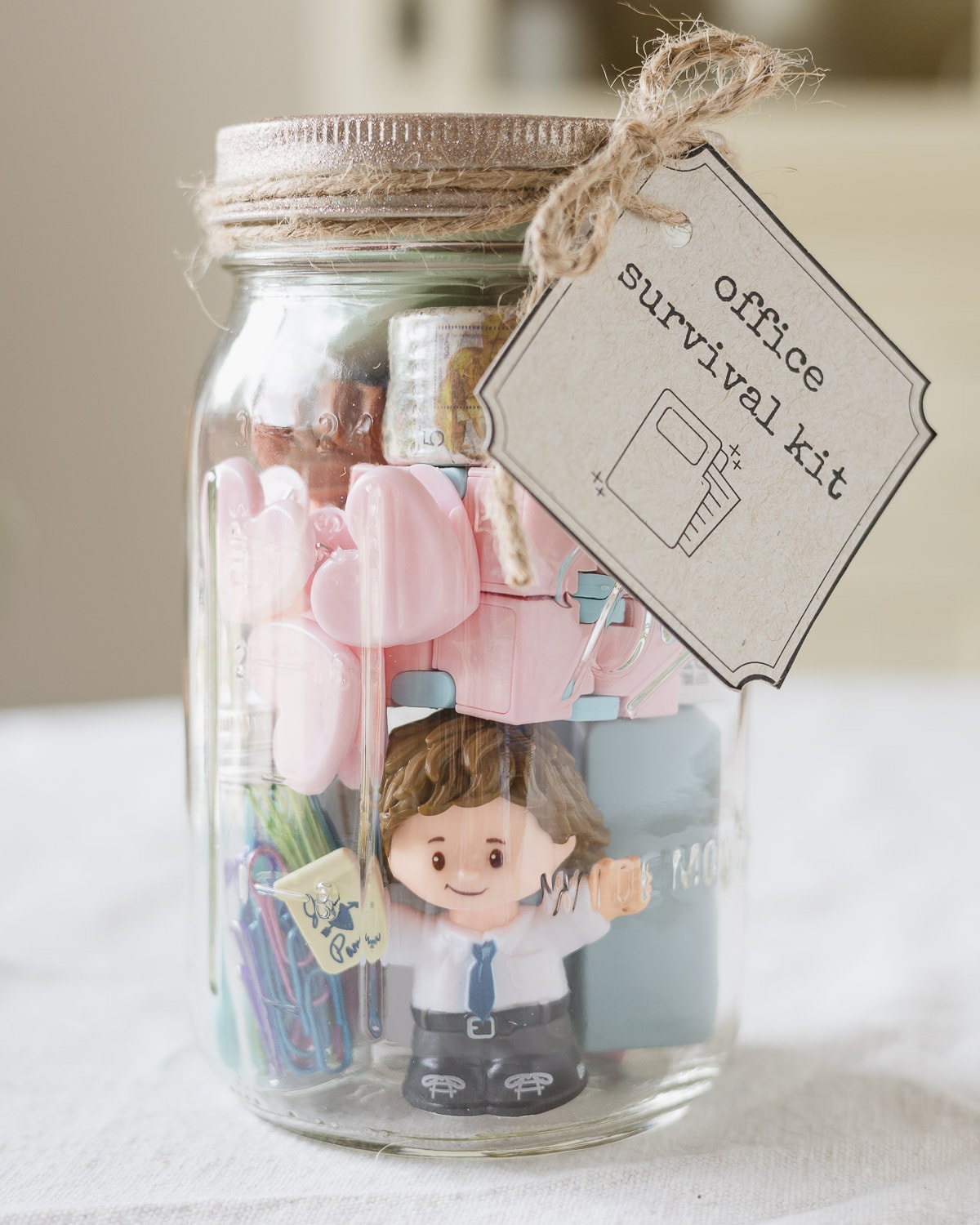 Finish with a gift tag and your Office Survival Kit is complete!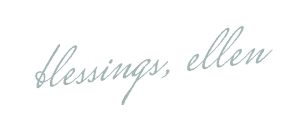 More Mason Jar Ideas