Rust-Oleum Chalked Paint Review
Curious about the quality of Rust-Oleum Chalked Paint? This chalk style paint works great for painting furniture and in my Rust-Oleum Chalked Paint Review I'll walk you through all the pros and cons of this affordable easy-to-use paint.
Please note that this post contains affiliate links which allow me to earn a small commission when a purchase is made at no additional cost to you. Read more here.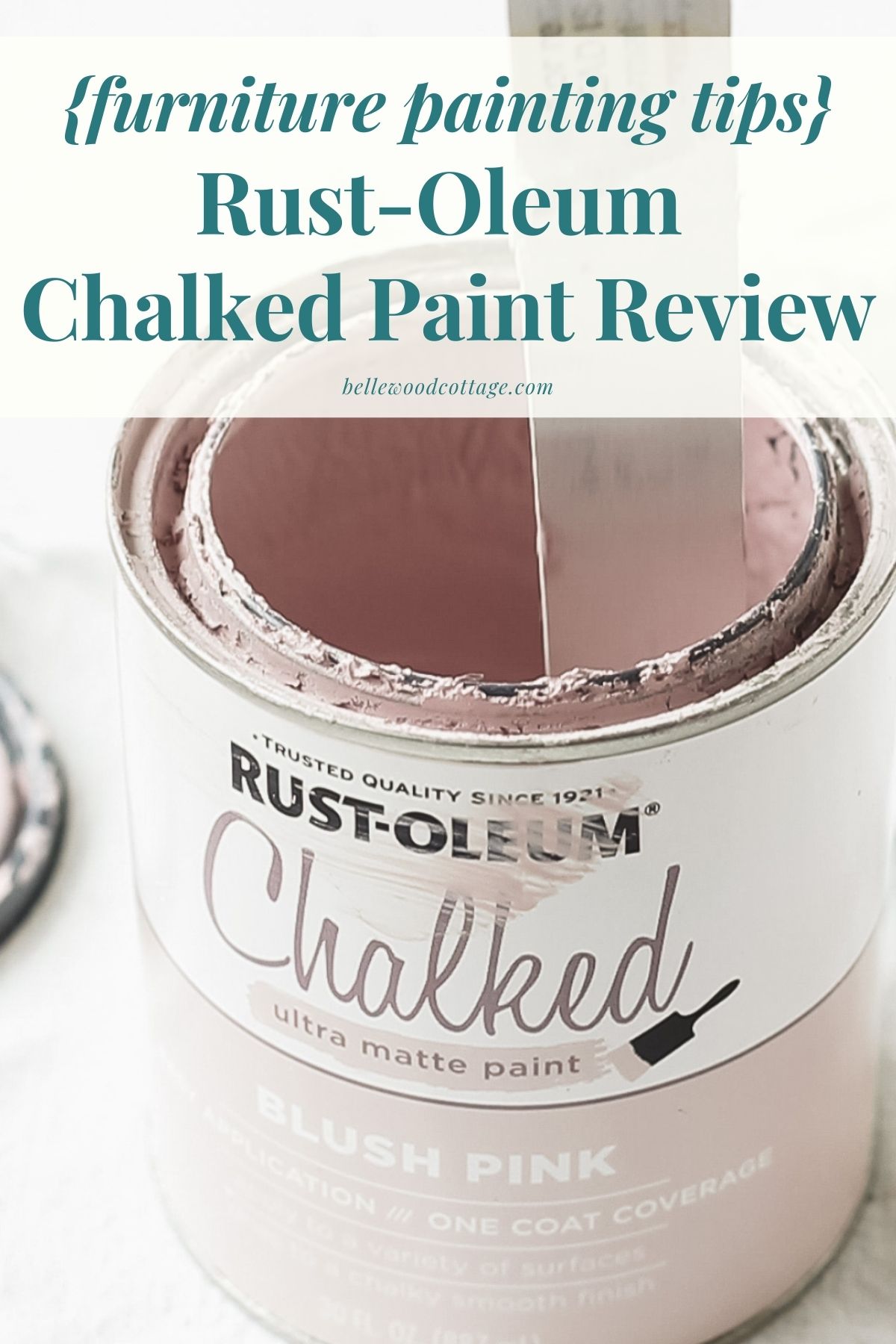 Rust-Oleum Chalked Paint is probably the chalk paint (or chalk style paint) that I use most frequently, so I figured it was about time to write a review!
I've been painting with Rust-Oleum Chalked for several years now and even though the chalk painting craze has died down a bit, it is still one of the best options for painting furniture when you are short on time, space, or energy–but still want a great finished product.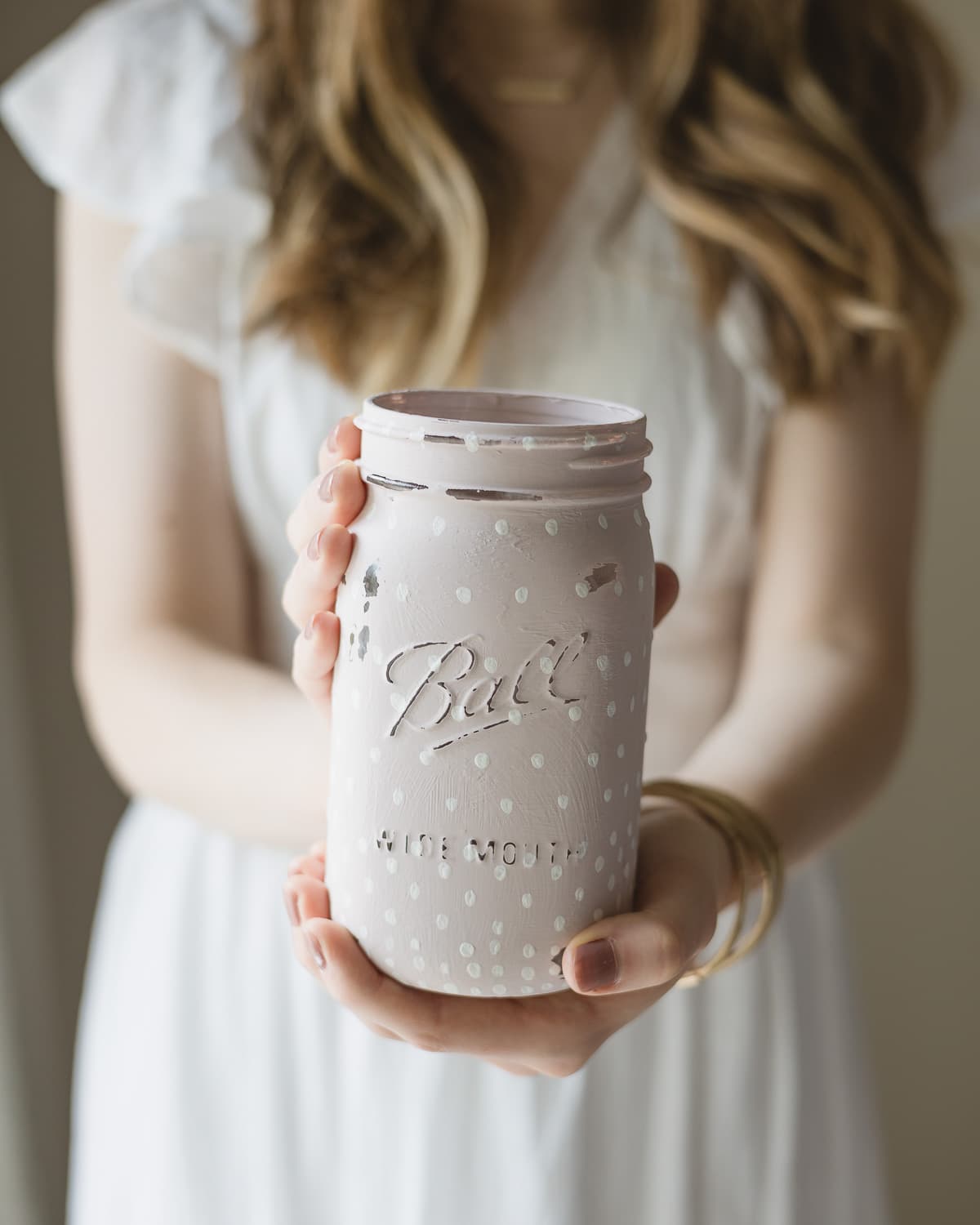 In the furniture painting world there are lots of opinions about the best paints and painting techniques. All of this advice and caution can make chalk painting feel overwhelming! But it really doesn't have to be that way.
My advice for beginning chalk painters is always to embrace the journey of trial and error. Have fun experimenting with different paints and furniture and figuring out what your own personal preferences are.
I like suggesting too that new painters start with a readily available and low-cost chalk style paint. Rust-Oleum Chalked is excellent as it's one of the most budget-friendly chalk paints out there. You can feel free to experiment without the pressures of using expensive boutique paints.
Enjoy the painting process. Remember that it's just paint. Mistakes can be corrected, colors can be painted over, furniture can be bought and sold until your home is the unqiue mix of what you love. Painting furniture is a rewarding hobby and when you start out on the right foot, it's even more fun.
New to chalk painting? Grab my free chalk painting guide packed with 10 chalk painting tips to get you started!
A Review of Rust-Oleum Chalked Paint
I've been chalk painting furniture for several years now and I can't believe I haven't written this review sooner! Rust-Oleum Chalked Paint, a chalk style paint, has been my go-to for many projects just because of it's affordability and availability.
Let's chat through all the pros and cons of using Rust-Oleum Chalked Paint.
Is Rust-Oleum Chalked Actually Chalk Paint?
While the actual trademark for the term "Chalk Paint" is held by Annie Sloan (Annie Sloan Chalk Paint), there are many brands that have sought to replicate her highly successful paint.
Rust-Oleum Chalked is one of many "chalk style paints" now available. Though it differs in ingredients from Annie Sloan (and does not feature the very low VOC content of the original Chalk Paint), it does mimic the popular paint in several ways.
Rust-Oleum Chalked (like Annie Sloan Chalk Paint) is a thick matte finish paint that applies well to a variety of surfaces without using a primer. It requires a top coat for durability, though some chalk painters leave their pieces unsealed.
The color palette is a bit limited with additional colors available depending on where you shop (more on that in a moment). But the ease of obtaining the paint and the low cost make it popular in the furniture painting world.
So, no Rust-Oleum is not exactly the same as Annie Sloan's Chalk Paint. The primary differences are that ASCP is ultra-low VOC, adheres to almost anything, and is available in colors that reflect the artistry and design expertise of Annie Sloan.
However, Rust-Oleum Chalked is also a "no-prep" or "low-prep" paint that provides the beautiful matte chalk finish and can be painted directly onto most furniture without any fuss.
Cost of the Paint
Rust-Oleum is one of the most affordable chalk paints. The key to saving even more money is where and when you purchase it. Rust-Oleum Chalked Paint is generally about $17 per quart. However, if you are smart about checking Amazon or watching for local sales, you can find it for even less.
I've been able to purchase Linen White (my most-used Rust-Oleum color) for about $10 a can multiple times. If you paint furniture to sell, this can increase your profit margins. Even if you just paint for a hobby, the low cost means you can buy more paint.
Rust-Oleum also makes a Chalked Spray Paint. This is convenient for projects that are too detailed to paint easily with a brush. I've found that the application of the spray paint can be a little sheer and require more coats than expected.
If you try the spray paint, you might consider using a spray primer first to completely cover the old color. You also will definitely want the primer if your surface is not already painted or sealed.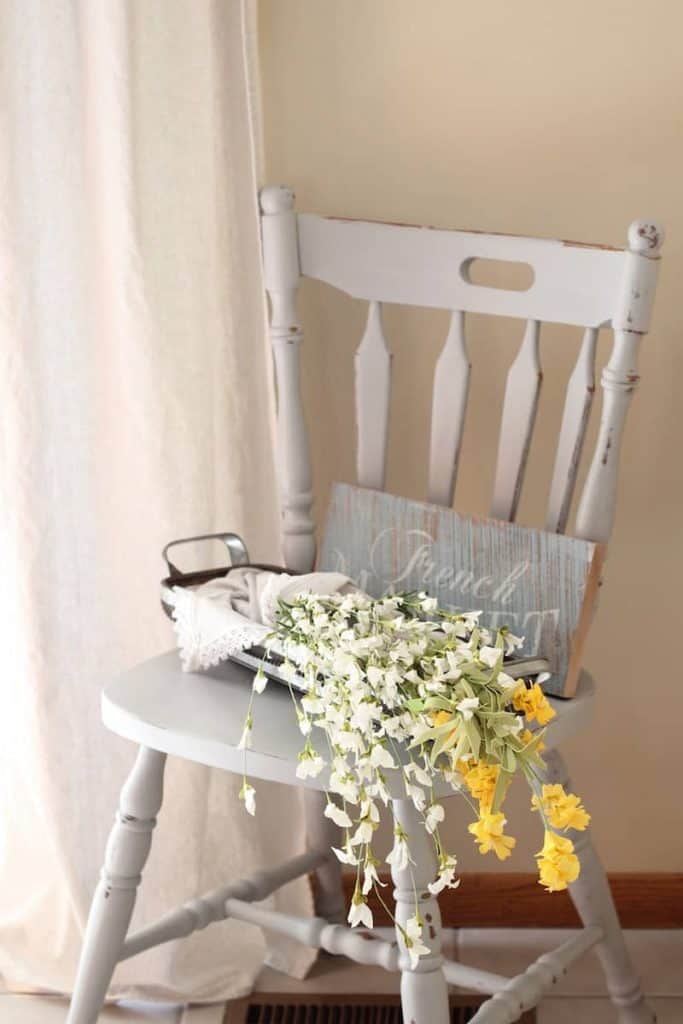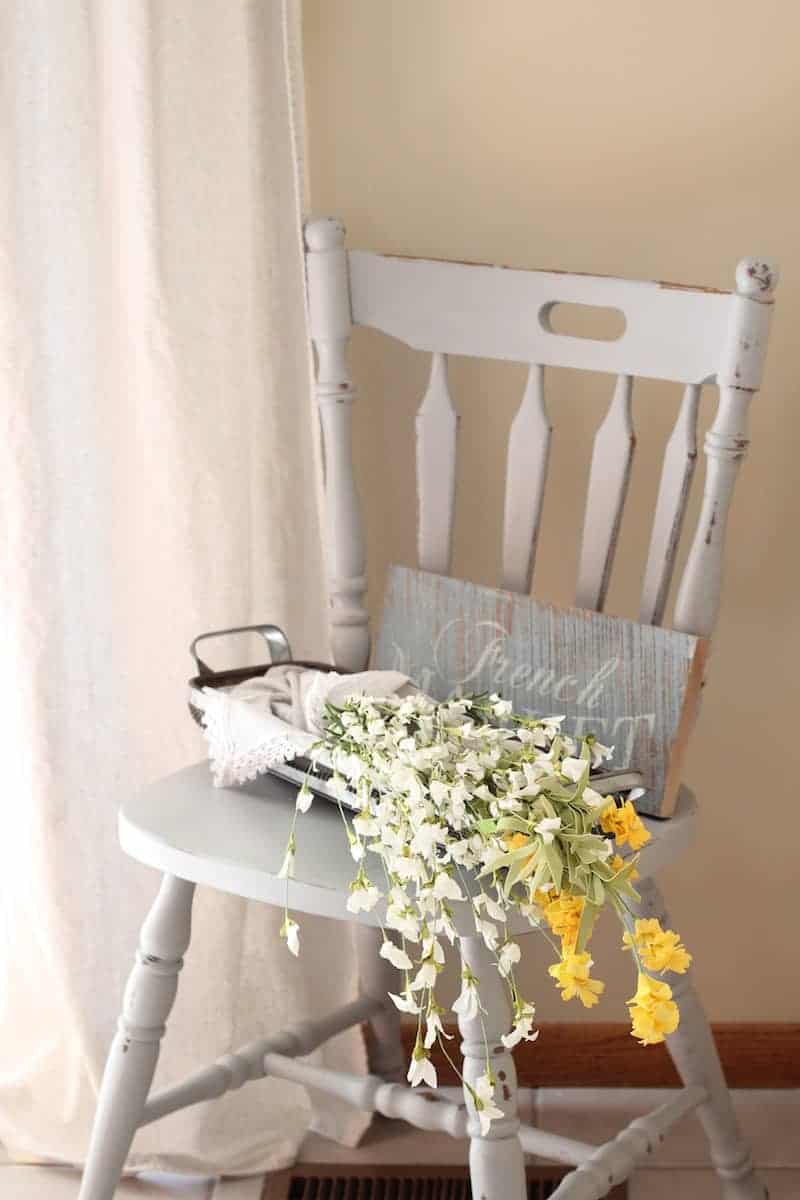 Rust-Oleum Matte Clear
Rust-Oleum Matte Clear is the coordinating matte top coat designed to be applied with the Chalked paint line. This is actually my most-frequently used top coat–mainly because I think it's more durable than wax (and I prefer the application process as well).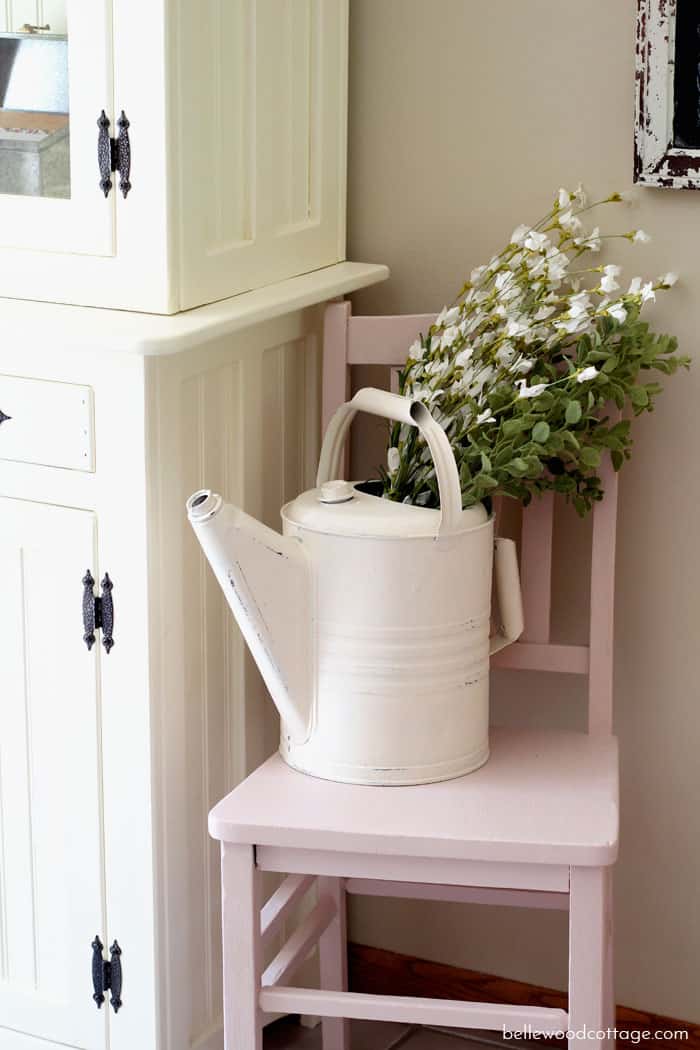 Matte Clear is a polycrylic product that has a milky white appearance and dries clear. You apply the product with a paintbrush. You want to be careful not to overwork it, but also be careful that you don't apply it too thick. If you end up with drips they will dry yellow/orange.
There are other great top coat options too, but the key is finding something that will not turn white or light-colored furniture pieces yellow. You can check reviews online and/or test a product on an inconspicuous area of the piece you are painting.
Always check the sheen of your top coat before purchasing. I stick with matte myself, but you can go as glossy as you like. Customize the final finish by choosing whichever sheen of top coat you prefer, but check labels to avoid surprises!
You can also purchase Rust-Oleum Matte Clear Spray. The spray top coat option is handy for projects with a lot of detail.
Rust-Oleum Aging Glazes
Rust-Oleum also provides glazes that add extra interest to your painting projects. Their Aged Glaze is a warm-toned glaze and their Smoked Glaze is cool-toned. These glazes can be applied to your project and then quickly wiped off.
The glaze will remain in the grooves of the piece and add depth and aging to the piece. You can wipe off as much as you like, but be sure to test the effects in an inconspicuous spot of your piece before applying the glaze everywhere.
Here's some examples of the effects you can get: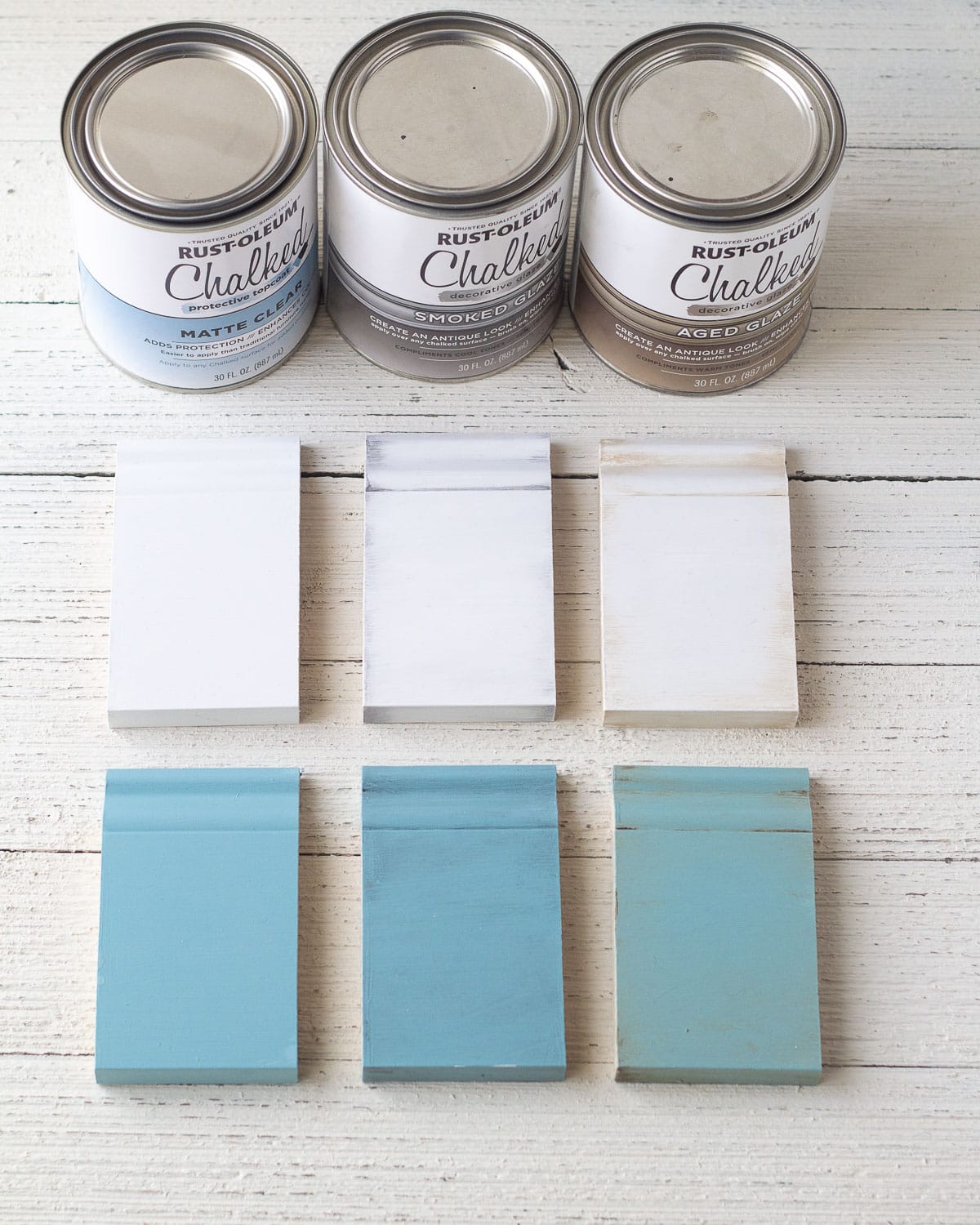 These options are very similar to the dark and white waxes available for antiquing furniture. If you can find the extra-small containers of glaze (I sometimes see these in craft stores like Hobby Lobby) they can be a great option for testing out.
The glazes are also available in spray form which I have not yet tried. After using the glaze the finished piece should still be sealed with Matte Clear.
Paint Colors Available
Rust-Oleum Chalked currently comes in 9 main colors. Here are a few of them:

The paint also is available in a light tint base and a dark tint base. These bases can be purchased at Ace Hardware and mixed up at the store to make an additional 26 Rust-Oleum colors.

Though I've included Amazon links for the tintable bases to show you the product, you'll want to find a local store that stocks these products and can actually color the paint for you. To my knowledge, these stores are Menards and Ace Hardware, but call ahead to be sure.
I've checked with my local Ace about getting a custom color mixed with the Rust-Oleum bases (a color outside the additional 26 that Rust-Oleum provides) and they were unable to do so.
So, if you are looking for a very specific color, I'd check with the Behr Chalk Style Paint line at the Home Depot where they say it is "tintable to over 500 colors".
Colors I've Used
I've used several Rust-Oleum colors including Chiffon Cream, Aged Gray, Linen White, Blush Pink, and the aging glazes. All of the colors are great, though I will note that Linen White is a very bright white, so it may be too stark for some tastes. You could mix some Chiffon Cream into some Linen White to achieve a softer white chalk paint.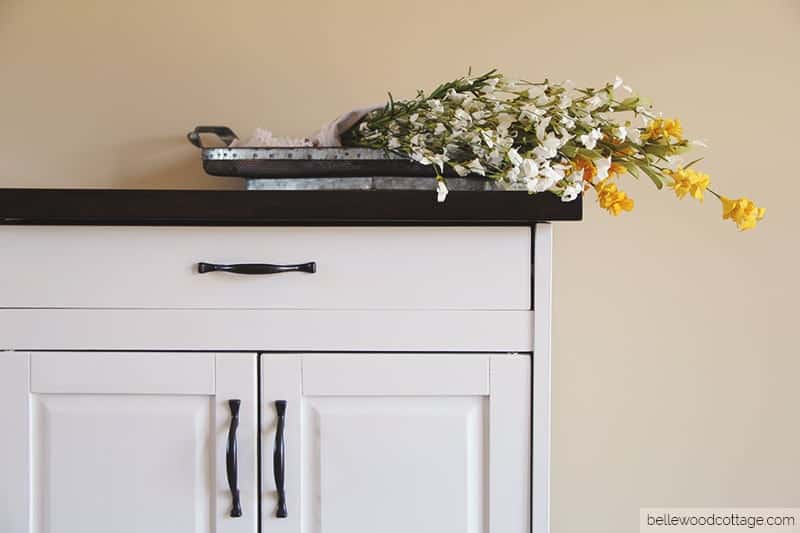 Where Can I Buy the Paint?
Rust-Oleum Chalked is available at Home Depot, Ace Hardware, Target (spray paint only), Amazon, Walmart, and other stores. If I plan to shop in-person, I like to check the inventory online first if possible since some retailers only carry a few of the colors in stock.
Remember that if you want one of the 29 custom-color mixes you need to choose a store that has the tintable bases available. To my knowledge, these stores are Menards and Ace Hardware, but call ahead to be sure.
Since the chalk paint craze has died down a bit, many stores do not stock the full line of Chalked. If I'm purchasing a ready-to-go color, I prefer to just order straight from Home Depot or Amazon rather than hunting down a color in person.
Check my post about where to buy chalk paint for more details about where to find individual brands when shopping (plus tips on saving money too).
Rust-Oleum Chalked Paint Review
Rust-Oleum's chalk style paint is a great choice for beginner and advanced furniture painters alike. It's easy to use, adheres well, comes in a nice selection of basic colors, and is a much lower-price than boutique chalk paints.
Thickness
Rust-Oleum chalk style paint is a nice thick paint. It applies well even over slick surfaces. Two coats is plenty even with their lightest color (Linen White). You can water the paint down a little bit if you prefer painting with a thinner paint.
Whenever I paint furniture I use my favorite brush and it works with any chalk style paint including Rust-Oleum.
Application & Sanding
The big question is always, do I need to sand? With Rust-Oleum Chalked I often only sand if my piece is super-slick or needs to be smoothed out before starting.
I always clean my furniture pieces before painting and if I opt to sand, it's a quick 15-20 minutes with a sanding block. I'm been really pleased with how Rust-Oleum adheres to most furniture even without sanding, so I suggest experimenting to see what you prefer.
Primer Coat Optional
One of the big selling points of chalk style paints is the "no-prep" idea. We already talked about sanding, but what about primer?
I often choose to prime my used furniture pieces before painting with chalk style paint, including Rust-Oleum Chalked. This is for two reasons. One, the primer helps the paint adhere. Two, the primer blocks stains.
I usually use an all-purpose primer and if I see severe bleed-through happening (more than a small spot or two) I'll use a much stronger stain-blocking primer.
Sometimes I will opt to just start painting with the chalk paint and if I get bleed-through I'll address it then, versus starting with the primer. It's just all how I'm feeling that day.
Used/old furniture can be a gamble though and using a stain blocking primer right at the start can avoid hassle later on.
Coats Required
I usually apply two coats of Rust-Oleum Chalked to my pieces. Exceptions are if I'm painting mason jars or another super-slick surface. Then I might need to go for three coats (or at least some touch-ups).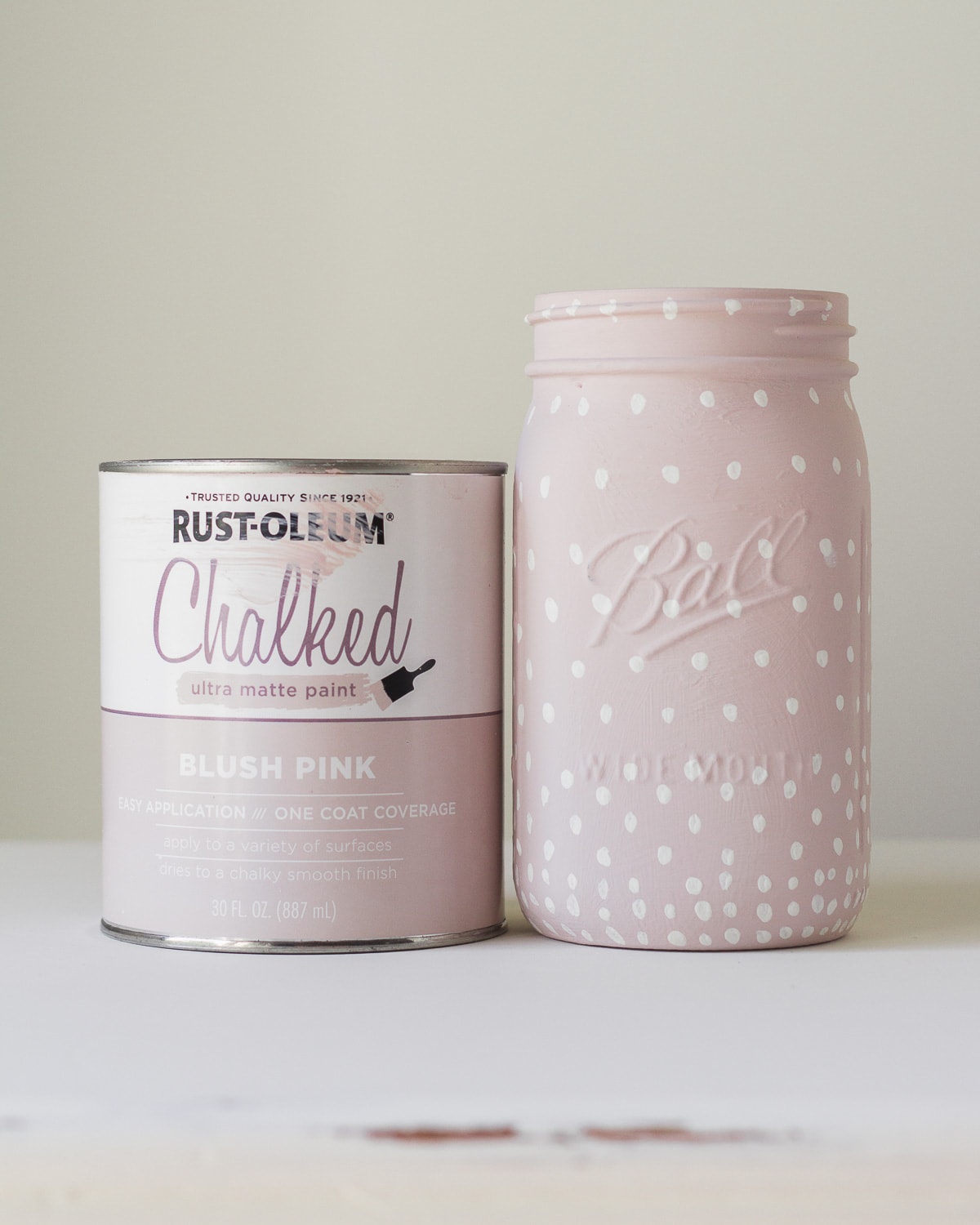 Top Coats Used
I usually use Rust-Oleum Matte Clear to top coat my furniture pieces painted with Chalked, but have also used the paint with Annie Sloan waxes and those products seem to complement each other just fine.
How Does the Finished Product Look?
Rust-Oleum Chalked does have evident brushstrokes, which is a hallmark of chalk style paint. It is very chalky-feeling when dry and I always use a top coat for the feel and durability.
The paint distresses easily (I distress outdoors before adding a top coat) and looks great when used for furniture flips and farmhouse style home décor.
What is the Paint Best For?
I use Rust-Oleum Chalked for all kinds of chalk painting projects. Mainly refreshing old furniture, but I also enjoy small chalk paint projects too.
I do avoid chalk paint for projects in high-traffic/high-moisture areas. I know it's SO tempting to use a "no-prep" paint with projects like kitchen cabinets, but the results will just not be what you hope for.
It's best to avoid supposed short-cuts and stick to a high quality cabinet paint (like Benjamin Moore Advance) and walk through the entire process (long and tedious I know!) of cleaning, sanding, priming, and painting.
How Does it Compare to Other Chalk Paints?
Rust-Oleum Chalked Style Paint is one of the best values for chalk style paint. It's affordable, readily available online (and in many stores), and easy to work with.
If you are looking an affordable paint to get started with chalk painting, go with Rust-Oleum Chalked. It's great for painting furniture and getting creative with other DIY projects too.
The main downsides of the paint are the lack of colors and the fact that it is not low-VOC.
If you are looking for a chalk paint with more color options, I would suggest Behr Chalk Style Paint at the Home Depot, Country Chic Paint, or Magnolia Chalk Style Paint (trendy/farmhouse colors).
If you are looking for an ultra-low VOC chalk style paint you'll want to select Annie Sloan Chalk Paint or Country Chic Paint. Both of these paints underwent extensive testing to confirm their low VOC status.
Summary & Notes
One of my purposes in writing this Rust-Oleum Chalk Paint Review was to provide a helpful resource for those new to chalk painting and those new to Rust-Oleum Chalked.
I hope you are able to utilize this info and choose just the right brand of chalk style paint for your next furniture painting project. Rust-Oleum chalk style paint is a great versatile paint that'll help you get your feet wet. It's fun to use and you'll love the furniture transformations that it makes possible!
Overall, if you are looking for the best brand of chalk style paint to get started with chalk painting, give Rust-Oleum a try. Have fun painting! ~Ellen
More About Chalk Painting
The Ultimate Chalk Painter's Gift Guide
12 Inspiring Blue-Green Chalk Paint Colors
Beautiful Pink Chalk Paint Colors
Chalk Painted Pumpkins Tutorial + VIDEO
How to Save Money on Chalk Paint!