Chalk Paint Versus Regular Paint…Why I Still Use Chalk Paint
Chalk painting can be a controversial topic. Some people love chalk style paints, others not so much. Find out the difference between chalk paint versus "regular" (latex) paint and why I still choose chalk paint frequently for furniture painting and more.
Please note that this post contains affiliate links which allow me to earn a small commission when a purchase is made at no additional cost to you. Read more here.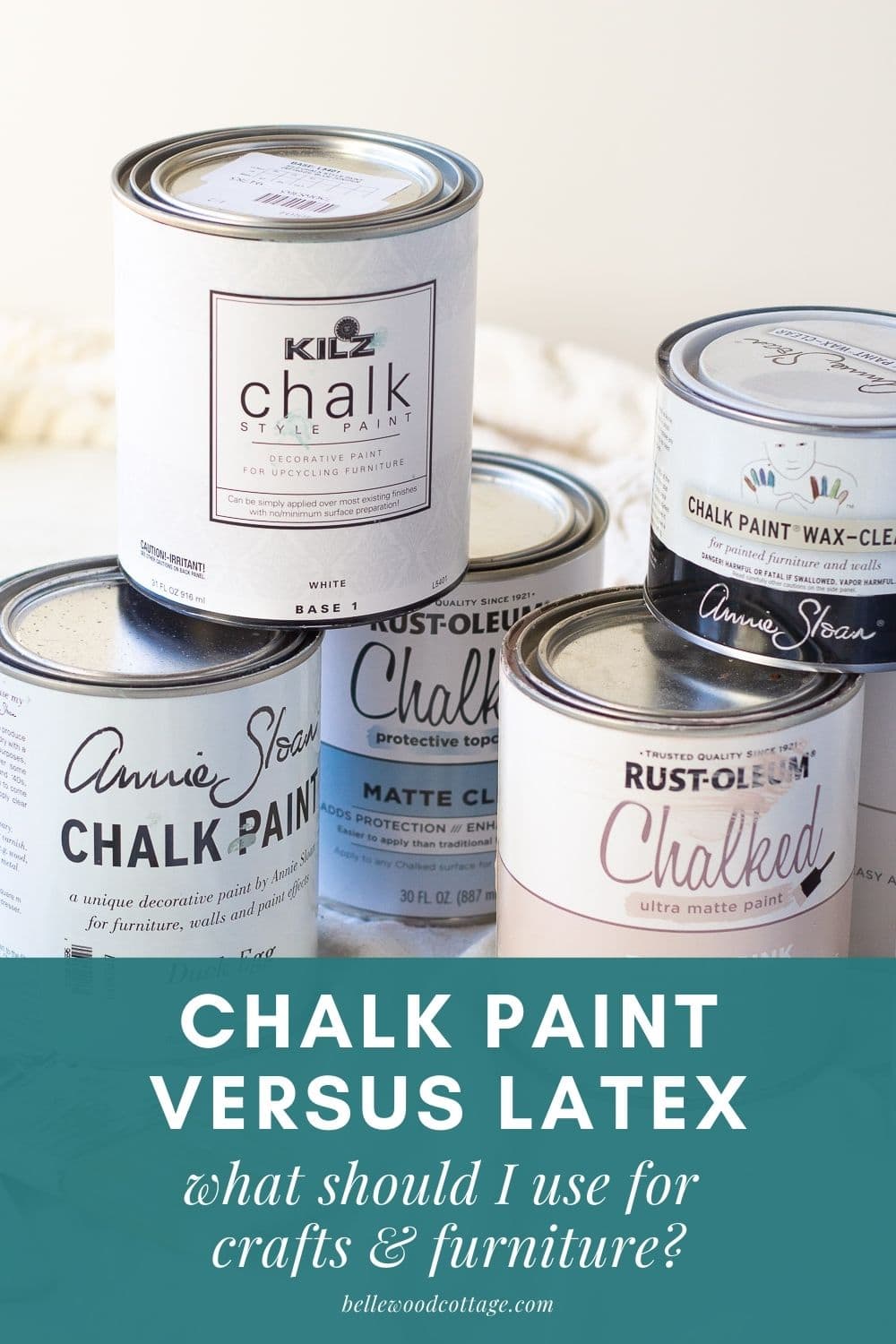 Chalk paint has been astronomically popular for quite some time. But after the initial hype died down, some DIYers decided it wasn't for them. Being able to start painting furniture without sanding or priming made things easier, but also made projects unpredictable. Thick brushstrokes and distressing were great–until you were ready for a more streamlined modern look.
And those that tried using the paint on kitchen cabinets, bathroom vanities, and other tricky areas? They discovered that sometimes using the "short cut" of chalk style paint wasn't such a great idea as they watched their hard work start chipping, scuffing, and maybe even getting a little sticky. Ugh.
So perhaps it's understandable that some DIYers and furniture painters have written posts extolling the virtues of other paints and suggesting that chalk paint be left behind.
Well, here's the thing. Sure, the naysayers have some points. And yet, I firmly believe that there are some key qualities that make chalk paint awesome (and in some ways, unmatched).
For the right projects, chalk style paint can be the perfect time-saving, affordable, and beautiful solution.
In this post, I'll cover questions about "regular paint" versus "chalk paint" and we'll chat through what the differences are, what you should be using to paint furniture, and more.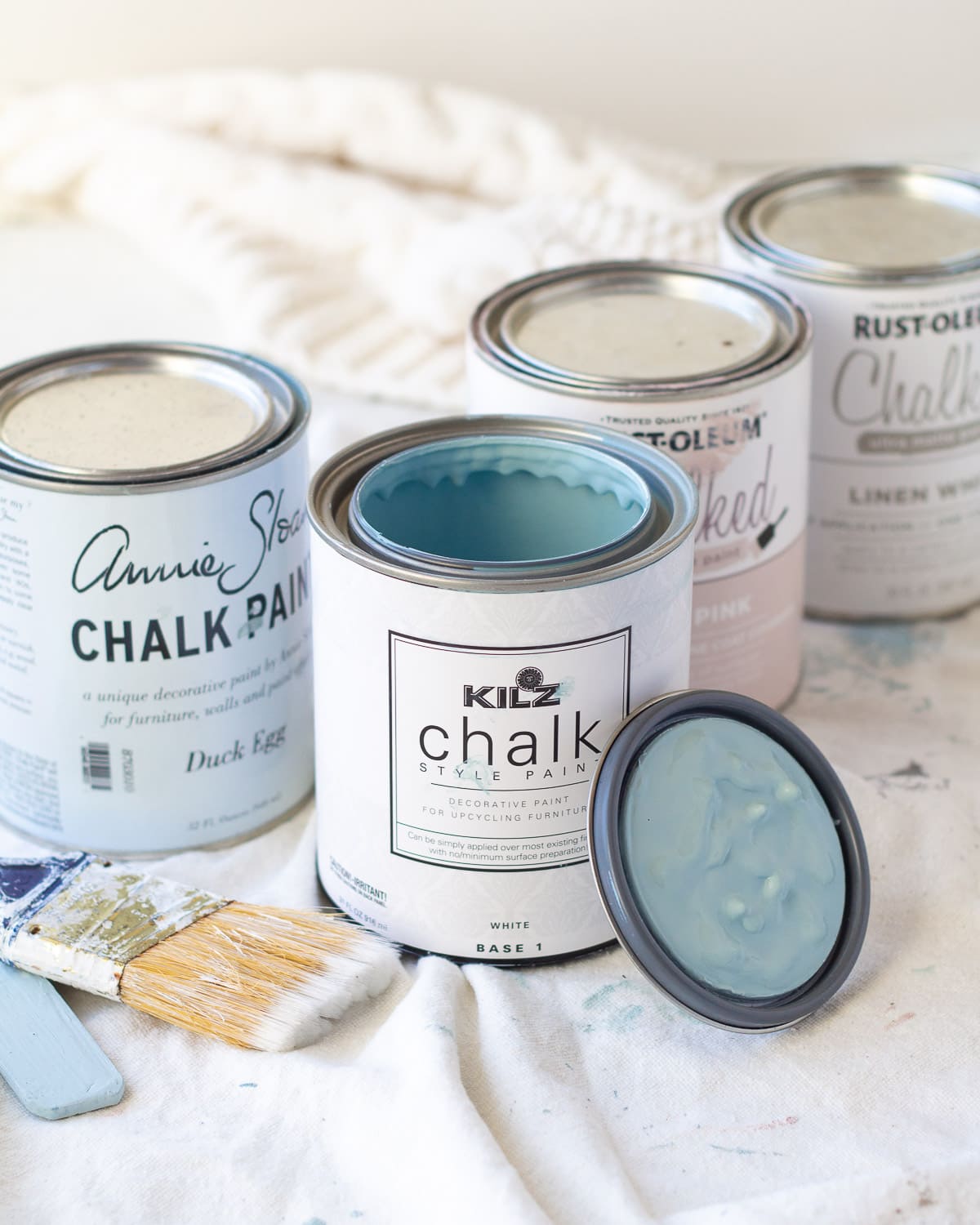 What Is Chalk Paint?
I have an entire post on this topic if you want to learn more about what chalk paint/chalk style paint actually is. But in summary, Chalk Paint is actually the creation of Annie Sloan. It's trademarked and all the other "chalk style paints" on the market are required to brand themselves differently (even though the final effect might be the same/similar).
Annie's paint is a matte finish, low-VOC furniture paint designed to adhere to surfaces without sanding first. It requires a top coat for protection against stains or damage and is easily distressed for a vintage look.
Before You Chalk Paint
I've honestly found that many chalk paint problems and frustrations can be alleviated by one simple step: read the can before purchasing and painting. Though the can doesn't have every detail you might need or want for painting success, it contains a lot of critical info. Some of which is:
VOC level – If you are looking for a very low VOC paint, stick with Annie Sloan's paint or Country Chic Paint (clay based). Read cans to determine where a paint falls on VOC levels.
Furniture prep – Though Annie Sloan promotes her paint as completely no-prep, other imitators on the market often suggest at least a light sanding before painting glossy pieces.
Time between coats – Follow these guidelines, because if you add a second coat (or top coat) too quickly you will likely end up with sticky and poorly finished piece.
Top coat suggestions – I like to test my top coat choice in an inconspicuous spot before finishing an entire piece, but knowing what the manufacturer suggests is quite helpful. Note that I generally don't like using wax–more on that at the end of the post.
Bleed through – though your can might not give you any hints for how to handle this (I've included some tips at the end of this post), it's helpful to know that no matter what the manufacturer claims, you may need to paint your piece with a special stain-blocking primer to solve this problem if it arises.
Chalk Paint Versus Regular Paint
Generally when people are inquiring about using chalk paint versus regular, they are curious about the differences of a paint like ASCP or Rust-Oleum Chalked sold in quart-size cans, compared to standard (and perhaps less expensive) latex paint.
Let's chat through a few of the differences of painting with a latex paint versus chalk paint and which paints work best for particular projects and scenarios!
Chalk Paint Doesn't Require Special Tools
I've seen professional furniture painters talk about how sanding, priming, and spraying furniture with latex paint is the only way to go. While this method looks amazing and gives a smooth factory finish…it's not the most practical for those of us that mostly only own a paintbrush.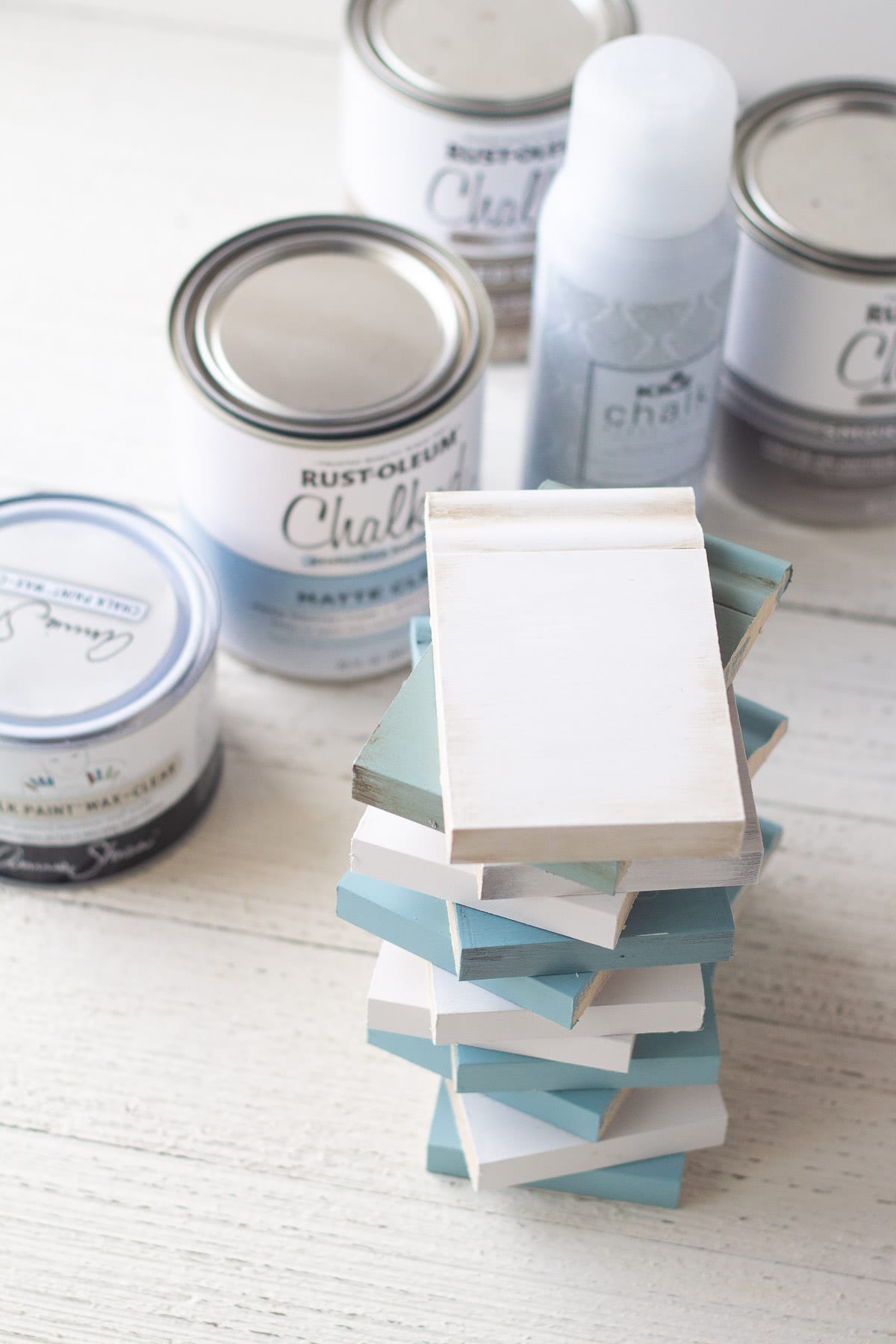 If you aren't ready to invest in serious tools and gear, then chalk painting is a great solution. You can avoid the expense of high-quality sanders, paint sprayers, and the like. Because, guess what? You don't have to sand your piece.*
Even if you'd like to sand your piece first (as I often do), you can get away with a quick scuff sand using an inexpensive sanding block.
Now all you need is a can of paint, a stir stick, and a paintbrush.
*As we talked about earlier, check your paint can because many paints do suggest a light sanding if you are painting a glossy piece. You can also just experiment on small pieces and figure out what you prefer.
Chalk Painting Doesn't Take a Lot of Space
If you've ever tried to paint a large piece of furniture like a hutch, dresser, or table, you know it's kind of a pain. It's usually convenient to set up shop in a garage or a free room in the house…if you have one of those.
But when we start talking about sanding a piece with an electric sander or using a paint sprayer? Anyone with a smaller dwelling (like an apartment or town home) might find that to be impossible. Instead, with chalk paint it's easy to place an old sheet or drop cloth under your furniture right where it is in your home and make it work for a few days while you paint it up.
No mess from sanders and paint sprayers to contend with.
That's one of the things I love about using chalk style paints. I can decide in an instant to change a piece in my home and start right away. No dragging furniture out to the garage or spending lots of time prepping a paint sprayer and spray area.
It's Faster Than "Regular" or Latex Paint
Which brings me to this fact, that most of us are seriously busy people. We manage to find time to do things we love, but time truly is limited.
So with chalk paint, most of what you have to do is clean your piece and then start painting. Adding a top coat takes some additional time, but not too much.
If you end up choosing to sand your piece or need to prime it, that can add extra time. Overall though, I find that when using chalk paint, my setup time is far less and I can easily jump in and out of working on the project as my schedule allows.
The downside is that if you discover your piece has stain issues/bleed-through, you are going to end up having to tackle the sanding/priming steps anyway. So, it can go either way–and truthfully sometimes it feels like a gamble!
Chalk Paint Sticks to Just About Anything
This is another point where I will remind you to read your can before getting started! But really, chalk paint even sticks to glass like milk bottles and mason jars. It's so great for crafts!
And what about this scenario: do you have some cheap furniture that is a few years old and mostly veneer? Ready for the trash heap, buuuut it still functions pretty well and you don't have the budget to completely replace it now?
Well, guess what? Chalk paint will not only stick, but it'll probably look pretty good. I still remember the first questionable project I tackled (old pic, sorry!). It was a Walmart kitchen cart with a real wood top. I thought, Ok, let's try and sand the wood top down and re-stain it, but I think I'm just going to go for it with the painting. And I did.
I sat down in my kitchen with the cart and painted it with Rust-Oleum Chalked in Linen White, spray painted the hardware, sanded & re-stained the top and it was done! And, it still looks awesome to this day (about five years later). No sanding. No priming.
Distressing and Artistic Finishes
Another thing that makes chalk paint desirable and unique is the ability to distress it easily. With a sanding block (or a baby wipe or old damp t-shirt) you can rub away paint to create a time-worn finish. This is not really something that works with latex paints.
You can also blend colors to create a beautiful ombre effect. Again, another area where latex paints might not work as well.
Let's Chat Top Coats
Now, we did talk about how chalk painting can save time, but one area where you might spend a little extra time is adding a top coat. I prefer a brush-on water-based poly top coat and I often use Rust-Oleum Matte Clear. It's much faster than wax and provides a strong finish.
I also really liked using KILZ Chalk Style Top Coat (spray can) for my IKEA Play Kitchen Hack. It was fast and dried to a very hard durable finish.
Latex paints don't usually require a top coat.
The Accessibility Of Chalk Paint
As I wrote this post, I started having some pretty deep thoughts about chalk paint. And one of the things that kept coming to mind was why it soared to such incredible popularity in the first place.
The fact is, before Annie Sloan's Chalk Paint was created and gained popularity (as well as the imitator products after the fact), painting furniture or transforming a home with paint just wasn't as easy.
Suddenly, Annie Sloan was offering the opportunity to customize almost anything in your home (even walls and fabrics!) with minimal effort, moderate expense, and a humble paintbrush.
Now, home transformation was not only easier, but accessible to more home-dwellers. Even when considering the pricier Annie Sloan cans, the ability to transform several pieces of furniture for the cost of a $40 can of paint was a game-changer.
And that, I think (regardless of some of the more technical aspects) is a huge reason why chalk paint rose to the heights it did–and continues to be so well-loved.
Chalk painting gives home-dwellers everywhere a chance to design, customize, and curate their home, even if they are operating with limited resources of time, budget, and space.
Things to Remember Before You Start Painting
If you are excited to start painting some furniture, let's talk through a few things you should know before getting started. Often, a lot of chalk paint "problems" are actually just misunderstandings about chalk paint.
Bleed through
Bleed-through staining is a problem with painting old furniture. Oftentimes, an all-purpose stain blocking primer is enough to solve a minor problem, but other times you need something much stronger. Like a shellac-based primer or Zinsser Shellac Sealer.
I suggest avoiding furniture made from woods like pine and cedar.
Brushstrokes
Chalk painted pieces will have brushstrokes. You can minimize them by thinning your paint a bit (in a separate container) before starting, but brushstrokes are part of the charm of chalk paint.
Wax
Wax is just kind of a hard product to learn and unfortunately the finished surface is still quite delicate even when applied correctly. I've seen well-used pieces become completely destroyed because the wax was not strong enough (kitchen tables, cabinets, vanities). Stickiness is another potential downfall of wax.
So even though "chalk paint and wax" go together (supposedly) like peanut butter and jelly, I think you can majorly improve your furniture game when you choose a stronger top coat.
Instead of wax, opt for something like a water-based poly. I use Rust-Oleum Matte Clear frequently and I like the way it has held up. I used it on a hutch that has stood in our dining area the last several years and it still looks awesome.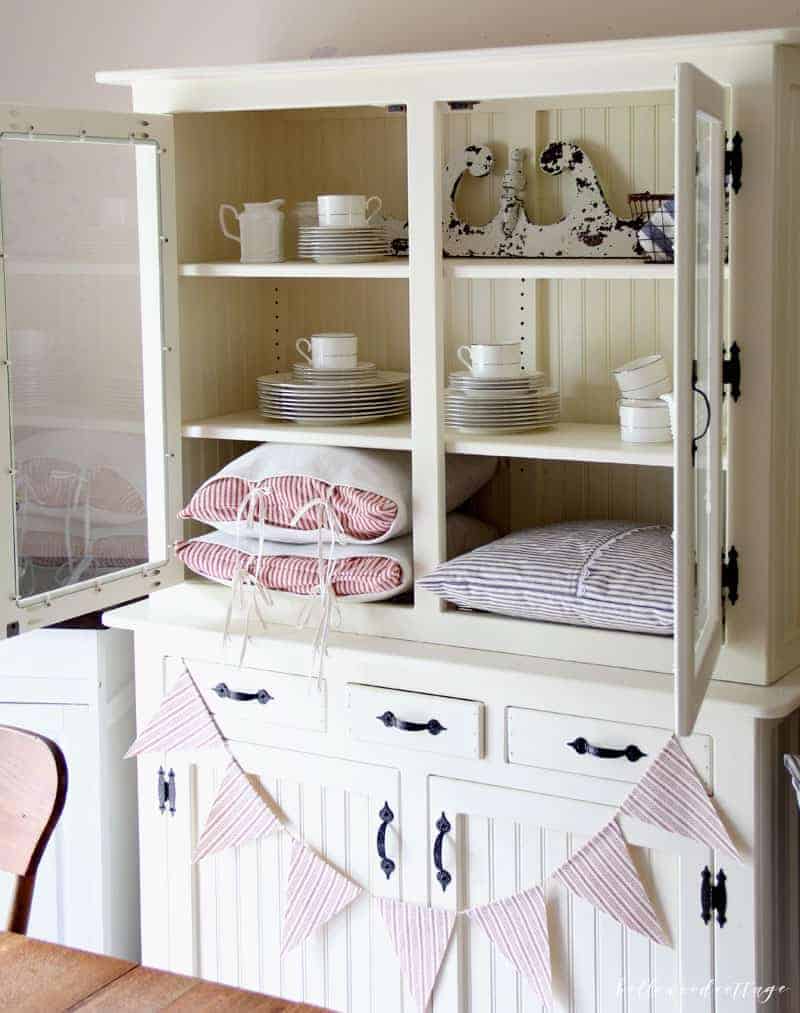 Even the doors which fit a bit tightly and rub each time they are opened are still in perfect shape. Using a spray aerosol is also an option for smaller projects. My post on chalk paint top coat options has more details on other options.
Limited Color Selection
Sometimes it's hard to find just the right color of chalk paint. I would suggest checking out Behr's Chalk Style Paint as they have hundreds of colors to choose from.
You could also custom mix your own color from other chalk paints and Country Chic Paint (a clay based paint) also has a large selection.
My post on where to buy chalk paint is filled with more brands to check out.
Expense
Sometimes chalk paint feels expensive, but it doesn't have to be! You really can find some great deals on chalk style paint. My how to save money on chalk paint post has more tips. You can also purchase locally or online from a small business and feel great about where your dollars are headed. The paint cans also tend to last for several pieces.
Kitchens and Bathrooms
While the final result depends a lot on the top coat you choose, there are many instances of poor finishes from using chalk paint on kitchen cabinets or bathroom vanities. These high-moisture, high-traffic areas seem to do better when approached with the strongest most-durable products out there.
While that's not to say it can't be done, I would suggest that you will likely have greater success and longevity choosing a different paint for the expensive and time-consuming updates in these areas of the home.
In Review
I hope this post gave you a little more to think about if you are weighing the options of chalk paint versus regular (latex) paint. Though I love trying new things as I paint furniture, chalk style paints will always be a go-to resource for me because of the ease of use and the beautiful finished products.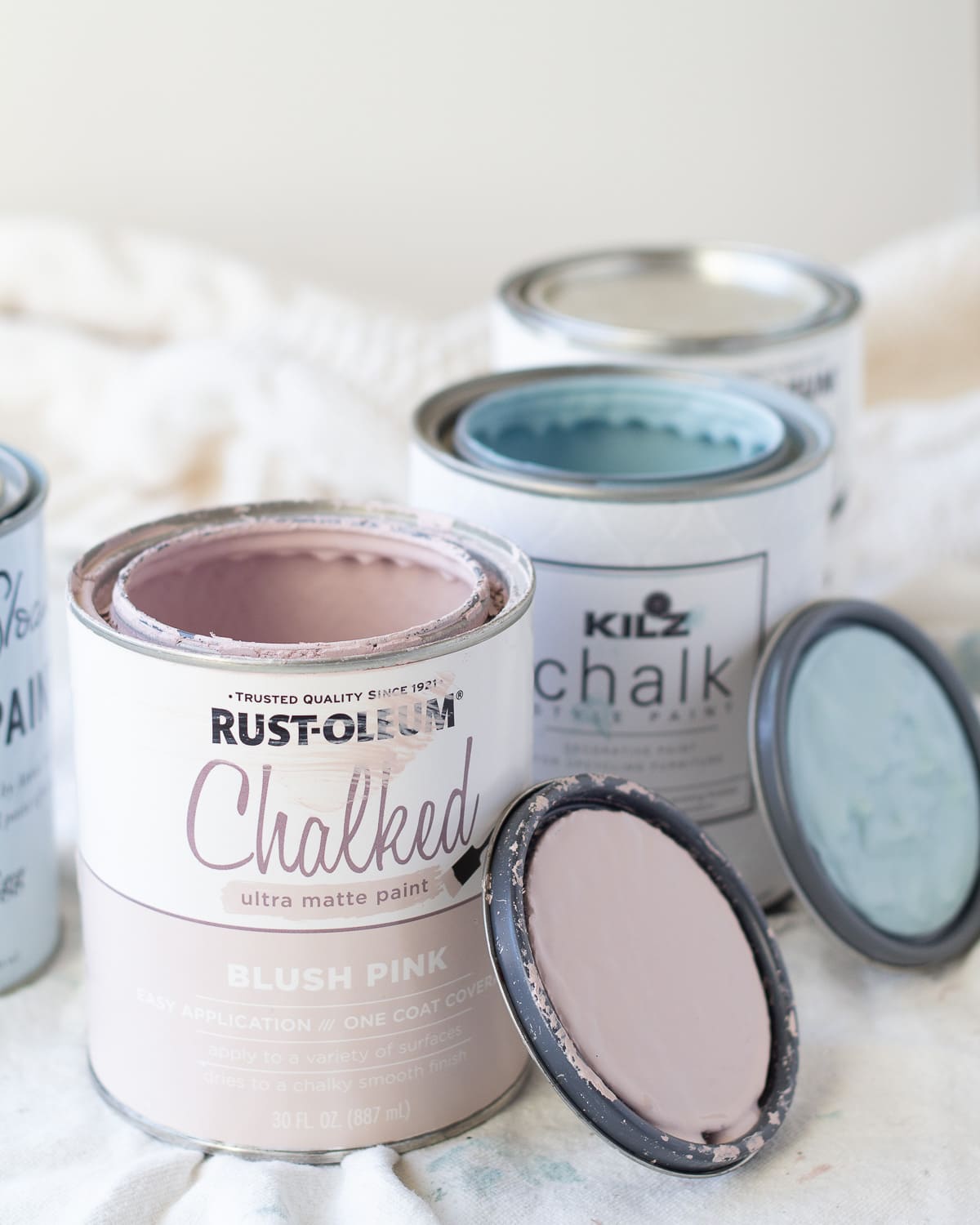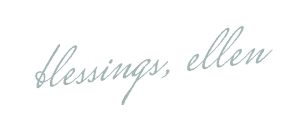 More About Chalk Paint