Salt Dough "Gingerbread" House Ornaments
Learn how to make these DIY salt dough gingerbread house ornaments for your Christmas tree (or to use as gift toppers) with simple supplies and a quick tutorial!
Please note that this post contains affiliate links which allow me to earn a small commission when a purchase is made at no additional cost to you. Read more here.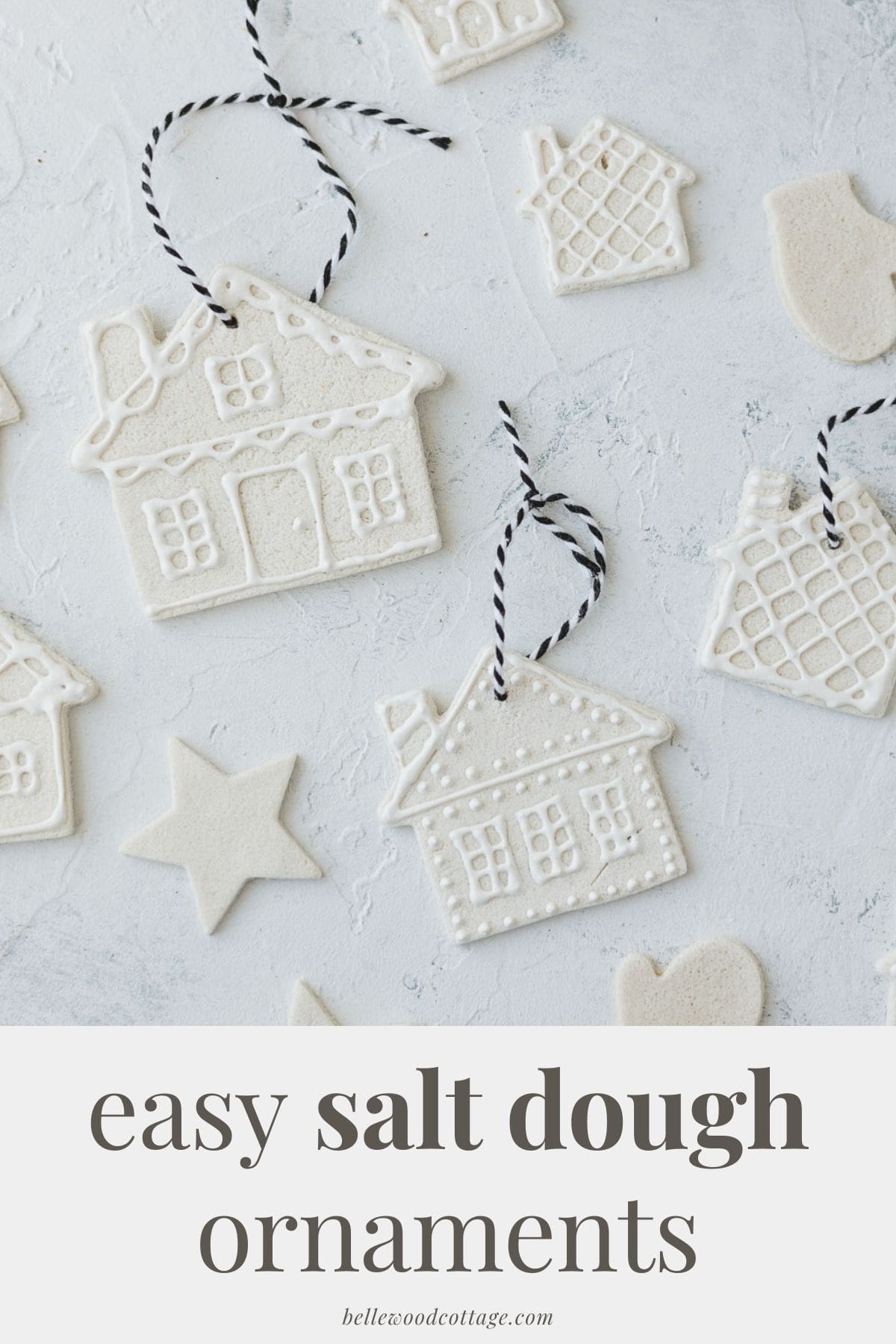 After making these mini Salt Dough Gingerbread Houses, I wanted to continue on the "house" theme. I decided to make flat houses for Christmas tree ornaments or gift toppers. It was easy to find a cute set of house cookie cutters on Amazon, so I snapped those up and got to work!
Love free craft ideas? Subscribe to Bellewood Cottage for more fun and relaxing craft ideas straight to your inbox.
What You Need to Make the Ornaments
These little ornaments are so simple–you just need a few supplies and my favorite salt dough clay recipe.
Salt Dough Recipe – You'll need to whip up a quick batch of salt dough. Follow my salt dough recipe here (make the whole recipe for lots of houses or halve it). The recipe is three ingredients–just flour, salt, and water.
House Cookie Cutters – This set of house cookie cutters from Amazon was my starting point for these salt dough houses. The cutters worked great and included four sizes.
White Puffy Paint – I wanted a neutral farmhouse-style feel for these ornaments, so I went with a white puffy paint for decorating, but feel free to use any color you'd like!
Baker's Twine – I used this black and white baker's twine or you could use ribbons or similar.
Other stuff – A toothpick for making holes, baking sheet, rolling pin, additional flour (for rolling out as needed), and other decorations you might want.
Discover more handmade ornaments tutorials here!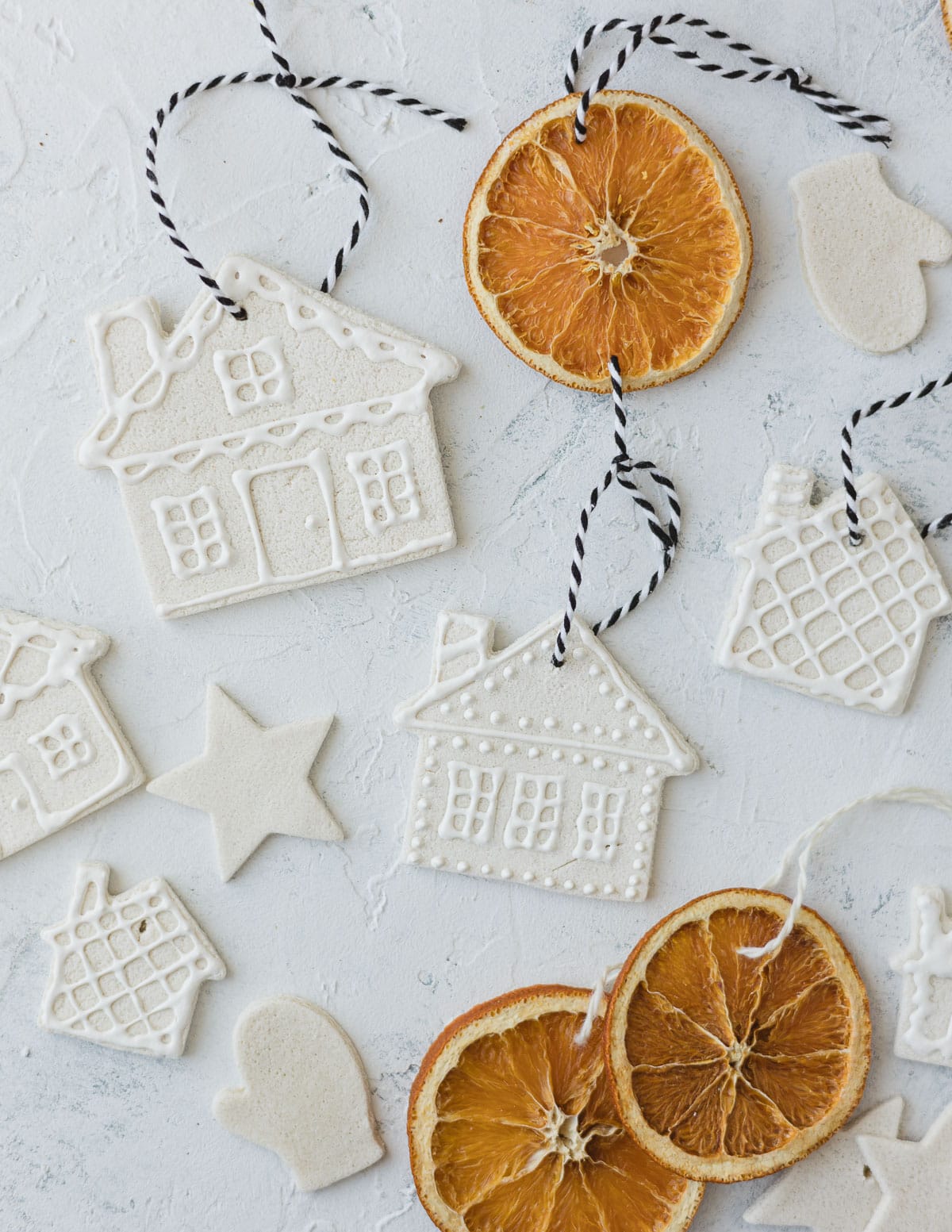 How to Make Salt Dough Gingerbread House Ornaments
Ready to get started? First, we need to make some salt dough.
Mix up the salt dough
Whip up your salt dough following this recipe. It's just three ingredients (flour, salt, and water) so it comes together very quickly. Salt dough creations can also last for years–which makes it a great choice for DIY Christmas decorations you want to use repeatedly.
Note: The recipe includes tips and tricks on baking the clay and storing the ornaments.
As you stir up the dough, if you need to add more flour or water to get the right consistency (you don't want it to be sticky or hard to handle), feel free.
Roll the dough
Roll out the dough to about 1/8″ to 1/4″. I usually go a little on the thinner side, but the 1/4″ thickness makes much sturdier ornaments of course.
Using your set of cookie cutters, cut houses until you've used up all the dough. Re-roll and cut scraps as needed. Don't forget to use a toothpick (or a straw) to add a hole for hanging.
Dry the ornaments
Allow salt dough ornaments to air dry for a "salty" look on both sides. I find that to get this appearance, I have to let the ornaments air dry on a cookie sheet and flip them every 12+ hours until they are dry. This process can take a few days or more depending on the thickness of your ornaments.
Alternatively, you can oven dry the ornaments (in my recipe I recommend a 200-degree F oven for about 1 hour or until dry, flipping halfway through). If you oven-dry, you'll usually get a "salty side" (the lighter white side in the photo) and a "sugar cookie" side–a light brown that looks more like a baked sugar cookie.
Decorate with puffy paint
After the ornaments are dry, use a bottle of white puffy paint to draw designs for decoration. Use real gingerbread houses as inspiration.
The puffy paint has a fairly small tip, but it's not quite as small as I'd like for ultra detailed designs. I may have to continue to experiment with other suitable options!
Follow the instructions on the bottle to allow the paint to dry completely before hanging.
Cut several inches of the baker's twine or ribbon and loop through the hole you made when cutting out the ornaments. Join the ends together to make an ornament hanger. Knot the ends and trim.
Puffy paint is excellent for decorating salt dough creations and you can use this idea to create holiday décor throughout the year. Try cutting out hearts and decorating with pink or red puffy paint for Valentine's day. Or perhaps fall leaves for autumn. Great for making custom decorations for themed birthday parties too.
Happy Crafting! ~Ellen
Craft with me! If you try this tutorial, tag me on Instagram or use the hashtag #BellewoodCottageCrafts. Watch my videos on YouTube and follow along on Pinterest for more ideas like this one!
More Christmas Crafts: