20+ Mason Jar Christmas Décor Ideas
Mason jars are beautiful used around the home at Christmastime. Whether you fill a jar with colorful Christmas potpourri, dress up a few jars as snowmen, or even paint "Christmas sweater" jars, the project ideas are endless! I hope you love this list of over 20 Mason Jar Christmas Décor Ideas!
Please note that this post contains affiliate links which allow me to earn a small commission when a purchase is made at no additional cost to you. Read more here.
Planning a cozy holiday craft night? Any of these projects make excellent craft-time picks and you can use the finished jar in your Christmas décor too. Don't forget the hot chocolate!
DIY Christmas décor is my favorite because it's so budget-friendly. Every year I get drawn in by the yards of evergreen garland on Instagram, the smashing new Christmas trees, and basically ALL the Christmas things that Joanna Gaines releases.
But, the truth is, all those festive purchases add up fast! So, why not add a little holiday décor to your home using things you already have? These mason jar Christmas décor ideas are easy to make and budget-friendly (some are even basically free to make).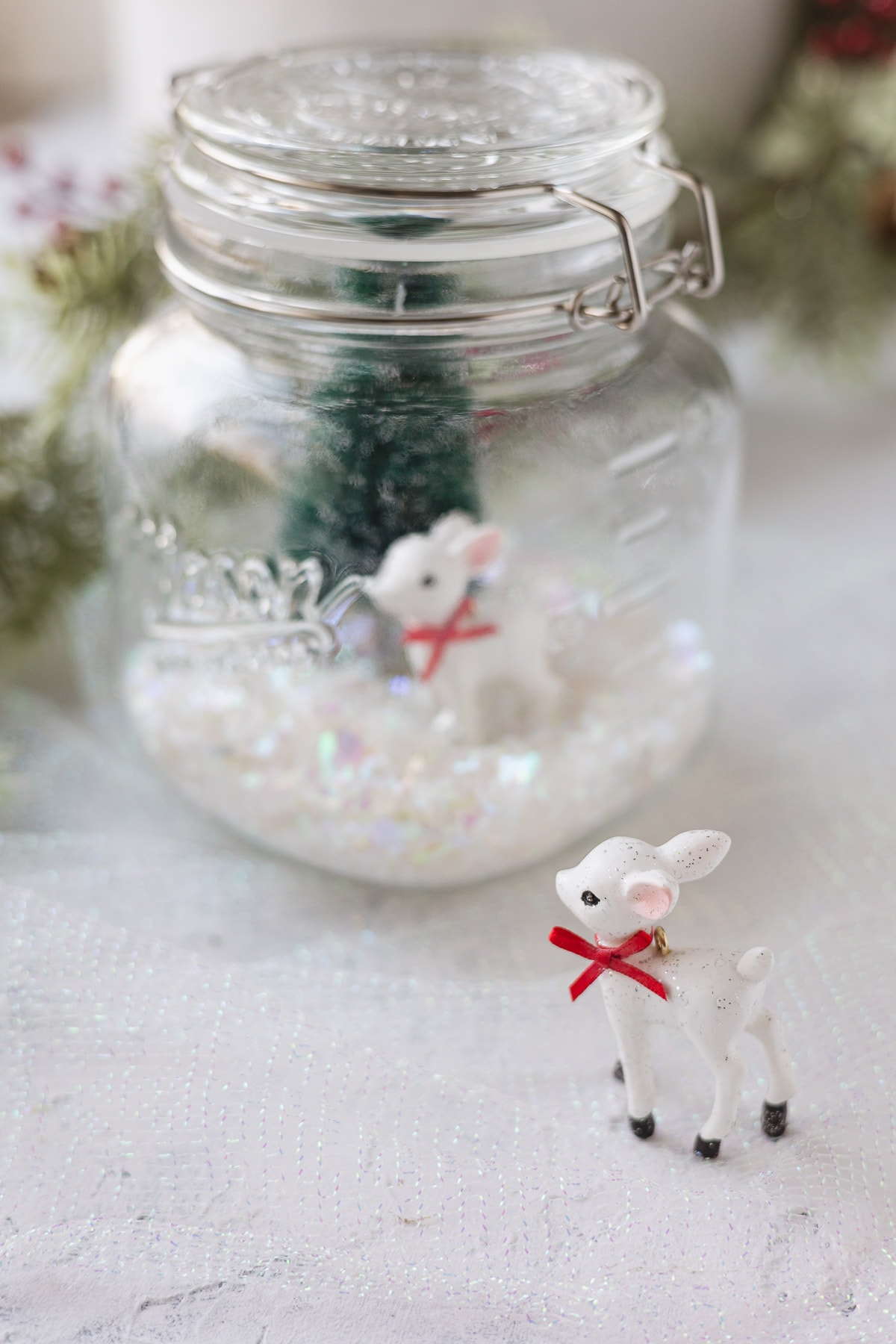 My mason jar Christmas scene (shown above) only requires a glass jar, a favorite ornament or two, and a little faux snow. A Mason Jar Floating Candle (Mommy Musings) is simple to make and beautiful on any holiday tablescape. Or, just fill jars with candy canes and evergreen scraps (Candy Cane Mason Jars, Cherished Bliss) for simple, free, and festive holiday décor.
Find all these Christmas crafts-in-a-jar and more below!
Love free craft ideas? Subscribe to Bellewood Cottage for more fun and relaxing craft ideas straight to your inbox!
What You Need to Craft Your Own Holiday Jars
Jars – The first thing you'll need is jars! Look around your own home first to see what you find, but if you need to buy some fresh jars, here's a few ideas:

Paint – Paint is transformational and I have a whole tutorial on how to paint mason jars right here.
Embellishments – For glitter, ribbons, tags, and even more festive holiday craft supplies, check Michaels. It's easy to order online, OR for even more holiday fun go browse the shelves and see what you find!
Mason Jar Christmas Décor Ideas
Think creatively as you peruse these mason jar Christmas crafts and see what new ideas you come up with too!
Mason Jar Christmas Scene Décor
This Mason Jar Christmas Scene is easy to customize and takes minutes to put together. Read the tutorial for my tip on how to get everything to stay put inside.
Glittery Candy Cane Jar
A Candy Cane Christmas Jar from Sustain My Craft Habit is a colorful craft that'll add pizzazz wherever you place it!
Candy Jars
These M&M Candy Jars with Printable Gift Tags can double as Christmas décor and small gift ideas. Fill a basket with these and display them until you are ready to gift.
Ticking Stripe Mason Jars
Here I've simply painted a mason jar white, distressed it, added a mini wreath I already had, and cut a ticking stripe bow for the top. Add a small LED candle inside or fill with evergreen branches for a basically free DIY décor idea.
Mason Jar Floating Candle Craft
Not just for weddings! Make these Mason Jar Floating Candles from Mommy Musings for a budget-friendly DIY holiday décor idea.
Stovetop Potpourri in a Jar
Decorating for Christmas isn't just about the visual decorations. Fill your home with the sweet and spicy scents of Christmas with this easy Mason Jar Stovetop Potpourri from Mommy Made That. A label is included for gifting too.
Christmas Gifting Jars
For a creative way to wrap presents try these Gifting Jars with a Christmas Topper from Mommy Made That.
Mason Jar Nativity Scene
I just loved this project when I saw it! A Mason Jar Nativity Scene (using a Cricut) from Country Chic Cottage.
Poinsettia Christmas Gift Jar
Top a gift jar with poinsettias! Poinsettia Christmas Gift Jar from Sustain My Craft Habit.
Mason Jar Snow Globe Craft
I included several mason jar snow globe projects here because I couldn't choose a favorite! This Mason Jar Snow Globe from Mason Jar Crafts Love is filled with a car moving a Christmas tree and it's just too cute. Great project to involve the kids in.
Christmas Sweater-Inspired Mason Jars
Love these jars! Christmas Sweater Mason Jars from Mason Jar Crafts Love is another great Christmas craft you can use for décor or gifting.
Snow Globe Ornament
The tiniest of bottle brush trees fill this Mason Jar Snow Globe Ornament from Joyful Derivatives.
Mason Jar Snow Globe
And here is the larger Mason Jar Snow Globe version from Joyful Derivatives too. I love the simplicity of just including the bottle brush trees–great for a neutral décor scheme.
Christmas Potpourri
Here's another Christmas Potpourri recipe, this one from Yellow Bliss Road. A pretty gift tag (complete with the recipe and instructions) is included with this tutorial.
Distressed Farmhouse Style Mason Jar Christmas Décor
Sweet and simple. Use a painted and distressed mason jar, some jute twine, and evergreen boughs for this Evergreen Mason Jar from Love Grows Wild.
Mercury Glass Jars
Kimberly has mastered the mercury glass effect and if you love that look, you'll definitely want to try these Mercury Glass Jars from A Night Owl Blog.
Christmas Candy Cane Mason Jars
So simple and lovely! Just fill jars (vintage jars are even better!) with candy canes and evergreen boughs for these Christmas Candy Cane Mason Jars from Cherished Bliss.
Christmas Treat Jars
Adorable. Décor? Gift? You decide! Christmas Treat Jars from Crazy Little Projects. Make a Santa, Reindeer, or Snowman with Amber's tutorial.
Santa Belt Gifting Jar
Fill this Santa Belt Gifting Jar with holiday treats! A tutorial from Crazy Little Projects.
Snowman Mason Jar
What a clever Snowman Mason Jar! From DIY Candy.
Santa Mason Jar
This Santa Mason Jar from DIY Candy is another cheerful and whimsical project that can be used for decorating or gifting!
I hope you enjoyed this roundup of mason jar Christmas décor ideas. I know you'll love crafting these jars and creating your own DIY holiday décor. If you have any more ideas or creations to add to this list, I'd love to hear about them!
Craft with me! If you love to craft, follow along on Instagram and Pinterest or watch my videos on YouTube for more ideas like this one!
Happy Crafting! ~Ellen
More Christmas Crafts