How to Cut Washi Tape Quickly and Easily
What are the best ways to cut washi tape quickly and accurately? Here I show you five different ways to trim washi tape easily! Plus, we'll talk about washi tape cutters and if I think they are useful.
Please note that this post contains affiliate links which allow me to earn a small commission when a purchase is made at no additional cost to you. Read more here.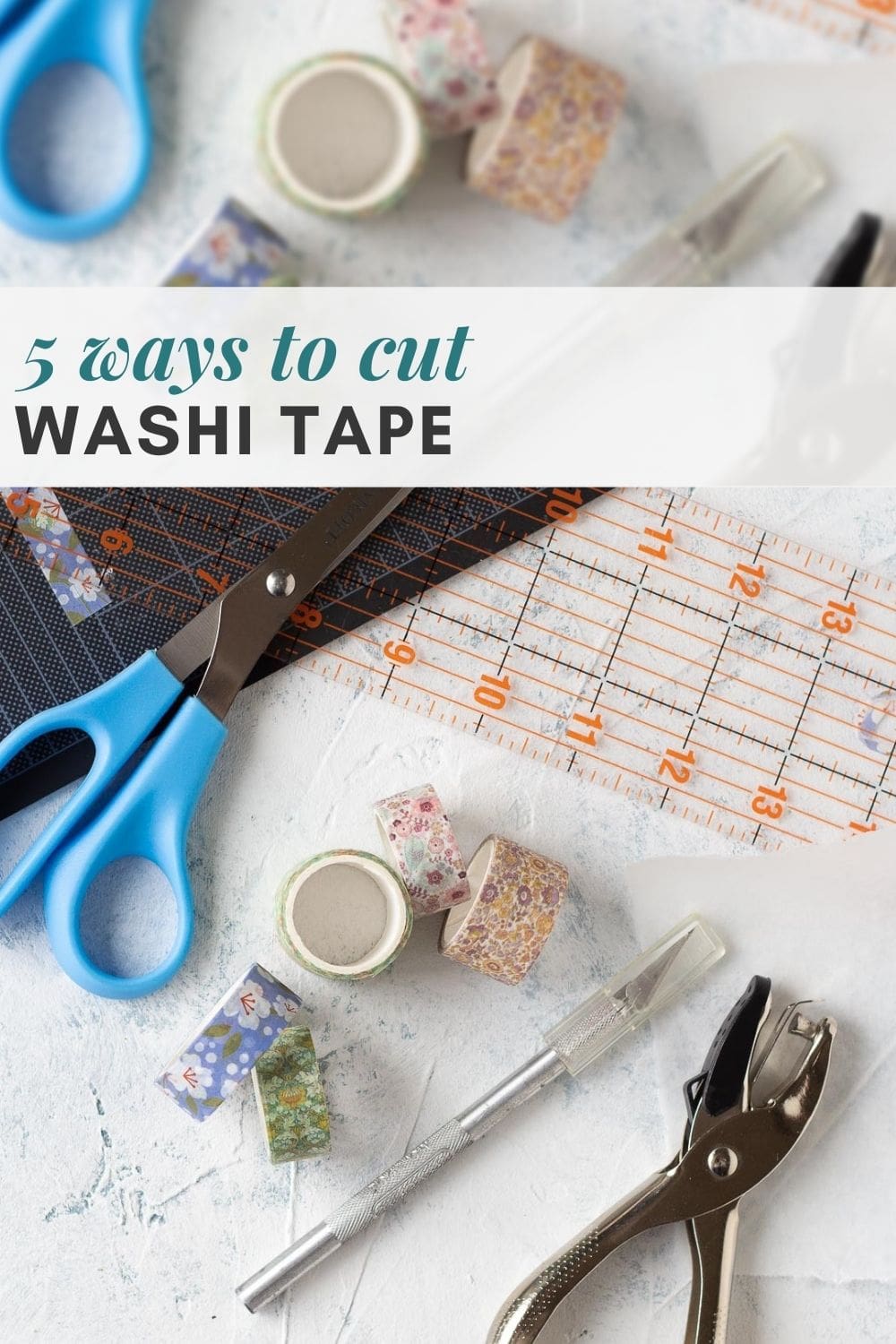 Chances are, if you've arrived here from Googling "how to cut washi tape", you're probably looking for some additional tips besides, "tear it off the roll!" Here I'll share with you some tips and tricks for how to cut washi tape–even into tiny precision pieces.
Let's get started with the most basic techniques!
How to Cut Washi Tape
If you're using washi tape for crafts, cards, or bullet journaling, it's easy to simply tear a piece off the roll and go. But if you're looking for more detailed tape cutting, I've got suggestions for you. Plus, we'll talk about fancy washi tape cutters and if you need them.
Love videos? Watch the video instead:
Tear It
Simply unroll the length you need, tear the end and apply to your project. Tear the first end too (if it was a cut edge) so the sides match.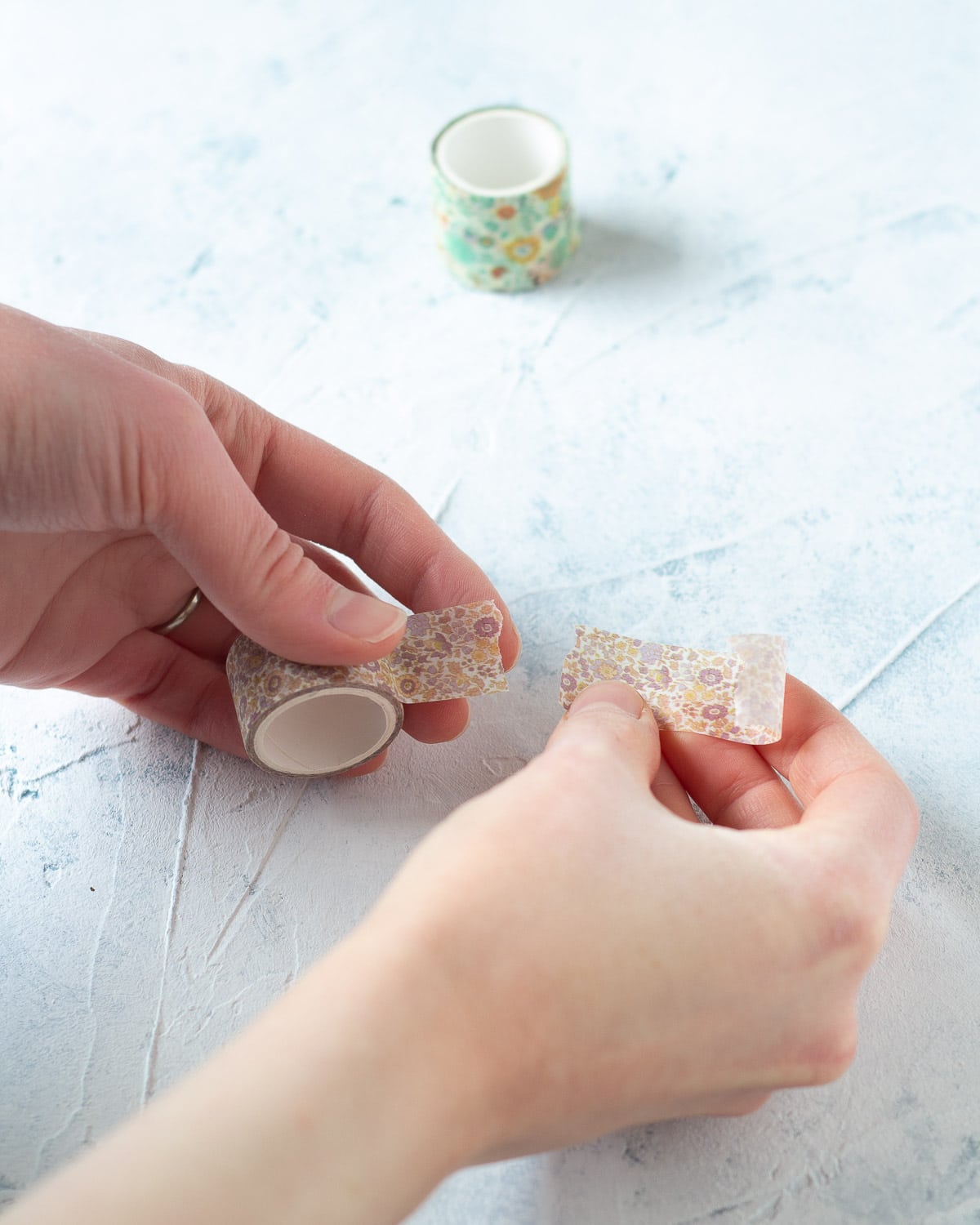 Use a Straight Edge
Apply your washi tape and align a plastic ruler or giftcard where you'd like to tear it. Pull the roll upwards to tear.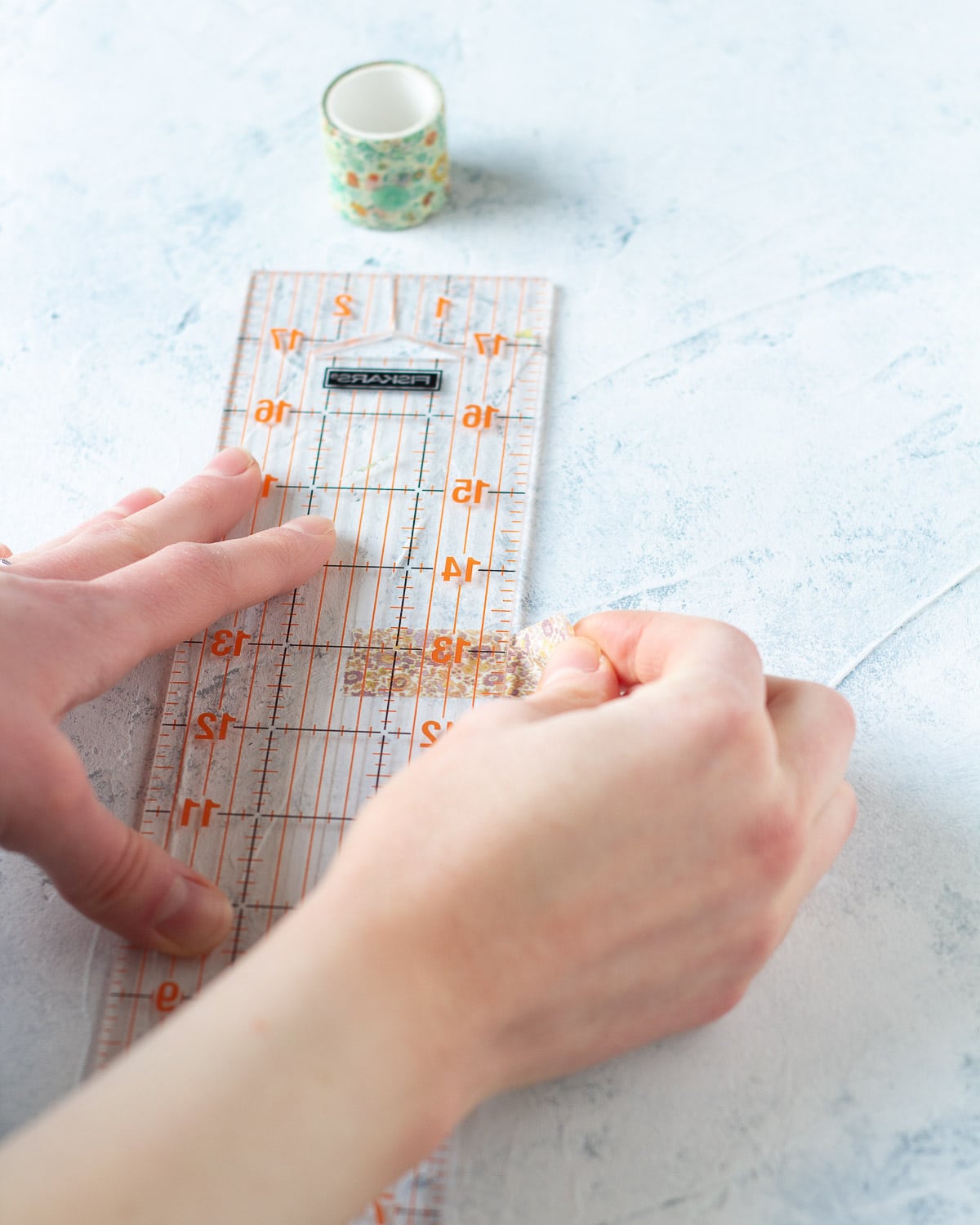 Use Scissors
If you use a lot of washi tape for crafts, bullet journaling, etc. you might want a pair of dedicated scissors as they can sometimes become sticky from the adhesive on washi tape.
Sticky scissors? If your scissors are sticky after cutting washi tape, grab a cotton ball (or scrap of soft fabric) dipped in vinegar and run it down the blades to remove stickiness. Wipe dry if needed.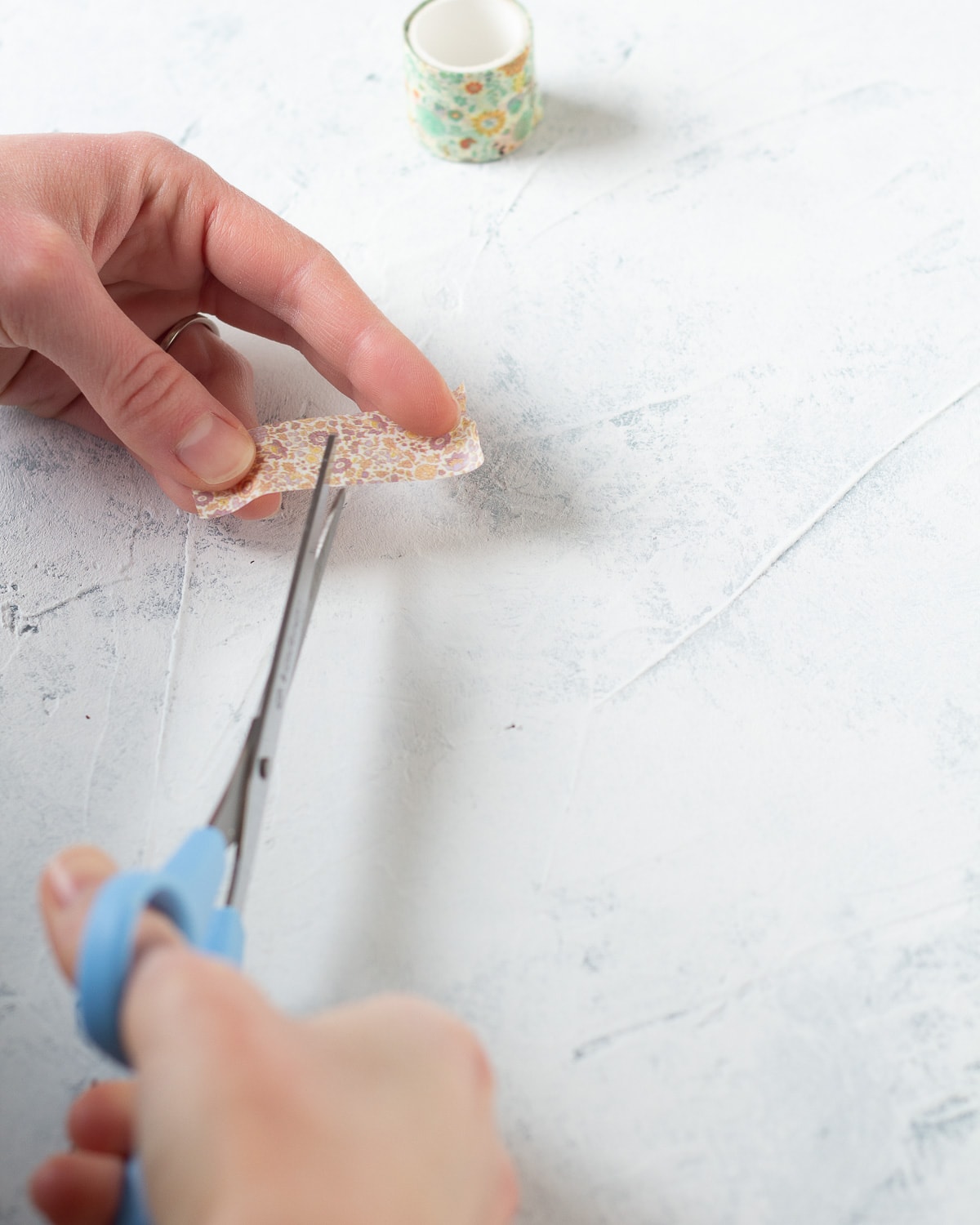 Use a Craft Knife, Cutting Mat, and Ruler
Using a craft knife and self-healing cutting mat is my favorite method of cutting washi tape. I like trimming the tape into small pieces and shapes and using them to create patterns on cards or décor. I used scissors in the video for the Washi Tape Christmas Ornaments, but the craft knife and cutting mat would be excellent for that project.
Grab a plastic ruler (mine is a larger quilting ruler) to help you make the cuts.
Apply a section of washi tape to your cutting mat and use the guidelines on the mat and your ruler to make tinier cuts. I often trim washi tape into very thin strips, triangles, or "confetti" squares.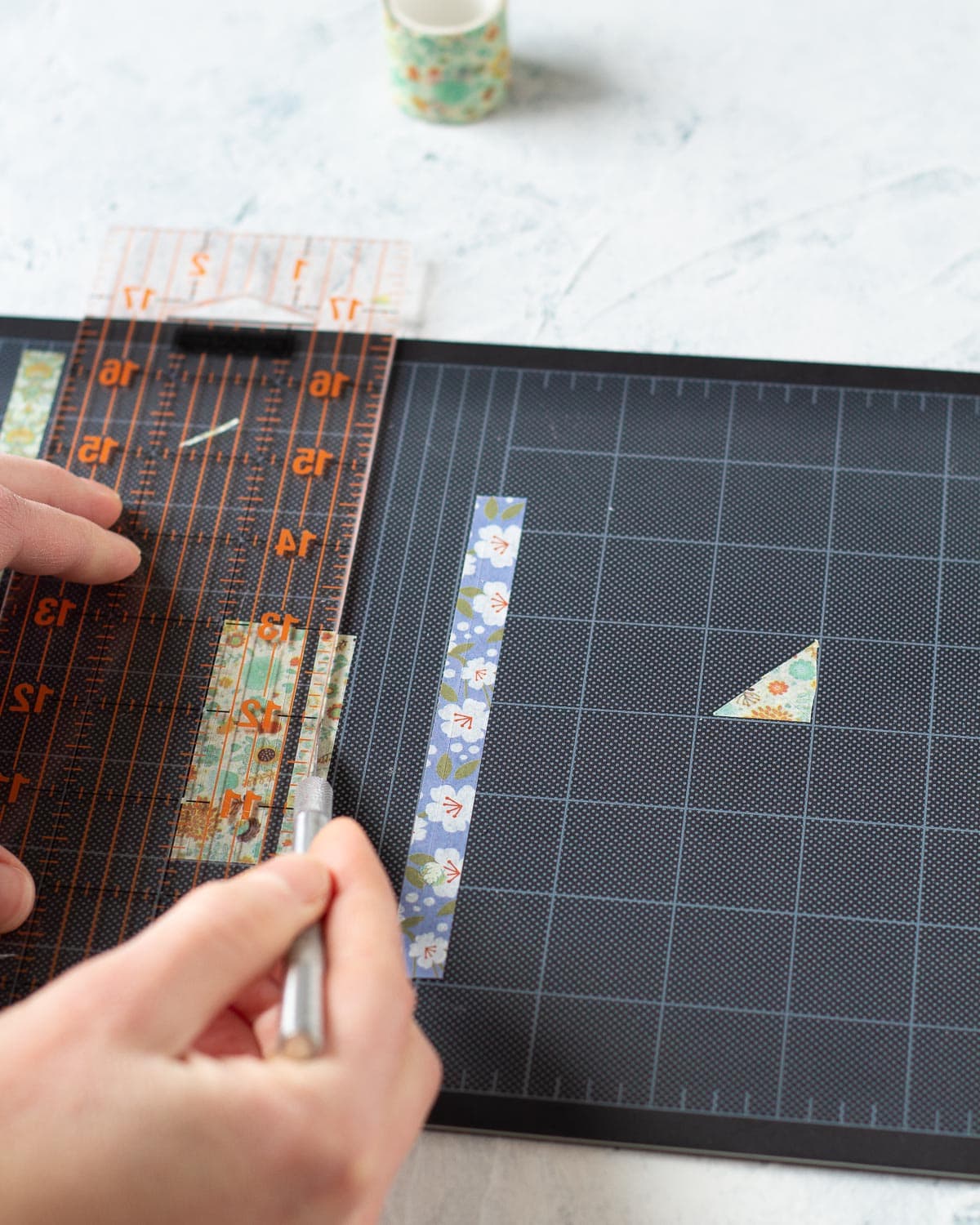 Apply medium pressure with the knife to make cuts. And always use care when working with a craft knife!
You can use the blade to help lift the tape pieces.
I also used this method to trim away washi tape in this easy washi tape wall art project. If you don't have cutting mat yet, you can purchase a small inexpensive one.
A Hole Punch and Parchment Paper
Say you want some perfect circles of washi tape, why not use a hole punch? The problem is that a hole punch doesn't work great with thin/sticky washi tape on its own.
So, apply a strip of washi tape to a scrap of parchment paper and then punch away. My punch hasn't really gotten sticky from doing this, but be careful about using a favorite punch in case the adhesive makes it sticky. These circle ones are so cheap I don't mind using mine for washi tape from time to time.
I found that the washi tape would often fall away from the parchment as it was cut, but if it doesn't, just peel away the parchment to use.
Here's some tiny bud vases I decorated with the washi tape polka-dots, stripes, and triangles: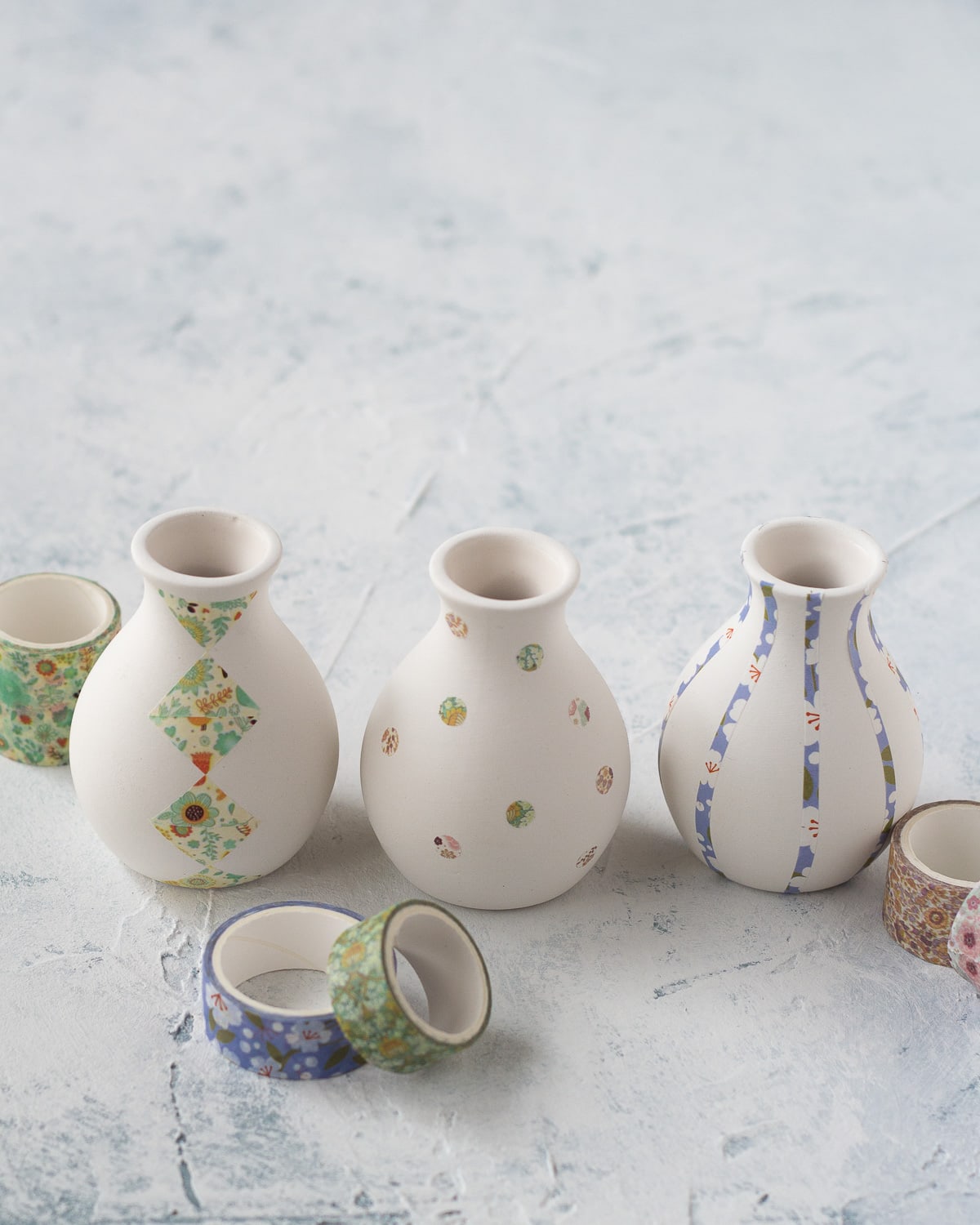 Do I Need a Washi Tape Cutter?
Nope! I didn't even know these existed when I first started using washi tape. I find that scissors or a craft knife work just fine.
A washi tape cutter (here's another example) works by clipping onto a roll of washi tape and then working just like a standard household tape dispenser. They are a fun novelty, but they certainly aren't a requirement.
The downside is that you have to move the cutter each time you want to use a different roll of washi tape. Unless you only own a few rolls of washi tape, it's not very practical. It can also be hard to gauge how much washi tape to cut and you'll only be able to use the cutter with washi tape that fits inside.
Another option is this cutter/organizer that is more like a giant tape dispenser. This is a bit more practical because it will store the tape neatly as well as cutting it quickly.
What's Your Favorite Way to Cut Washi Tape?
I'd love to hear your tips for cutting and using washi tape! Share with me in the comments below.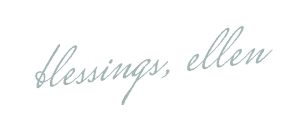 Washi Tape Ideas