No Bake Banana Pudding without Cool Whip
My no bake Banana Pudding Recipe features classic vanilla wafers, slices of fresh banana, a creamy vanilla pudding, and homemade whipped cream. This no bake dessert is only seven ingredients and does not include Cool Whip or sweetened condensed milk.
Please note that this post contains affiliate links which allow me to earn a small commission when a purchase is made at no additional cost to you. Read more here.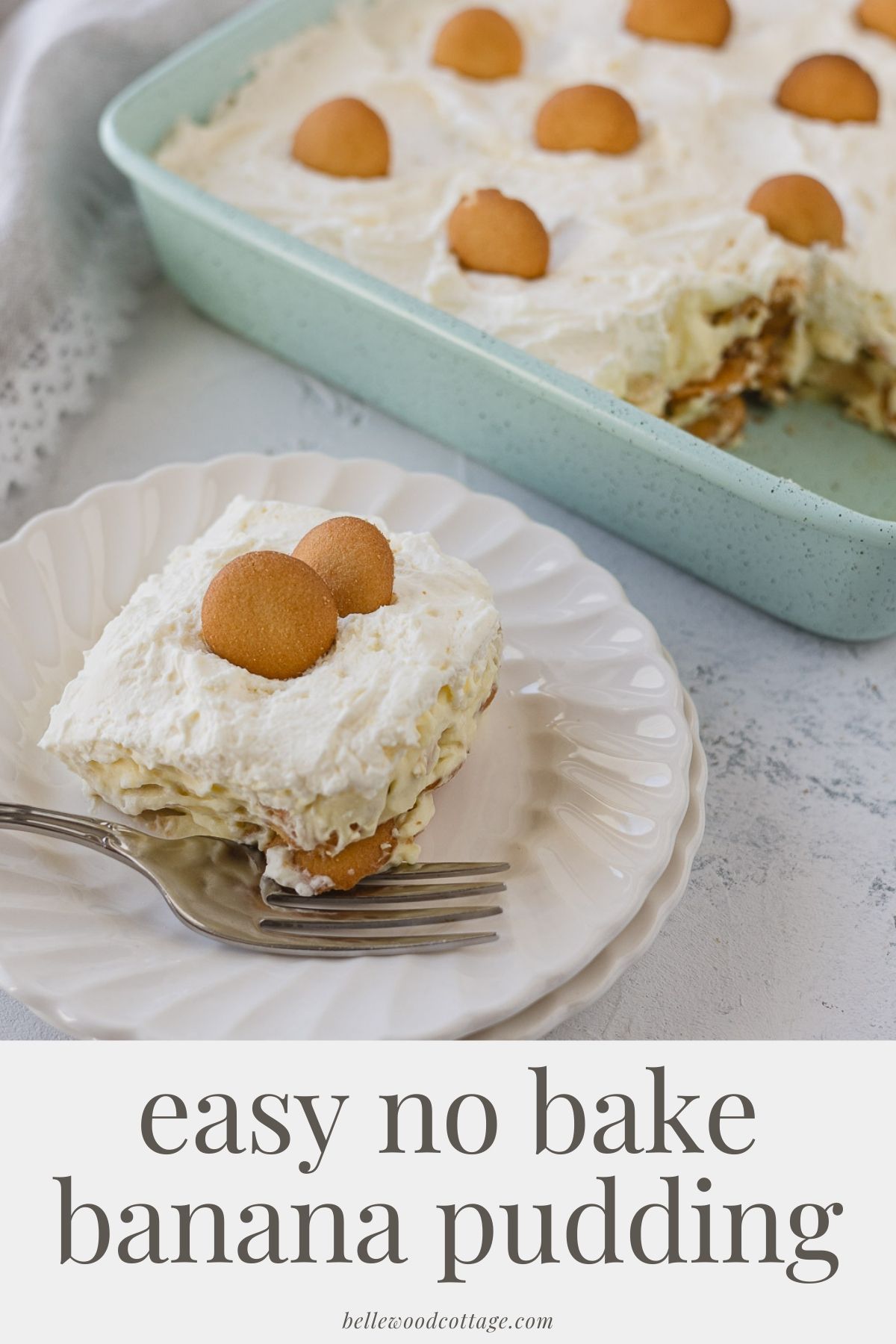 No Bake Banana Pudding is a classic easy dessert. While deciding how I wanted to tackle this recipe, I knew I wanted to maintain a banana pudding that was easy to make. I did however, want to impart a little more homemade flavor into the recipe.
I compromised by whipping up a large batch of homemade whipped cream instead of using Cool Whip. In addition to sugar and vanilla extract, I used part of an instant vanilla pudding packet to create a stabilized whipped cream (Stabilized Whipped Cream idea from Food.com).
This whipped cream isn't just used to top the dessert. It's also used to lighten the prepared vanilla pudding mix to create a soft and luscious layer with more flavor than out-of-the-box pudding.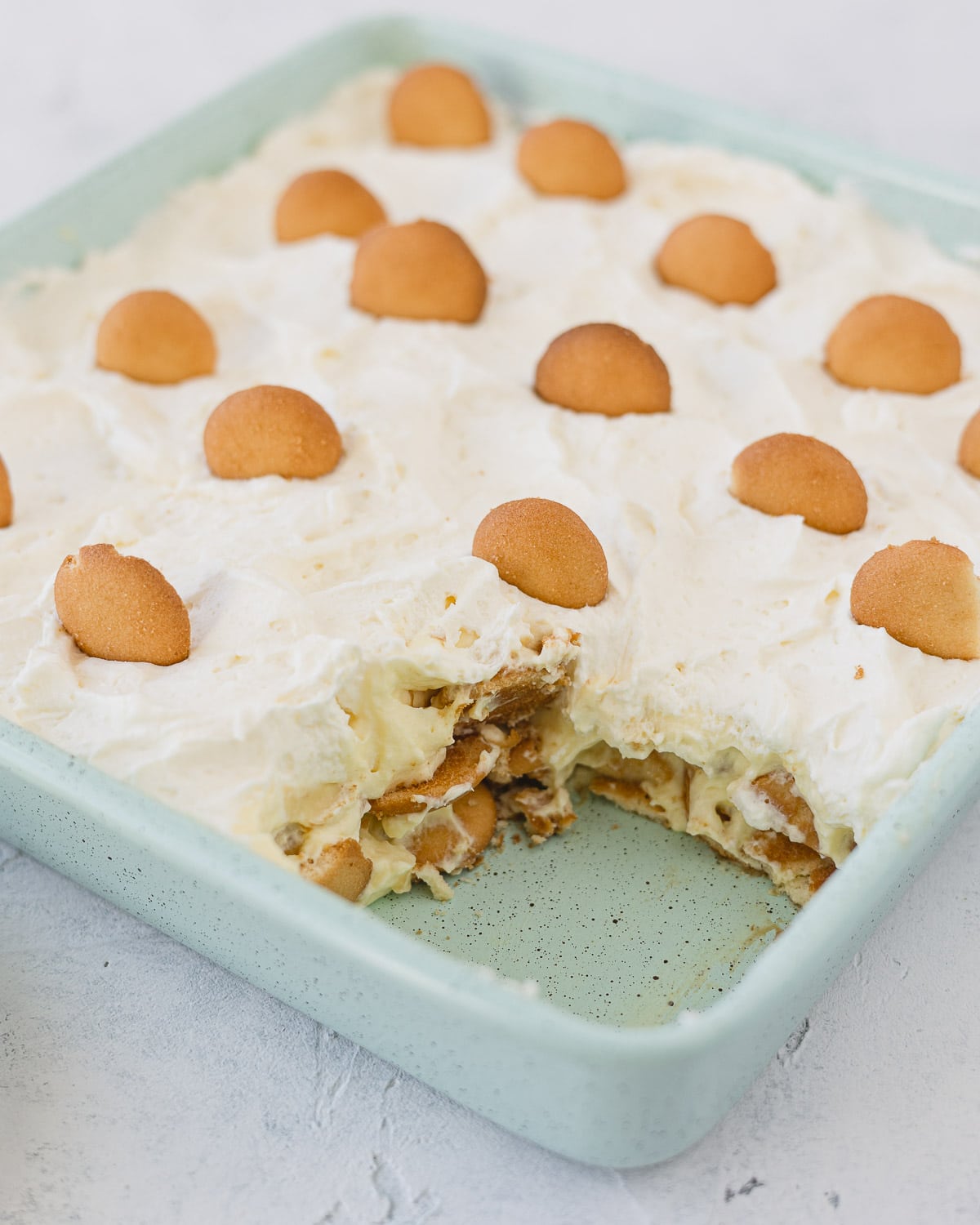 The dessert does need to chill for the cookies to soften–I suggest 4-6 hours. Because of the sliced bananas, I like to eat this dessert the same day as preparing it. You can also serve after an overnight stint in the fridge, but the bananas may start to brown.
This recipe is prepared in an 8″x8″ square pan. You can for sure double it for a larger dessert, but this amount is excellent for a family dinner or small gathering. Note: I accidently photographed the dessert in a 9″x9″ pan (face palm), so yours will be thicker than the photo demonstrates.
Switch it up:
If you want to switch things up a bit, try exchanging the cookie layer for another favorite cookie. I used Biscoff cookies in my original recipe test and that was delicious. I think a crispy chocolate chip cookie would also be excellent.
Ingredients You'll Need:
Ready to start making No Bake Banana Pudding without Cool Whip? Here are the ingredients you'll want to gather: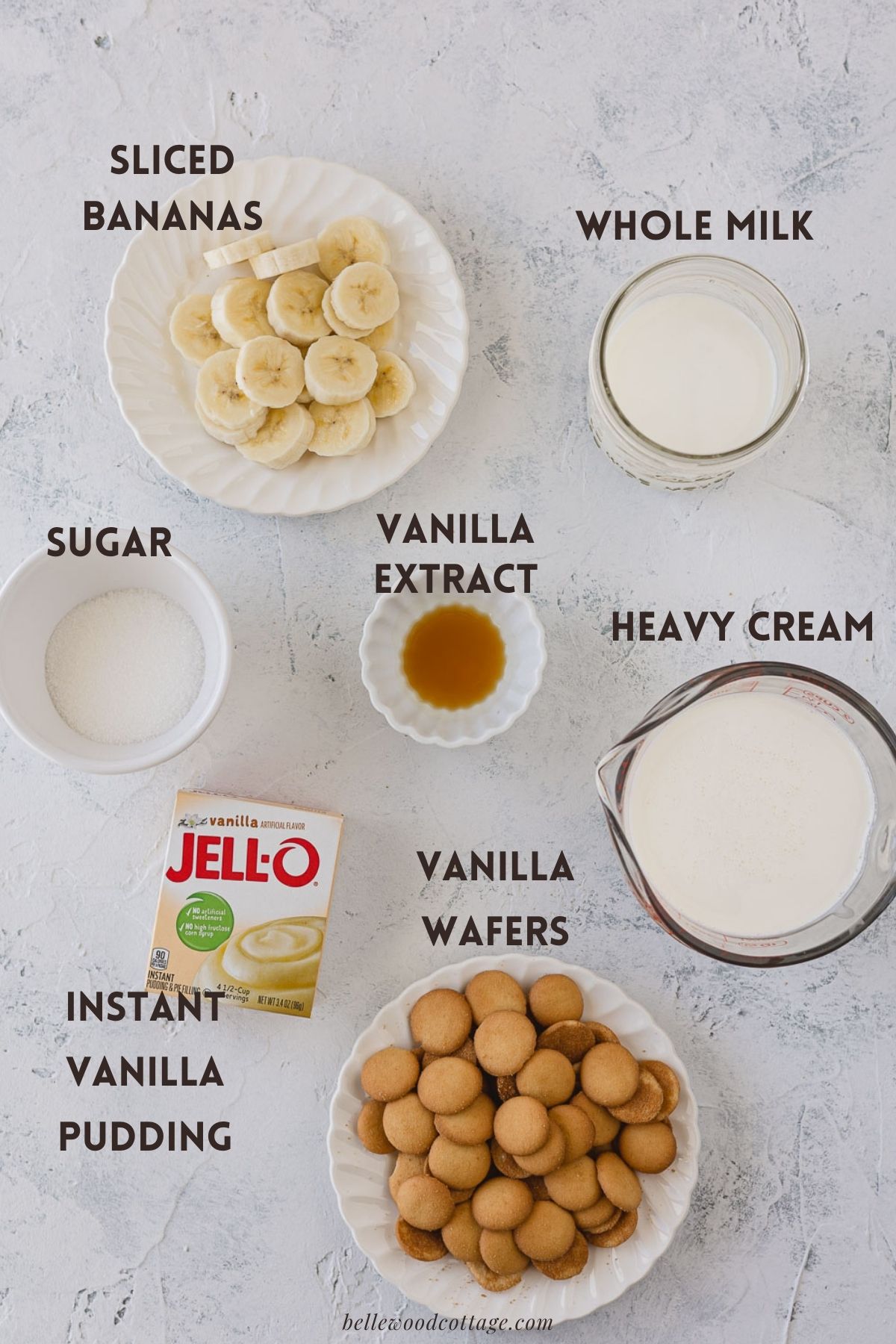 Instant Vanilla Pudding: Be sure to grab instant pudding. You'll need 1 package of instant vanilla pudding (3.4 ounce box). You'll use a bit for the whipped cream and the rest for the pudding layer.
Whole milk: For mixing up the instant pudding.
Vanilla Extract: I always add a little vanilla extract to my homemade whipped cream.
Sugar: Regular granulated sugar for sweetening the whipped cream.
Heavy cream: Keep the heavy cream chilled so that it whips up easily.
Mini "Nilla Wafers": Use vanilla wafer cookies for this dessert. Unfortunately I could only locate the mini variety for the final photos here. If you are using the full-size variety, just grab a box of them and arrange one layer of cookies in the pan each time they are called for in the recipe. For the minis, follow my measuring guidelines and sprinkle them in a flat layer in the pan.
Bananas: Be warned that bananas do start to turn brown after being sliced. That's why I prefer to serve this dessert the same day (or very next day) that I make it if possible. You could try to use a very small amount of lemon juice on them to prevent browning–but be careful not to overdo it and flavor the dessert with lemon.
Obviously, leftovers are certainly fair game for a couple days, brown bananas or no!
How to Make No Bake Banana Pudding
This is just an overview! Find the complete printable recipe at the end of the post!
Lots of recipes for this dessert use sweetened condensed milk and Cool Whip in the filling, plus more Cool Whip to top it. I opted to avoid these ingredients in favor of a big batch of homemade whipped cream.
I used a bit of the instant pudding, plus sugar and vanilla extract, to whip up the whipped cream.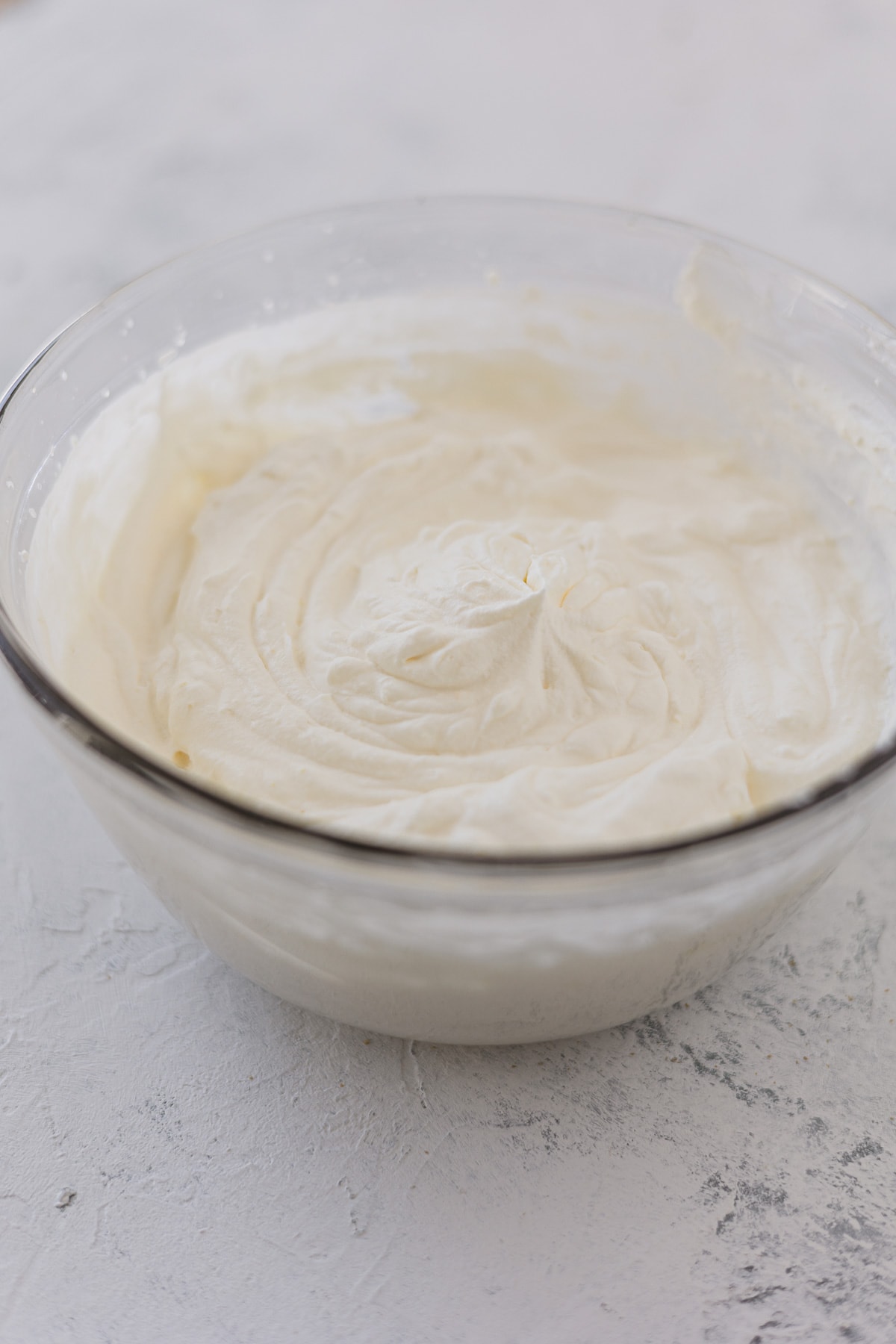 Mix up the pudding and then fold in half of the whipped cream.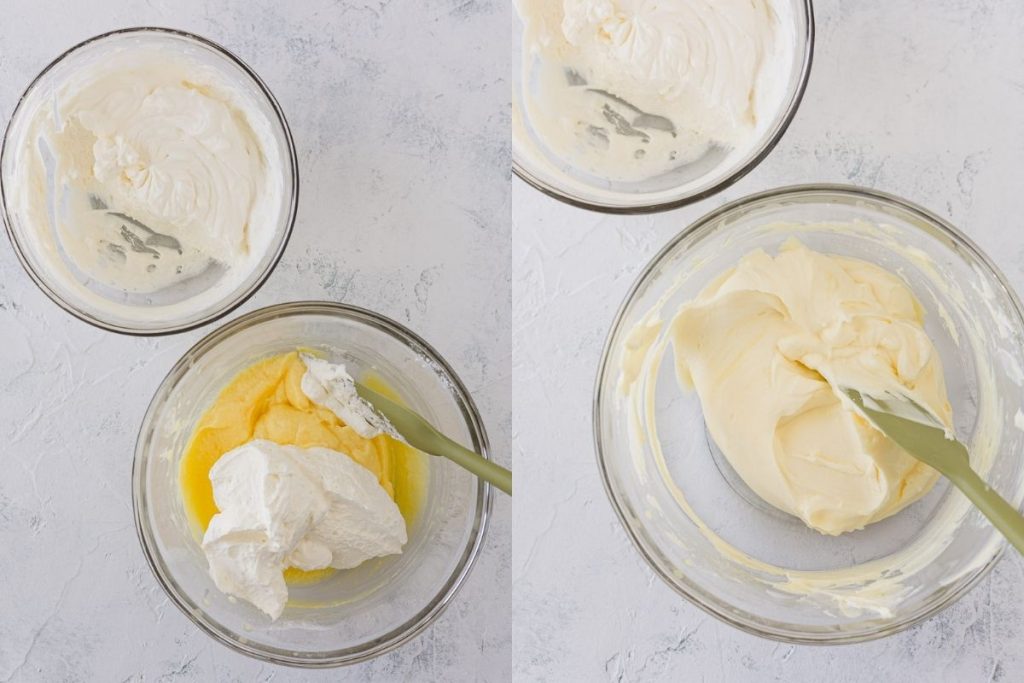 Layer the pudding in an 8″x8″ pan over a layer of wafer cookies and sliced bananas. Repeat the layers once more.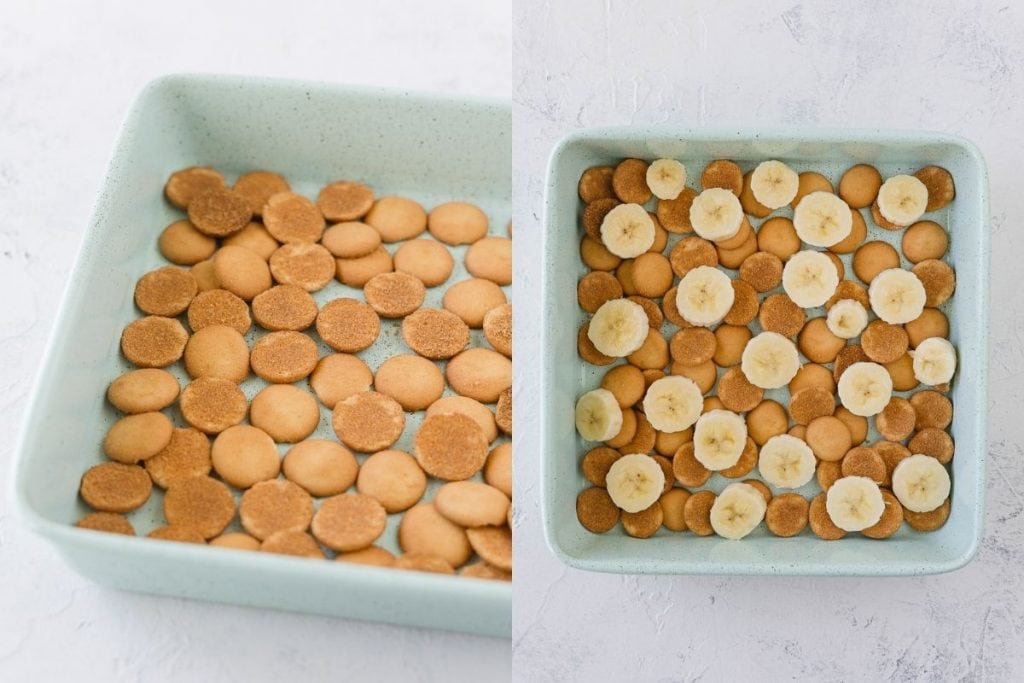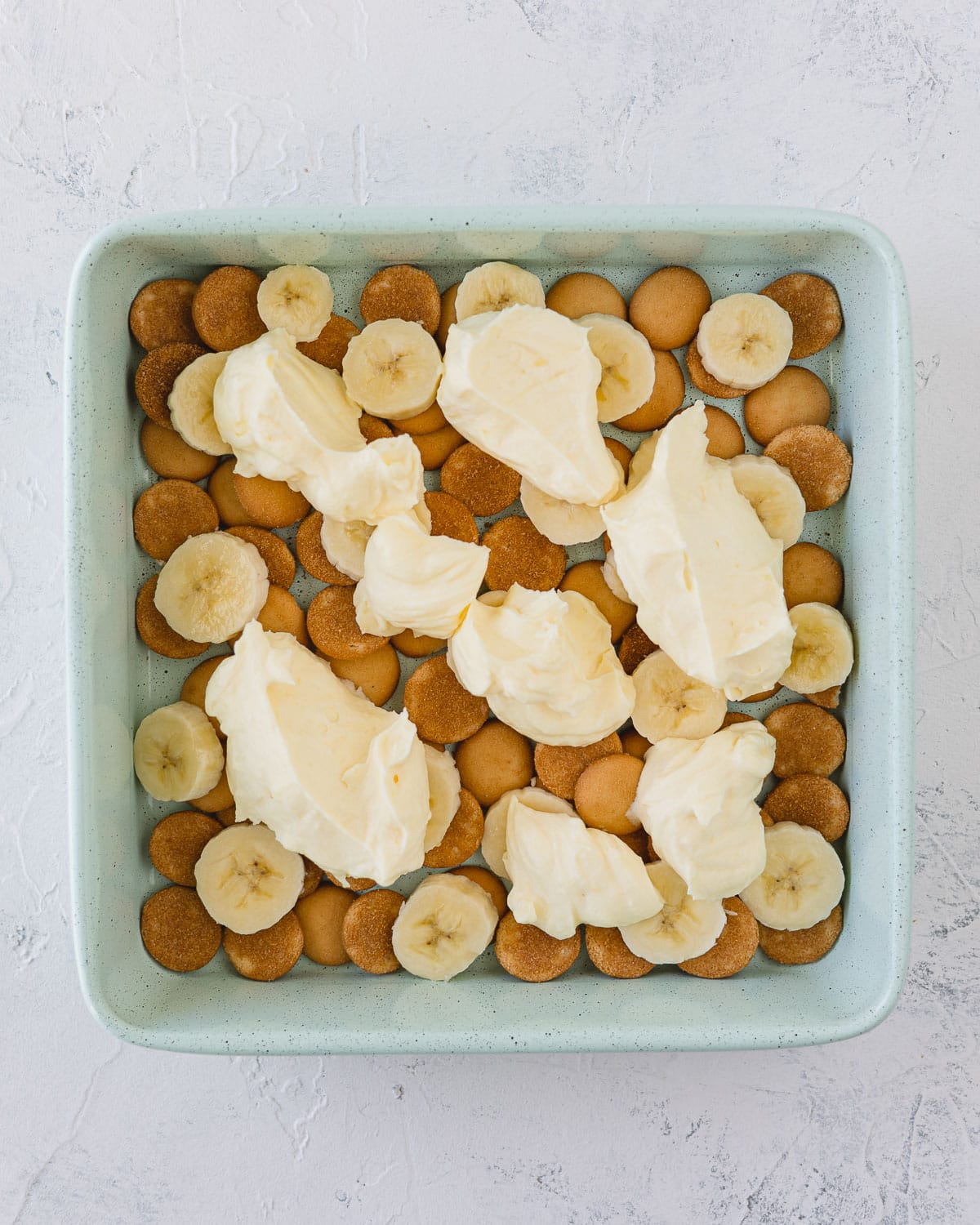 Spread the whipped cream is spread on top for a multi-layered no bake dessert.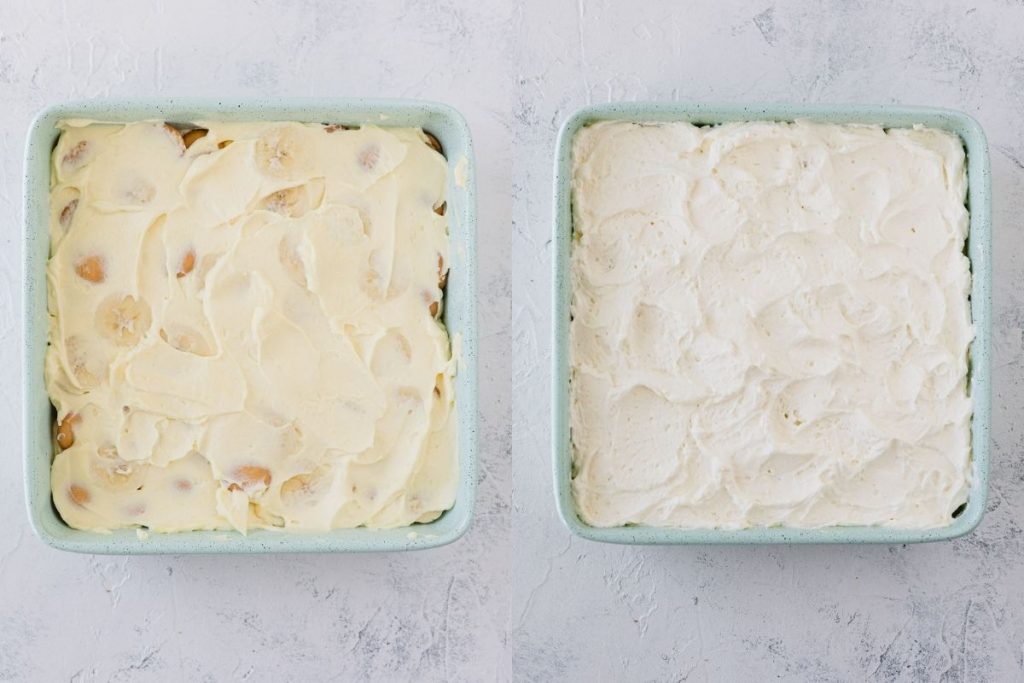 Note that the dessert should chill for about 4-6 hours before serving. Even an hour or two is great if you are pressed for time, the cookies just will not be as soft.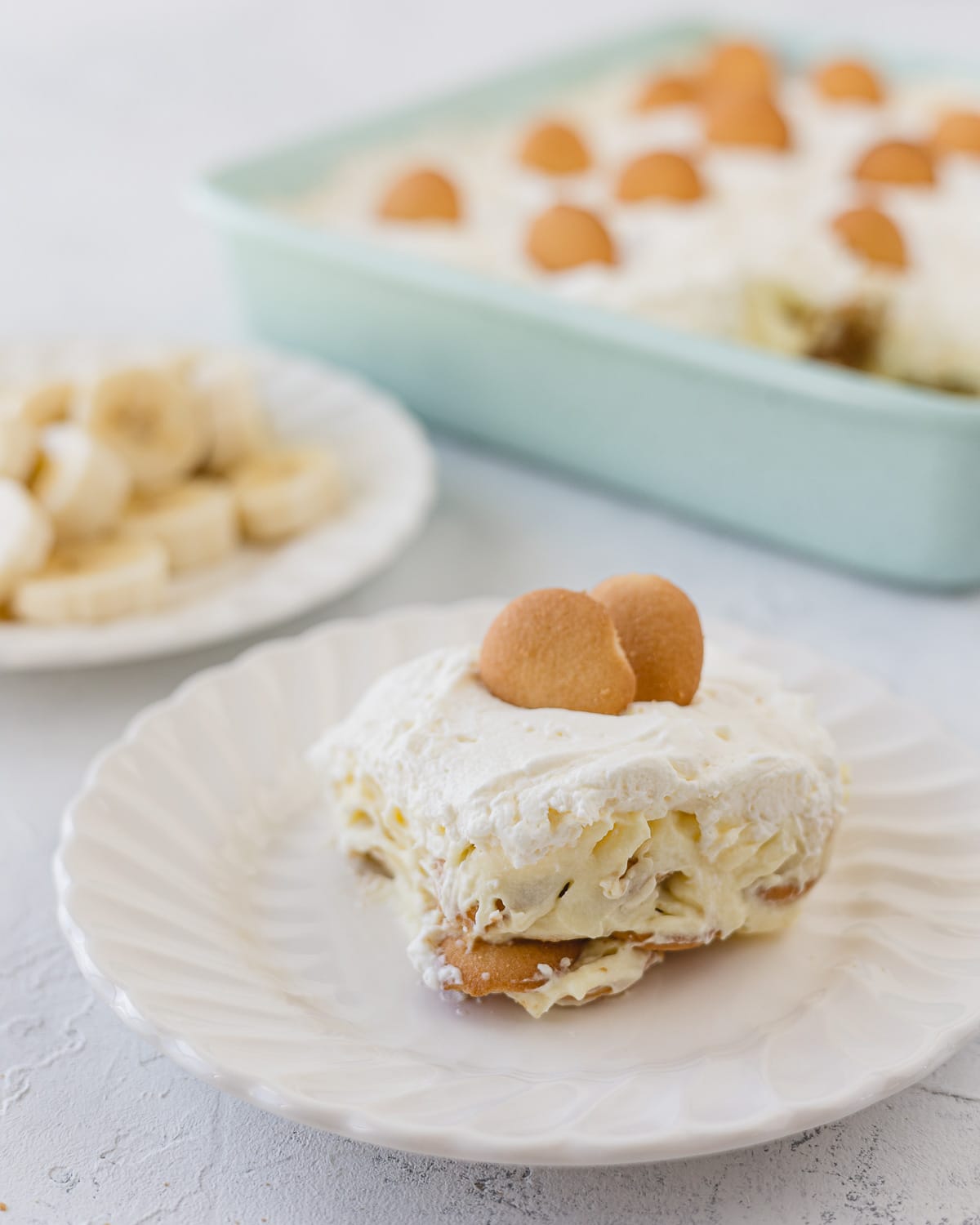 No Bake Banana Pudding in Mason Jars!
Because you know I love mason jar desserts, I had to photograph this recipe in jars as well. It makes an excellent mason jar recipe because it's completely no bake. I like using these 4 ounce jelly jars. You'll probably need 8 or so jars for this recipe.
Try piping the whipped cream on top with a piping bag and a large star tip for pretty swirls. Top with extra cookies and cookie crumbles.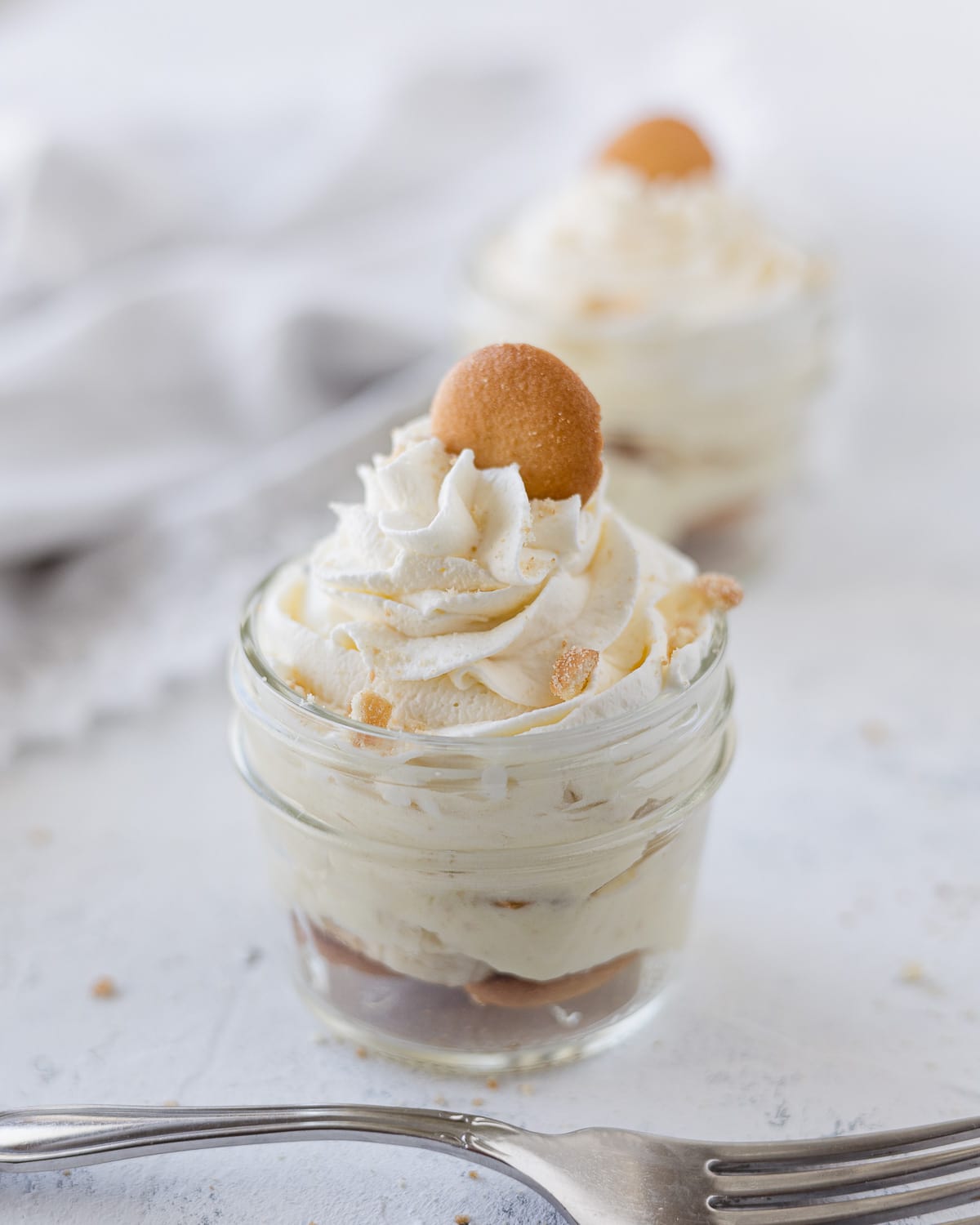 If you loved this recipe, leave a 5-star rating! I would so appreciate it!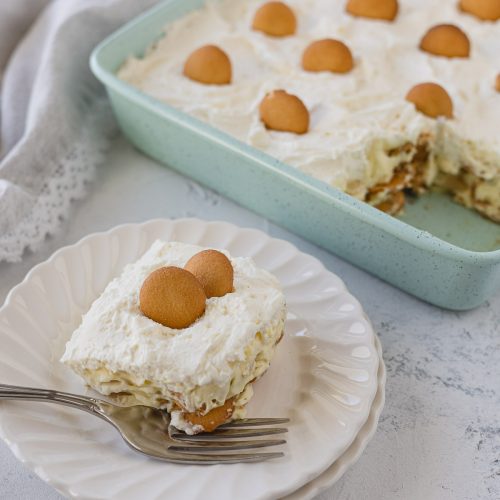 No Bake Banana Pudding
My no bake Banana Pudding Recipe features classic vanilla wafers, slices of fresh banana, creamy vanilla pudding, and homemade whipped cream. Only seven ingredients and no Cool Whip or sweetened condensed milk. Prepared in an 8"x8" pan.
Ingredients
1

package

instant vanilla pudding

(3.4 ounce box)

1

cup

whole milk

1.5

cups

heavy cream

well-chilled

3

tablespoons

sugar

1/2

teaspoon

vanilla extract

2

cups

mini vanilla wafers*

(regular works great too, see notes)

2-3

medium bananas

sliced in 1/4" slices
Instructions
Before beginning, open the pudding packet and reserve

1.5

tablespoons of pudding mix in a medium bowl for the whipped cream layer.

In another medium bowl, use a whisk to combine the remainder of the pudding packet with the whole milk until no lumps remain. Set aside (will thicken in just a few minutes).

In the medium bowl with the reserved pudding mix, add in the heavy cream, sugar, and vanilla extract. Use the whisk attachment on an electric hand mixer to beat the cream until you achieve soft and billowy peaks. Beat a bit longer until medium peaks (peaks where the very top flops over) or stiff peaks. Don't overbeat.

Add half of the whipped cream to the pudding mixture and gently fold together with a spatula until no streaks remain.

Layer

1

cup of mini Nilla Wafers into an 8"x8" square dish. Arrange them so they are in mostly one layer. Scatter half of your banana slices over the top. I don't like to do a solid layer of banana slices, maybe shoot for covering about 50% of the pan evenly.

Using half the pudding mix, dollop small spoonfuls across the top of the cookies and bananas. Spread out with a rubber spatula or spoon. Push the cookies back down if they come up while you are spreading the pudding–it doesn't need to be perfect!

Repeat the layering process with the remaining

1

cup of mini wafers, banana slices, and pudding mixture. Smooth the top layer to ready it for the whipped cream.

Dollop spoonfuls of the whipped cream over the dessert and use a spoon or offset spatula to spread the cream. Chill for 4 hours before serving.

For serving: layer more wafers on top of the dessert as desired for a simple garnish.
Notes
A Note on the Nilla Wafers: Regular size Nilla Wafers work just fine here. Instead of measuring them out, just layer one layer of cookies each time a layer of minis is called for. One 11-oz box is plenty for one recipe of the dessert.
Doubling the Recipe? You'll need two 3.4 ounces boxes of pudding mix (or the equivalent weight from a larger box). 
Make-Ahead Instructions: I find that this no bake banana pudding is best 4-6 hours after preparing it. This gives the the cookies time to soften and meld with the filling, but isn't so long that the bananas start getting funky.
Preparing the dessert the day before and letting it sit overnight also works well, but I do find that the bananas start to brown. 
Alternative Cookie Options: The first time I tested this recipe I used (my favorite) Biscoff cookies. I needed about 26 cookies (there are 32 in a pack) in an 8″x8″ square pan to layer with the dessert. The combo of the Biscoff and the bananas is excellent.
I haven't tried it, but I think crispy chocolate chip cookies would also be really yummy.
Nutrition
Calories:
344
kcal
Carbohydrates:
40
g
Protein:
3
g
Fat:
20
g
Saturated Fat:
11
g
Polyunsaturated Fat:
2
g
Monounsaturated Fat:
5
g
Trans Fat:
0.1
g
Cholesterol:
48
mg
Sodium:
187
mg
Potassium:
195
mg
Fiber:
1
g
Sugar:
26
g
Vitamin A:
644
IU
Vitamin C:
3
mg
Calcium:
61
mg
Iron:
0.1
mg
More Recipes to Try