Nutella Whipped Cream Recipe
Learn how to make whipped cream flavored with chocolate-hazelnut Nutella for a sweet treat that's perfect for topping coffee, desserts, or eating off a spoon. It's just three ingredients! Try Nutella Whipped Cream on pancakes, waffles, over ice cream, and more.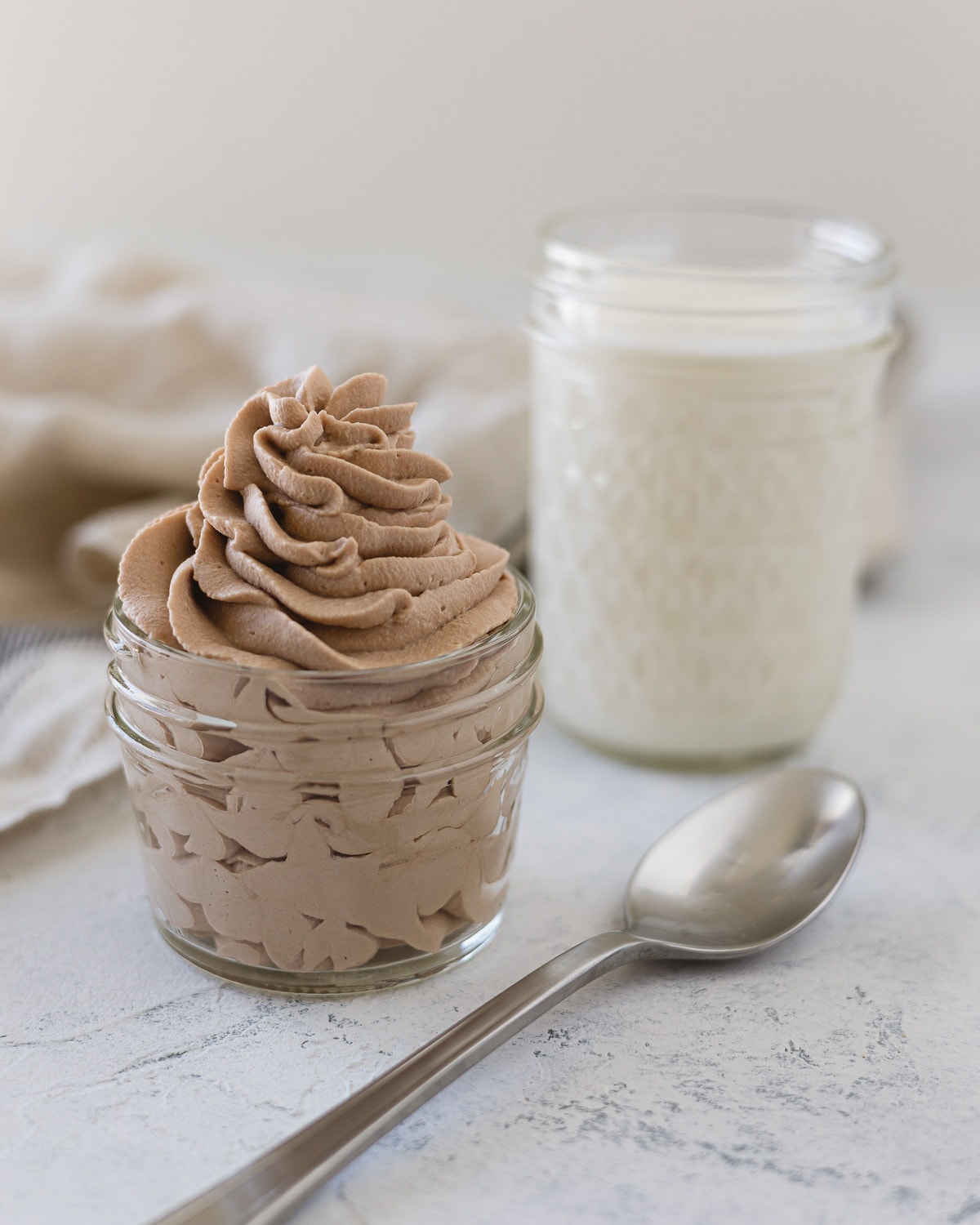 Nutella + homemade whipped cream. What could be more indulgent? Or more delicious?
There's a few methods you could use to go about creating a "whipped Nutella" or "Nutella mousse", but what I really wanted out of this recipe was a soft and billowy homemade whipped cream flavored with the irresistible notes of chocolate and hazelnut. Yum.
The process is straightforward. Though the resulting whipped cream isn't quiiite as light and fluffy when the Nutella is added, I was still rather impressed with the texture.
The chocolate-hazelnut whipped cream also keeps well in the fridge. It may just need a brief whip with a fork (for smaller amounts) or whisk (for larger amounts) to revitalize the texture. Note that while I photographed the whipped cream piped, it will start to deflate a bit when serving at room temperature (always store in the fridge).
Looking for a classic vanilla flavored recipe? Try my homemade whipped cream and check out my FAQs about Whipped Cream for even more tips and tricks.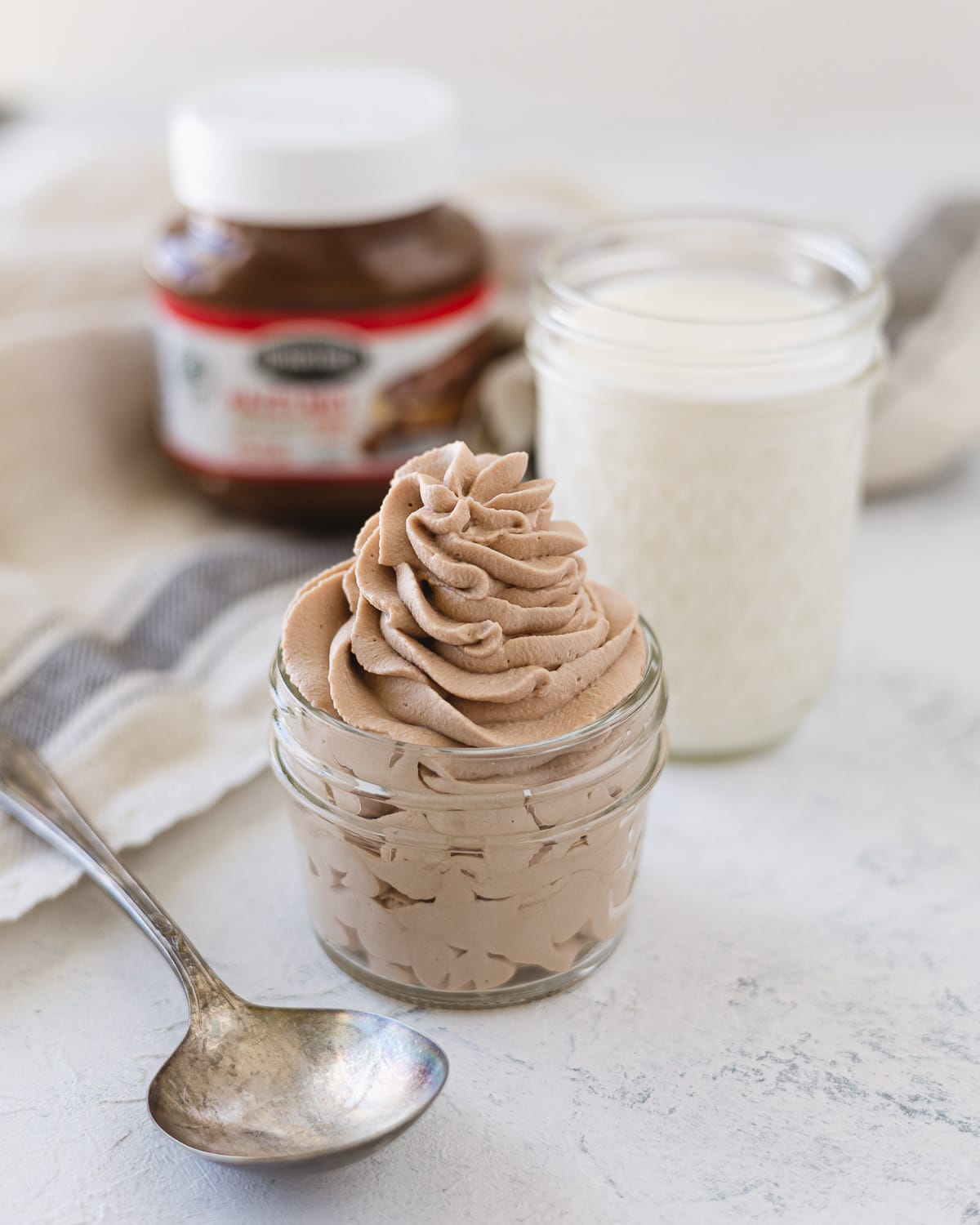 Don't miss the video & step-by-step printable recipe card at the end of this post!
What to use it for?
You can just eat Nutella Whipped Cream with a spoon. But, if you want more ideas, here's few:
1 – Serve it at a brunch alongside fresh fruit, crepes, waffles, pancakes, you name it. Serve regular whipped cream too if you like, but this one will be the showstopper.
2 – Use it to top your morning coffee. Even when it starts losing aeration, this whipped cream still tastes amazing with coffee even a few days after preparing it. Give it a whisk with a fork and add a dollop to your morning beverage for an easy pick-me-up.
3 – Top desserts. A variation on strawberry shortcake? Swirled on slices of pound cake? Over ice cream? Endless dessert possibilities here.
Ingredients You Will Need
Let's get started with the essential ingredients!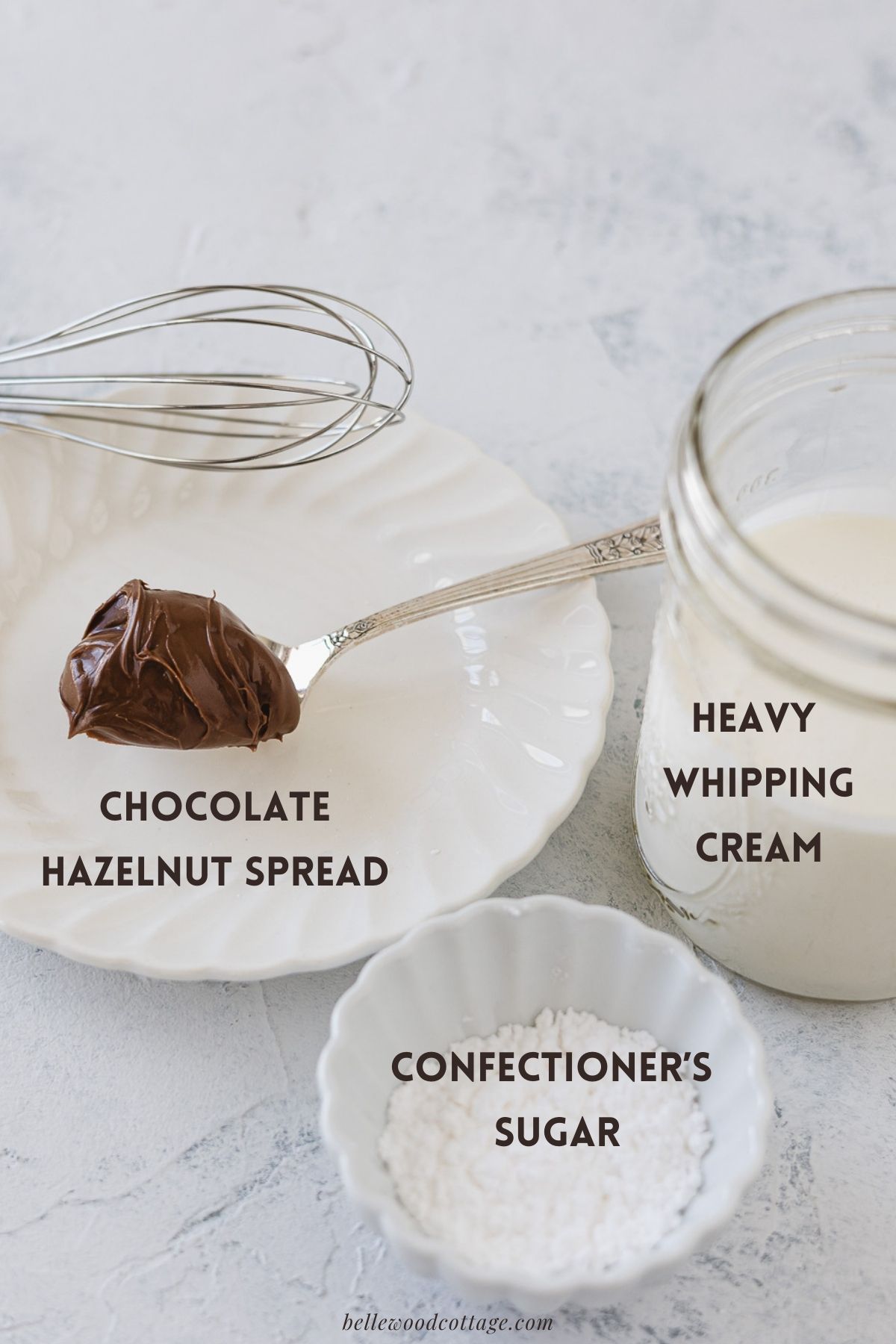 Nutella or Chocolate Hazelnut Spread – I suggest using either the original Nutella or a close substitute (I also tested Aldi's Berryhill Chocolate Hazelnut Spread here and it worked great). Avoid any "natural" or "dairy-free" varieties as I have not tested those and the ingredients are different (obviously, feel free to run experiments if you wish).
Heavy Whipping Cream – Keep heavy whipping cream well-chilled before whipping for the best results.
Sugar – Use confectioners' (or "powdered") sugar here, though granulated will work too.
How to Make Nutella Whipped Cream
Note: Whenever you are whipping up whipped cream, it's helpful to use a chilled metal bowl and chilled beaters. I usually don't remember to do this and my whipped cream probably lacks a bit of structure as a result. Keeping the cream cold is essential to a good whip! The Nutella also warms up the cream so having the chilled bowl/whisk can be really useful here.
First, add a few tablespoons of Nutella (room temperature, straight out of the container) and confectioners' sugar to a medium size bowl. Then, add a little cold heavy whipping cream.
Beat this mixture until totally combined with the whisk attachment of a hand mixer.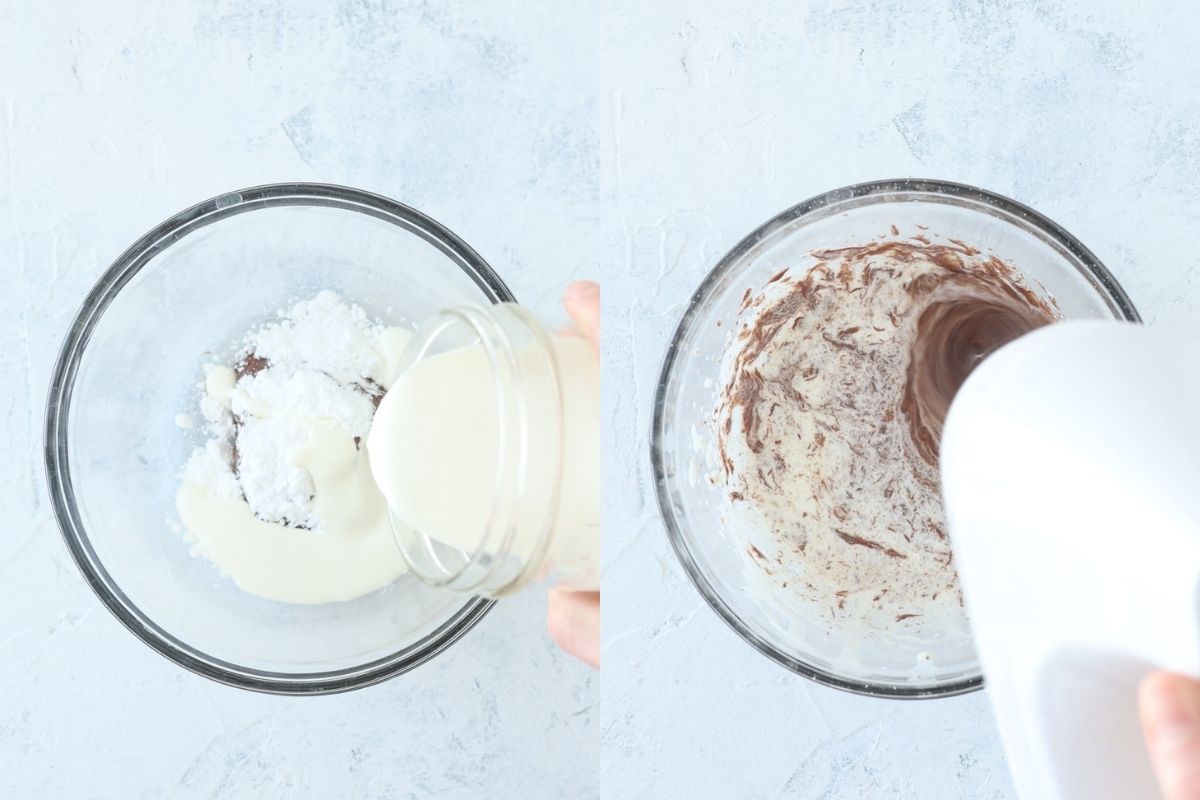 Another note: I'm debating if re-chilling the mixture at this stage would lead to an even more stable whipped cream…I think it would, but it also adds an extra step. If you try it, let me know.
Then, add the rest of the heavy cream. Whip on low speed moving up to medium as the cream continues to thicken.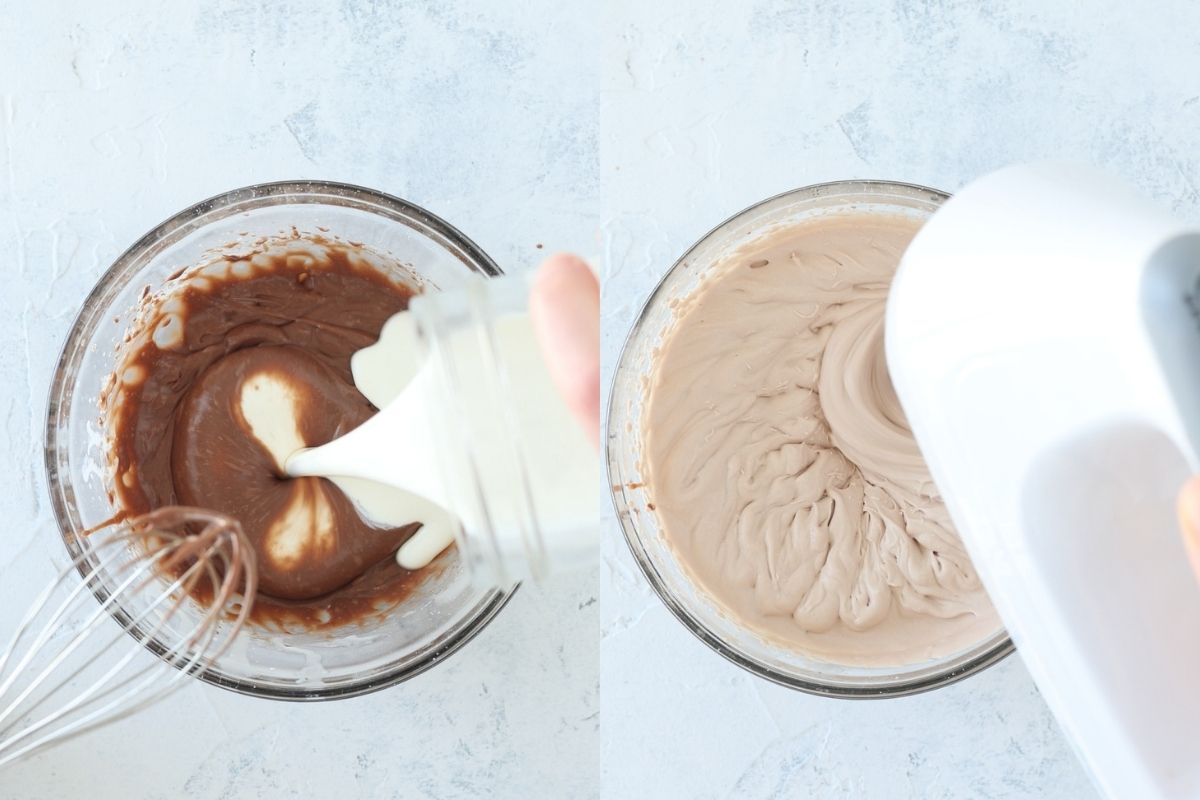 Whip until you achieve medium or stiff peaks. Once the whisk is leaving defined trails in the whipped cream, it's best to turn off the mixer frequently and check for peaks. You can mix by hand towards the end to carefully get the texture just right if you wish.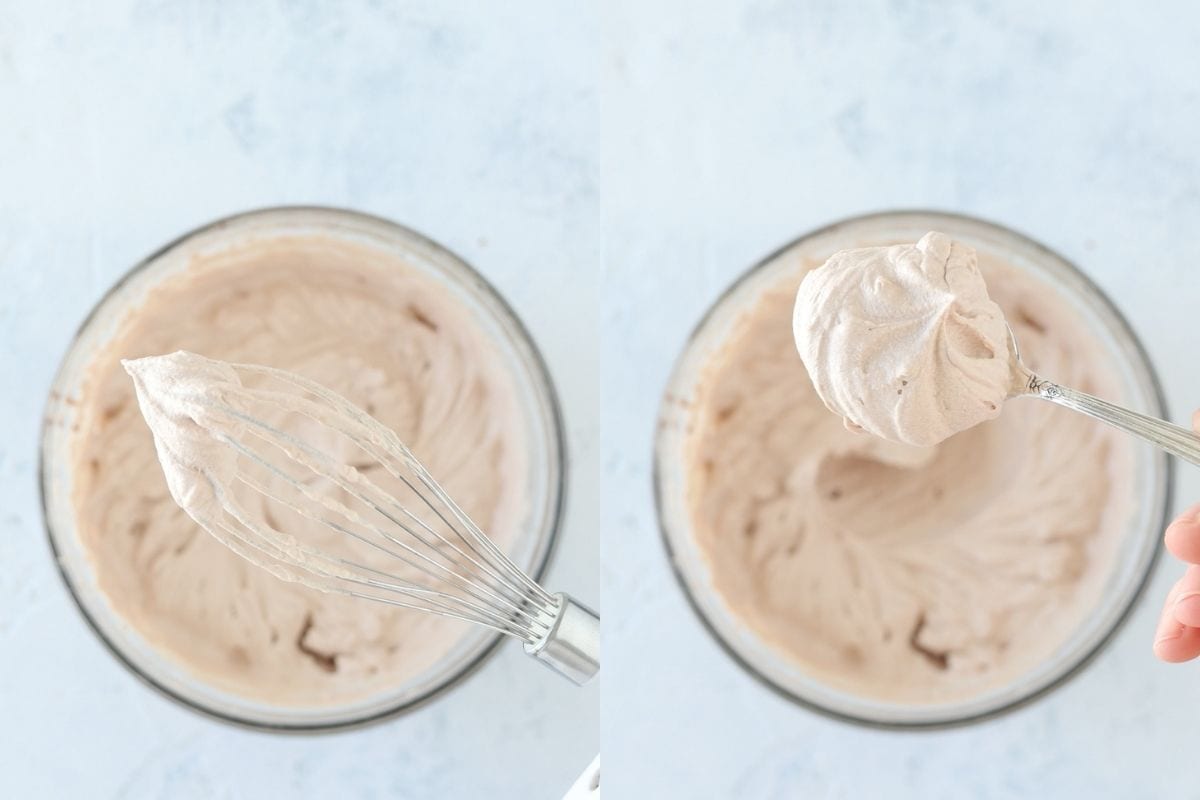 Ready to eat!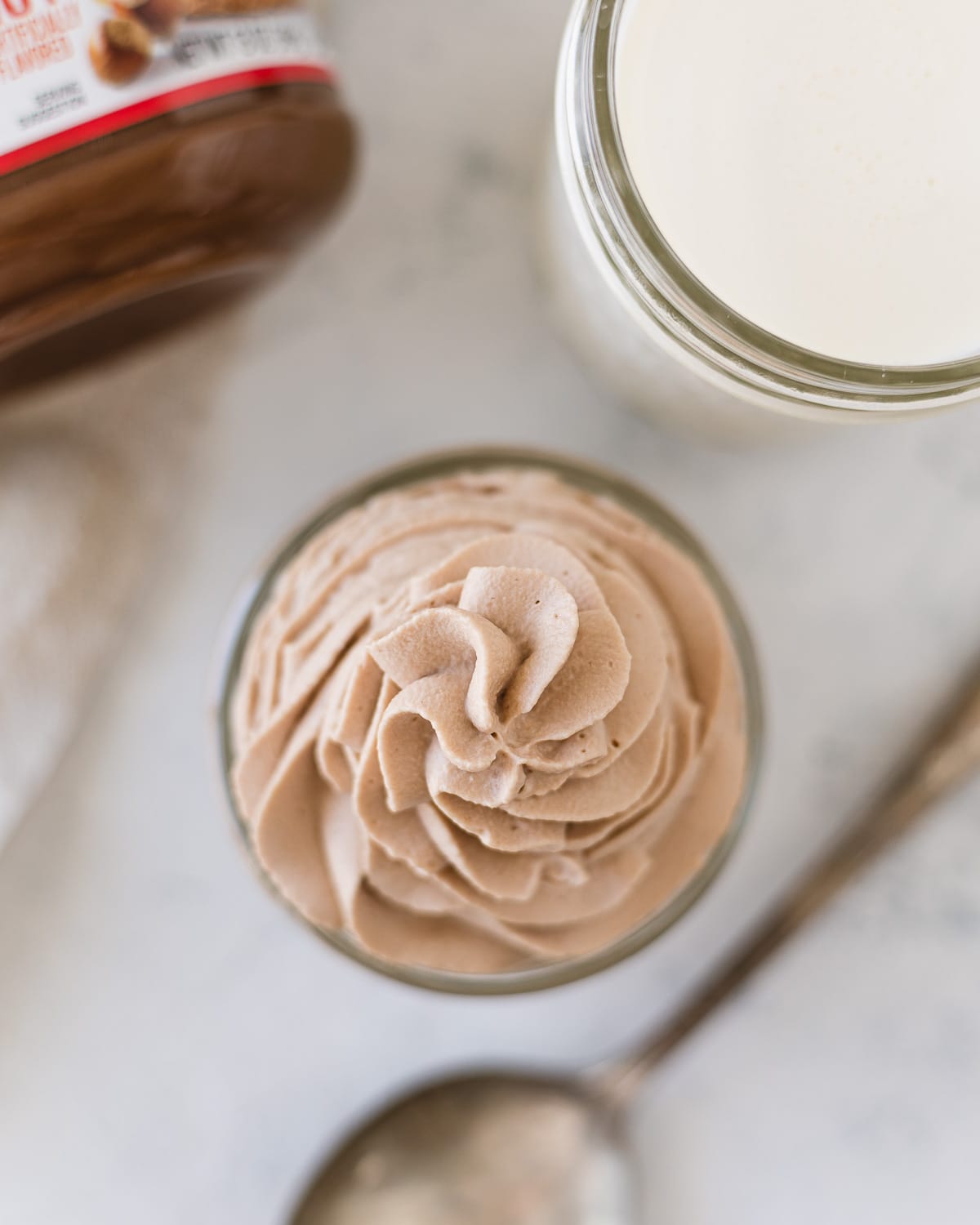 How does the chocolate-hazelnut spread affect the final texture?
The final texture of the whipped cream is not quite as fluffy as plain whipped cream (likely because the Nutella does warm it slightly) but the Nutella itself also seems to provide some stabilization. Do be careful not to overbeat the cream.
Chocolate-hazelnut whipped cream keeps well in the fridge and it re-whips beautifully even if it has lost some of its original fluff.
Can you make it ahead of time?
For serving for parties or events, I would say you absolutely could make Nutella Whipped Cream several hours in advance of your event and keep it in the fridge until serving. Give it a brief whisking if the texture has flattened at all.
More Recipes to Try
If you loved this whipped cream recipe, check out my full list of delicious Whipped Cream Variations!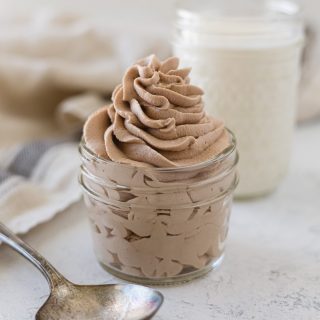 Nutella Whipped Cream
Nutella Whipped Cream is a luscious treat straight off the spoon or as a topping for crepes, desserts, coffee, and more. It's filled with that irresistible chocolate-hazelnut flavor you will love.
Ingredients
3

tablespoons

Nutella

(or generic chocolate-hazelnut spread)*

1

tablespoon

confectioners' sugar

1

cup

heavy whipping cream
Instructions
Add the room temperature Nutella spread and the confectioners' sugar to a medium-size bowl. Prepare a hand-mixer with the whisk attachment. You may also use a stand mixer if preferred. Measure out 1 cup of heavy whipping cream into a liquid measuring cup. Pour off about 4-6 tablespoons from the measured cream into the bowl with the Nutella and sugar. Set aside the remaining cream.

Whip the Nutella, sugar and heavy cream until completely combined, scraping down the bowl as needed. Whip another minute to further aerate the mixture.

Add the remaining heavy cream. Whip on low speed and then gradually move up to medium as the mixture begins to thicken.

Once mixture is quite thick and the whisk is beginning to leave defined "tracks" in the whipped cream, it's time to start checking if it's done. Just periodically stop your mixer and lift the whisk to test for medium to stiff peaks.

Stop when the mixture has reached medium peaks (a stiff peak that flops over at the very top) or stiff peaks (peaks that stand straight up). Don't overbeat. It's sometimes easiest to whip by hand the last few minutes!

Serve immediately or store in the fridge until ready to serve. Whip briefly with a whisk to revitalize the texture as needed.
Video
Notes
Substituting Nutella: If you are substituting the Nutella in this recipe for a generic brand (I have used Berryhill from Aldi with success), avoid using dairy-free varieties. I have not tested these and they may not yield the same results.
Make It Ahead: For serving to guests or at parties, I'd prepare up to several hours in advance of your event and keep it in the fridge until serving. Give it a brief whisking if the texture has flattened at all. 
Keeps for general use in the fridge for 2-3 days.