How Many Calories Are In Crumbl Cookies?
So you've discovered Crumbl Cookies. The ever-changing menu makes it hard to resist a weekly stop to check out the new flavors, but how many calories are actually in Crumbl Cookies? Let's discuss!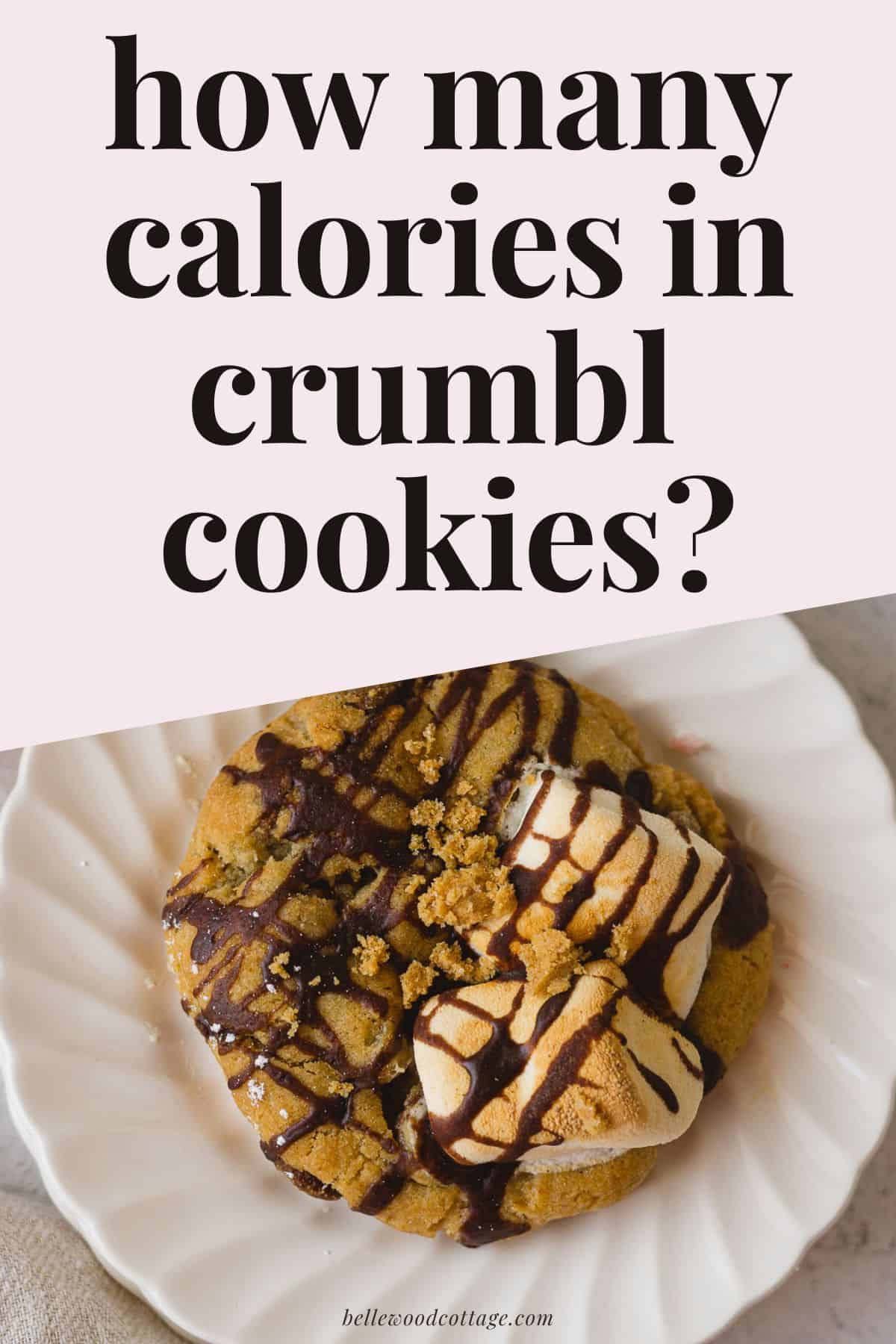 First off, What Are Crumbl Cookies?
Crumbl Cookies is a franchise chain of stores that started as a small cookie bakery in Logan, Utah. The stores bake and sell giant "Crumbl Cookies" and "Crumbl Cream" (ice cream).
The stores are known for their rotating menu of over 200+ cookie flavors. Many of these flavors are quite creative! Fans have enjoyed choices like Banana Cream Pie, Caramel Apple, Frozen Hot Chocolate, Chocolate Chip Cookie Dough, S'mores and many more.
The menu also features weekly staples of Classic Pink Sugar (a vanilla sugar cookie with pink almond frosting) and Milk Chocolate Chip (a chewy warm chocolate chip cookie packed with jumbo milk chocolate chips).
The company has the goal of connecting people over what Crumbl calls "the world's best box of cookies". The extra large cookies (some over 4″ in diameter) are sold in iconic pink boxes. You can purchase a single cookie or go crazy with their 12-pack party box.
The most popular order sizes are likely the 4-pack and 6-pack boxes. You get a bit of a discount the more you buy and who wouldn't want to sample each new flavor that week?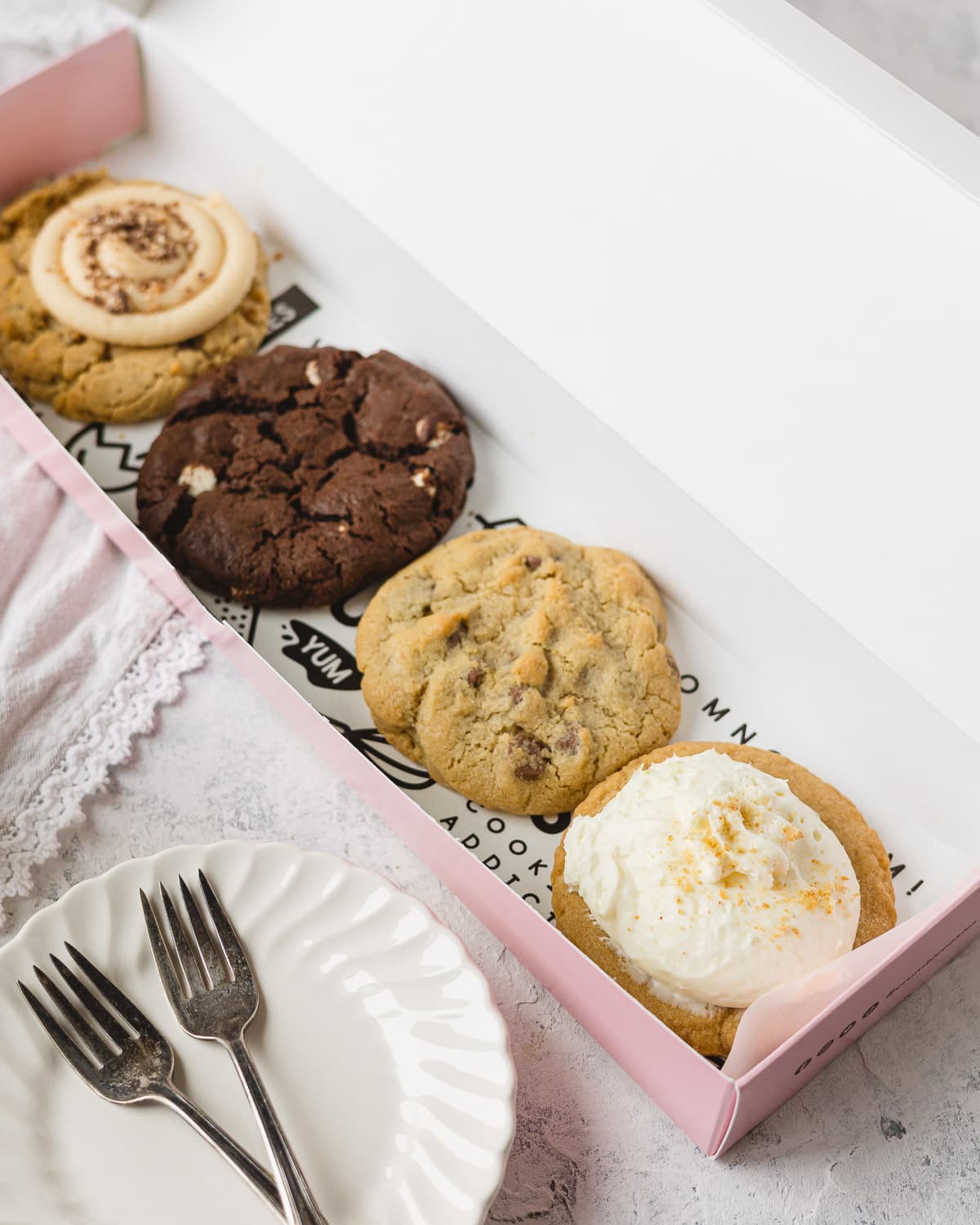 Copycat recipes
The popular flavors and hype around the new menus means there has been a lot of interest in copycat Crumbl recipes. Crumbl fans who miss their favorites are becoming avid bakers in search of recipes that fulfill the cravings!
Do you have a Crumbl near you?
With nearly 600 Crumbl storefronts in the USA (and more opening each month), you likely have a store nearby! Check out the store locator and see if there is a store near you. Or, read my review of Crumbl's shipped cookies.
What Makes the Cookies So Popular?
First off, Crumbl Cookies are GIANT. They really leave an impression! Crumbl's rotating flavor menu and huge social media presence are likely large contributors to the popularity too. And really, how many stores are there that focus solely on producing delicious cookies? It's a novelty that fans are loving!
Cookie FOMO
Since you have to wait for your favorite flavors to make an appearance on the menu, Crumbl operates a lot on hype and fear of missing out (FOMO). If you don't try that tempting new flavor THIS WEEK, you won't get another chance for a long time (if ever!).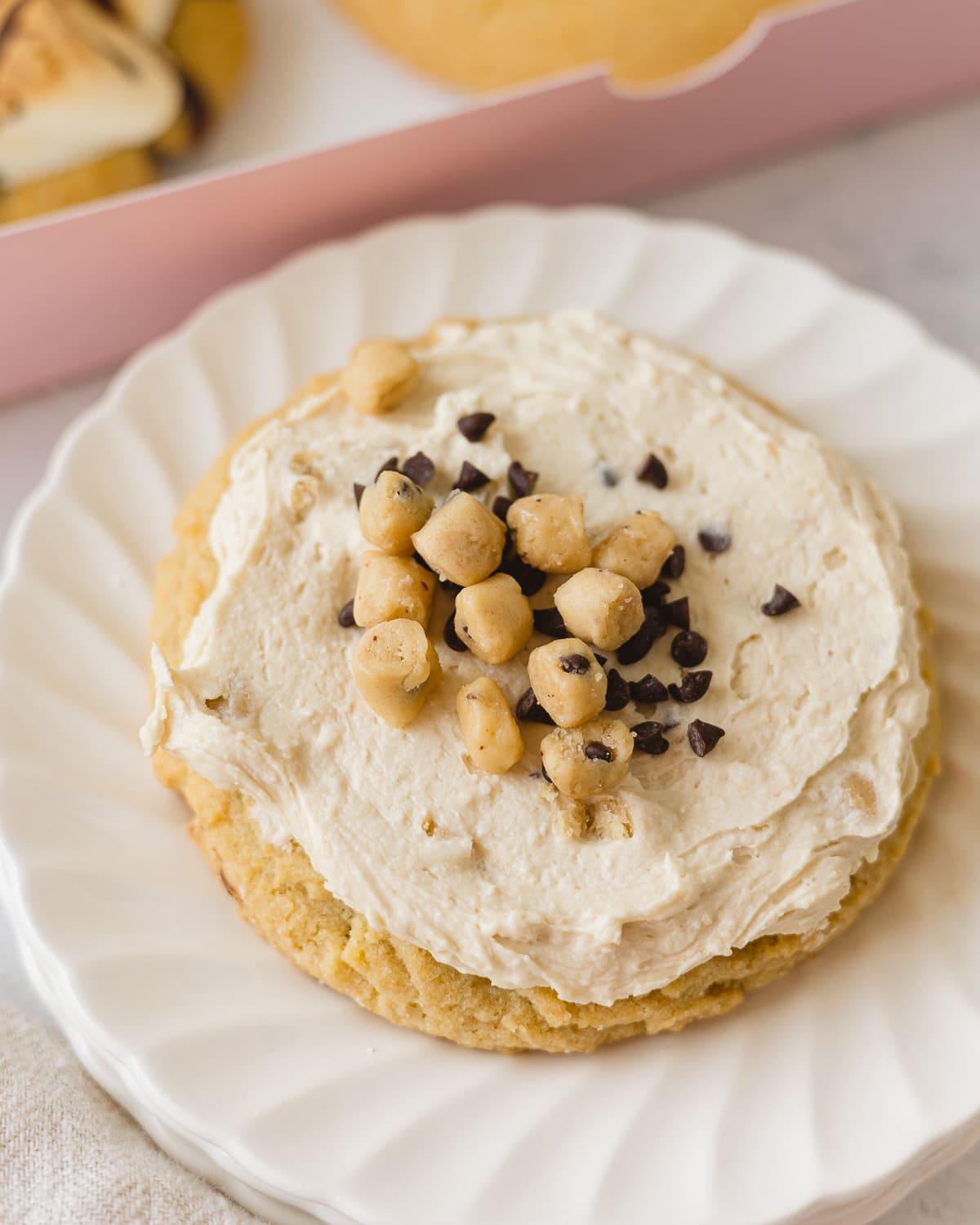 They are good cookies!
The cookies are also pretty tasty. I've personally really enjoyed the peanut butter base cookies like Peanut Butter featuring Snickers, the Triple Chocolate Cookie, and the S'Mores Cookie. Some of the flavors I've tried (particularly when I ordered a box shipped right to my home) have been a bit lackluster though so it's not always a total win.
I think a lot depends on getting your cookies fresh and from a location that is passionate about delivering awesome cookies.
Let's Talk About Those Calories
So you've just walked away from your local Crumbl Cookies with your very first pink box. You've got four (or maybe 6 or 12!) delectable cookies waiting to be sampled. They look fresh, chewy, and delicious.
The question is, how many calories are you about to consume?
How Many Calories Are In Crumbl Cookies
Though each Crumbl Cookie has a different calorie count, you can generally assume that if you consume an entire cookie you will be consuming about 600 calories.
Let's look at the two weekly menu standards first, the Milk Chocolate Chip Cookie and the Classic Pink Sugar.
Calories In Crumbl's Milk Chocolate Chip Cookie
Crumbl Cookies Milk Chocolate Chip Cookie is 560 calories for the whole cookie or 140 calories for 1/4 of the cookie. Note that Crumbl lists 1/4 of a cookie as a serving size. The Milk Chocolate Chip Cookie includes 52g of sugars in one cookie.
Calories In Crumbl's Classic Pink Sugar Cookie
Crumbl Cookies Classic Pink Sugar is 520 calories for the whole cookie or 130 calories for 1/4 of the cookie. Note that Crumbl lists 1/4 of a cookie as a serving size. The Classic Pink Sugar Cookie includes a hefty 64g of sugars for the whole cookie.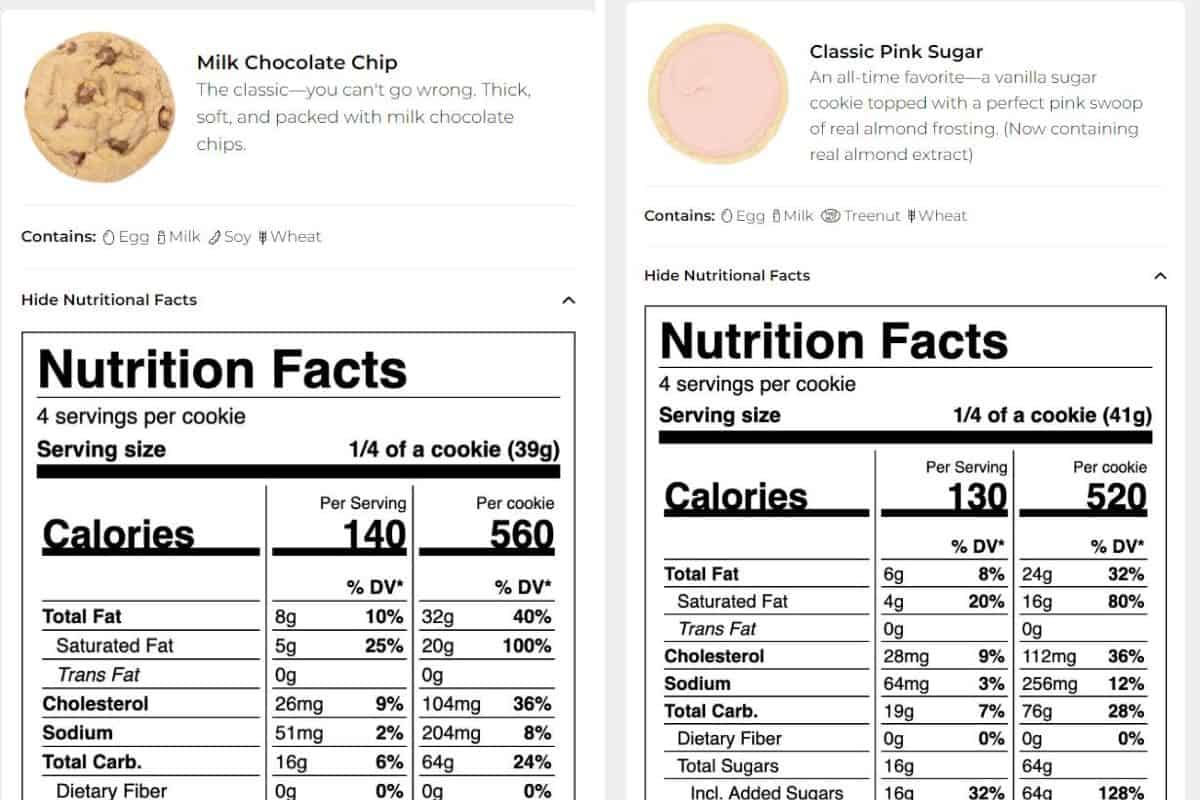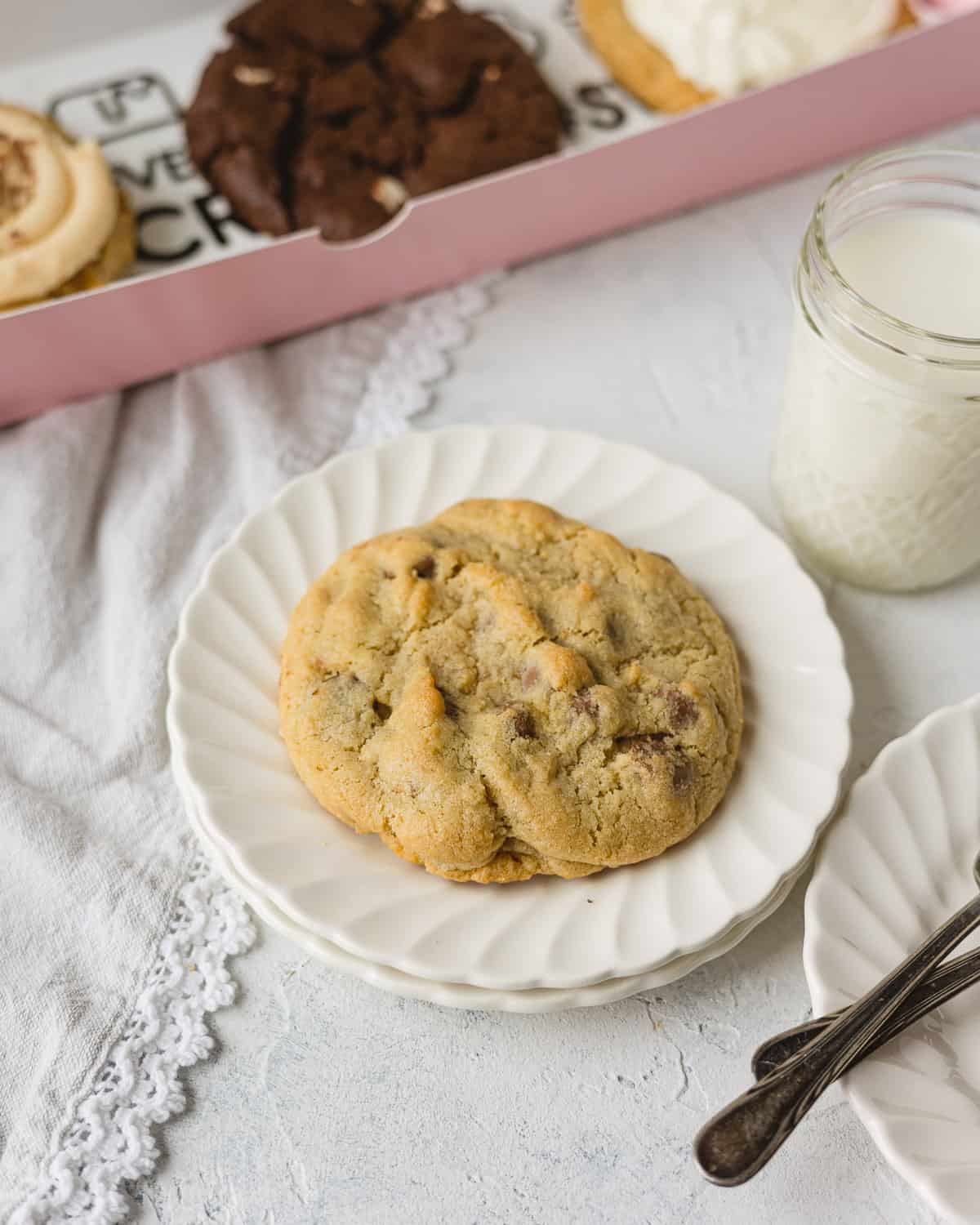 What About Other Flavors of Cookies?
I've pulled some screenshots from Crumbl over time and the calorie count varies between the different flavors. You can see some of the variations below such as the S'mores Cookie (600), Raspberry Cheesecake (680), and Old Fashioned Doughnut (400). I've found that most cookies are between the 500-600 range.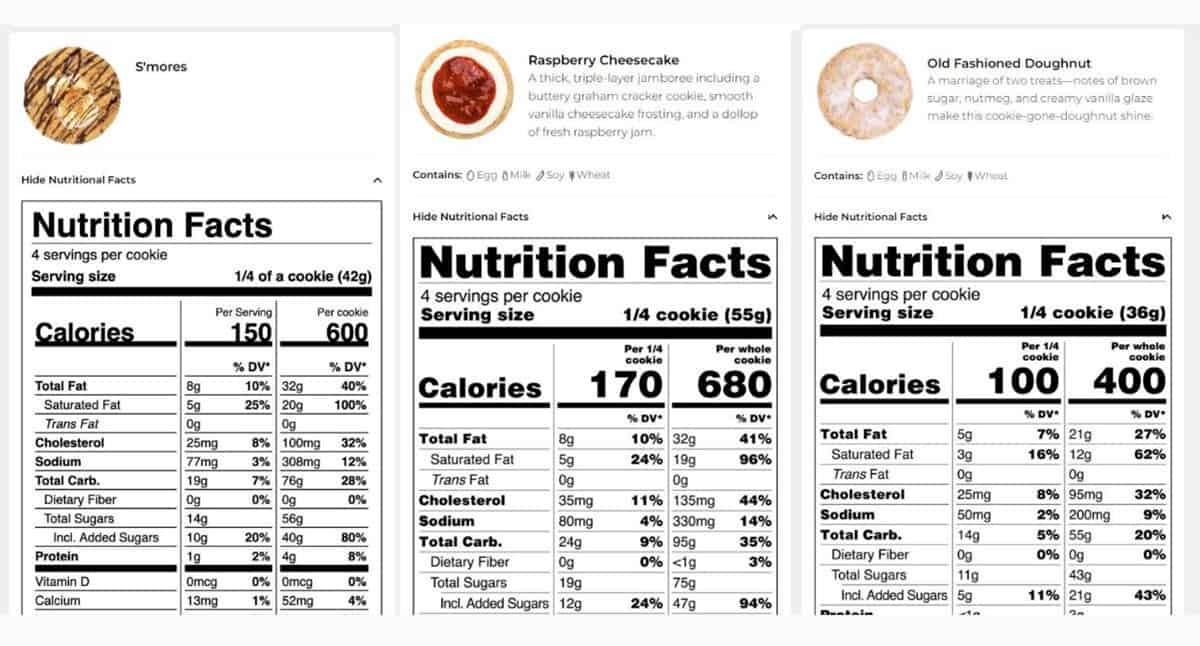 Basically you are guaranteed to consume about 600 calories (or maybe as much as 700) if you eat the whole cookie.
How Many Calories and How Much Sugar Should We Be Eating in a Day?
Guidelines for daily calorie intake vary depending on if you are male or female and your age and activity level. For instance though, Healthline notes that the average woman ages 19-30 ought to consume 2,000–2,400 calories per day.
This amount is for maintenance and of course is determined by many other personal factors. Regardless, a cookie that clocks in at 600 (or 700!) calories is going to use a quarter or more of your daily allotted calories.
What about sugar? The American Heart Association notes that men ought to limit their added sugar intake to only 36 grams per day. The number is even less for women at 25 grams per day.
A Few Notes About Crumbl's Nutrition Data
Crumbl's nutrition information used to divide the cookies into seemingly random serving sizes. 5.5 servings, 6 servings, 4 servings. Truly random! I'm not exactly sure how this worked unless it was based off of making sure that the calorie count per "serving" of a cookie was a reasonable amount.
But since literally no one has ever divided a cookie into exactly 5.5 pieces, they thankfully updated their nutrition system.
Crumbl's new formula is far more simple. Each cookie is 4 servings. Easy to do the math, easy to divide the cookies. In fact, Crumbl even sells a cookie cutter that divides your cookies into quarters with one maneuver. Very nice.
How to Save On Calories
If you want to indulge in Crumbl, but don't want to intake too much extra sugar or calories, here are a few suggestions:
Check the Nutrition Page Before Ordering
When I check the nutrition on various Crumbl flavors, I'm always a bit surprised by which flavors are the most calorific. Surprisingly it's not always the cookies topped with frosting that have the most calories, fat, or sugar.
If you want to be more informed about your choice, check out the nutrition page before ordering. Also know that the calories of the particular cookie you receive will likely not be exact. Though food preparation is usually carefully measured and weighed (to stay on track with both ingredients cost and nutritional data), it's not a perfect system.
Note: You might notice nutritional data for "mini cookies" on the Crumbl website. These cookies are smaller in size and generally around 200-250 calories per cookie. However, they are only available for catering orders (of 50+ cookies ). Perhaps eventually these smaller treats will be added to the regular menu!
Split a Cookie with a Friend
This is my favorite thing to do. Each cookie is four servings, so split them into four pieces (or more if you want) and share with friends!
My fam will grab a four-pack so we get to try all the new flavors, but then we will split each cookie into several pieces and have a little tasting party of one or two slices. Leftovers head to the fridge (unless they are safe to store at room temp like the Milk Chocolate Chip cookie for instance) and we snack on them for the next few days.
Store Them for Later
Crumbl Cookies can be easily saved for later. You want to be sure to refrigerate any cookie that comes "chilled" (usually those with frostings or fillings) and any other cookie with a topping that isn't stable at room temperature.
Cookies keep well in the fridge (although the base of frosted cookies will start to get a bit soggy) or at room temperature (when applicable) for up to 1-2 days.
You can also freeze the cookies for later! I wrote up my favorite tips for freezing Crumbl Cookies if you want to check that out. It's a great way to stock up on your favorites for later too.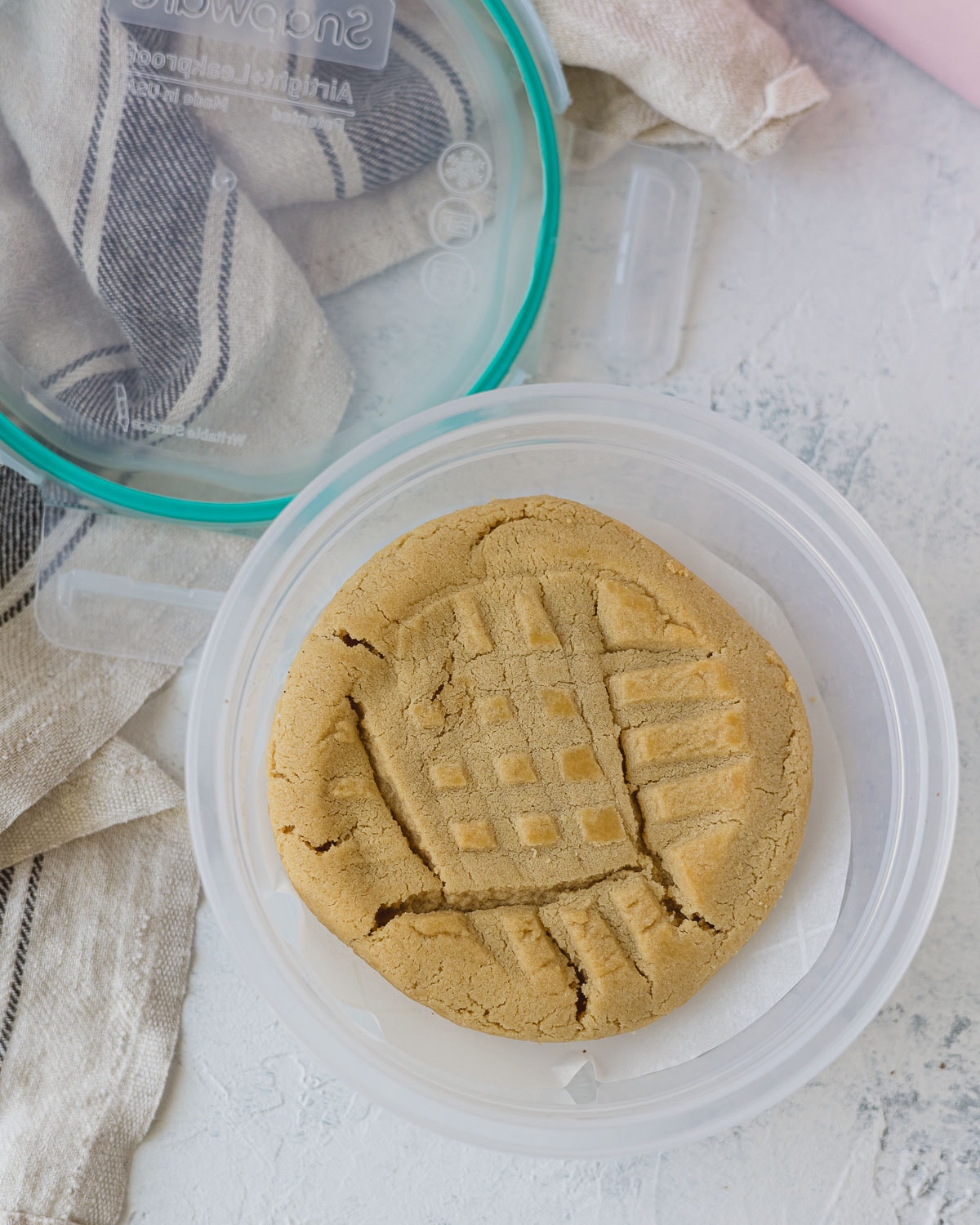 Make Your Own
You can also prepare your own cookies (which are often a bit lower in fat and sugar) and make them as small as you like. A batch of cookies can be shared with friends or frozen for later. Or, make just one single sugar cookie or chocolate chip cookie if you wish!
Here's a complete list of my Crumbl Copycat Recipes.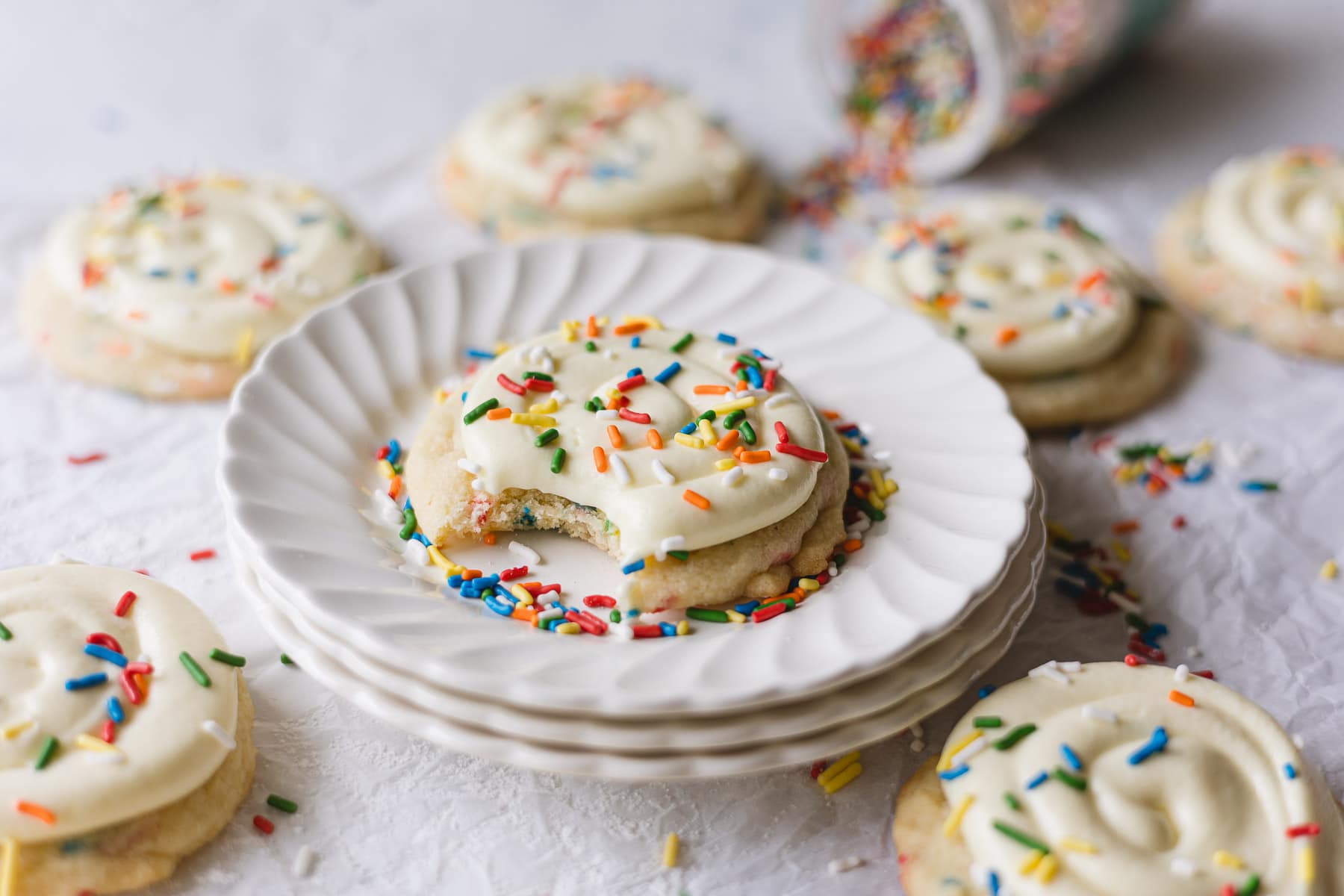 So, Can I Still Eat a Crumbl Cookie?
Oh my goodness, yes, absolutely! They might be indulgent, but there is such joy in enjoying delicious treats–especially with friends. Just known that Crumbl Cookies are large cookies that are high in calories and are best best enjoyed as an occasional treat and not an everyday snack.
Thanks so much for stopping by! Check out some of my other favorite posts about Crumbl below:
More Crumbl Posts to Read