If you love the flavors of cookie butter, you will love this Biscoff Whipped Cream! It's amazing served over waffles, pancakes, desserts, and more. For fans of cookie butter everywhere!
Please note that this post contains affiliate links which allow me to earn a small commission when a purchase is made at no additional cost to you. Read more here.
Have you ever tried cookie butter? I was kind of shocked when I first realized what it was. Ground up cookies with, wait what now, more sugar? And oil? It's like peanut butter, but with cookies.
While it might not be the savviest choice for nutritional density, cookie butter spread is pretty darn good stuff. It's smooth, sugary, and lightly spicy (think gingersnaps). And once you have a jar in hand, what better thing to do than to add more calories? Hence, this recipe. You're welcome.
Looking for a classic vanilla flavored recipe? Try my homemade whipped cream and check out my FAQs about Whipped Cream for even more tips and tricks.
Biscoff Versus Nutella in Whipped Cream
When I made Nutella Whipped Cream, I realized that the Nutella actually provided some stabilizing forces to the whipped cream. It's kind of a give-and-take because the room-temp Nutella warms the cream (and warmer heavy cream isn't as stable once whipped), but then the structure of the fat in the Nutella also seemed to stabilize the finished product.
With the Biscoff whipped cream though, I didn't find that to be the case. In fact, though the cream stays whipped, it has a soft (almost elastic-y) consistency that doesn't hold its shape well (when piped for instance). However, it's still plenty stable for dolloping onto desserts, waffles, or a cup of coffee.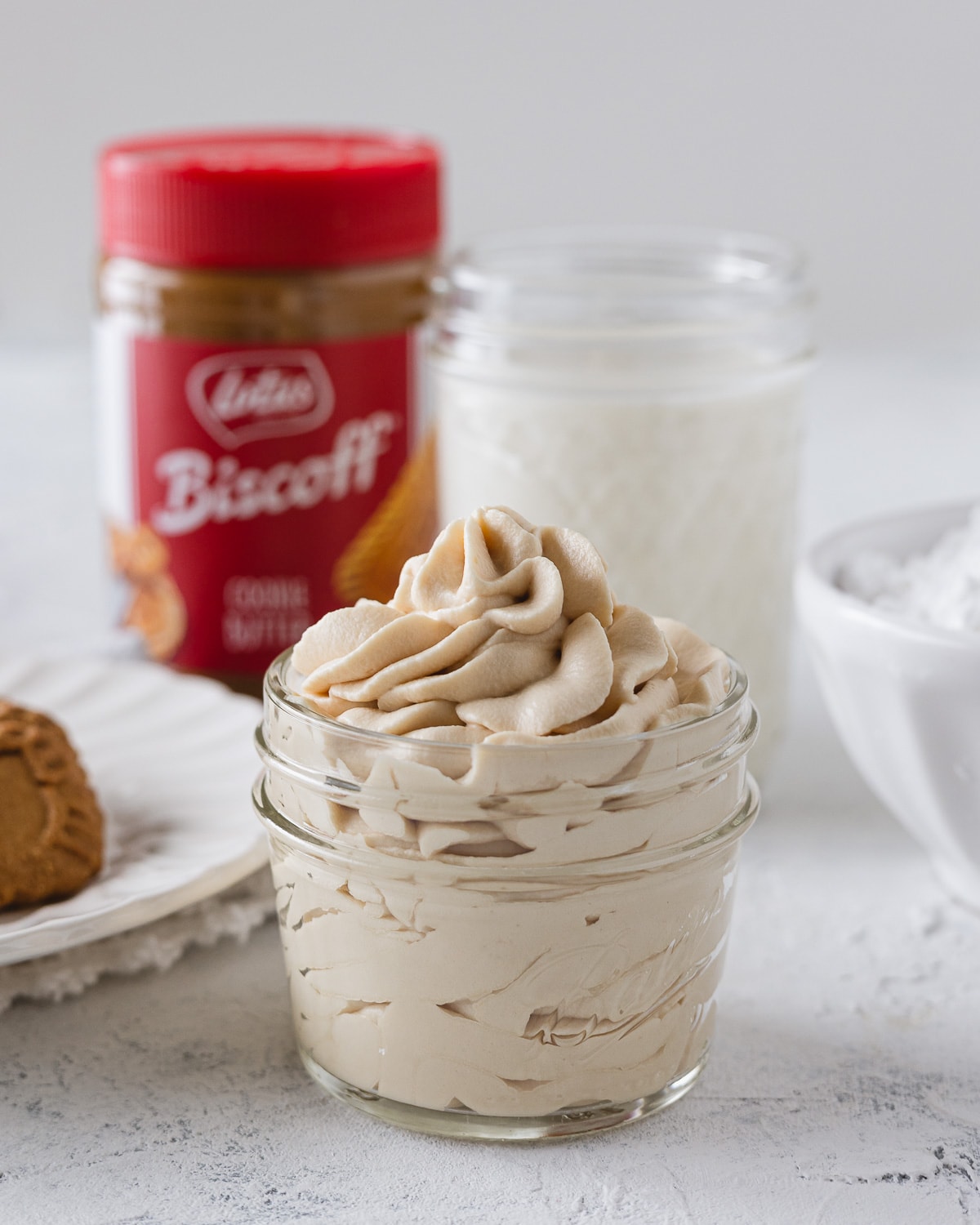 What About Re-Chilling the Ingredients?
I did want to play around though to see if I could improve the stability. The process of making cookie butter whipped cream is to whip the Biscoff and sugar with about 1/2 of the heavy cream first. This allows the cookie butter to lighten up and fully blend into the heavy cream before adding all of it in.
However, because the Biscoff is room temp, it does warm up the cream a bit. So, what I tried was blending the Biscoff and the heavy cream together and then refrigerating that blend to cool it back down before whipping it. Though it whipped up well, I didn't notice a significant difference in the way the final product held up, so I decided this extra step probably wasn't necessary.
Ingredients You Will Need
Let's get started with the essential ingredients!
Biscoff "Cookie Butter" Spread – I used Lotus Biscoff for this recipe, and I imagine that Trader Joe's Speculoos Cookie Butter would work just the same. You could certainly experiment with others too if desired. I would stick with "creamy" varieties and avoid the "crunchy" ones for whipped cream.
Heavy Whipping Cream – Keep heavy whipping cream well-chilled before whipping for the best results.
Sugar – Use confectioners' (or "powdered") sugar here. This recipe is on the sweeter side, so you could cut the sugar down a bit (not more than 50%) if you would prefer.
What to Serve with Cookie Butter Whipped Cream
Try using Biscoff whipped cream for the following dessert or snack ideas!
as a fruit dip
dollop over vanilla ice cream
layered with Biscoff cookies in mason jars for an easy dessert (refrigerate for 4 hours to soften–yum!)
on your morning latte
with crepes, pancakes, waffles
eat it off a spoon–it's fine, it's all fine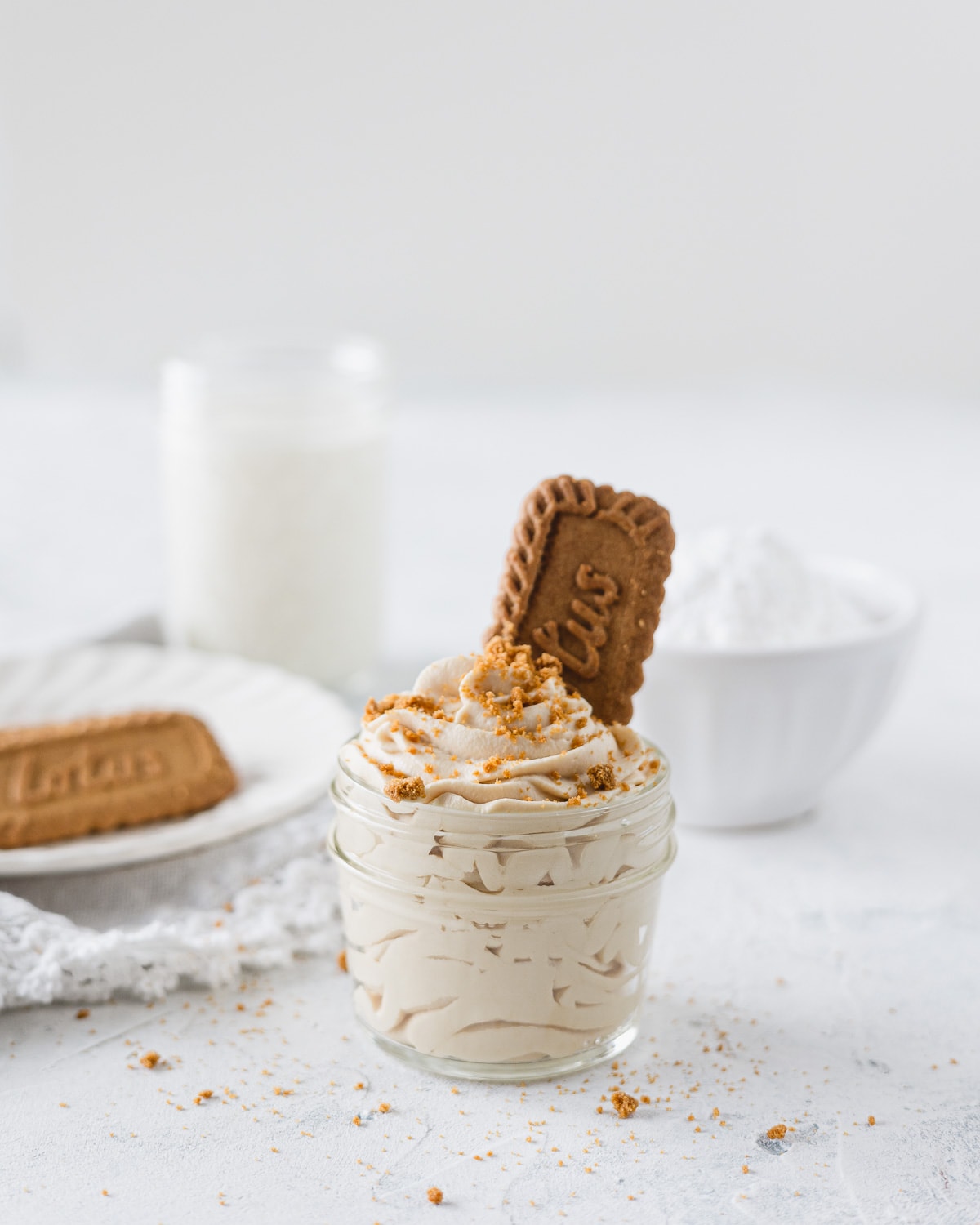 How to Make Biscoff Whipped Cream
Note: For making whipped cream, it's ideal to use a chilled metal bowl and chilled beaters. Keeping the cream cold is essential to a good whip and since we're warming things up with the addition of the room-temperature cookie butter, the chilled bowl/whisk can be extra helpful here.
First, we're going to mix up the Biscoff and confectioners' sugar with about 1/2 of the heavy whipping cream. Use a hand mixer to beat on low until totally combined. A whisk also works if preferred.
Then, simply add the remainder of the heavy whipping cream and whip until you have reached soft, medium, or stiff peaks. Yum!
More Recipes to Try!
No Bake Banana Pudding without Cool Whip
Strawberry Cheesecake in a Jar (No Bake!)
No Bake French Silk Pie Mason Jar Desserts
Mason Jar Pistachio Desserts
If you loved this recipe, leave a 5-star rating! I would so appreciate it!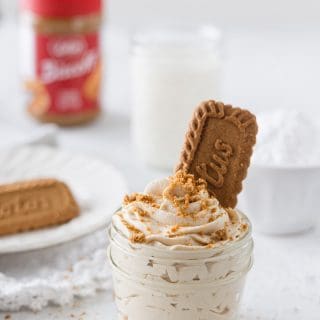 Biscoff Whipped Cream
Cookie butter is one of those things that is just SO good. Make it even more indulgent by using it in a homemade whipped cream recipe. Biscoff Whipped Cream is easy to make and full of that yummy cookie butter flavor! Great for topping coffee, waffles, desserts, and more.
Ingredients
1/4

cup

Biscoff cookie butter

room temp

1/4

cup

confectioners' sugar

1

cup

heavy whipping cream

well chilled
Instructions
Add the Biscoff and confectioners' sugar to a chilled bowl. Pour in about 1/2 of the heavy whipping cream. Use a hand mixer to beat on low until totally combined.

Optional Chilling: I didn't notice a huge difference in my tests when I tried this, but if you'd like to give it a try, chill the mixture for 2 hours in the fridge before moving on to the next step. The extra chilling may help improve the final consistency/stability of the whipped cream.

Add the remainder of the heavy whipping cream and whip on low until everything is combined. Move the mixer speed slowly up to medium and whip until you have reached soft, medium, or stiff peaks. Be careful not to over-whip.
Notes
Make It Ahead: Though I find this cookie butter whipped cream tends to deflate easily, it still keeps well in the fridge. Most of the deflation happens pretty soon after preparing it. I would store this for up to 3-4 days in the fridge. So fun for serving over pancakes or topping your coffee.