Mason Jar Sizes and How To Use Them
Curious about mason jar sizes? These popular glass jars are useful far beyond canning. Here is a roundup of the mason jar sizes available with details about how to use them, where to buy them, and even some creative ways to incorporate them around your home!
Please note that this post contains affiliate links which allow me to earn a small commission when a purchase is made at no additional cost to you. Read more here.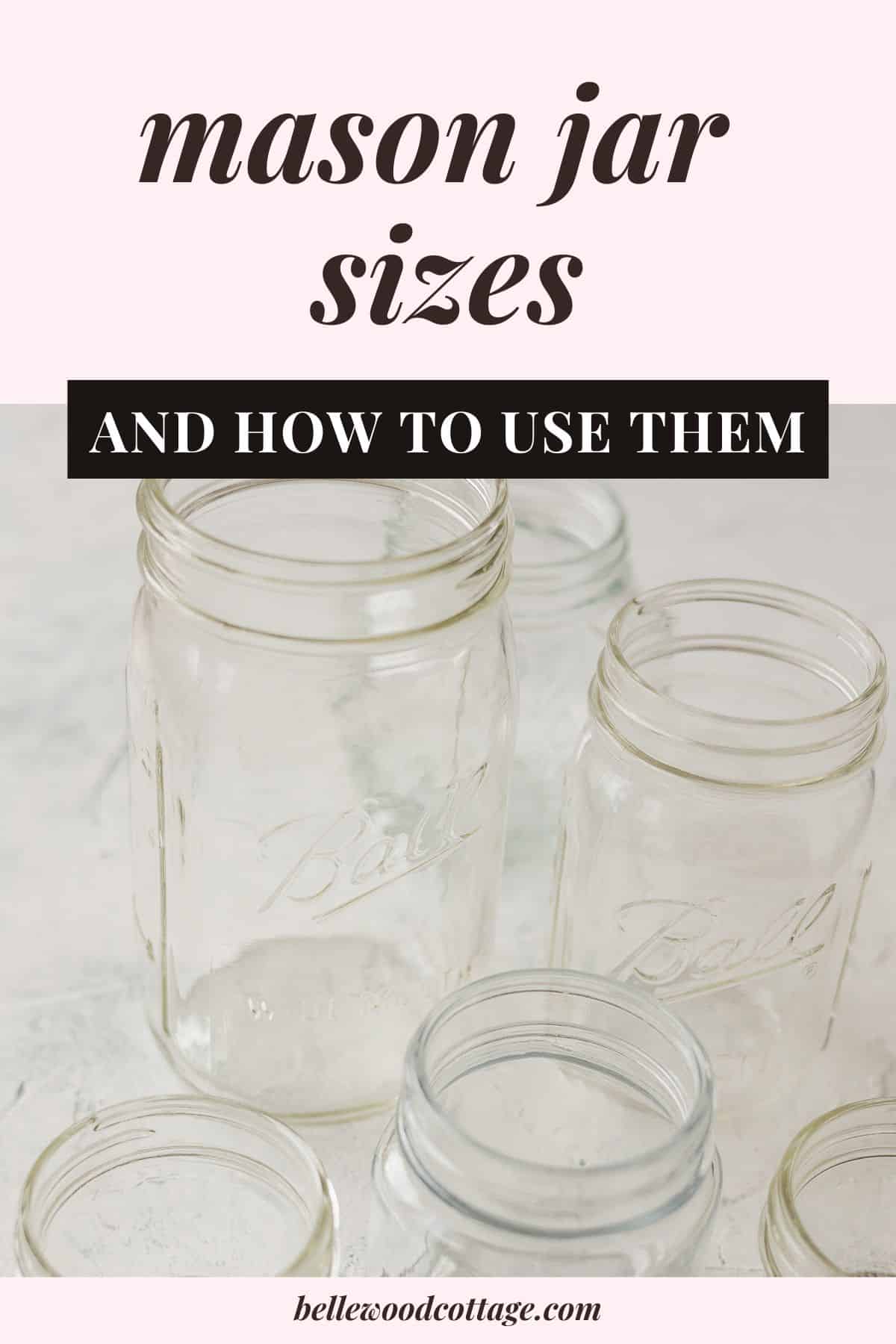 I love using mason jars all around our home. I've never tried canning in my life, and yet our home is still filled with the versatile (and nearly endlessly reusable) glass jars.
In the kitchen, mason jars are great for storing and organizing dry goods, packing up leftovers, or assembling snacks and lunches. No plastic wrap or plastic containers required.
Around the home, they can function as vases, desk organizers, craft supply storage, décor, and even cute packaging for gifts.
Plus, while it's easy to buy a brand-new set of jars in your preferred size, you can also thrift the jars, wash them up, and avoid buying anything brand-new at all. The jars can be used over and over again.
The growing abundance of available accessories (such water bottle style lids and straw lids) make the jars even more handy.
Let's chat through the various mason jar sizes and how to use them around your home!
While the idea of a "glass jar with a metal lid" is rather common these days, this article specifically focuses on Ball® (and Kerr®) mason jars (or "canning jars") and some similar brands.
What Are Mason Jars?
Mason jars are often known as canning jars, but they are useful for far more. "Mason jars" were originally patented, but the patent was lost and many companies began producing the jars. Now, the term "mason jar" often just refers to a glass canning jar from a variety of manufacturers.
The glass jars come in a variety of sizes and feature canning lids with a sealing disc and a reusable ring.
The most popular brands of jars are Ball® and Kerr®. In Canada, Bernardin® jars are the brand of choice.
Kilner® is a United Kingdom brand that produces lovely jars and even some creative mason jar products we will talk about more at the end of the article!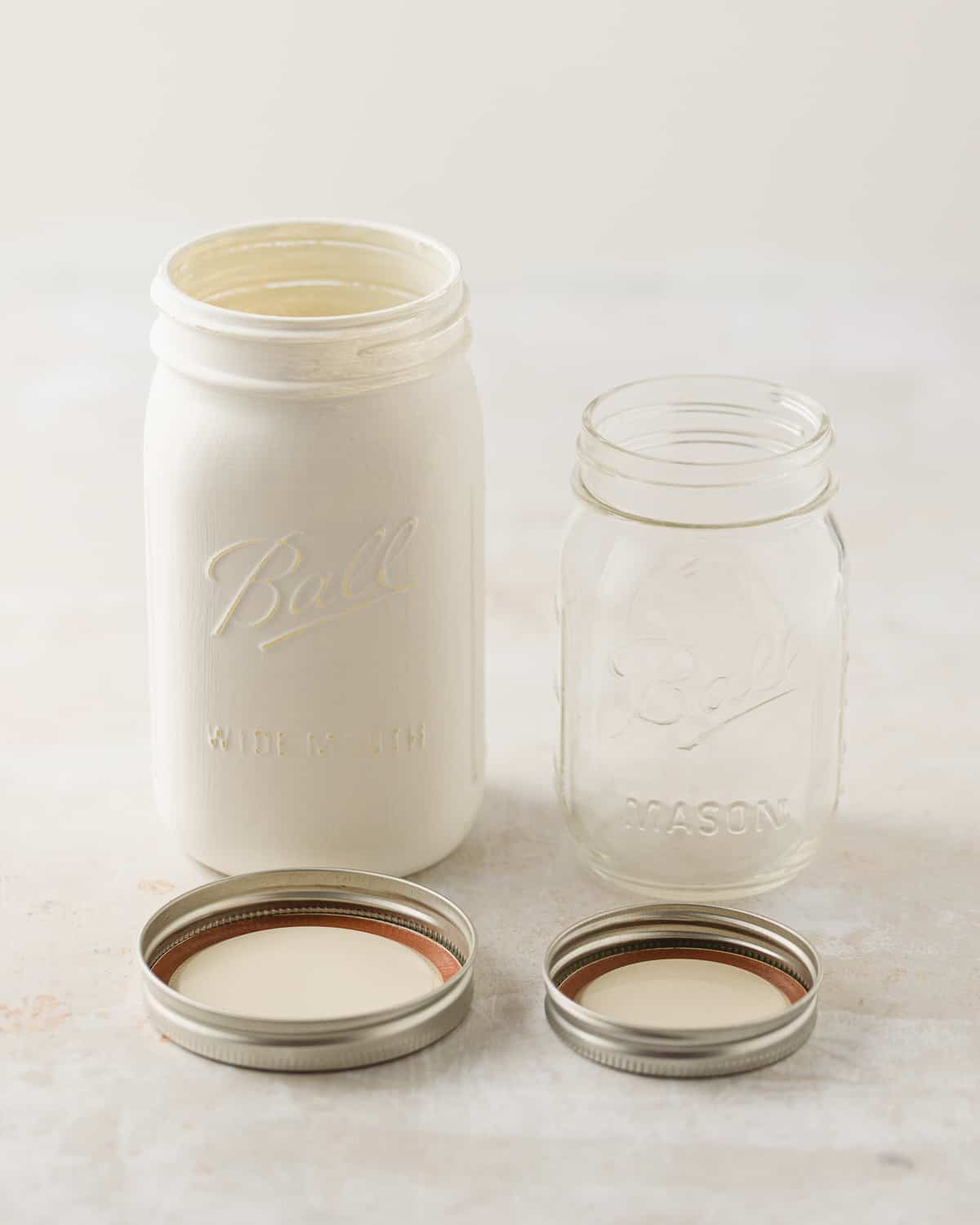 All the Sizes of Mason Jars
What are the most popular sizes of mason jars? Mason jars are still used quite frequently in canning (especially with the resurgence in popularity of canning fruits and veggies at home). The most popular sizes are the 8-ounce, 16-ounce, and 32-ounce jars. You might be able to locate 4-ounce and 12-ounce jars easily too.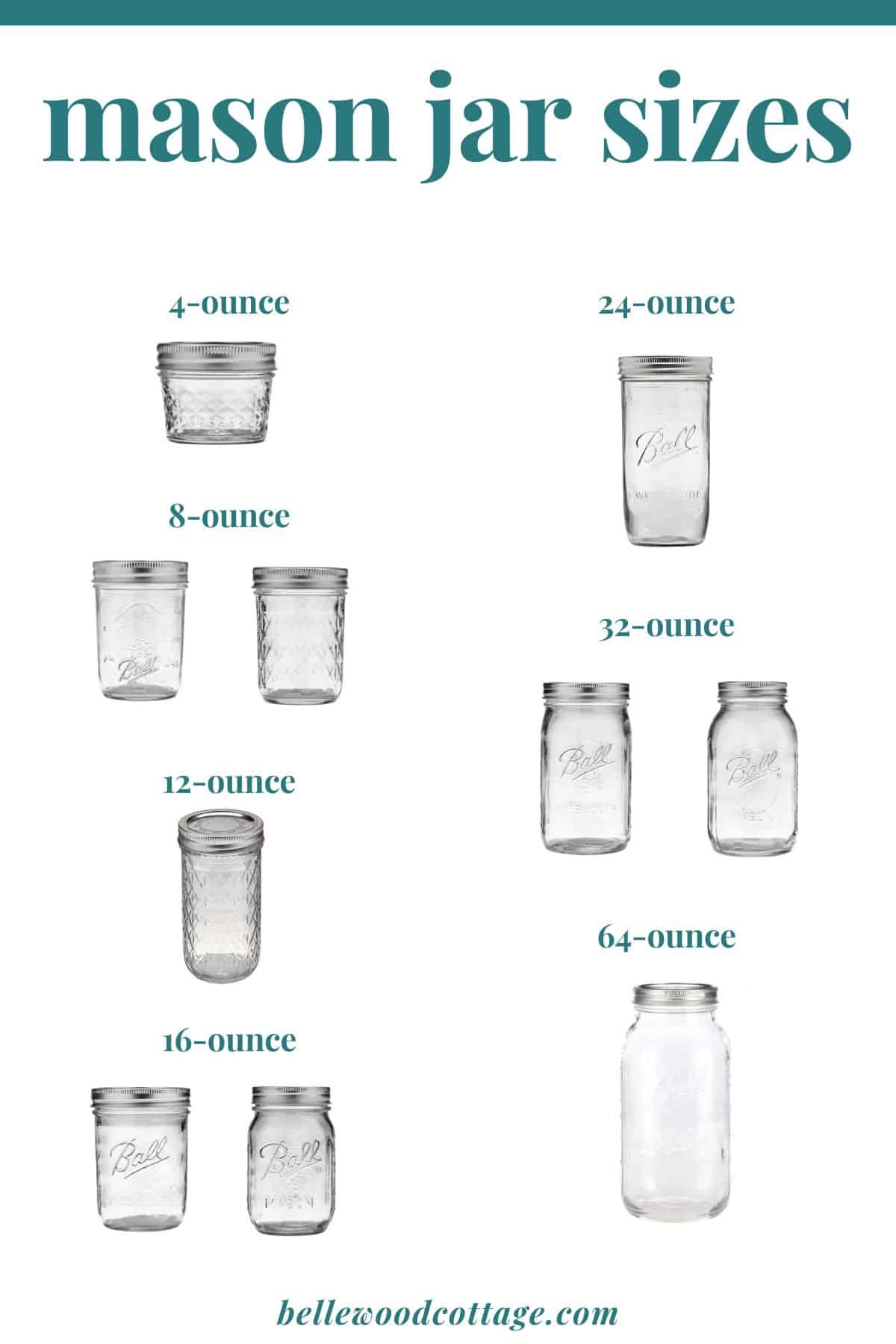 4-Ounce (Quarter-Pint) Mason Jars
4-ounce mason jars are the smallest size of classic jars. Often referred to as "jelly jars", they are used for canning sweet and savory jellies in smaller amounts. The cute size is great for storing spice blends, leftovers, or even trying DIY projects like mason jar succulents.

I use these jars for snacks and storing small craft supplies or small amounts of leftovers.
I use several of my jars to store homemade spice mixes like pumpkin pie spice. This is also a great way to gift spice mixes around the holidays. Just purchase a pack of the jars and you can whip up a whole set of gifts with ease.
Note: Ball® also sells "mini mason jars" which are 4 ounces too. They are super cute!
The 4-ounce size is what I use for many of my "dessert in jars" recipes. The 1/2 cup is perfect for a sweet serving of no bake cheesecake (or other treats). They look adorable at baby showers and parties.
Plus, the handy lids make traveling with the prepared desserts a breeze. When I travel with mine, I use the lids and then add a swirl of whipped cream once I've arranged them at my destination.
Try Mason Jar Desserts like No Bake Oreo Cheesecake Jars, French Silk Pie Jars, Pistachio Dessert Jars, and Pumpkin Cheesecake Jars.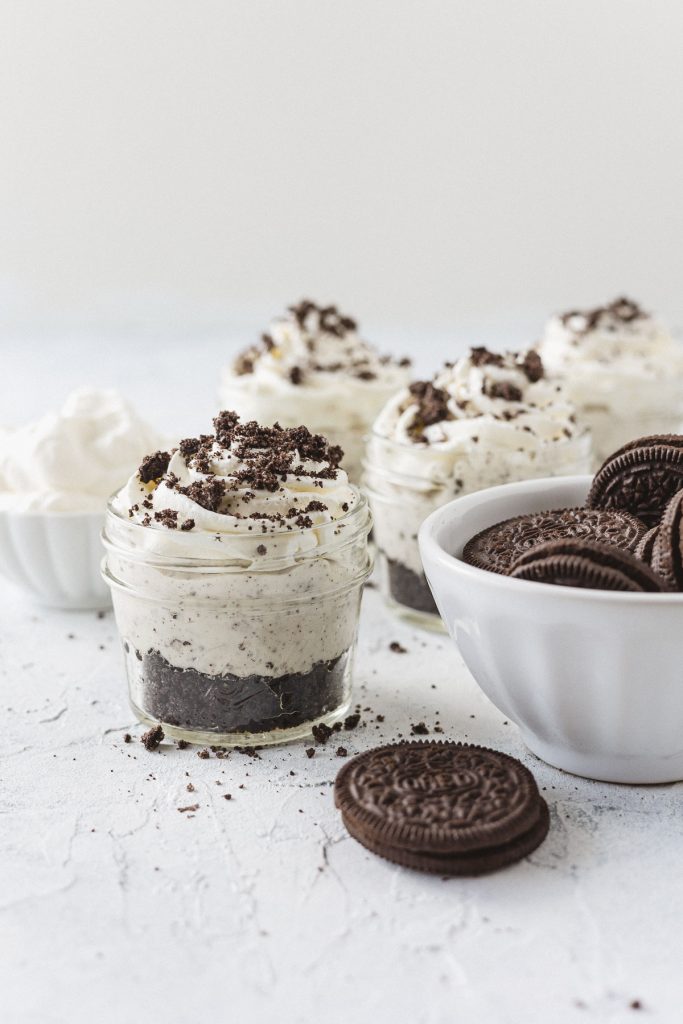 8-Ounce (Half-Pint) Mason Jars
Half-pint mason jars have a capacity of 8 ounces. These are also a popular sizes for jams and jellies. Or, use a jar to shake up a small batch of salad dressing.
This smaller half-pint size is also ideal for using as drinking glasses. I use mine to serve up easy mason jar milkshakes!

12-Ounce (Three-Quarters Pint) Mason Jars
Taller than the 8-ounce jars, 12-ounce mason jars are excellent for canning "tall" veggies like asparagus or green beans. Of course these also work well for storing leftovers, dry goods, etc.
I've personally found that the 12-ounce jars are a little harder to locate. I found some at Ace Hardware after browsing several online options.
16-Ounce (Pint) Mason Jars
These classic 16-ounce jars truly are everywhere! They are perhaps the most popular size and are easily found secondhand if you wish.

The jars are often used for canning fruits, vegetables, and (my favorite!) pickles. They are also great for storing dry goods, such as beans or rice, and for creating homemade gifts.
This size comes with two lid options, the regular and the wide-mouth. I prefer the wide-mouth jars for use around the kitchen because they are so easy to clean. The straight-sided wide mouth jars can also be frozen.
Note that mason jars with a collar (versus straight sides) should not be frozen because of expansion concerns.
We use 16-ounce jars for shaking up coffee drinks, lemonade, and of course drinking water too. I use the 16-ounce jar in my recipe for Homemade Mason Jar Whipped Cream.
It's a fun project for kids since it takes about 10 minutes to shake up. It's exciting to watch the heavy cream turn into whipped cream.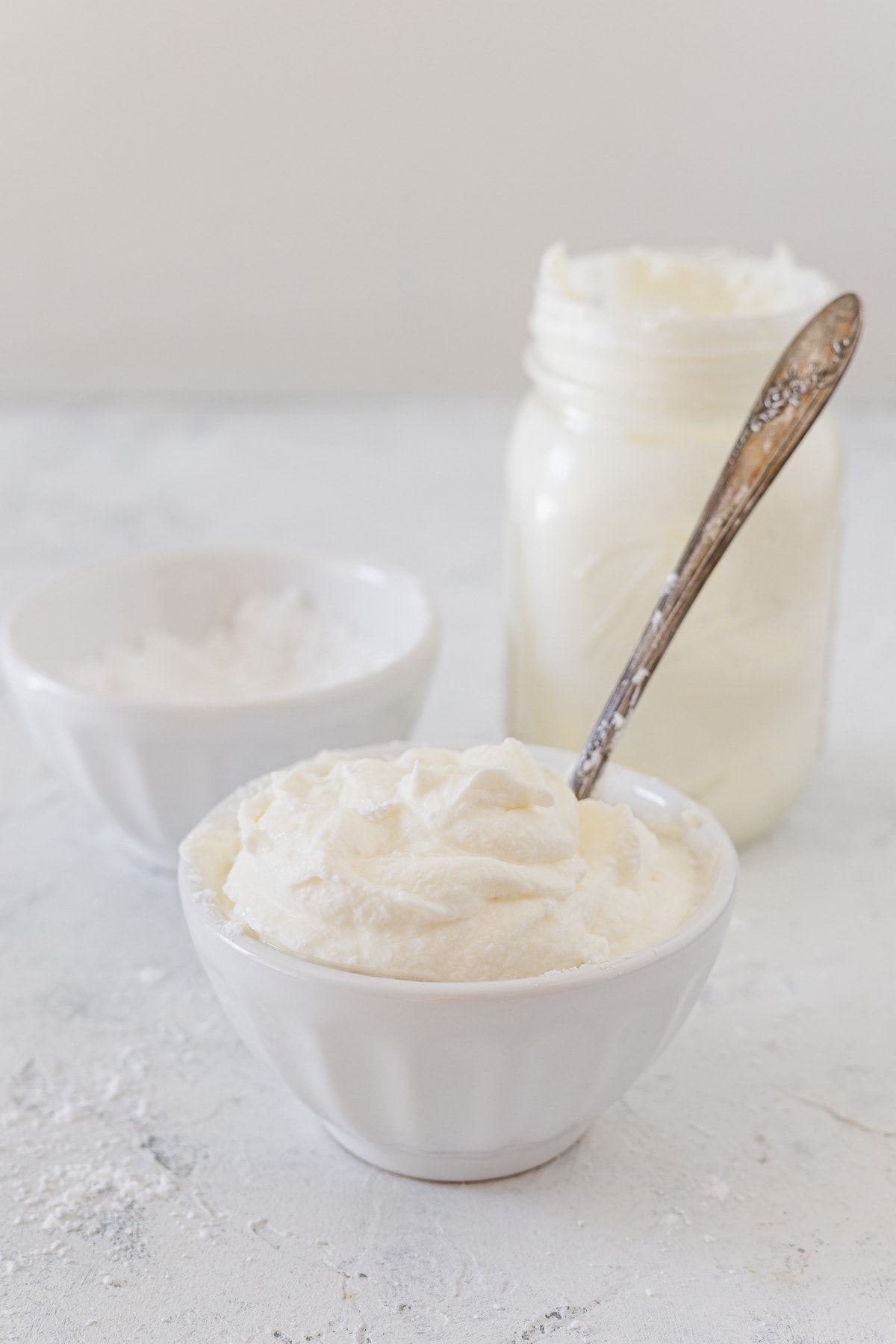 I also use the 16-ounce jars to make Homemade Mason Jar Milkshakes. The jar is the perfect size for a few scoops of ice cream and a little milk. Shake everything up, add mix-ins if desired, and drink right out of the glass (or serve in a smaller 8-ounce glass). So good and no blender needed!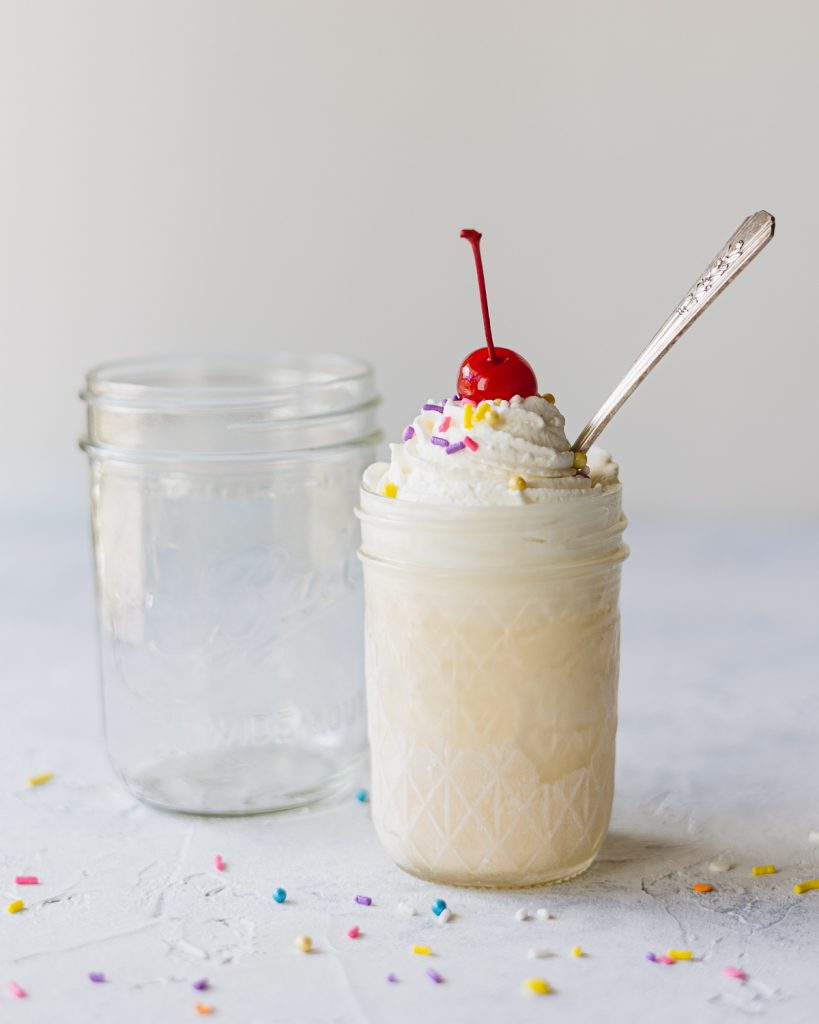 You can also purchase 16-ounce jars in a "fluted" design which is quite pretty too!
If you love the idea of drinking glasses, try the nested 16-ounce jars. These stack for storage and have the wide-mouth opening.
16-ounce jar are also great for packing up craft supplies and gifts!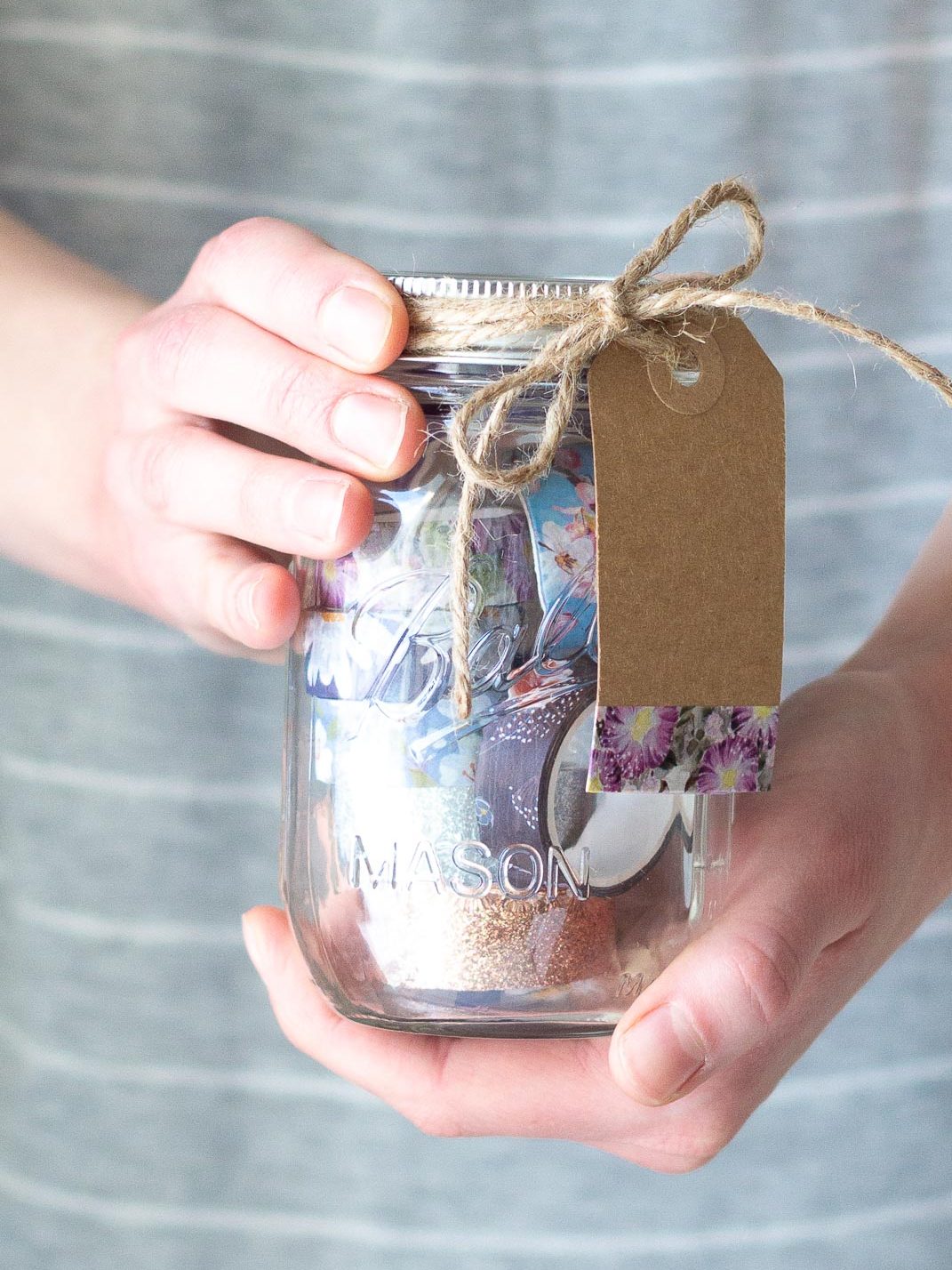 24-Ounce (1.5 Pint) Mason Jars
24-ounce mason jars are also available. The larger size is handy, but I tend to grab the more readily available 32-ounce jars.

32-Ounce (Quart) Mason Jars
Quart-sized mason jars are the next size up, with a capacity of 32 ounces. Since they are so large, it makes sense to use them for storing dry goods like oats, flour, or cereals. They are great choice for avid canners who have a lot of produce to put up.

I also find this size to be really common for DIY projects. It's a great size for making vases or painting and using as organizers.
If you want to try some easy DIYs with quart mason jars, try this Floral Vase Tutorial or paint some up with chalk paint.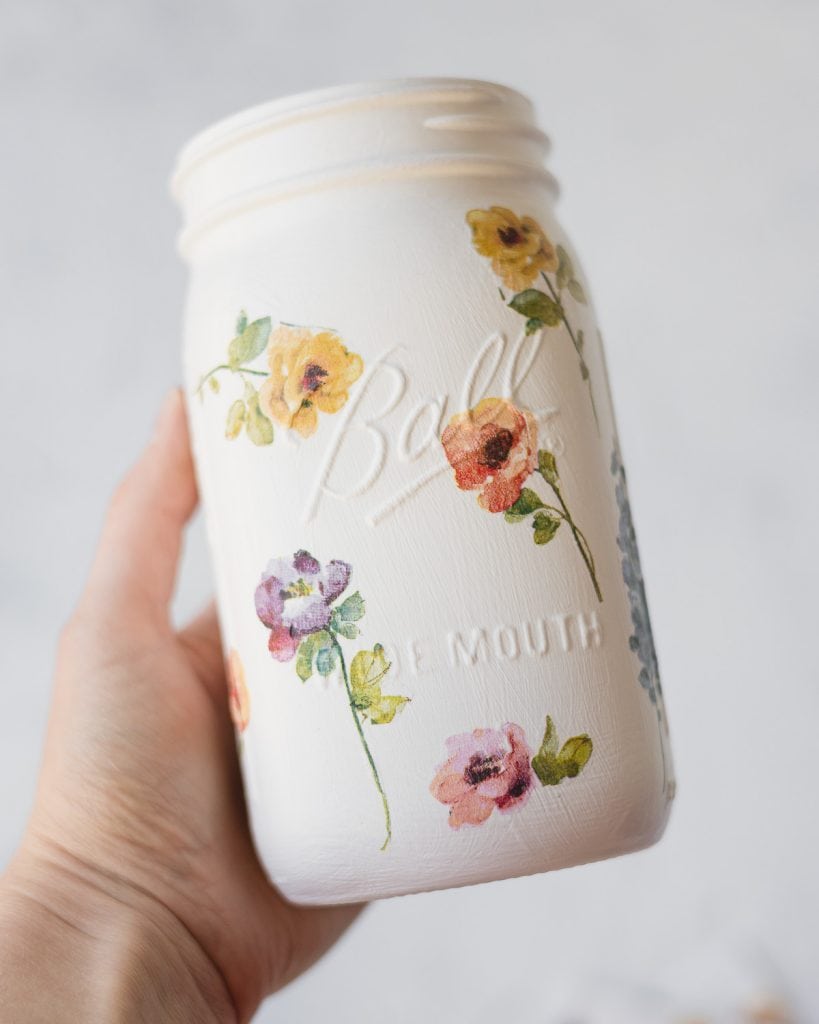 I actually love these big jars for drinks too. If you are trying to sneak in some extra water every day, having a giant jar like these filled and ready to go is just as good as any pricey new water bottle.
Note that the quart jars come in a regular mouth version with a thinner collar for the lid and the straight-sized "wide mouth" version. Either jar is great, but I prefer the wide-mouth version because it's easier to clean.
64-Ounces (Half-Gallon) Mason Jars
Half-gallon mason jars hold a capacity of 64 ounces. These jars use the wide-mouth lids, but because they are so much larger they still have the "collar" effect on the lid. These extra-large jars are used for canning and are handy around the kitchen for storing larger batches of food (such as homemade chicken stock).

Regular-Mouth Versus Wide-Mouth Mason Jars
Mason jars come in both "regular-mouth" and "wide-mouth" varieties. The main line of mason canning jars from Ball® only uses these two lid sizes which is quite handy. You can interchange lids between jars (regular-mouth lids with regular-mouth jars and wide-mouth lids with wide-mouth jars).
Here is an image of the 32-ounce jars in each variety: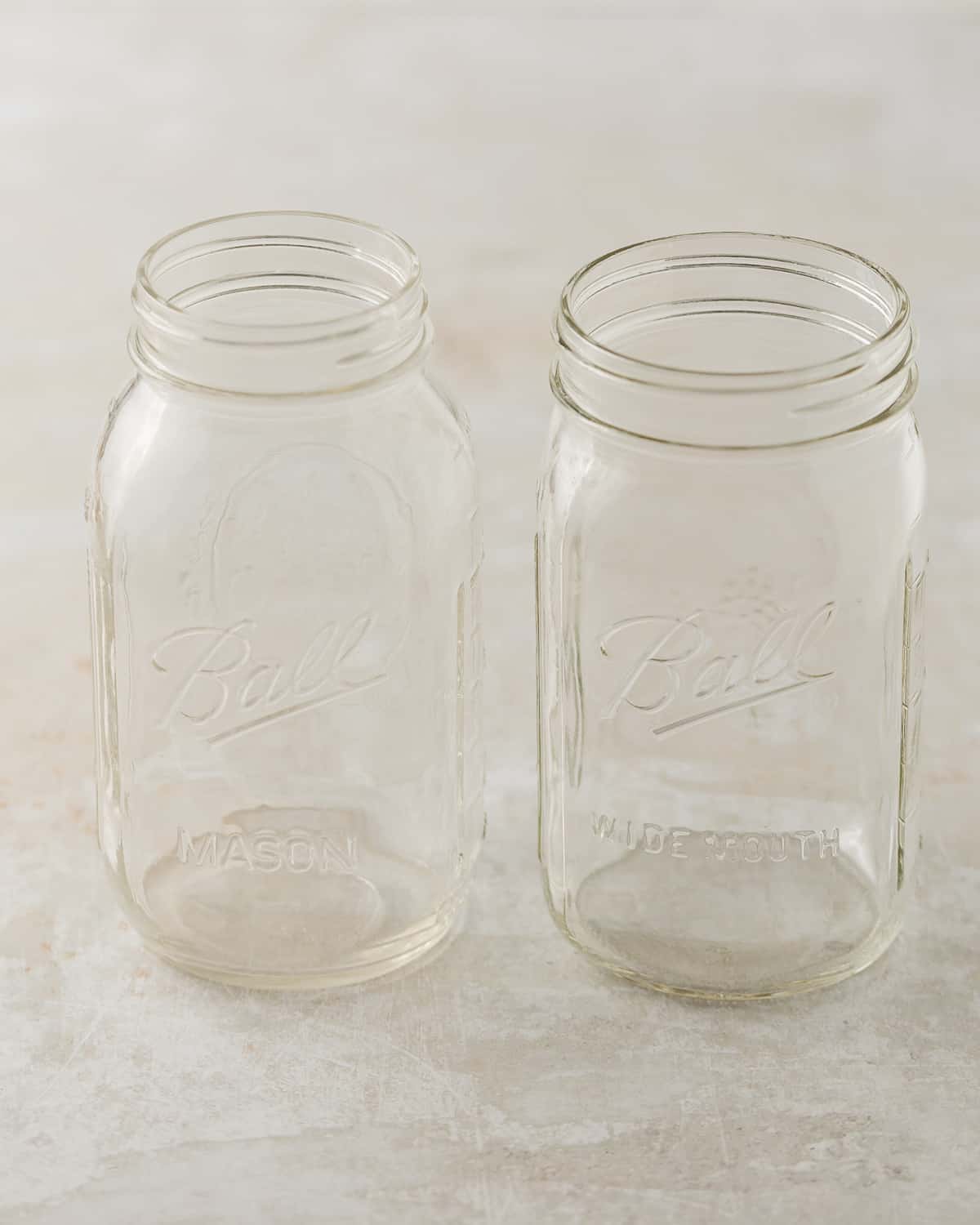 And an image of the 16-ounce jars in each variety: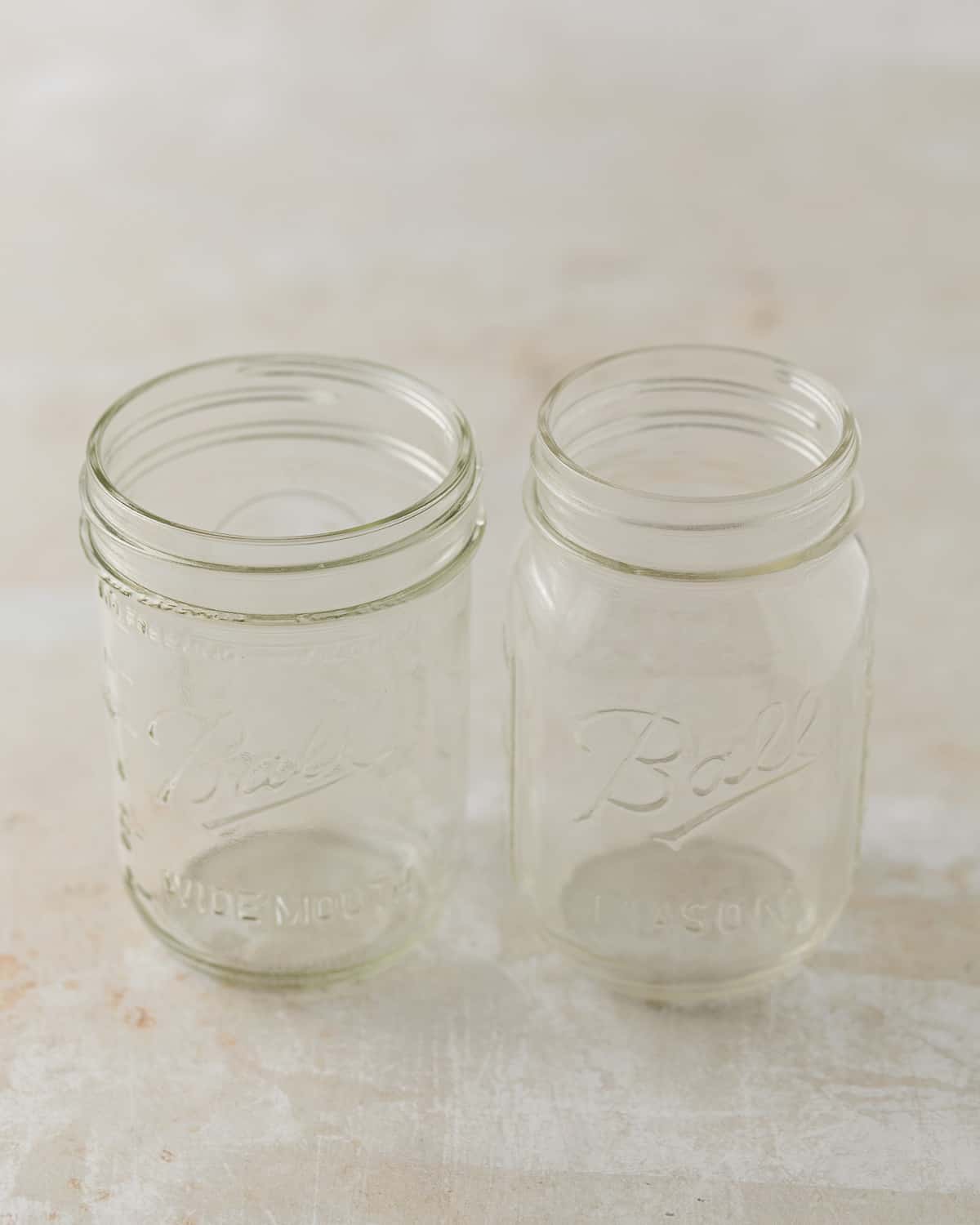 Note: Other types of jars such as Ball® Stack & Store Jars and Ball® Storage Latch Jars have a different lid style altogether. When canning, always be sure to use new sealing lids in the correct size & make for your jars.
I love wide-mouth jars because they are easy to clean. They are also the handiest size for storing and organizing craft supplies since it's easy to add and remove larger items from the jars.
Regular-mouth mason jars:
4-ounce, 8-ounce, 12-ounce, 16-ounce (regular lid), 32-ounce (regular lid).
Wide-mouth mason jars:
16-ounce (wide lid), 24-ounce, 32-ounce (wide lid), 64-ounce.
Where to Buy Mason Jars
You can find mason jars easily at general-purpose stores (like Target or Walmart), hardware stores (such as Ace), and even some home improvement stores (especially during canning season). Check yard sales and thrift shops for vintage jars or jars to recycle.
How to Use Mason Jars
There are SO many ways to use mason jars. Check out my list of Creative Ways to Use Mason Jars for plenty of ideas.
Freezing Jars
You can freeze jars with completely straight sides. Avoid the regular-mouth style with the smaller "collar" or any jar with a shoulder (this includes 32-ounce wide-mouth jars).
Jars must be free of cracks before freezing. Food should be completely cool as well. If you are freezing warm soups or something like that, refrigerate overnight before placing the jar in the freezer.
You should also check the the maximum fill line on the jar you are using. Leaving headspace is very important to allow liquids/food to expand without cracking the jar. Real Food Whole Life suggests at least 2″ of headspace.
Though it's a bit hard to see, you can check out the "For Freezing" line marked on this jar below: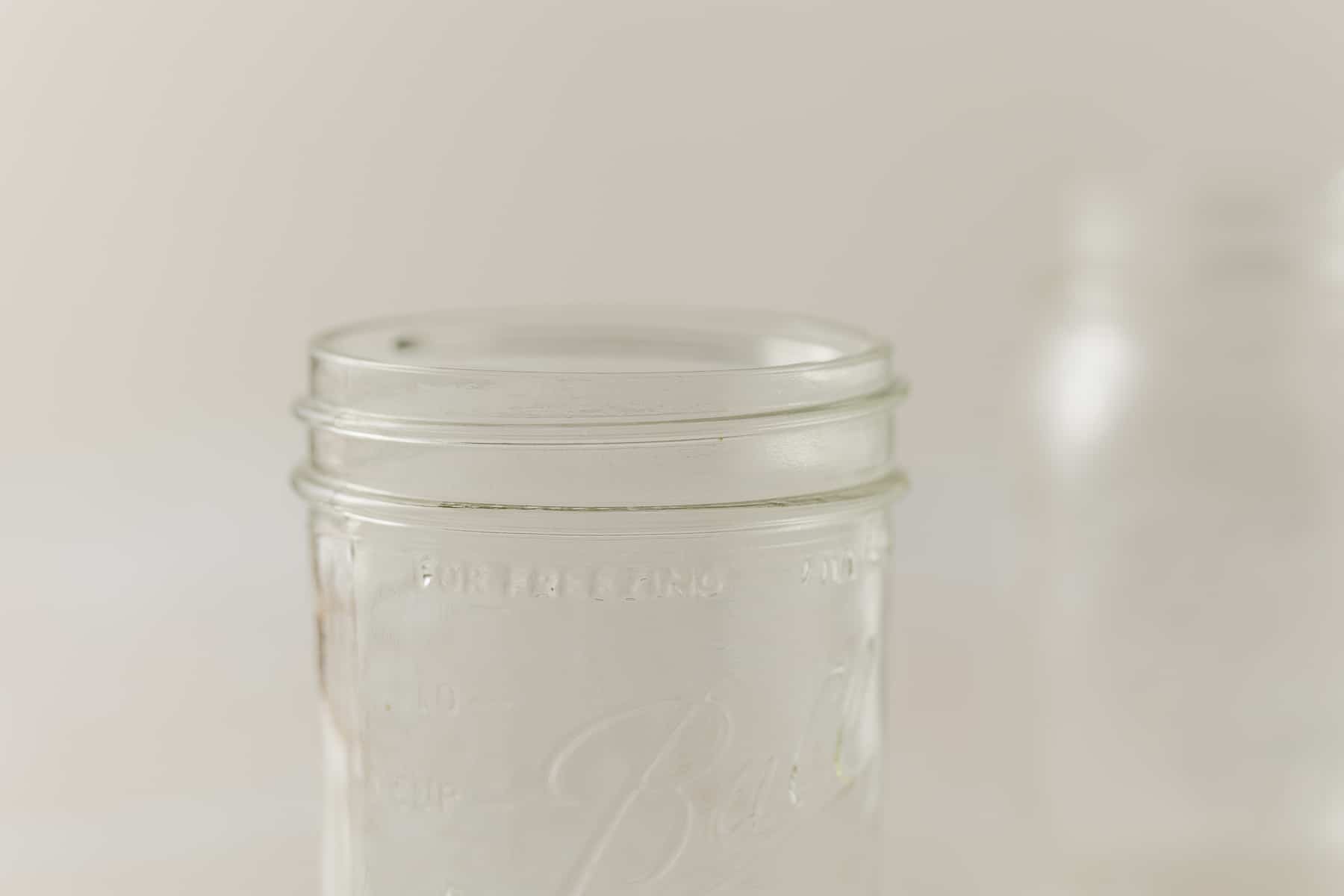 Here is a list straight from Ball® of safe jars to freeze.
Regular mouth freezer-safe jars include the 4-ounce jars ("jelly jars"), 8-ounce jars, and 12-ounce jars.
Wide-mouth freezer-safe jars include the 16-ounce jars and the 24-ounce jars.
Can You Bake Mason Jars?
No, you cannot bake mason jars. Yes, I know we've all seen the cute little mini mason jar pies on Pinterest, but the jars are not safe to bake. Exploding glass is not worth any amount of cute-dessert-making.
Instead, opt for no bake desserts in your mason jars or choose a style of glass or ceramic ramekin that is designed to be oven-safe. Read more in my article about baking mason jars.
Microwaving Jars?
Attempting to microwave mason jars can be dangerous. Because the glass is not tempered, the high uneven heat of the microwave can cause scary situations such as exploding jars.
Since the jars are not explicitly manufactured as "microwave-safe", I would advise against microwaving mason jars. Also note that the metal lids should NEVER be placed in the microwave.
Are Mason Jars Dishwasher Safe?
Yes, mason jars are generally sold as dishwasher safe. However, you may wish to wash older jars by hand. While I wash my jars in the dishwasher all the time, I've found that I have issues with the lids beginning to rust if I wash them in the dishwasher.
So, for the lids (unless you've purchased plastic lids), I suggest hand washing and drying immediately to avoid any potential rusting.
Unique and Fun Mason Jars
Beyond the classic canning jars, there are so many fun "mason jars" to try. First, you can look to other brands for pretty jars that will work for canning and storage. There are many!
You can also try some of the fun mason jar accessories that exist these days:
Mason Jar Lids and Accessories
There are many mason jar lids and accessories that you can purchase these days. From travel lids to straw lids, soap pumps to salt-and-pepper shakers, the jars are even more versatile than you might imagine!
Here's lids you can try:

Or, other creative products:

Vintage Reproduction Jars
While you can hunt down antique jars (so beautiful to use in decorating), you can also purchase reproduction jars. Ball® makes and sells pretty Rose Vintage jars and Aqua jars. These are regular mouth jars that can be purchased in the 16-ounce or 32-ounce size. They are great for home décor and also still safe for canning.

Kilner Butter Churn
Kilner® jars from England are another brand of jars that I love. Sometimes you can find these jars available at stores like Homegoods and Marshalls (and I usually scoop them up when I do find them!). They have a lot of unique glass jar products like a butter churn jar (seriously, how fun!) and a juicer jar.
You can check them out on Amazon or on their website.

Which mason jar sizes do you find yourself using the most? What are some of the ways you use the jars? I'd love to hear!
More Mason Jar Fun